Fairs & Events

Godmersham Park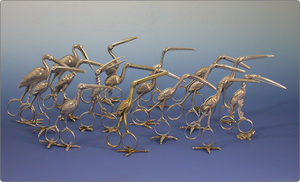 Godmersham Park
Godmersham Nr Canterbury
Kent CT4 7DT
Saturday 24th August 2013, 11am, - 5pm
Sunday 25th August 2013, 11am, - 5pm
In conjunction with Christopher Buck Antiques, we are thrilled to be able to announce our third selling exhibition in the sumptuous setting of the Godmersham Park Mansion, Godmersham, Nr. Canterbury, Kent CT4 7DT.

Over the weekend of Saturday 24th and Sunday 25th August 2013, we will be occupying some of the main reception rooms of this magnificent and historically important manor house and furnishing them with beautiful antiques of a befitting style and period.

Please join us for champagne and canapés.


Why not enjoy a relaxing lunch in the Orangery?

Summer buffet style lunches will be available on both the Saturday and Sunday, but must be pre-booked. A modest charge will be made to cover the costs of our caterers and numbers are strictly limited.
To avoid disappointment, please telephone Jane as soon as possible on the number below.

Lunch bookings: 01795 890560

UPDATE: (Places are selling fast, especially on the Saturday. Please reserve your table as soon as possible!)


Godmersham Park

Godmersham, the former home of Edward Knight, brother of Jane Austen, was built in 1732 with additions in the 1780's. Jane was a frequent visitor and it is believed to have been the inspiration behind some of her novels.

In the 1920's, it was purchased by the Tritton family who set about furnishing it with the very finest collection of 18th century English furniture and antiques.

The house and collection were sold in 1983 and since then the estate has been in the careful and loving custody of the Sunley family, who have generously granted their permission for this exhibition.

Now used as a College for the Association of British Dispensing Opticians, it remains one of East Kent's most beautiful houses and is not otherwise open to the public.

We hope that you will enjoy visiting this magnificent property and seeing it furnished once again as a home.
50-60 Sandgate High Street,
Sandgate,
Folkestone,
Kent CT20 3AP
You are invited to join us for Champagne and Canapés
and to view our latest collection
at 56 - 60 Sandgate High Street
Sandgate
Folkestone
Kent CT20 3AP

www.christopherbuck.co.uk

BADA Antique and Fine Art Fair

Buy antiques and fine art from Britain's most renowned experts at the BADA Antiques & Fine Art Fair. Everything for sale is vetted for quality and authenticity and all exhibitors are members of the Association. Housed in a purpose-built pavilion, the BADA fair is farmed for its elegant design and spacious layout, providing a stunning setting for the beautiful works for sale. All disciplines of art and antiques can be found under one roof including fine furniture, paintings, silverware and jewellery, ceramics, clocks and much more.

"The BADA Fair remains the leading UK fair for traditional British antiques."
Financial Times.

"For lovers of all things British - whether it's Georgian furniture, Victorian pictures or fine silver, there's no place better than the BADA Fair."
Art + Auction, March 2007