Early 20th Century Presentation Silver Hunting Horn Duhallow Foxhounds
Kohler & Son, London 1918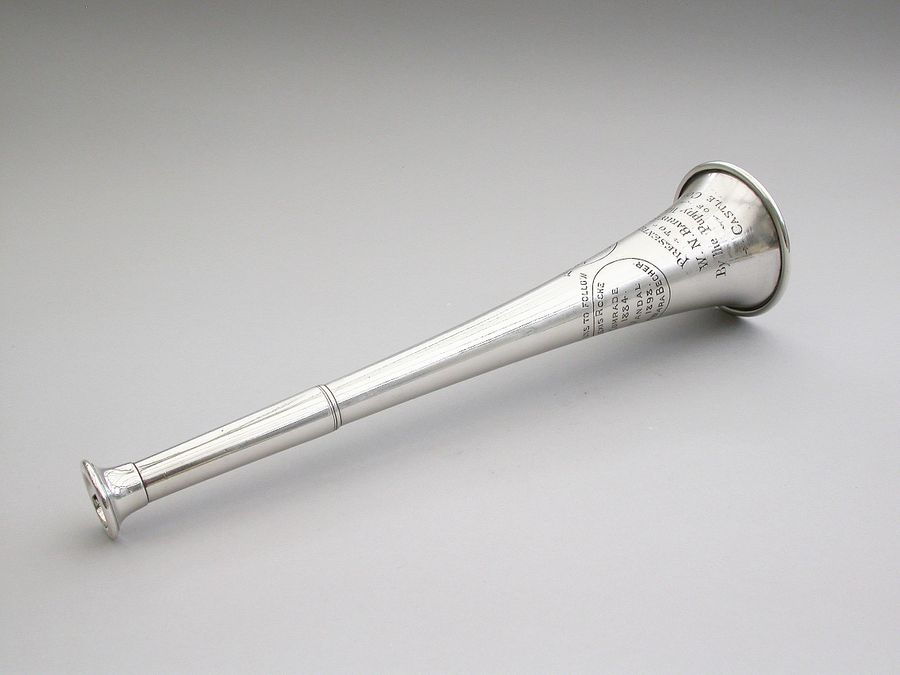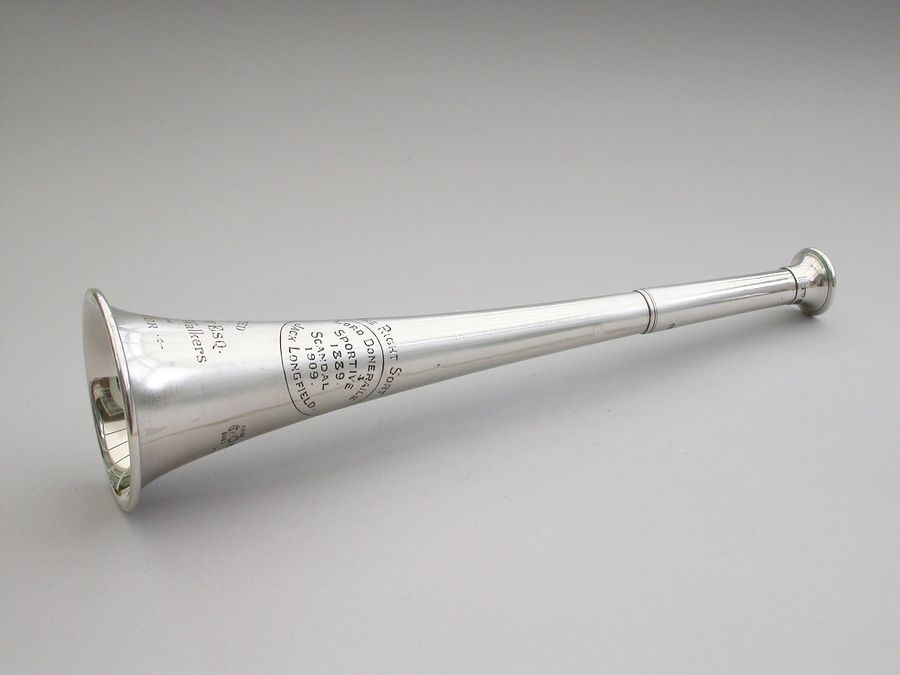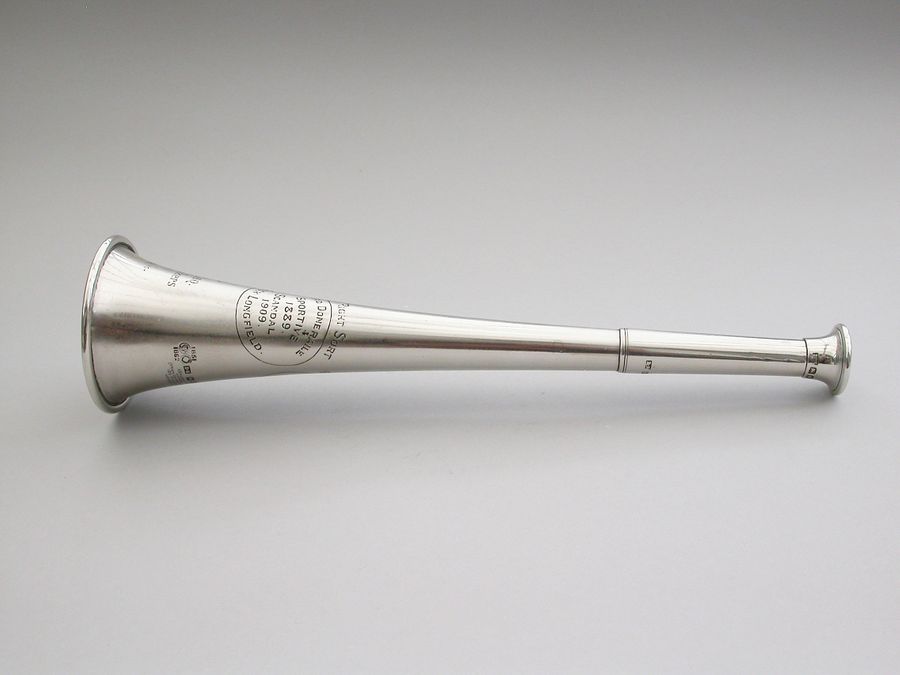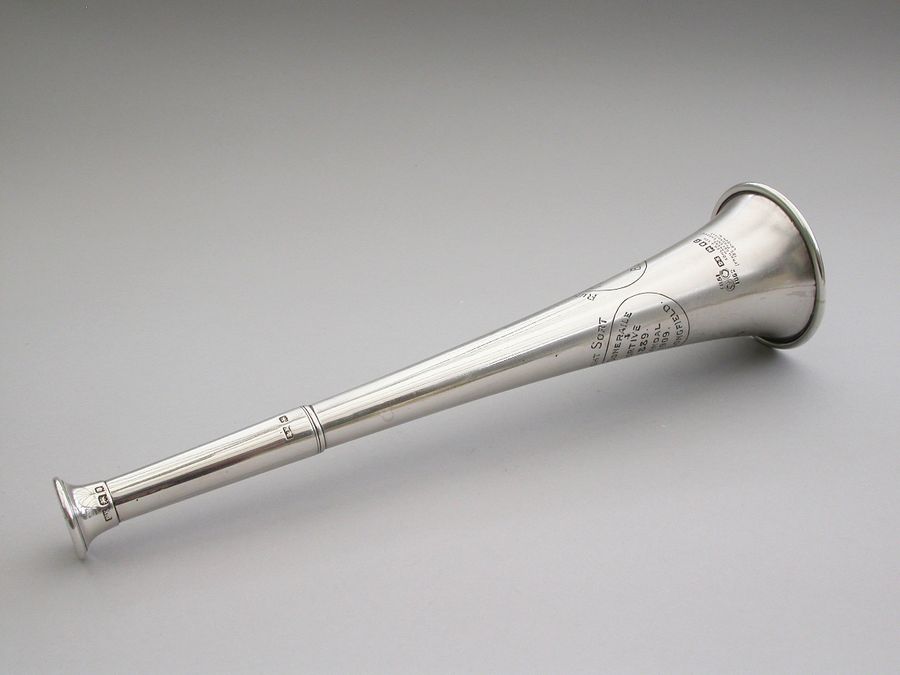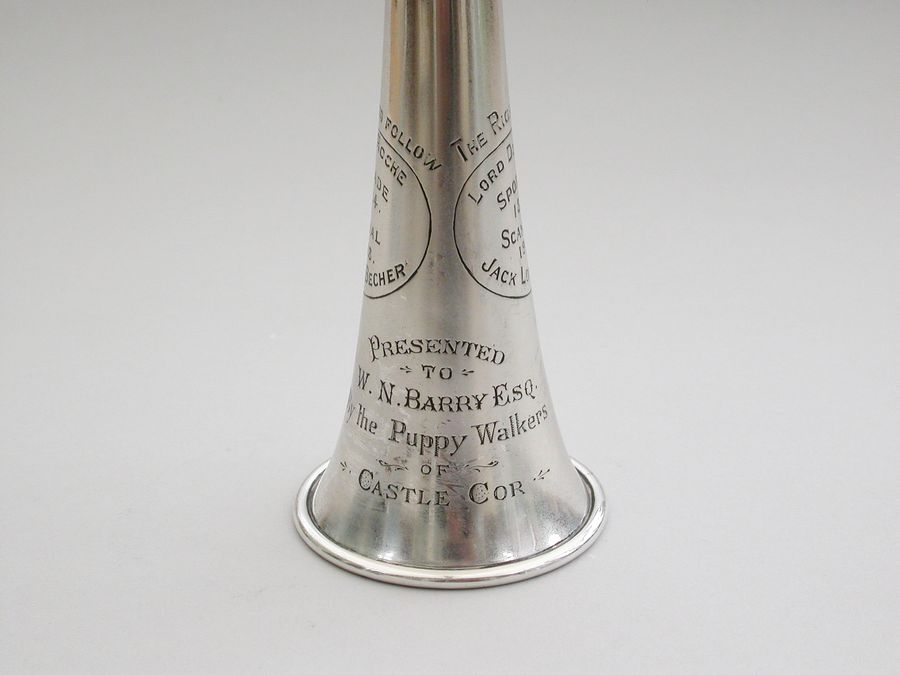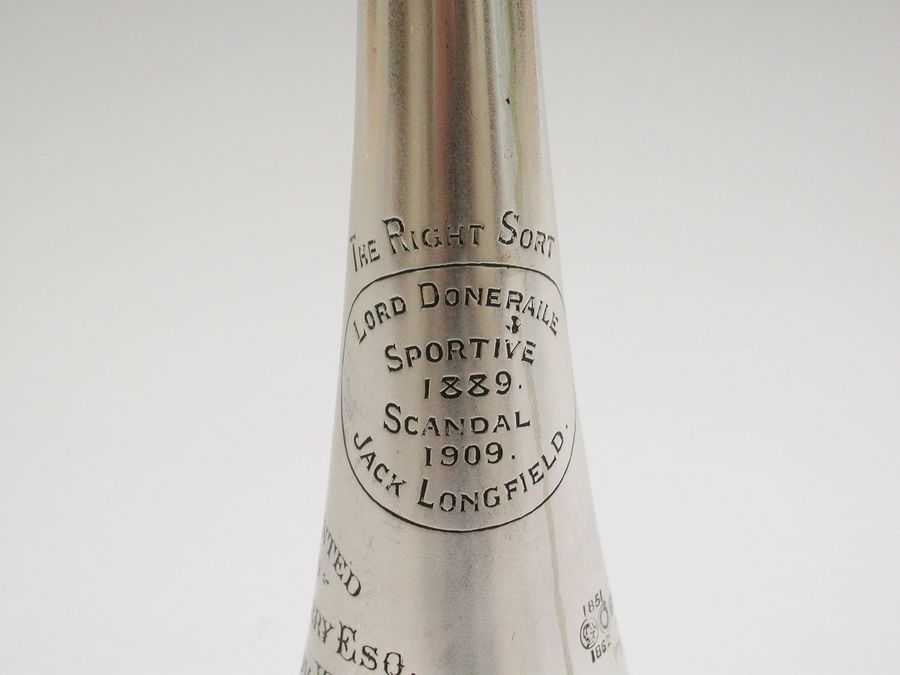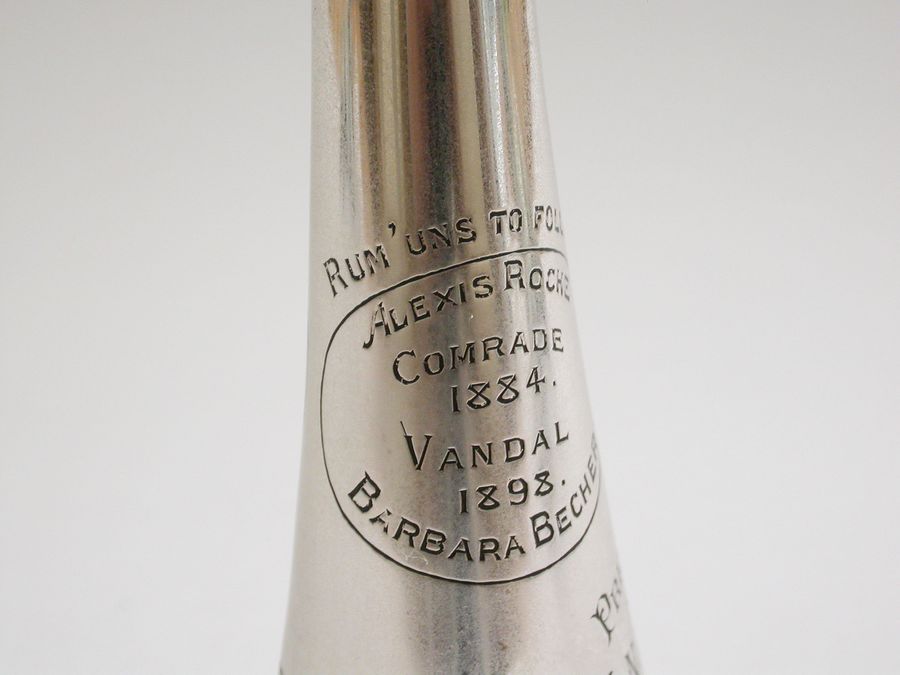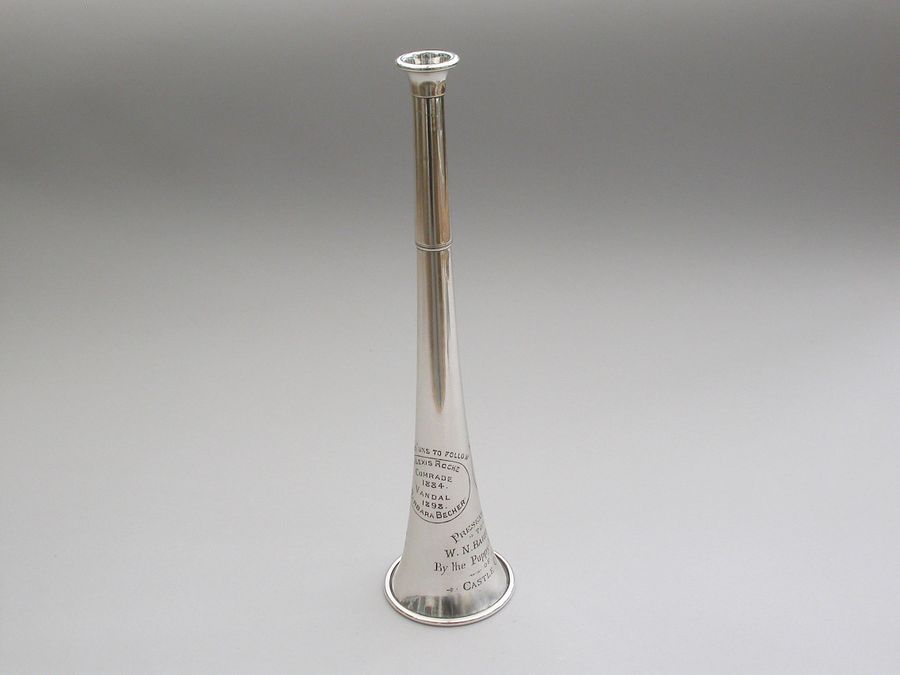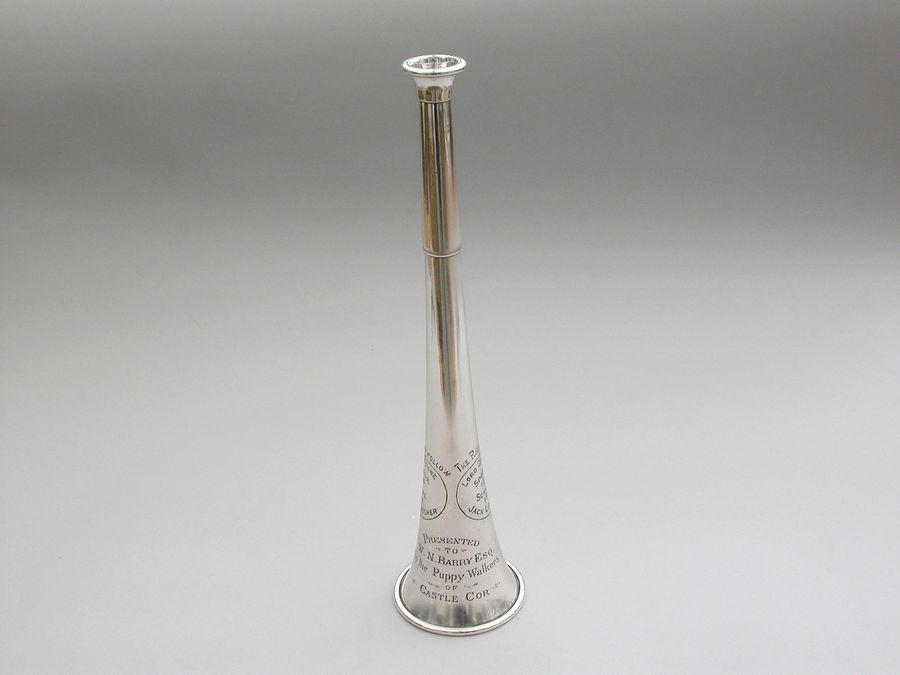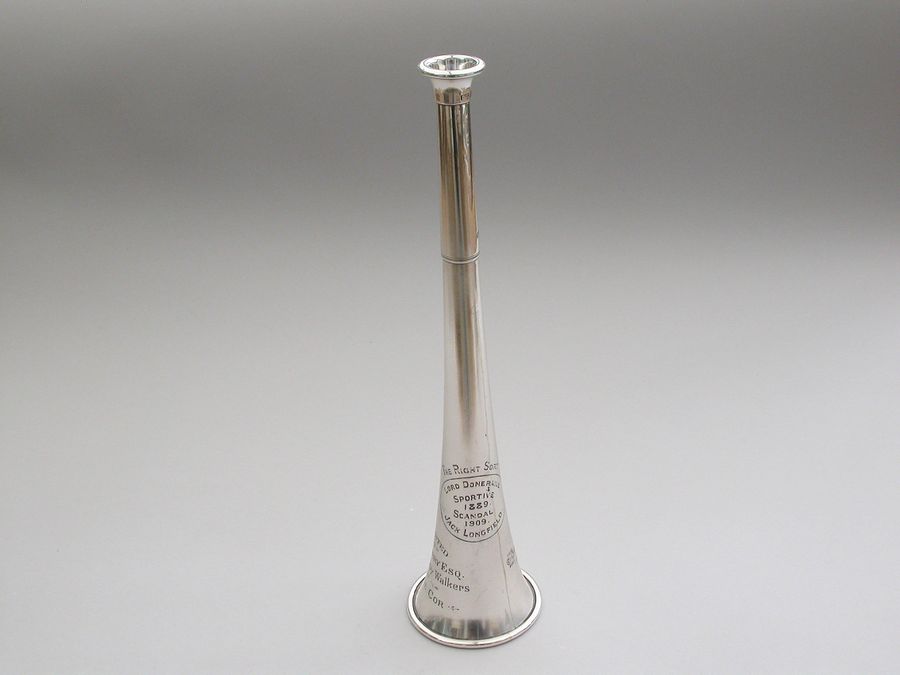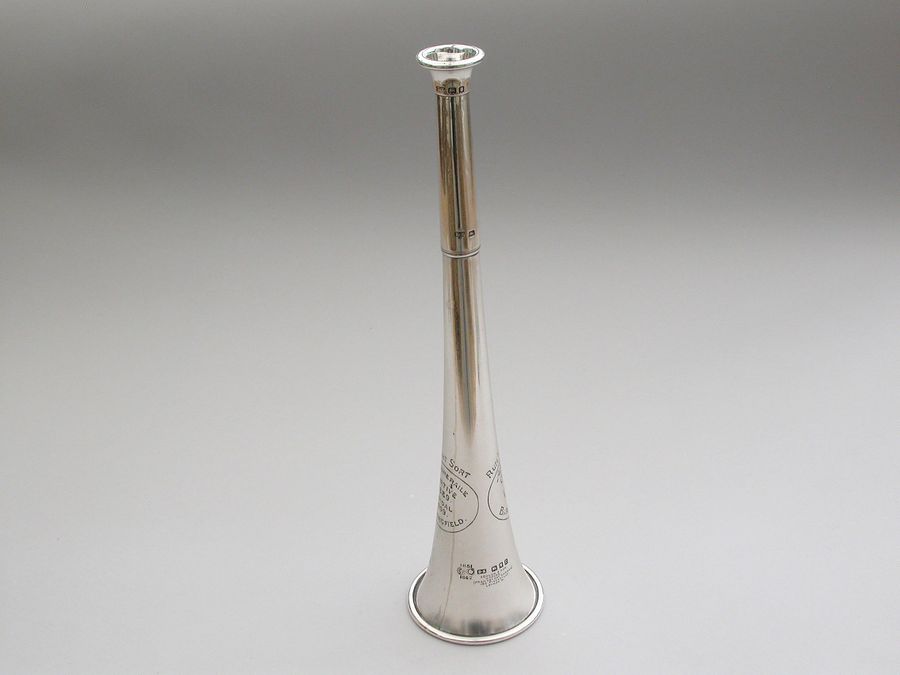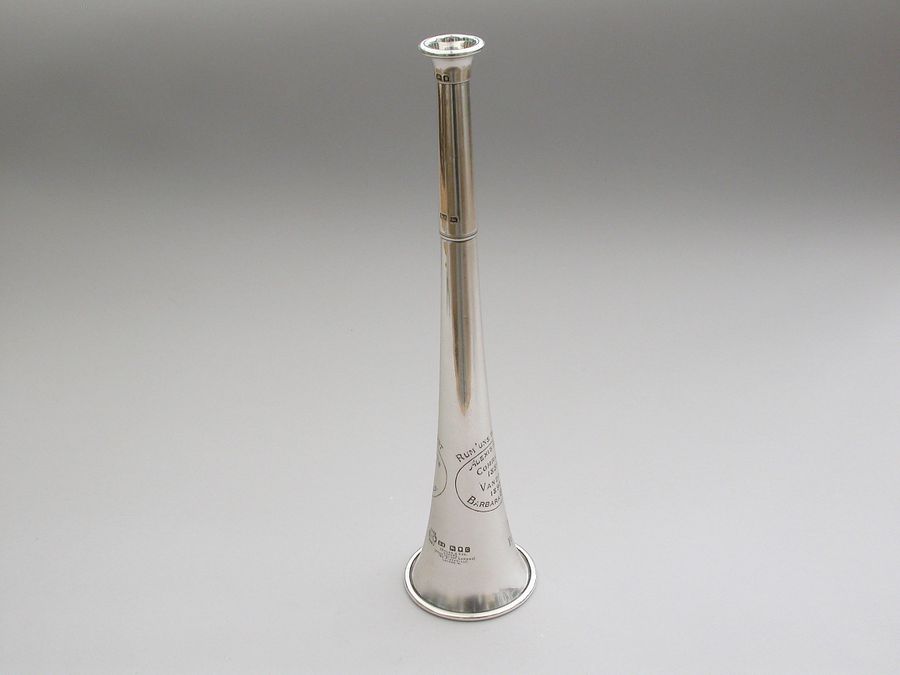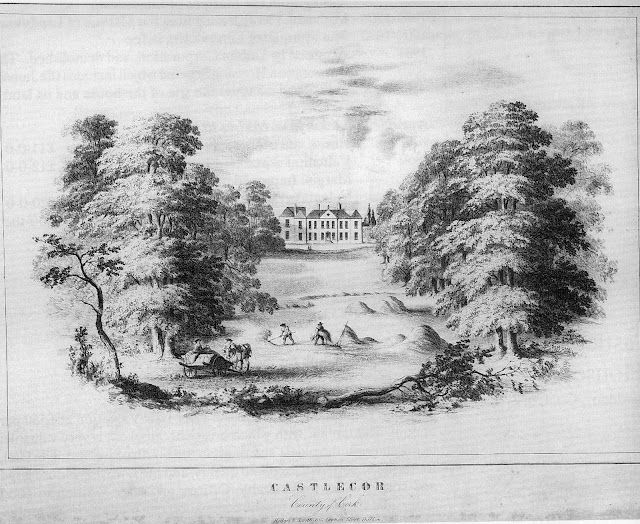 A fine early 20th Century Presentation silver Hunting Horn, given to W.N.Barry Esq, Master of the Duhallow Foxhounds (the oldest Foxhound Pack in Ireland) by the Puppy Walkers of Castle Cor.

Engraved with the names and owners of four Hounds; 'Rum'Uns to Follow - 'Comrade 1884', 'Vandal 1898', 'The Right Sort' - 'Sportive 1889' 'Scandal 1909'.

By Kohler & Son, London, 1918. Also stamped with dual medal mark for 1851 & 1862 Exhibitions.

Castle Cor, Kanturk, Co. Cork.

Barry, William Norton (1859-1935). Only son of William Norton Barry (1814-71) and his second wife, Elizabeth younger daughter of Sir William Wrixon-Becher, 1st bt., born 20 June 1859. Educated at Eton and Magdalen College, Oxford (matriculated 1878). Master of the Castlecor Beagles, 1880-85 and Master or joint Master of Duhallow Foxhounds, 1886-1919. JP for County Cork and a Member of Kanturk Rural District Council. He married 1st, 3 February 1881 at Bathwick (Som.), Constance Marianne (1855-98), third daughter of Frederick John Walker of The Priory, Bathwick, and 2nd, 1 June 1899 at Castlemagner (Co. Cork), Adelaide Maude (1870-1959), fifth daughter of Sir John Wrixon-Becher, 3rd bt. and Irish women's singles lawn tennis champion, 1911 and 1913, but had no issue.
He inherited the Castle Cor estate (1,023 acres) from his father in 1871. At his death it passed to his widow absolutely. After her death the estate was sold and the house was demolished in 1961.

William Norton Barry was just twelve when he inherited the estate, and was sent off to Eton and then to Oxford, returning in 1880, when he came of age. Unlike many of his peers, who turned to the army or the professions for an income that would supplement their rental, William seems to have regarded hunting as a full-time occupation. On coming down from Oxford he established his own pack of beagles, which he ran for five years before taking over as Master of the Duhallow Foxhounds, of which he remained Master or joint-Master until 1919. His second wife, who was also a cousin, shared this passion, and she continued to ride to hounds - side-saddle - into her late 80s, becoming a legendary figure in the hunting field. All the expenditure on horses and the hunt meant that repairs and maintenance at Castle Cor were neglected, and this was particularly true in the years after the Second World War. When Kenneth Hope-Murray inherited the estate in 1959 he found the house more or less derelict and in part unsafe. He sold it in about 1960 and the house was demolished by the new owners in 1961.

Founded by the Wrixon-Becher family, the Duhallow foxhounds have been hunting North Cork from the Kerry border to Doneraile continuously since 1745 making it the oldest foxhound pack in Ireland.
Sold - £595.00
Condition
In good condition with no damage or repair
Weight
121.00 Grams (3.89 troy ounces)