Edwardian Silver & Enamel Calling Card Case with Heraldic Standard - Vickers Sons & Maxim Ltd
William Neale, Birmingham 1906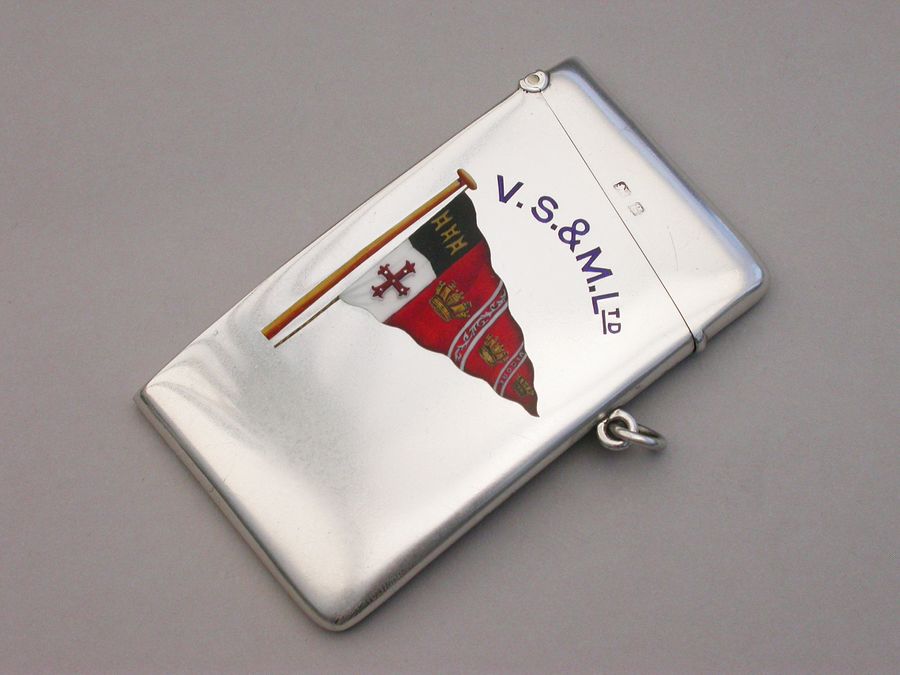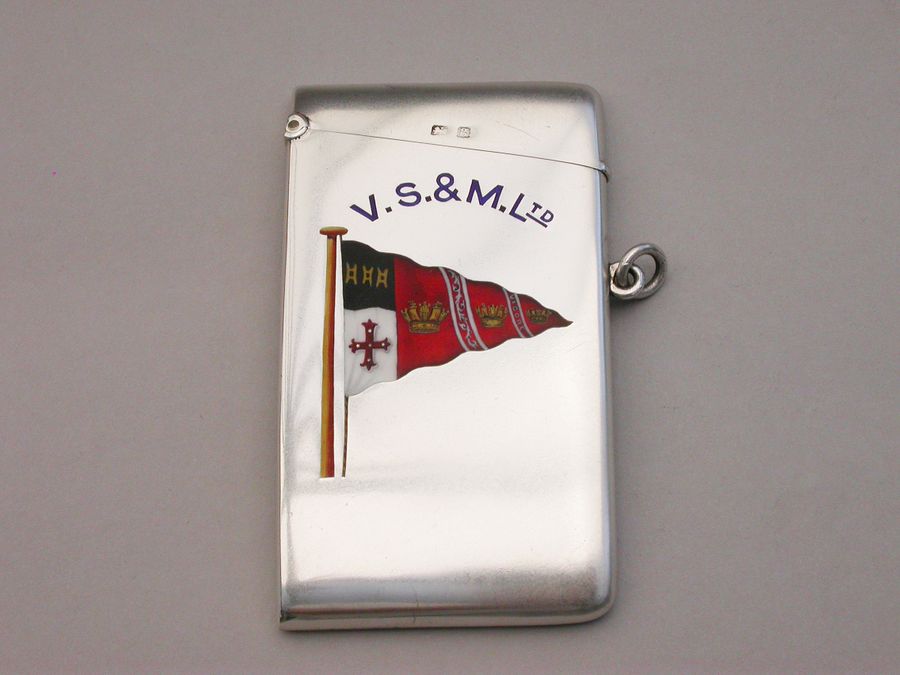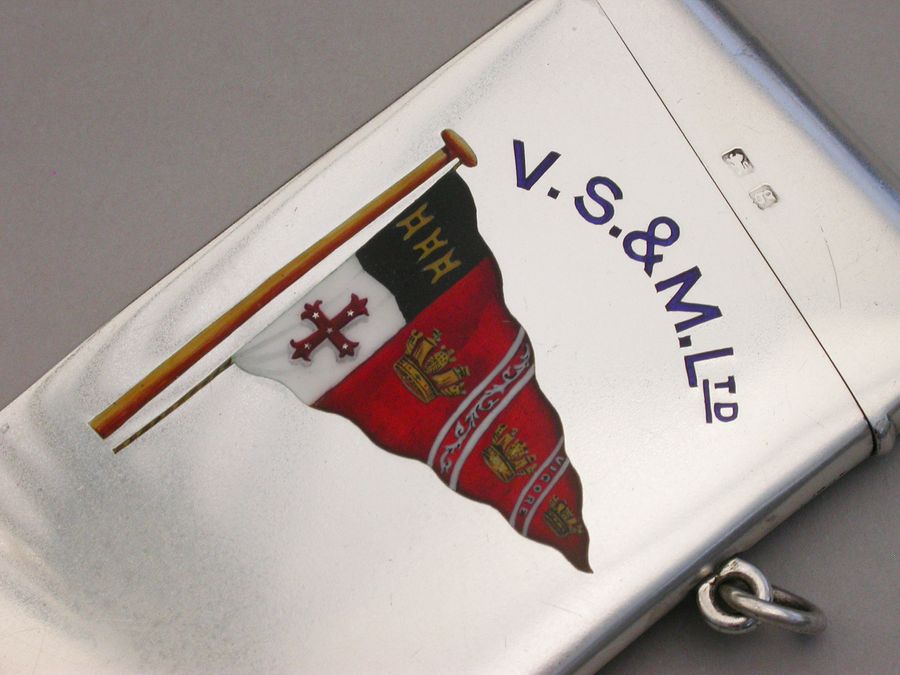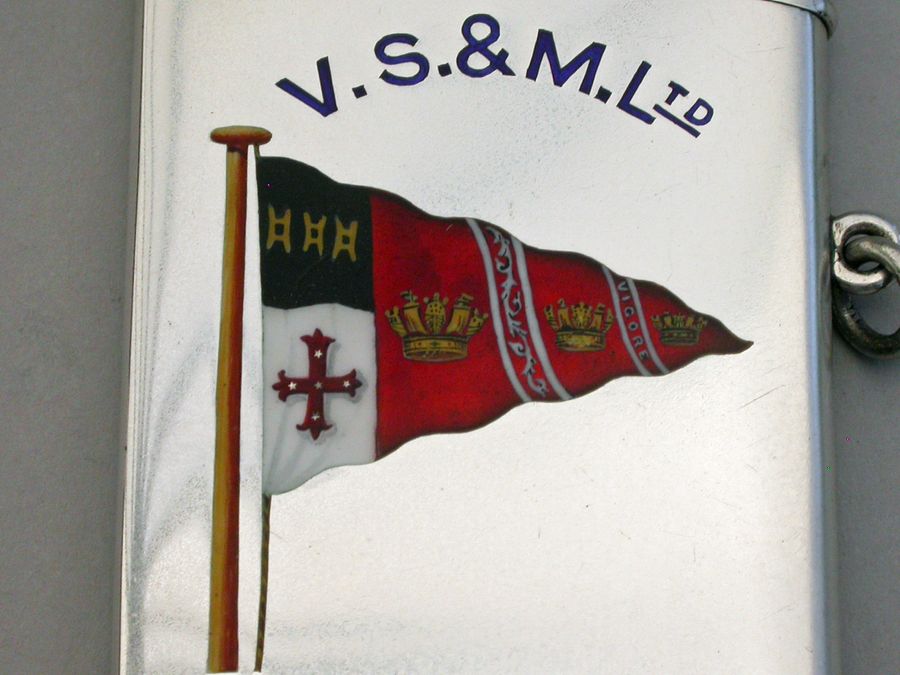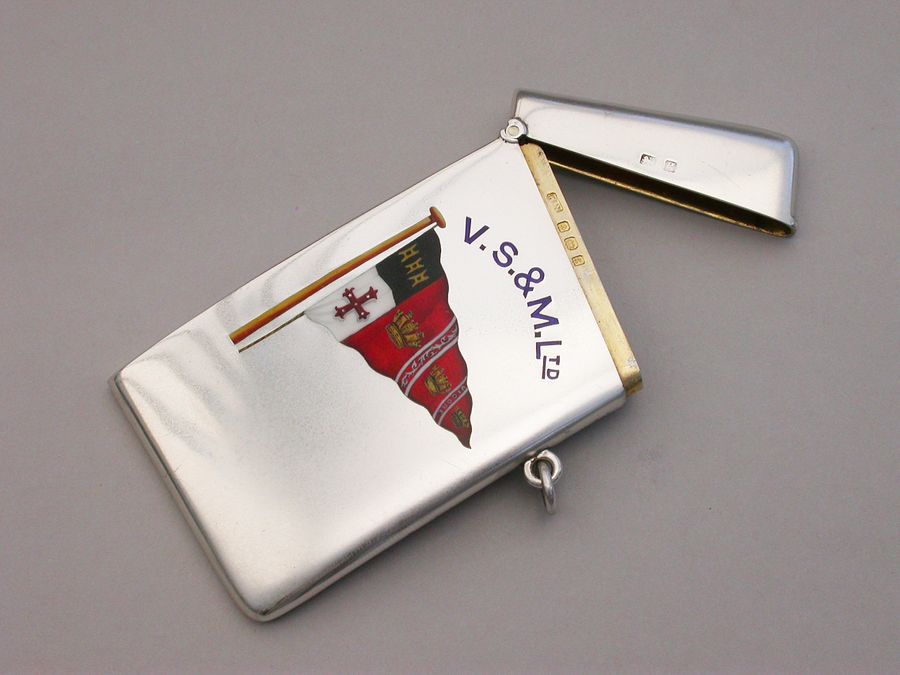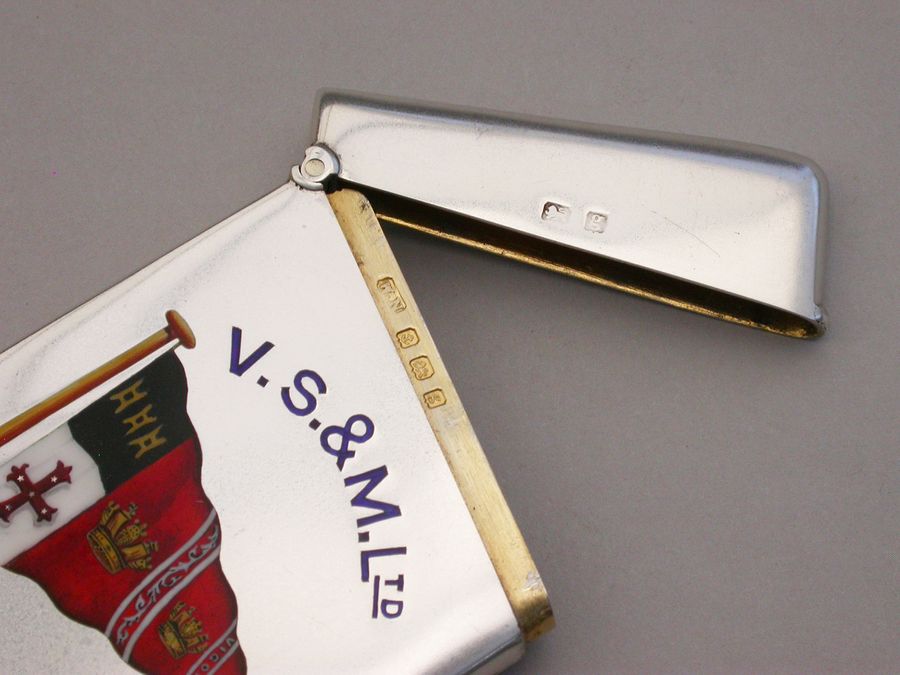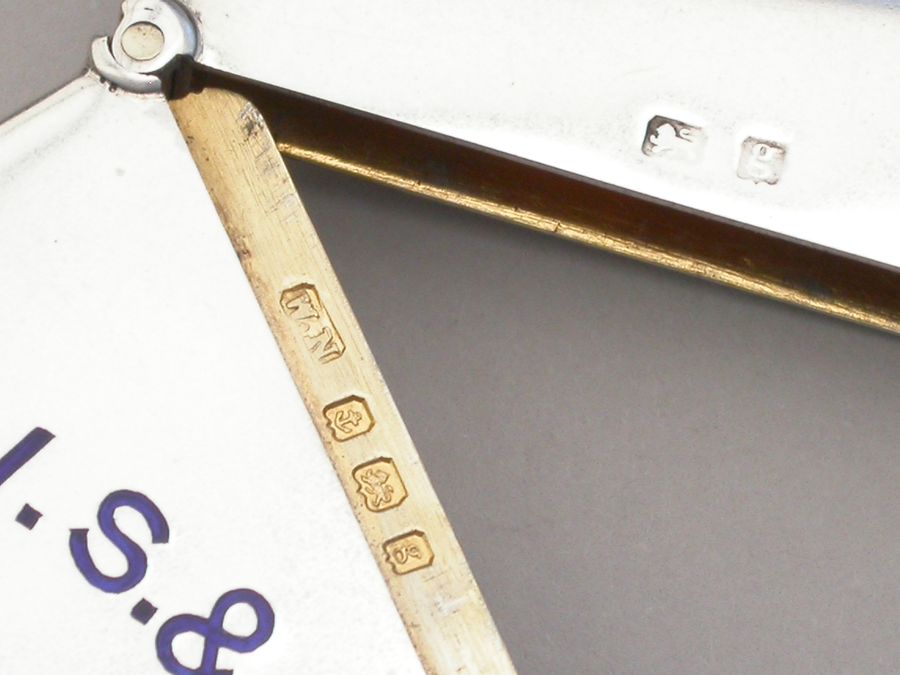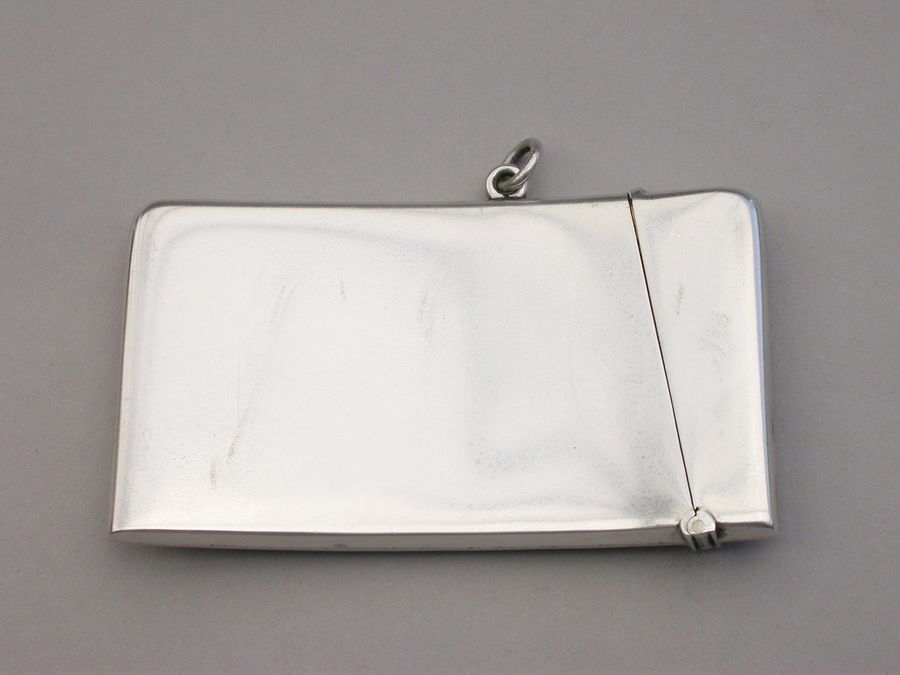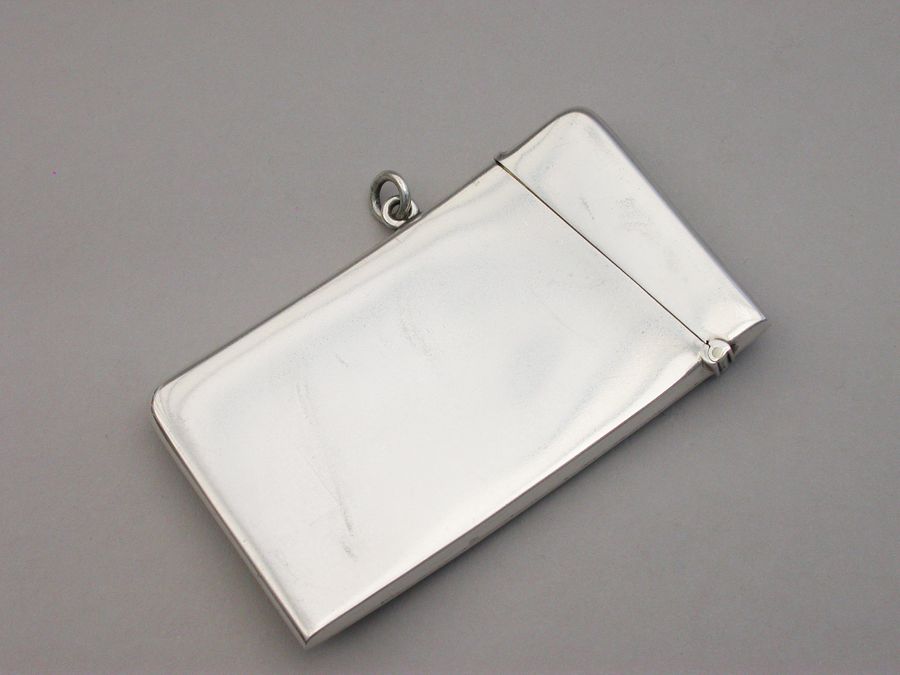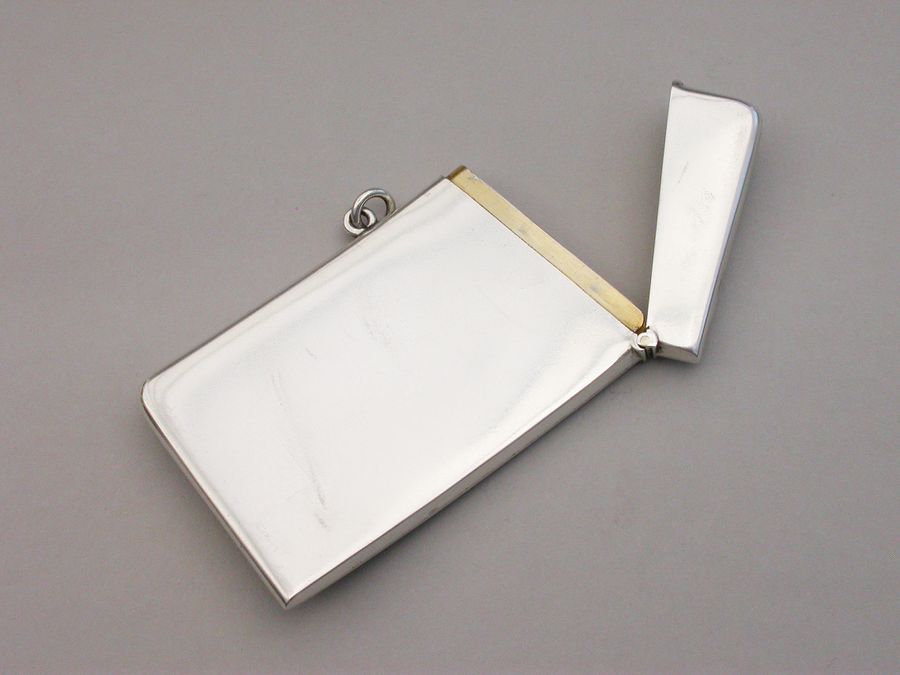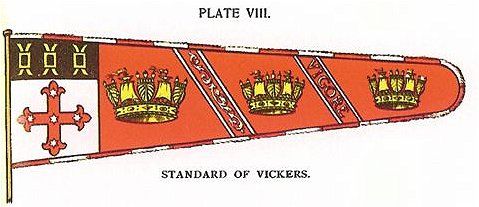 A fine quality Edwardian silver and enamel Calling Card Case of curved rounded rectangular form (to fit a waistcoat pocket), with attached suspension ring and slanting hinged lid. The face enameled with the initials 'V.S.&M.Ltd (for Vickers Sons & Maxim Ltd) and the Heraldic Standard of Vickers or Clan MacVicker. Silver gilt interior.

By William Neale, Birmingham, 1906.

Probably belonging to one of the two brothers - Albert or Thomas Vickers.
Colonel Thomas ('Tom') Edward Vickers V.D. (9 July 1833 – 19 October 1915) was Chairman of Vickers Limited.
Albert Vickers (1838–1919), Chairman of Vickers Ltd (1908–1918) .

CLAN MacVicar Standard

The term "Standard" properly refers to a long tapered flag carried into battle under which troops mustered for duty. Standards were widely used prior to the most recent Jacobite rebellion of 1745. This period in time was most properly called the Tudor period.

During the reign of Henry VIII, when standing armies came into their prominence, Standards lost ground because the Army was loyal to the crown and not to the Chieftain or Prince.

The Vickers' Standard depicts a heraldic cross-called a "Cross Flory" next to the staff. Within the Cross are five "mullets of six points" crowned by three "Mill-rinds" or Fer-de-moline. These are representative of iron from the center of a grindstone. Next come three "Naval Crowns" which appears as a charge in the arms of the towns of Chatham, Ramsgate, and Devonport.

However, these particular Naval Crowns are more properly a Crest Coronet depicting Naval rank equal to Admiral. The motto "Vigore" transects the Standard for strength.

Clan Viccar owned lands bordering Loch Awe, Loch Fyne and the Isle of North Uist. Most likely one or more of our clan kin served in naval positions of importance to the 1500's prior to our lands being dispersed and our Clan Chief being drowned by Campbell in 1567.

VICKERS SONS & MAXIM LTD WHERE A WORLD FAMOUS ENGLISH COMPANY THAT MADE WWI MILITARY ITEMS, MOST FAMOUS WAS THE WATER COOLED MG, AIRCRAFT, ENGINES, ONE OF THE FIRST SUBMARINES, SHIPS, CARS INCLUDING WOLSELEY TEN, MOTH, ARMSTRONG SIDDELEY, AUSTIN'S. THERE CAR ENGINES ALSO HELD MANY RECORDS ON THE BROOKLANDS RACE TRACK. FAR TOO MANY OTHER ITEMS TO LIST.
THE COMPANY WAS EVENTUALLY PURCHASED BY ROLLS ROYCE.

Vickers Sons & Maxim Ltd, of River Don Works, Sheffield and Barrow-in-Furness, Erith, Crayford, Dartford and Stockholm.

1897 Vickers, Sons and Co absorbed the Naval Construction and Armaments Co, and the Maxim Nordenfelt Guns and Ammunition Co, which would enable the company to build and equip the largest battleships; the name of the company was changed to Vickers, Sons and Maxim.

1901 Vickers, Sons and Maxim took over the machine tool and motor car side of the Wolseley works, trading as the Wolseley Tool and Motor Car Co. Herbert Austin was general manager.

1901 Registered the Electric and Ordnance Accessories Co to carry on special branches of the Vickers' Company's work.

1900s Douglas Vickers, a director, estimated that 'over a few years, armour resistance has increased by 200% while the effectiveness of shells has increased by around 135%'

1902 In order to bolster its finances, William Beardmore and Co, steel manufacturers, armour plate, gun and ordnance makers, exchanged almost 60 per cent of its capital with that of Vickers, Sons and Maxim.

1907 Constructed 3 turbine sets under licence from Parsons Marine Steam Turbine Co.

1907 Had a large interest in the Whitehead Torpedo Co.

1910 Construction at Barrow of a dirigible for Royal Navy using Hart fabric which became His Majesty's Airship No. 1, or Mayfly.

1910 At this time the company was the only one in UK that had constructed submarine boats. It was also unique in being able to build a battleship, equip her with engines, fit her with armour, provide her with guns and shells, and launch her ready for service.

1911 Name changed to Vickers after Sir Hiram Maxim retired from the board.

Sold - £495.00
Condition
In very fine condition with no damage or repair
Weight
54.50 Grams (1.75 troy ounces)