George II Provincial Silver Chased Escutcheon Wine Label 'Claret' Scawby Hall
Unmarked c1760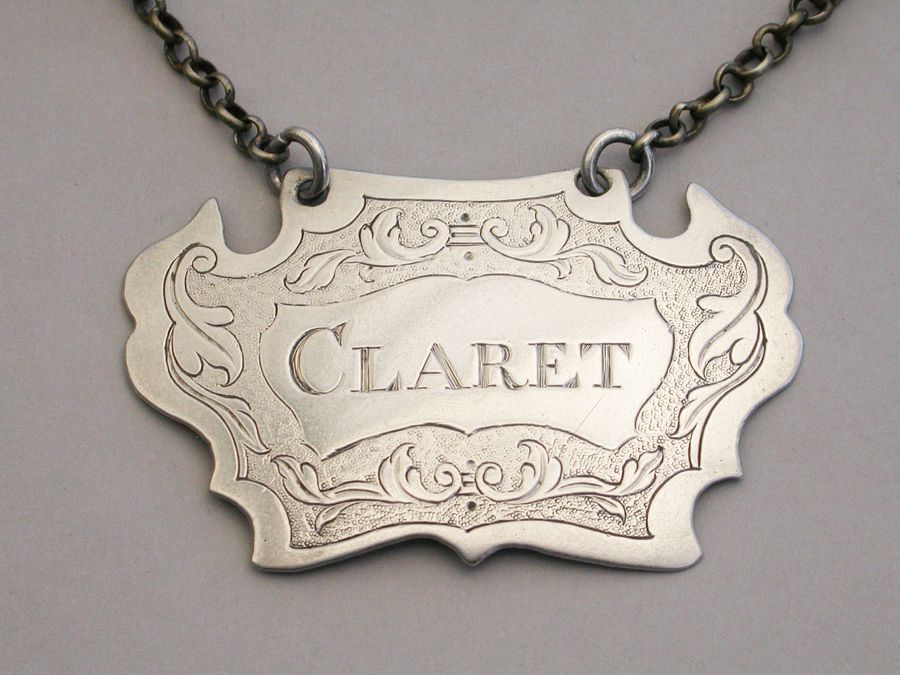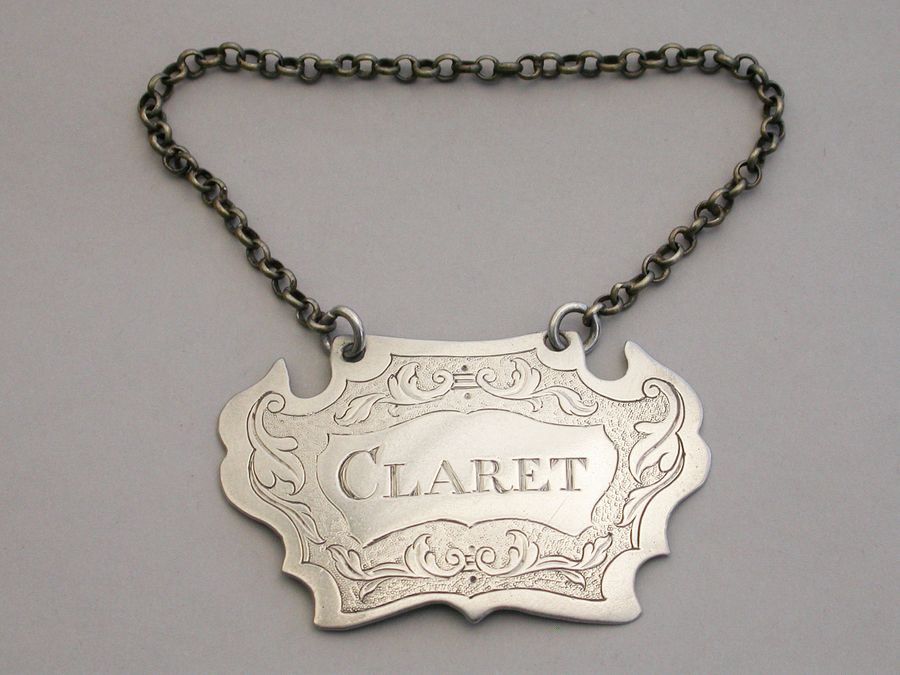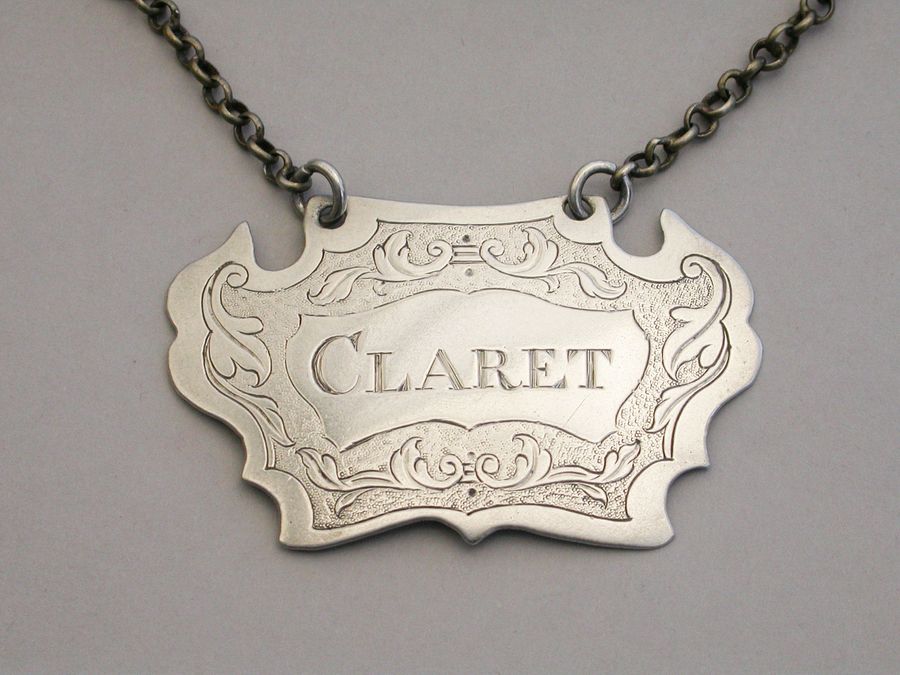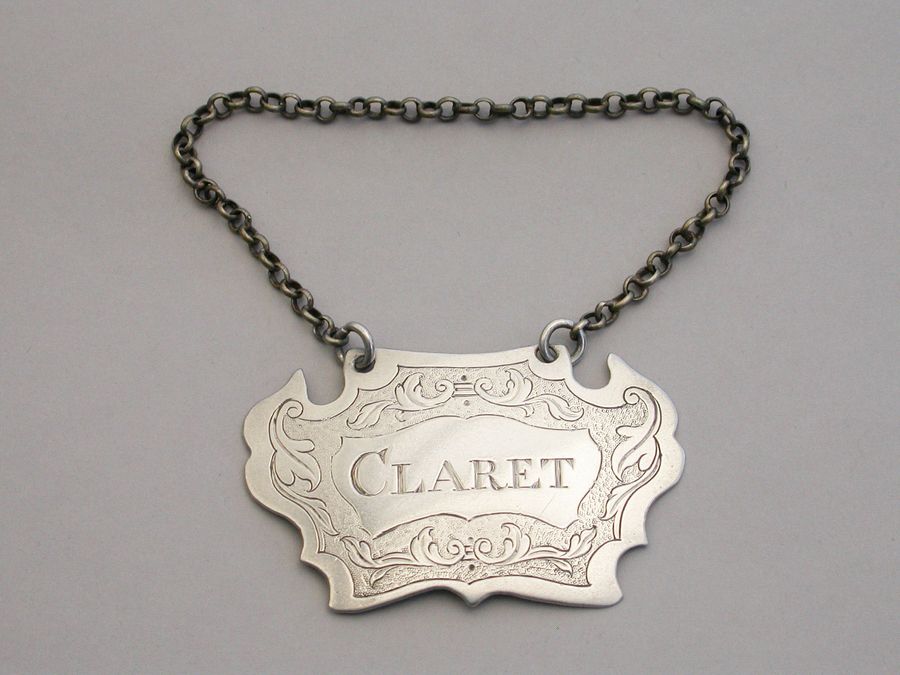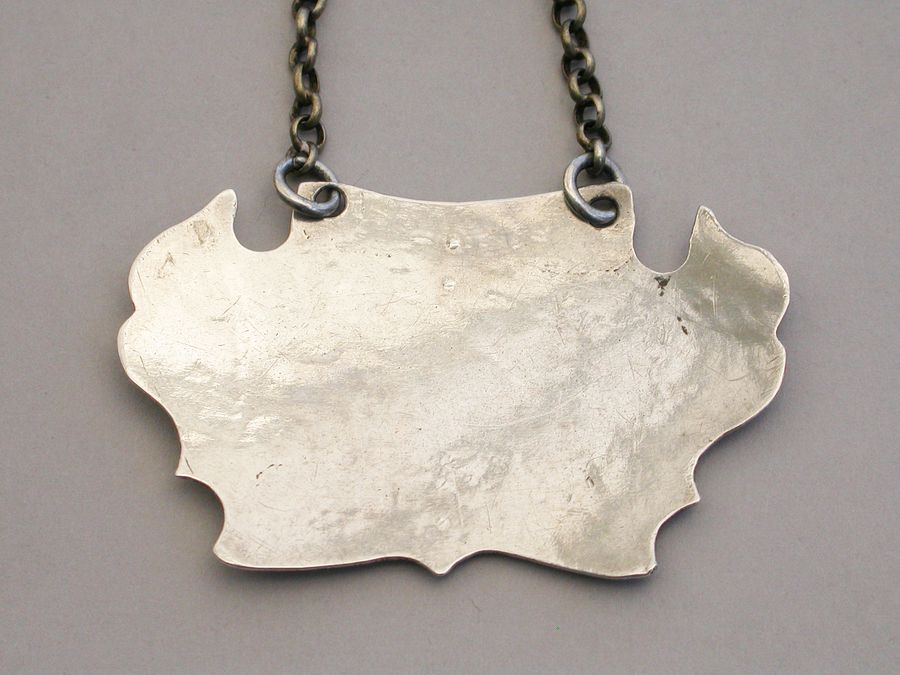 An extremely rare and unusual George II silver chased escutcheon Wine Label for Claret, with rococo style decoration on a matt background.

Unmarked c1760. Probably Provincial, Newcastle, York or Hull.

Provenance: Scawby Hall, Lincolnshire. Sold by Sotheby's in November 2002.

Literature:-
From the Wine Label Circle Journal Vol 11, No 3 Autumn 2002.
ROCOCO ESCUTCHEONS
Considering how strong was rococo influence when wine labels first appeared, it is
strange that its scrolls and flourishes are so seldom found on labels, as exemplified on
the pair of escutcheons for WHITE and MADEIRA shown on page 79, Row C, 4 and
5. They are from a set of four, with PORT and SHERRY, all unmarked, which came
from Scawby Hall in Lincolnshire. Scawby Hall has been the seat of the Nelthorpe
family since the 16th century, but much of the silver dates from the time of Sir Henry
Nelthorpe, who was a collector in many fields in the middle years of the 18th century.
These labels, with their unusual rococo motif, could well date from then. If this is
questioned, they might just be likened to an escutcheon design of George Unite of
Birmingham, a century later (page 79, Row D, 6), but the latter's etching is machined,
and lacks the feel of earlier workmanship.
I am inclined to give them a date of c. 1760-65, so it is then worth examining where
they might have come from. The engraving of the titles, with their large initial capital
letters, suggests Newcastle or perhaps York. No silver was being assayed in York at
that time, and there was only one silversmith who might have been active, Stephen
Buckle (WLCJ Dec. 1980 and June 1992). These labels bear no resemblance to any
work known to be his. Newcastle is a possibility, but it is strange to have no marks on
them, as that city's silversmiths were usually punctilious in applying their marks.
They cannot, in fact, be readily attributed to the hand of any definite mid-century
Newcastle maker. Nevertheless they are, it has to be said, sophisticated labels;
whoever did make them clearly had some knowledge of contemporary labels to guide
him. As I pointed out above, this particular style of rococo engraving is unusual on
labels. The tendrils which link the grapes and vineleaves of a standard escutcheon
design are indeed rococo in form, but the only other example of this particular style
which I have recorded is on the label by Henry Bickerton, illustrated in WLCJ,
Summer 2001, which can be dated c.1760 with some certainty.
Let me end on a note of tempting fantasy. The road north from Scawby Hall leads
towards Hull, less than 20 miles away. There were no longer any active goldsmiths in
Hull by then, but there were still some active jewellers capable of working in silver.
No label from Hull has been identified, nor is one likely to be, and if I may borrow a
phrase from that well-known Wimbledon sportsman, John McEnroe, - "You can't be
serious".
T.E. Barlow.

Sold - £210.00
Condition
In good condition with no damage or repair
Weight
12.80 Grams (0.41 troy ounces)