George IV Cased 18 Carat Gold Presentation Vinaigrette Scottish Jacobite & Jamaican Interest
John Reily, London 1823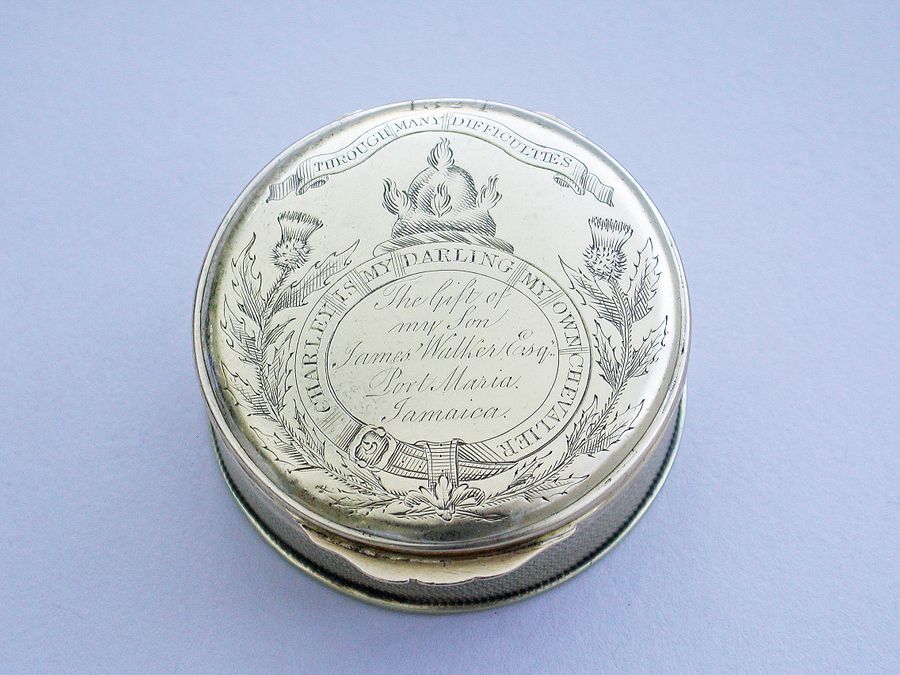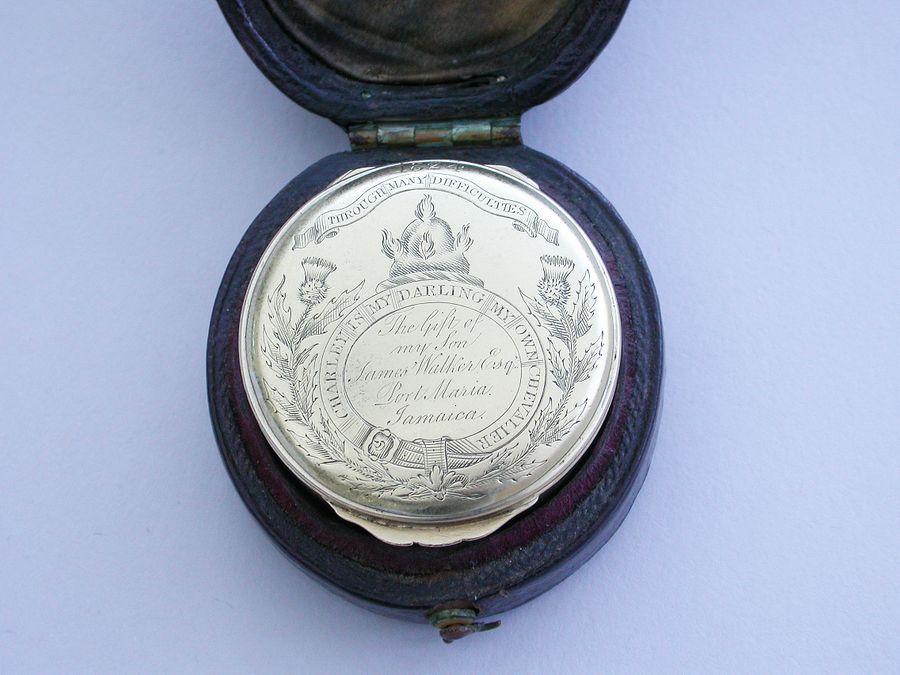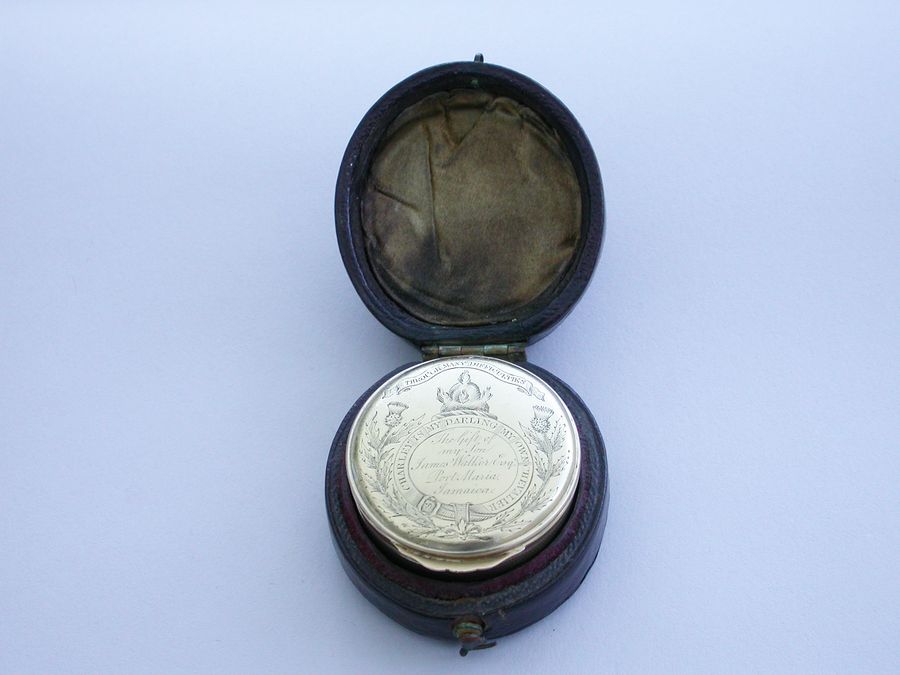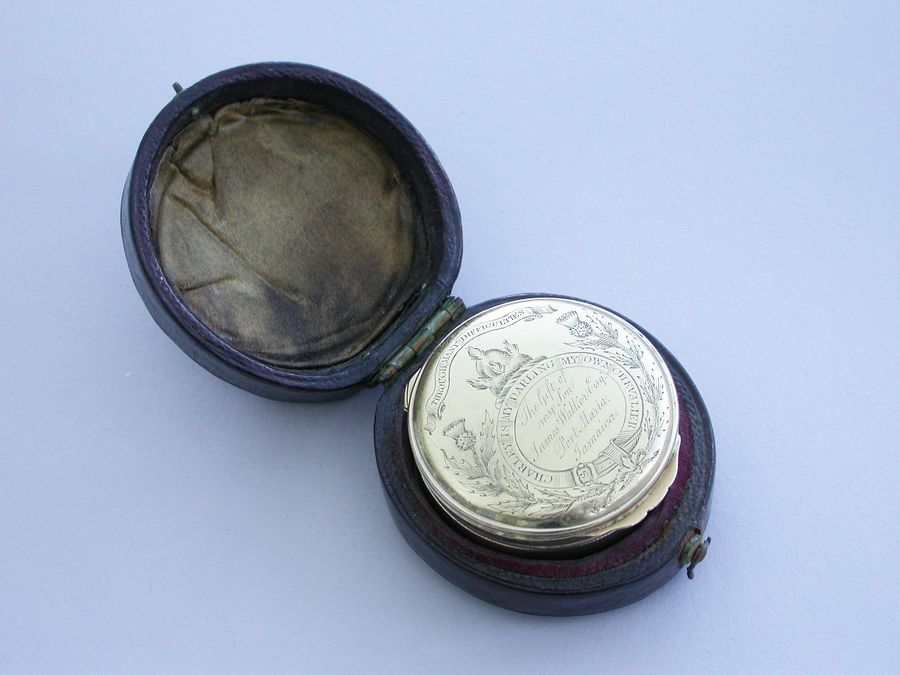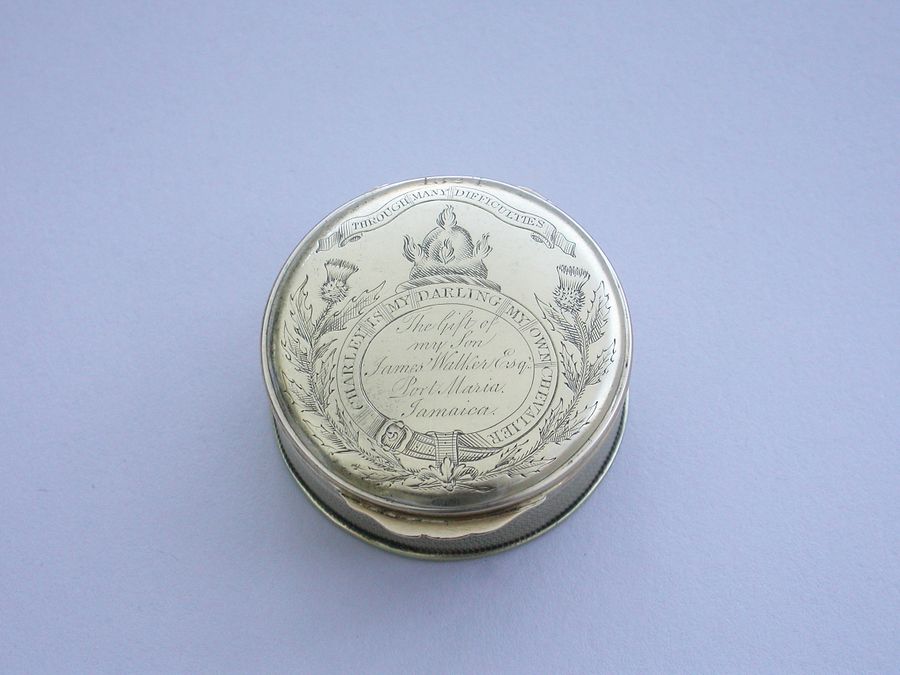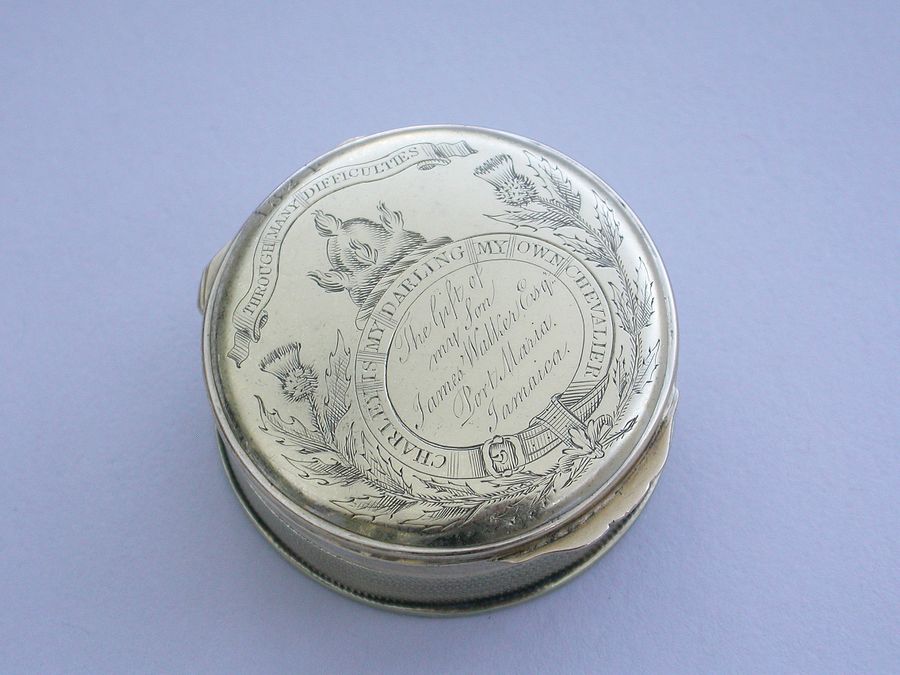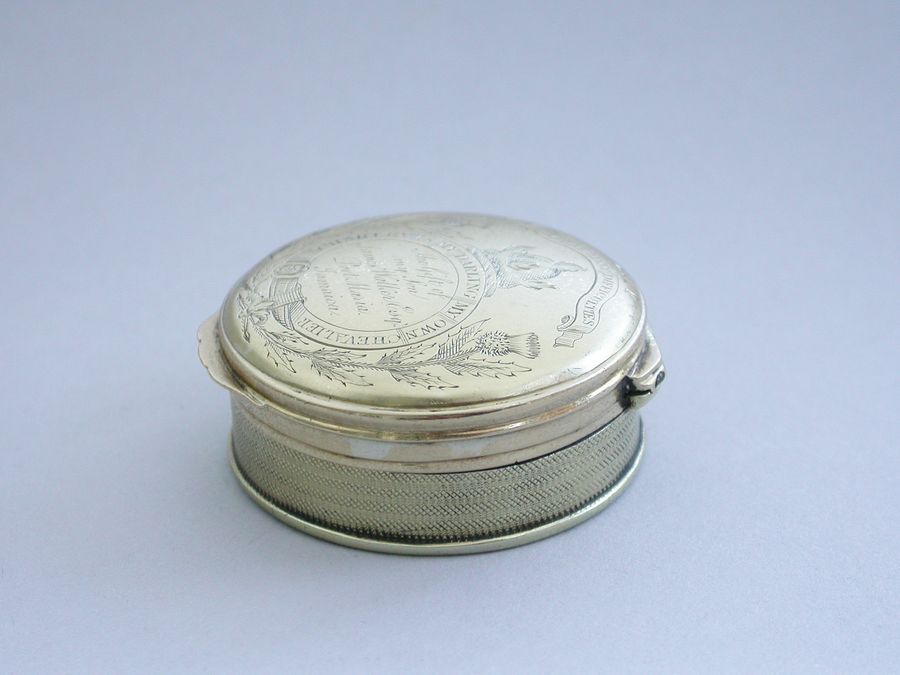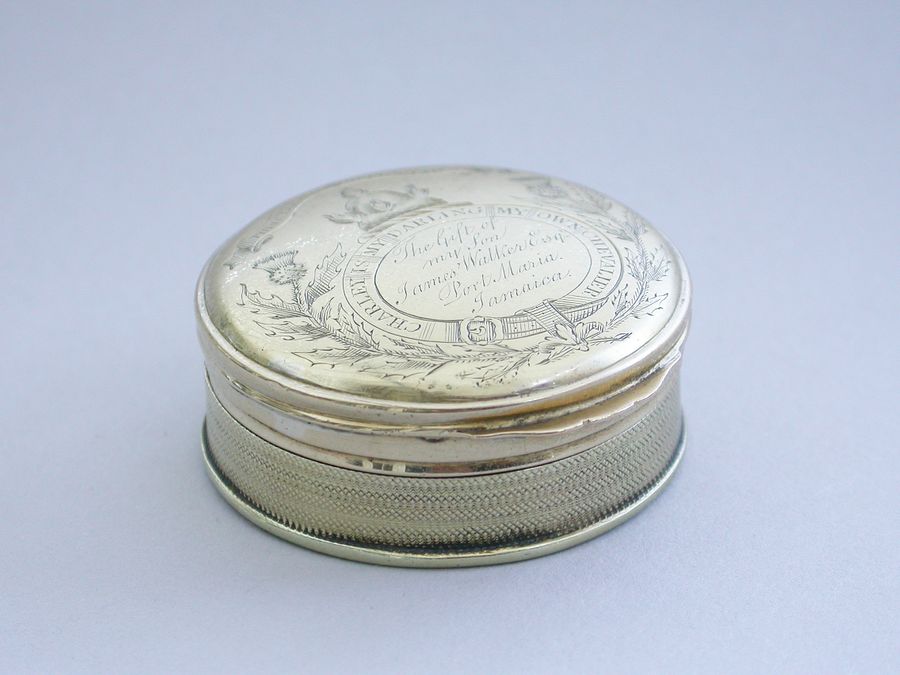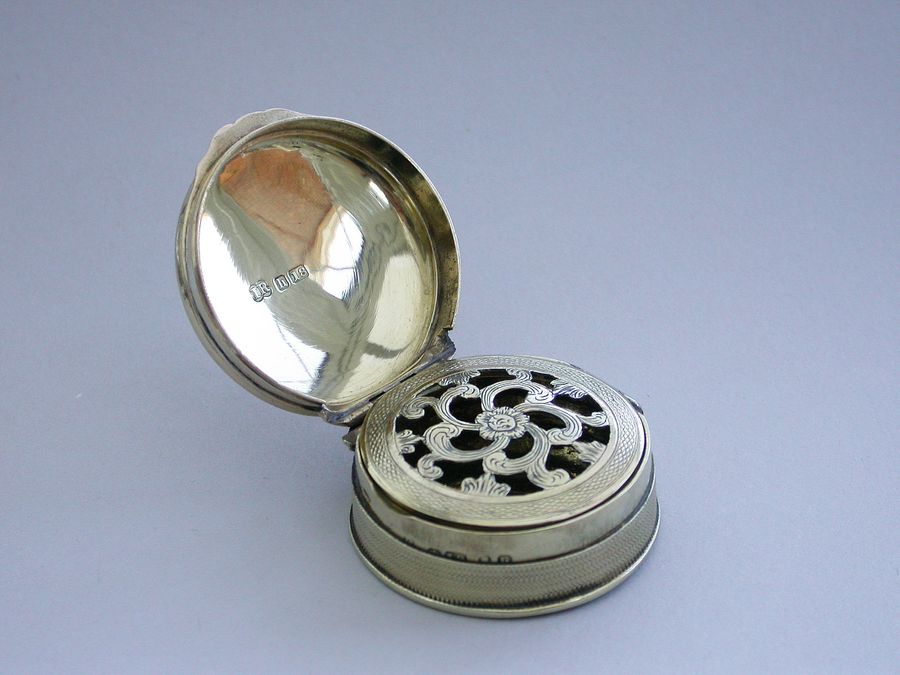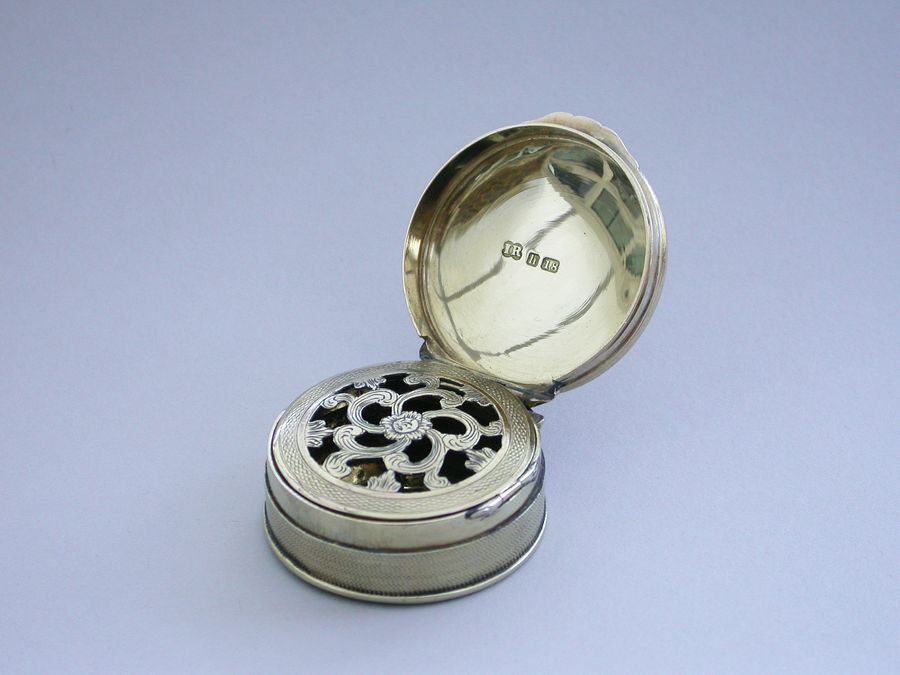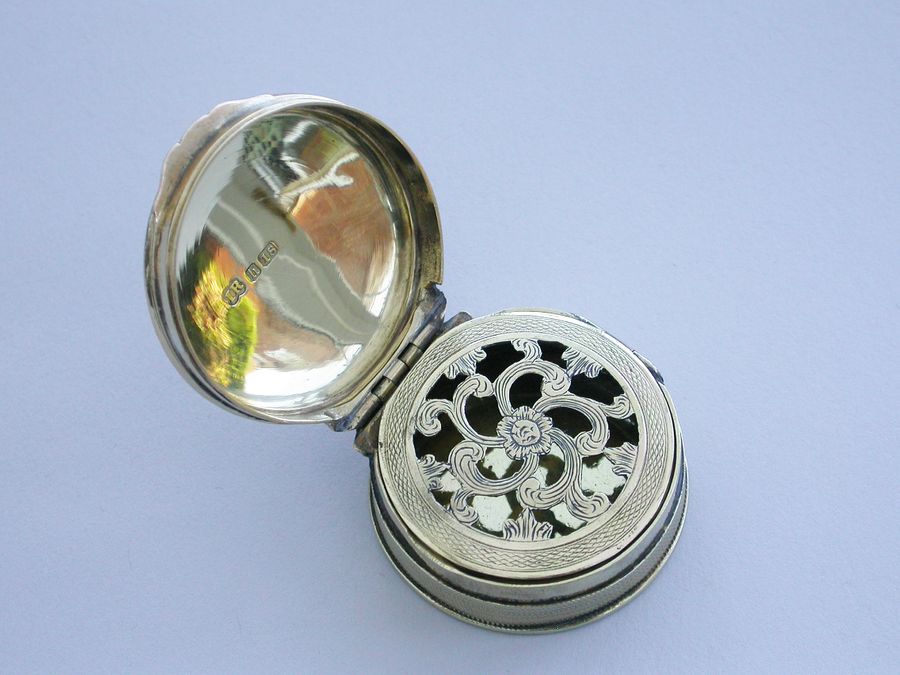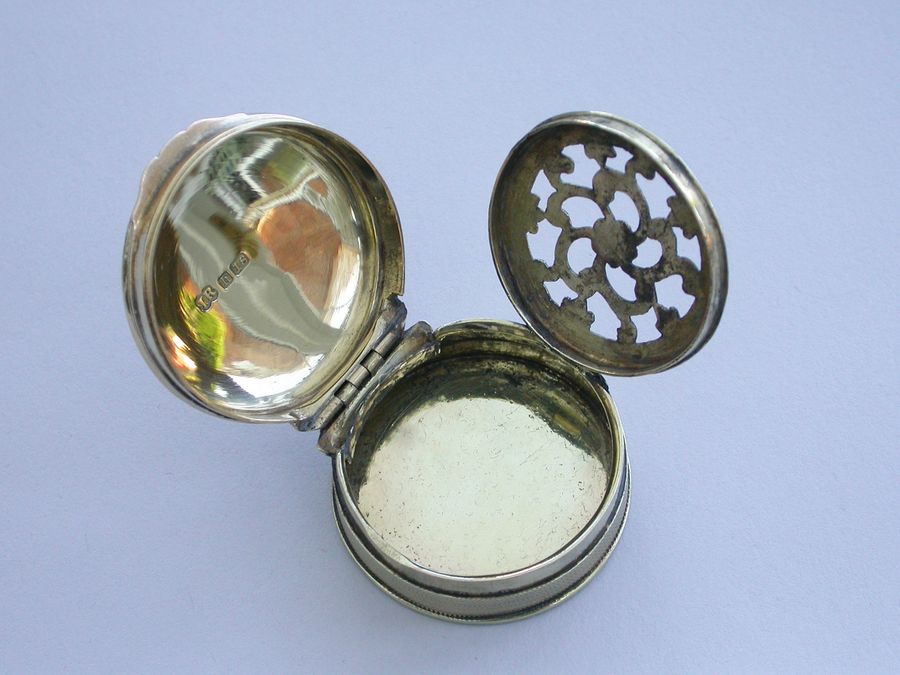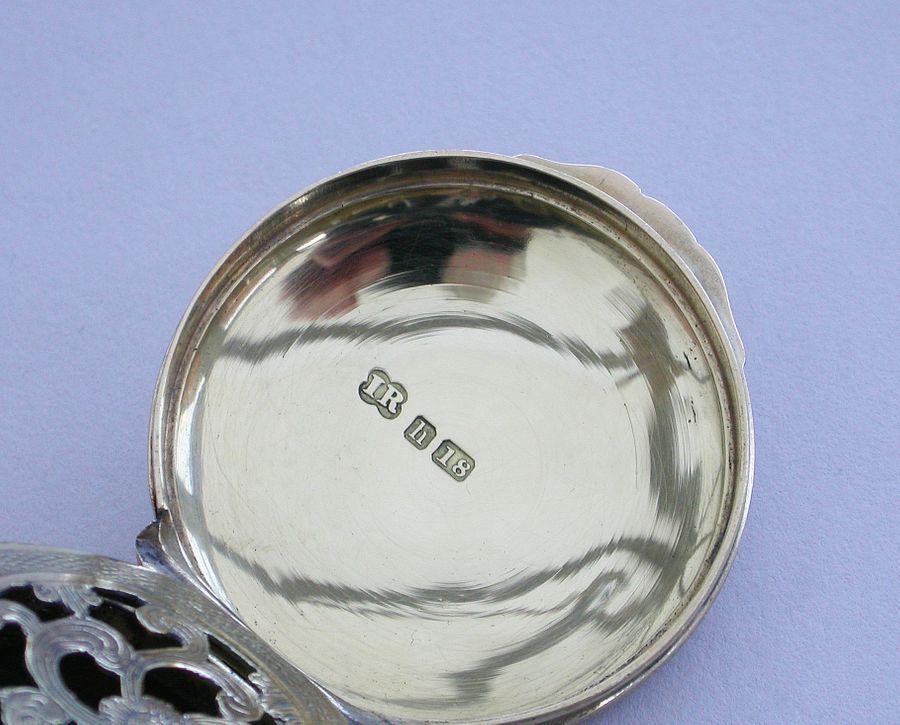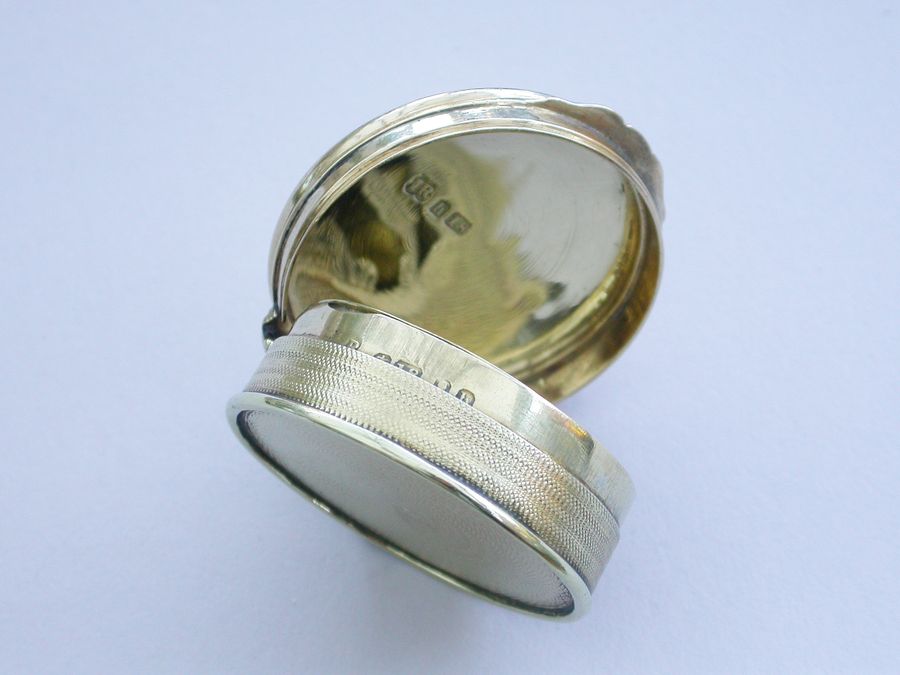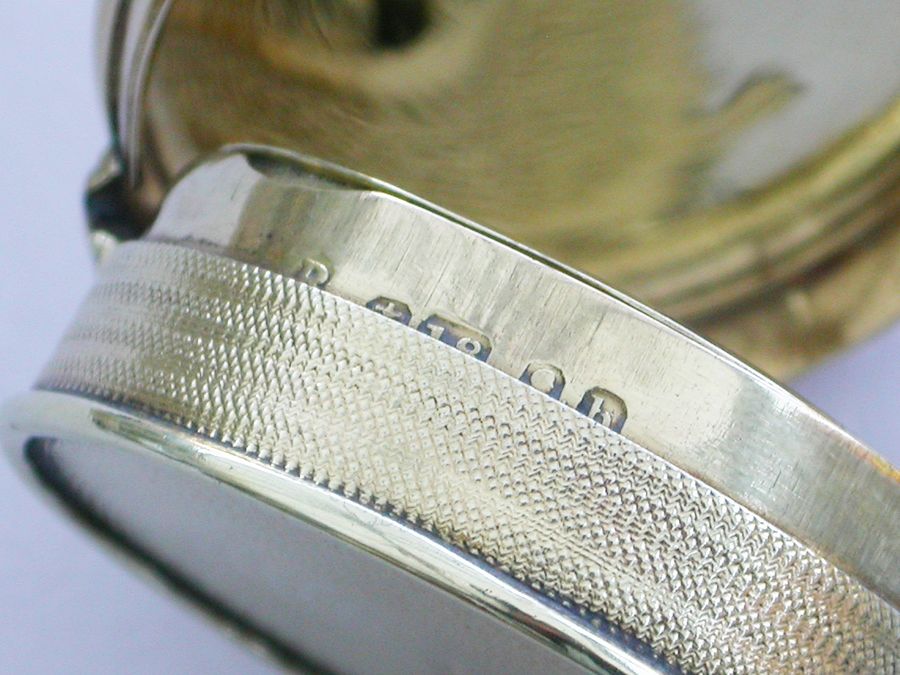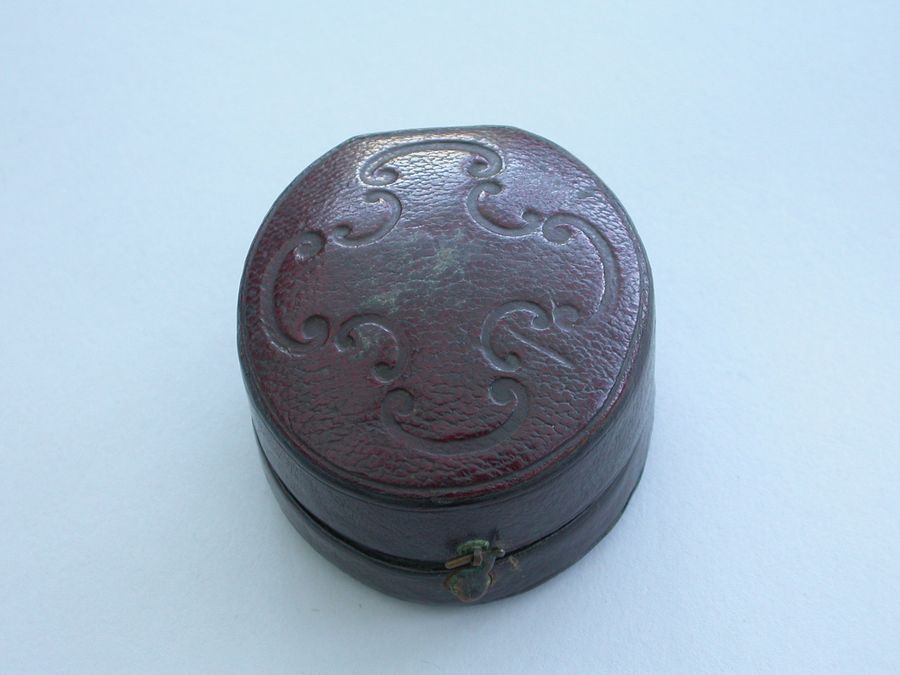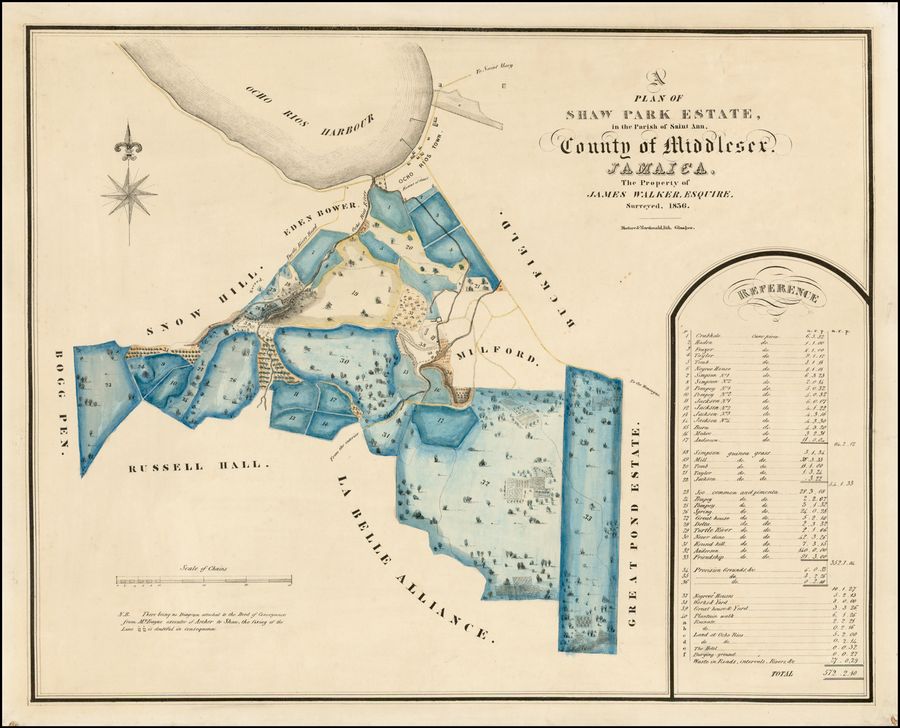 An extremely fine George IV 18 carat gold Vinaigrette, of circular form with engine turned base and sides, stand-away hinge and shaped thumb-piece, the domed cover engraved with presentation inscription, crest, motto, garter belt and thistles and the date 1824. The interior with foliate scroll pierced hinged grille with engine turned border. Complete with original fitted Morocco leather case.

By John Reily, London 1823.

The inscription reads: 'The Gift of My Son James Walker Esq, Port Maria, Jamaica'.

The crest and motto 'THROUGH MANY DIFFICULTIES' for Walker.

The garter belt engraved: 'CHARLEY IS MY DARLING MY OWN CHEVALIER' - A traditional Scottish song with several versions, but most famously by Robert Burns,1794. The title character is Charles Edward Stuart, who held court at the Palace of Holyroodhouse for six weeks while leading the Jacobite Rising in 1745. Better known today as Bonnie Prince Charlie, his
story has since been highly romanticized in the popular imagination. The lyrics make fun of the young ladies whose heads were said to have been turned by the sight of the prince in his Highland clothes – seduced into Jacobitism as a result of his charms. Perhaps the song raised blushes as well as mirth amongst Burns' audience, some of whom will have remembered the 'young Chevalier's' visit to the city.

During the 17th and 18th centuries Jamaica was a major destination for Scottish emigrants. Around 17,000 Scots emigrated to the Caribbean between 1750 and 1800. By the mid-18th century an estimated one-third of the white population of Jamaica was Scottish or of Scots origin. Scotsmen came to view Jamaica as a place where fortunes could be made, and consequently Jamaica attracted planters, merchants, physicians, clergymen, skilled tradesmen, and other professionals. Some settled permanently, while others returned home after acquiring wealth.

There were several Walker's in Jamaica in the early 19th century, and there is even a place named 'Walkerswood'. It is possible that the James Walker Esq referenced on this Vinaigrette may well refer to James Walker (1784-1847) of Shawpark estate in St Ann, Jamaica sometime residing at Cardross in Dunbartonshire and thereafter at Shawpark Dunoon, Argyll. The Shaw Park Estate was part of the vast land holdings in St. Ann's Parish that had been in the Shaw family since the late seventeenth-century. An especially well planned and landscaped property, it commanded excellent views of the harbour. Occupying almost 600 acres, it was primarily planted with sugar cane, along with groves of pimento. When the family patriarch John Shaw died in 1821, the property was left to his son-in-law, James Walker (1784-1847), a Scottish doctor who had married Shaw's daughter, Elizabeth Olivia Shaw. Walker attained prominence in his own right, being elected to the island's Legislative Assembly, representing St. Ann's.

There was also an Admiral James Walker 1764-1831 who fought both in the UK with Lord Nelson & in the Caribbean. His father was a Dr James Walker of Innerdovat,Fife, who lived and worked in Jamaica in the 18th century.






Reserved - £2,950.00
Condition
In fine condition with no damage or repair, the hinge slightly loose and the hinge to the leather case partly detached
Weight
37.20 Grams (1.20 troy ounces)