Mid 18th Century Dutch Silver William IV Prince of Orange / Utrecht Medallion
c1747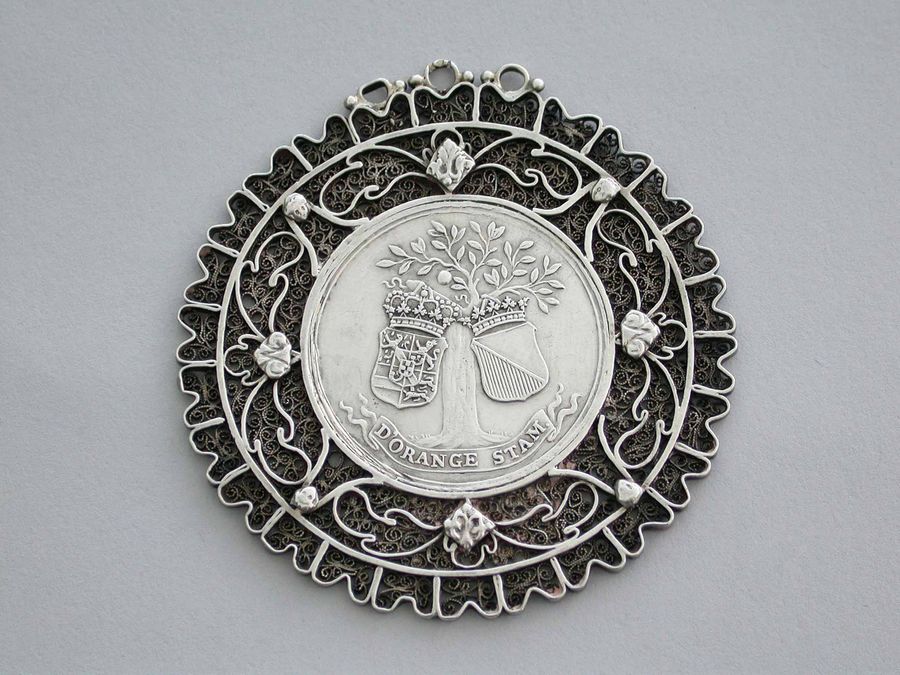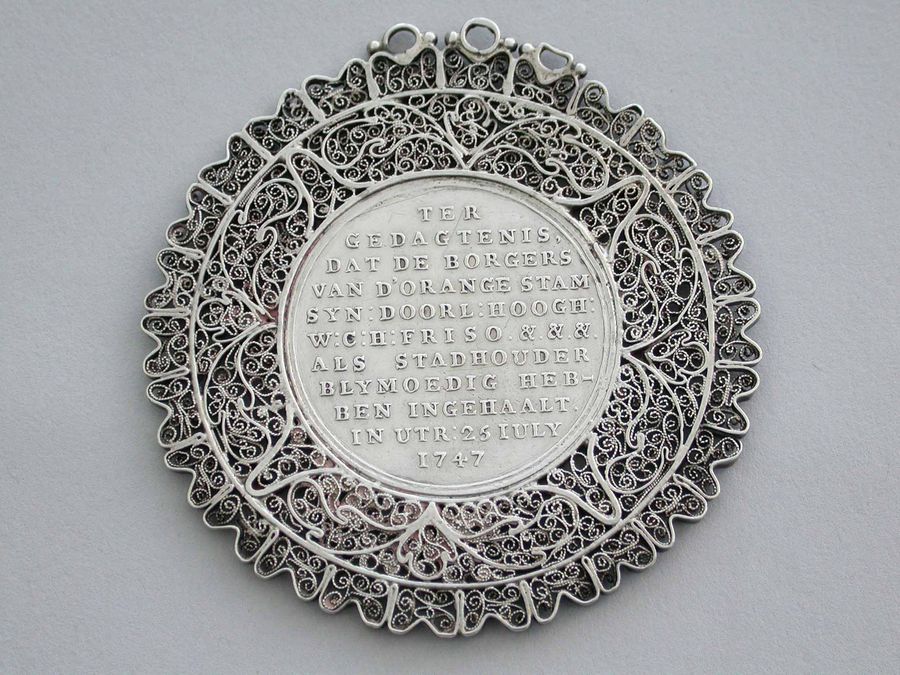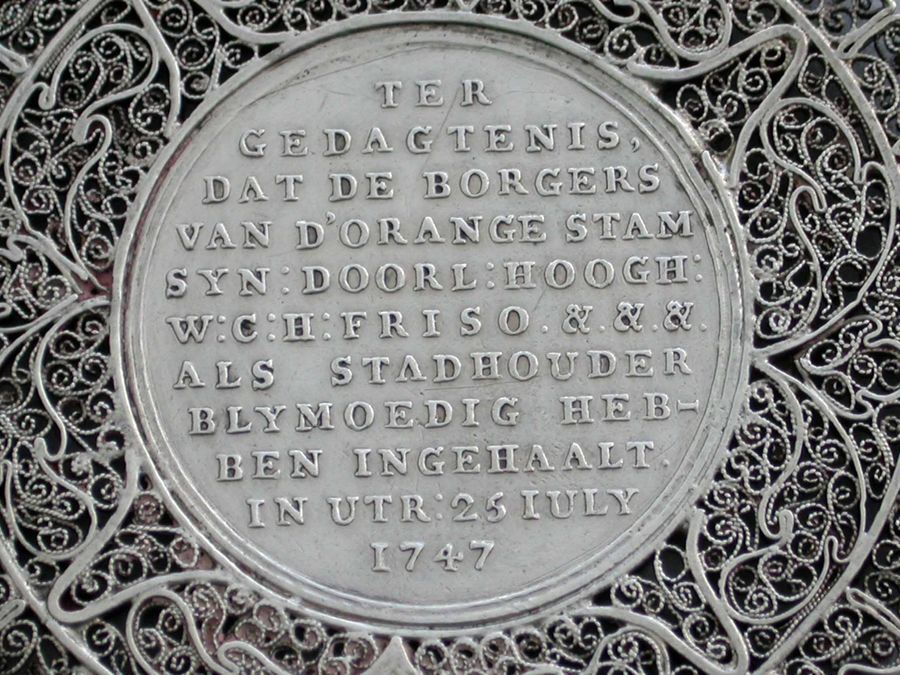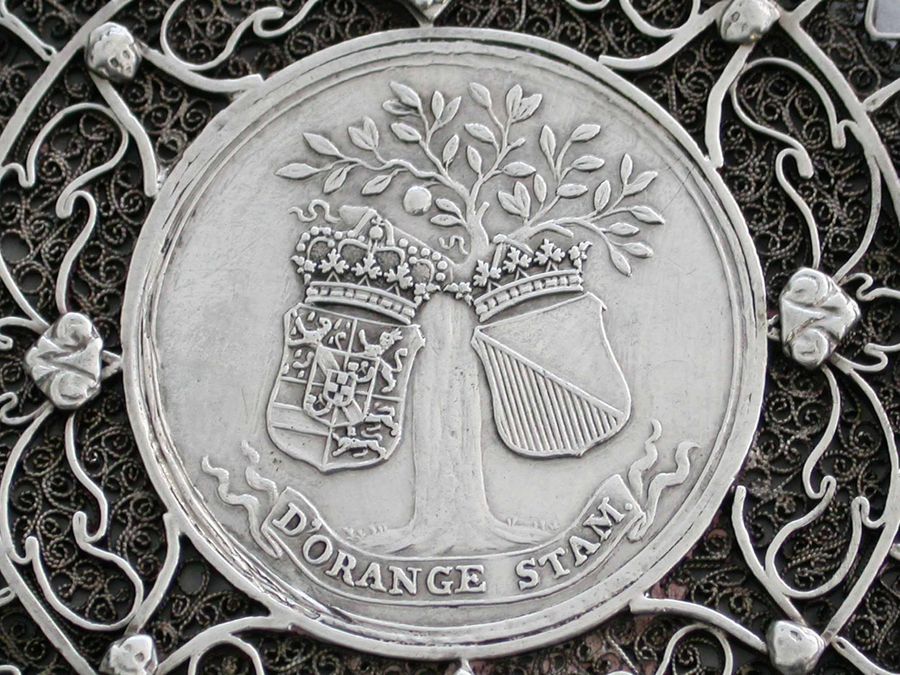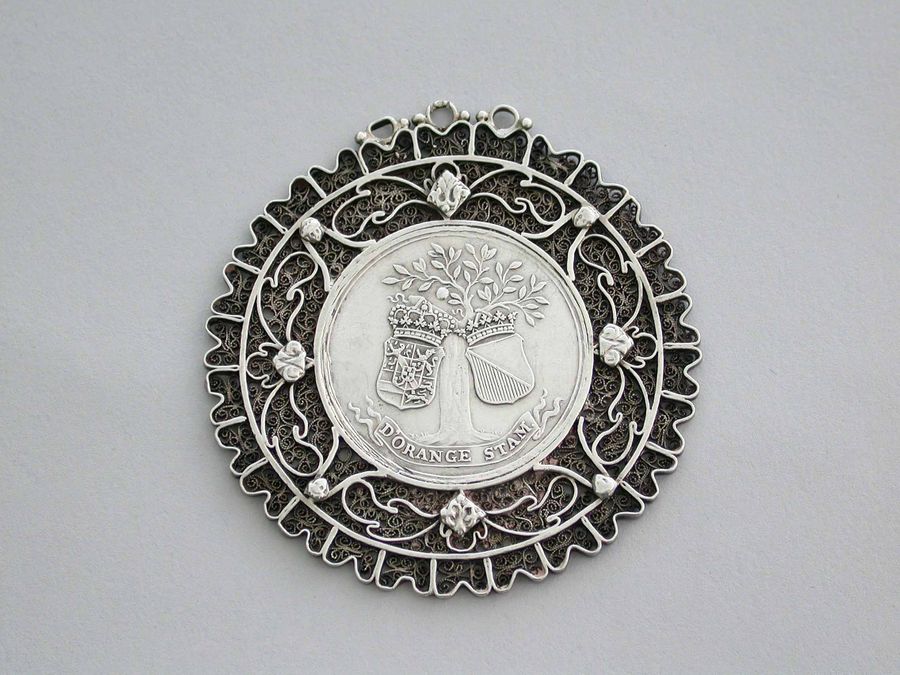 A mid 18th Century silver Medallion with intricate pierced filigree border, commemorating the elevation of Willem Karel Hendrik Friso to Stadtholder of all the United Provinces of the Netherlands, and in this case Utrecht. The face with the Coats of Arms of Prince William IV of Orange and the Arms of the City of Utrecht, in an Orange Tree. The reverse with the legend:-

TER GEDAGTENIS, DAT DE BORGERS VAN D'ORANGE STAM SYN: DOORL: HOOGH:
W:C:H: FRISO.&.&.&.
ALS STADHOUDER BLYMOEDI HEB-DEN INGEHAALT.
IN UTR: 25th July 1747.

Unmarked c1747.

William IV (Willem Karel Hendrik Friso; 1 September 1711 – 22 October 1751) was Prince of Orange from birth and the first hereditary Stadtholder of all the United Provinces of the Netherlands from 1747 till his death in 1751. During his whole life he was furthermore ruler of the Principality of Orange-Nassau within the Holy Roman Empire.
William was born in Leeuwarden, Netherlands, the son of John William Friso, Prince of Orange, head of the Frisian branch of the House of Orange-Nassau, and of his wife Landgravine Marie Louise of Hesse-Kassel (or Hesse-Cassel). He was born six weeks after the death of his father.

William succeeded his father as Stadtholder of Friesland and also, under the regency of his mother until 1731, as Stadtholder of Groningen. In 1722 he was elected Stadtholder of Guelders. The four other provinces of the Dutch Republic:, Holland, Zeeland, Utrecht and Overijssel had in 1702 decided not to appoint a stadtholder after the death of stadtholder William III, issuing the history of the Republic into a period that is known as the Second Stadtholderless Period. In 1747 those four provinces also accepted William as their stadtholder.

In 1720 William was named the 549th Knight of the Order of the Garter. On 25 March 1734 he married at St James's Palace Anne, Princess Royal, eldest daughter of King George II of Great Britain and Caroline of Ansbach.
Sold - £550.00
Condition
In good condition no damage or repair
Weight
17.70 Grams (0.57 troy ounces)