Modern Cased Silver Gilt Surprise Christmas Box "5 Gold Rings"
Stuart Devlin, London 1974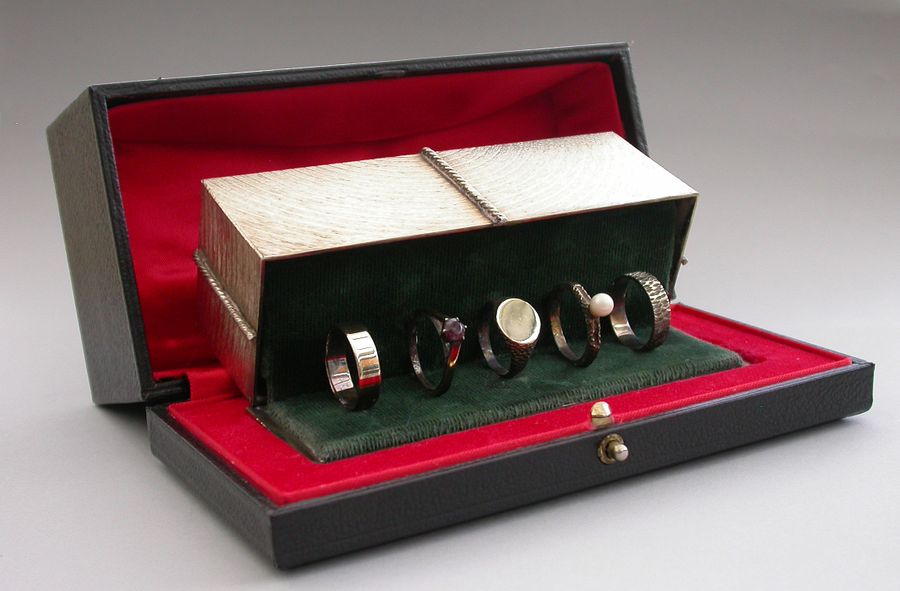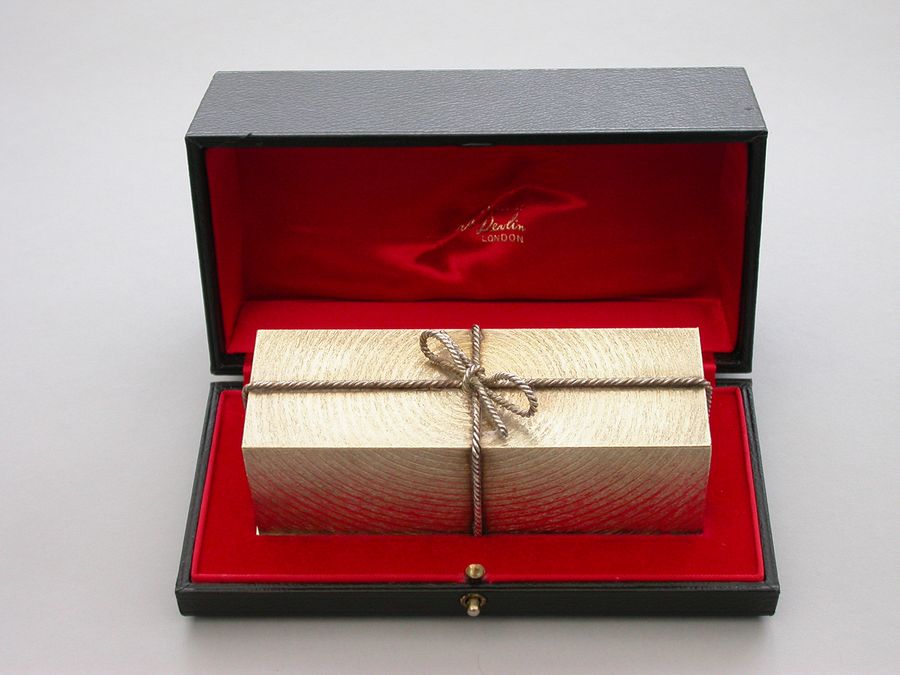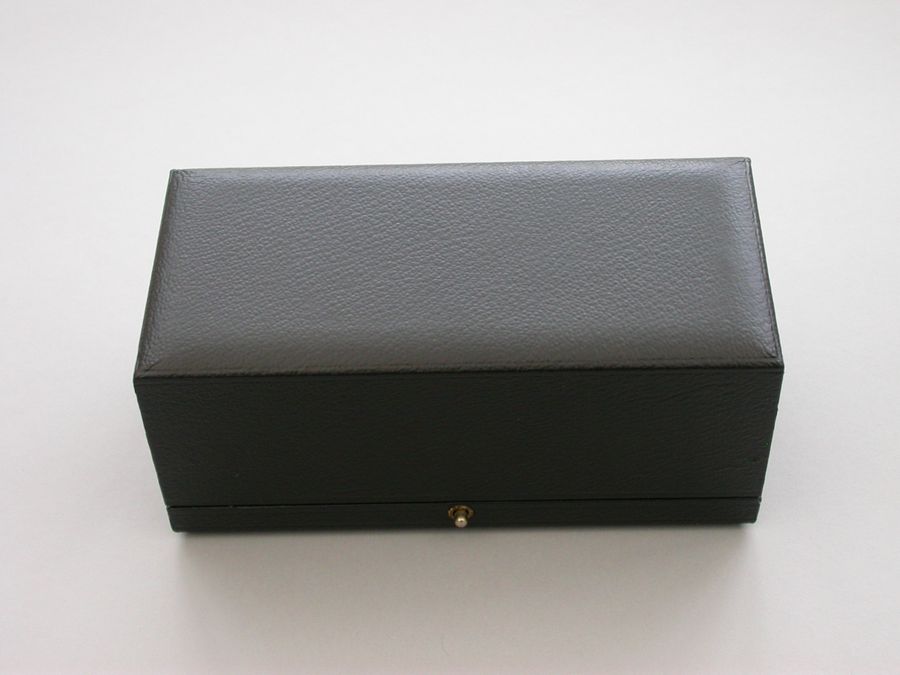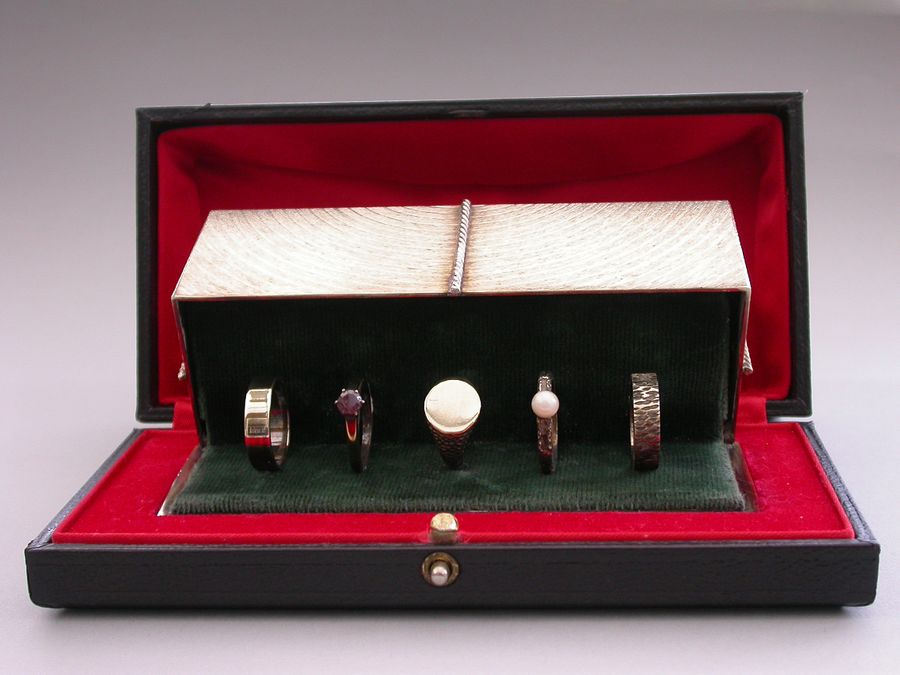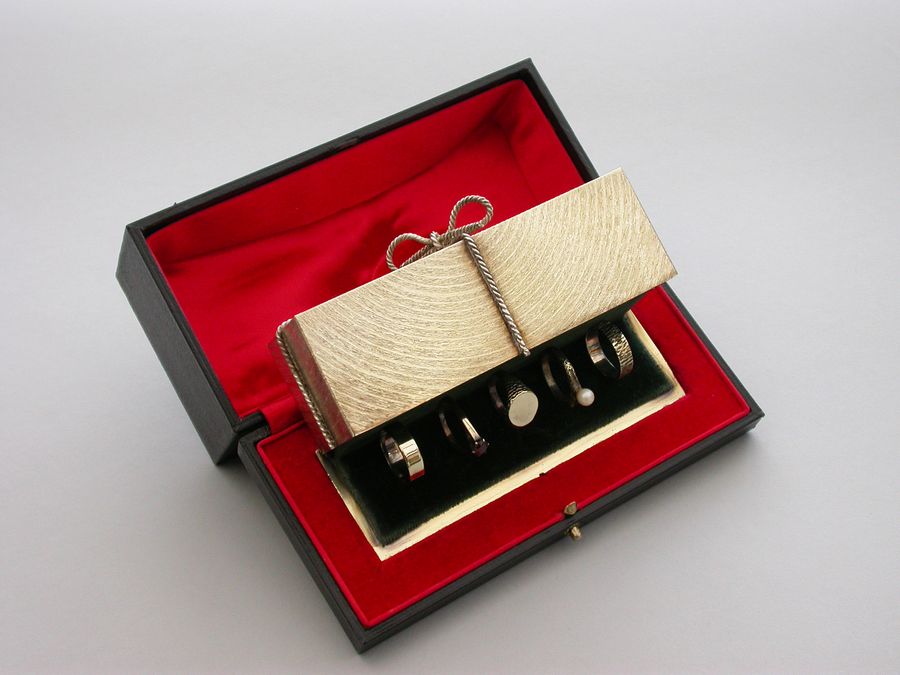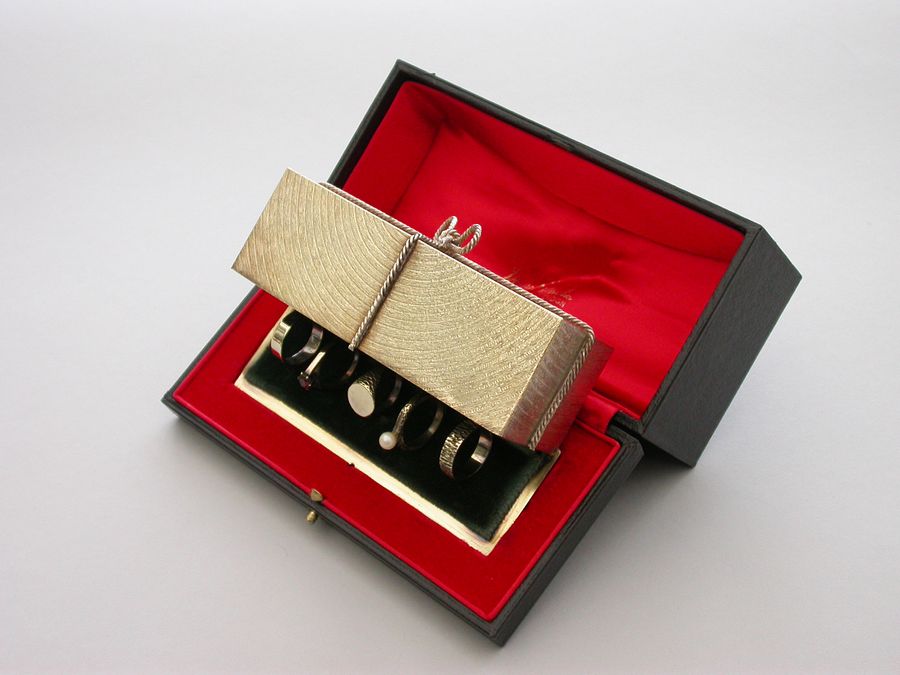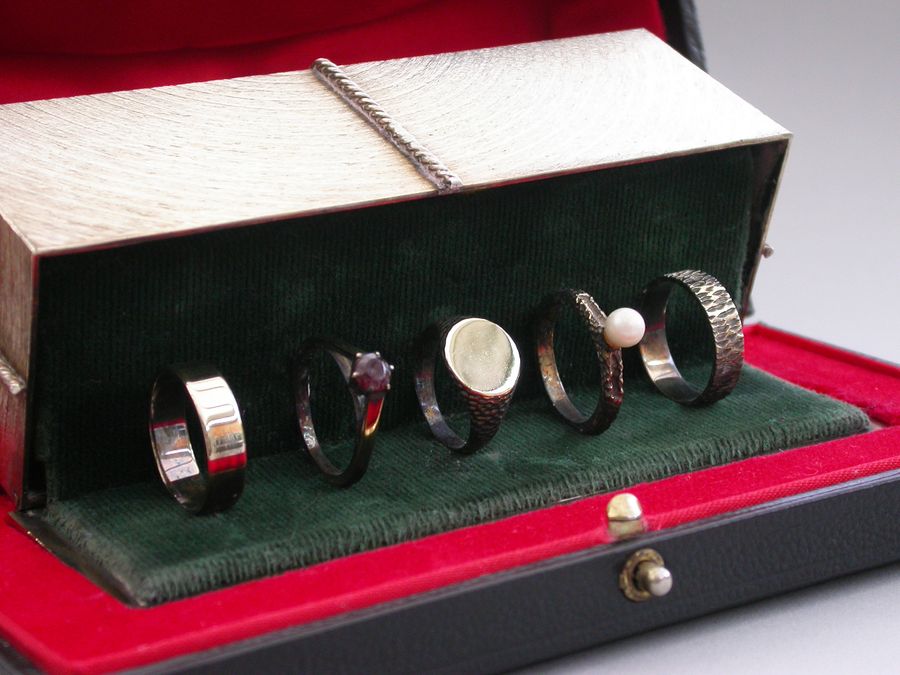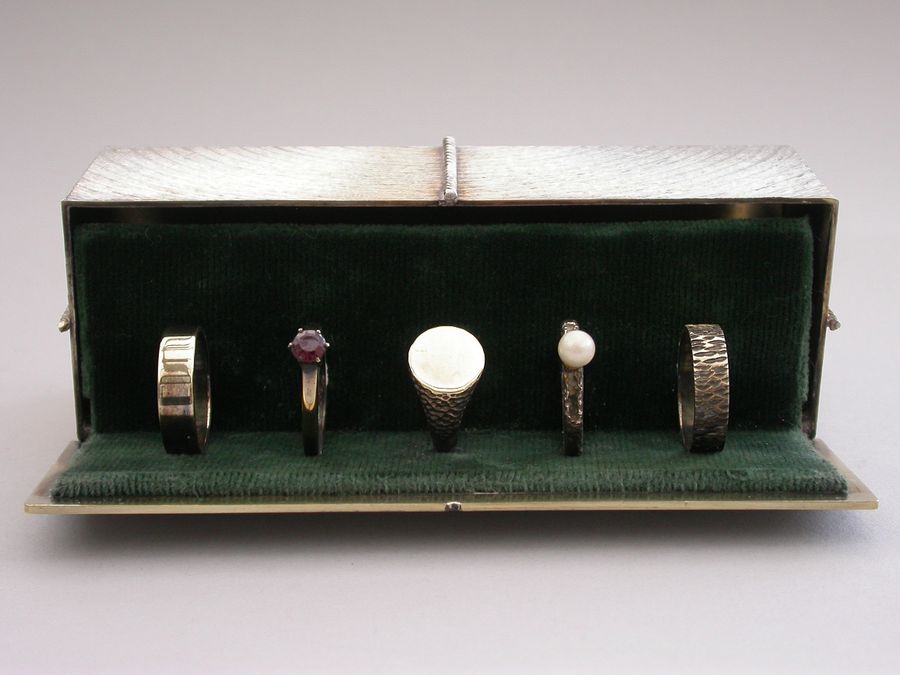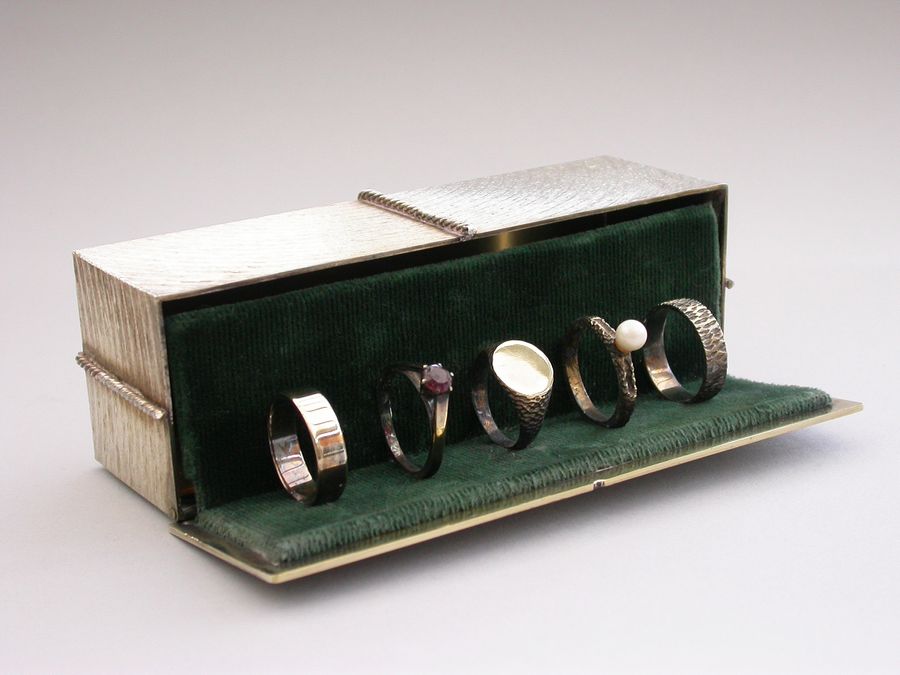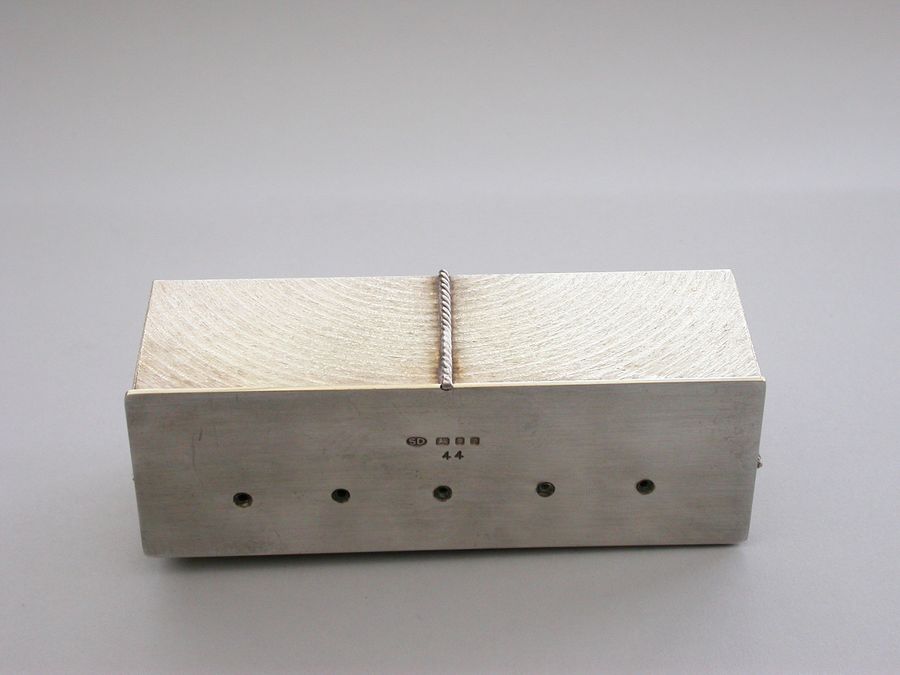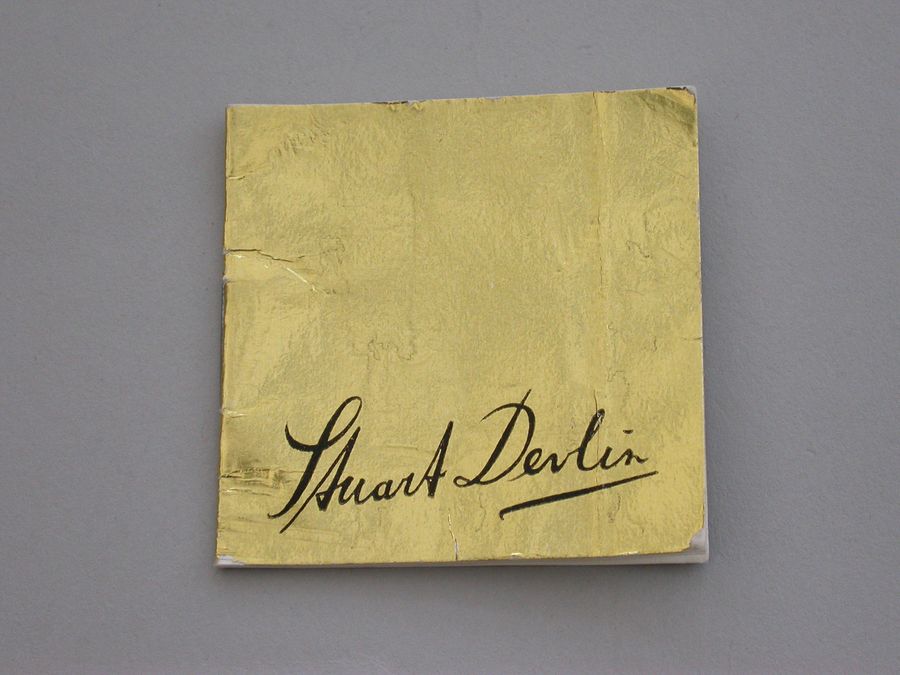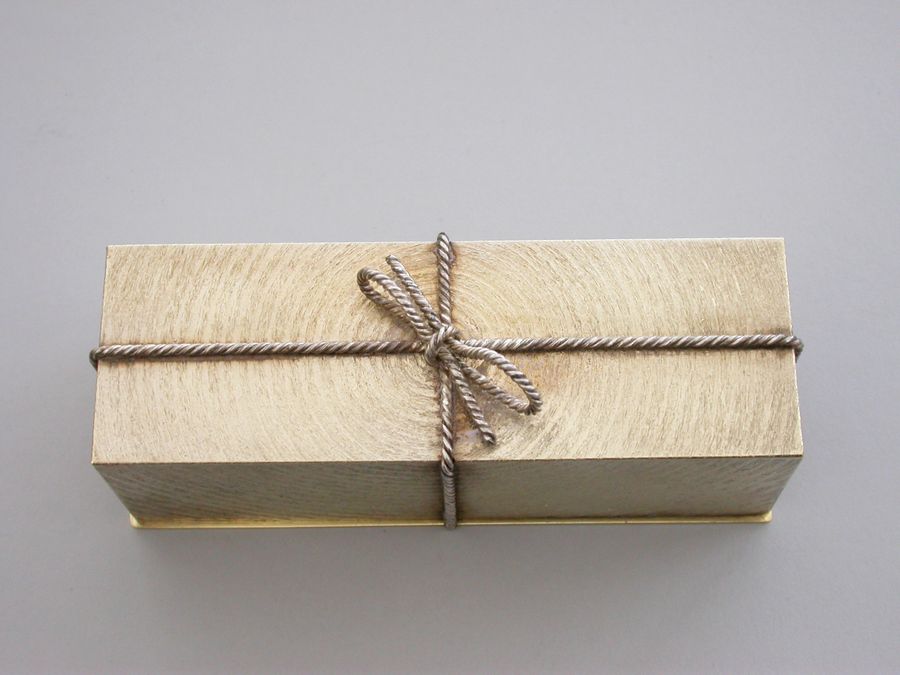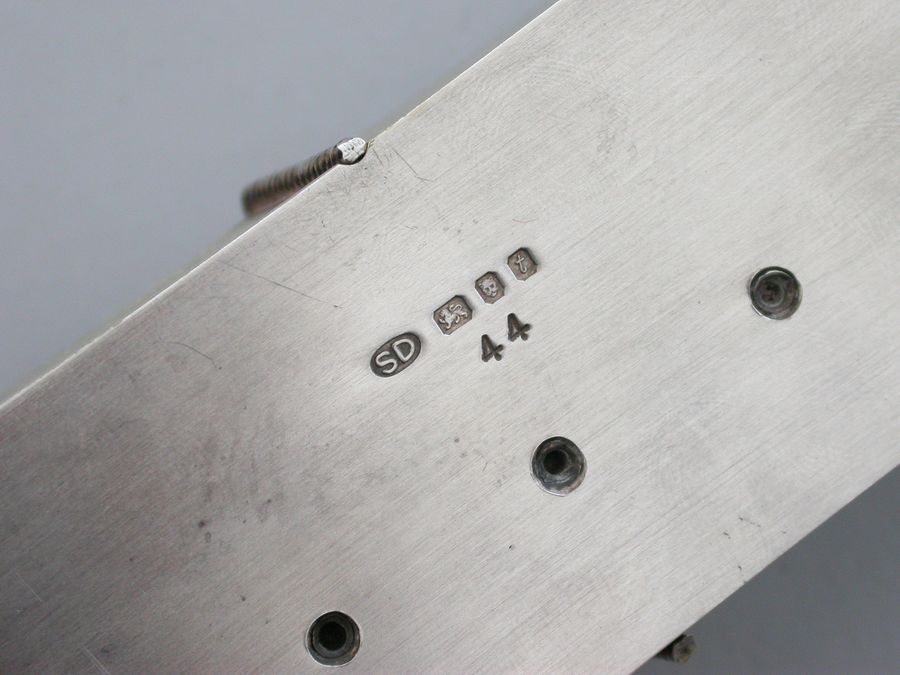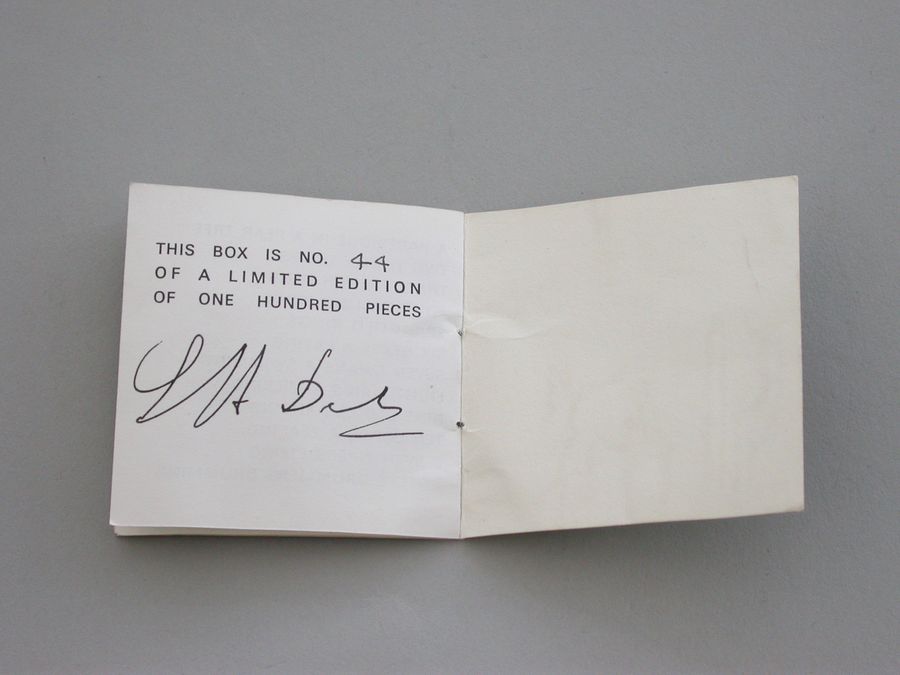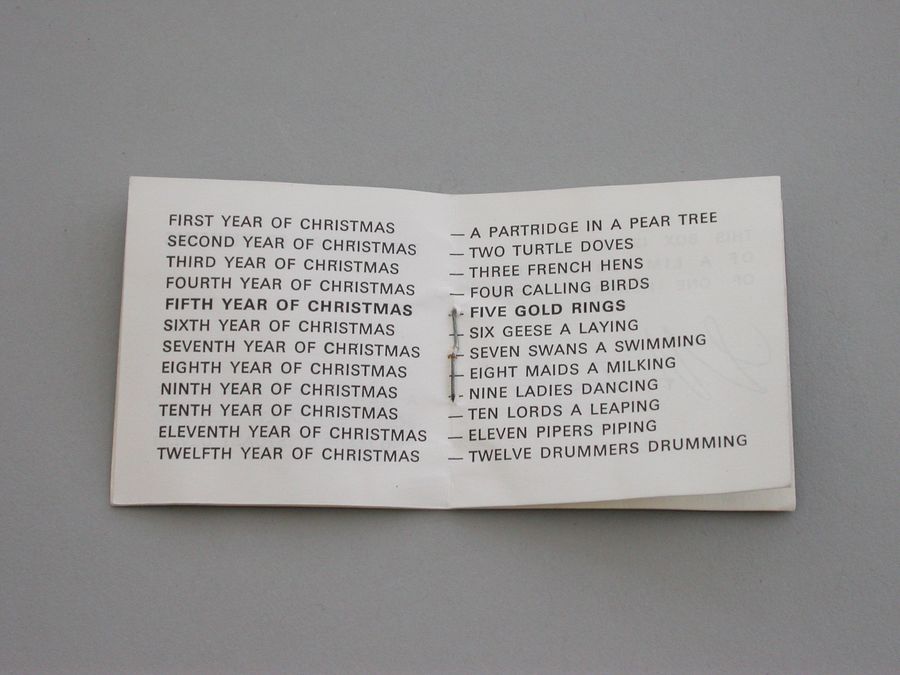 A modern cased silver gilt Surprise Christmas Box containing five "Gold" Rings. One from a series of 12 Boxes designed and made by Stuart Devlin as a limited edition of 100 pieces between the years 1970-1981. Each box representing a gift from the famous song/carol - "The Twelve Days of Christmas". No 44. Complete with original box and certificate.

By Stuart Devlin, London, 1974.

Stuart Devlin ranks as one of the great contemporary gold and silversmiths and has been acclaimed by the Worshipful Company of Goldsmiths as the designer with 'the Midas touch'. In the 1960's and 70's some silversmiths were disenchanted with designing anonymously for big manufacturing firms, which were in decline, and they set out on their own. They focused on their own style and had a personal commitment to the marketing of their own productions. The business designer craftsmen Stuart Devlin and Gerald Benney led in this field. Devlin was very successful with the idea of limited editions and the most popular of these were the surprise Easter eggs and Christmas boxes, which were so successful commercially that they have now become collector's items. He was born in Geelong, Australia, in 1931. In his third year of secondary education, he chose to become an art teacher, specializing in gold and silversmithing. In 1957 he obtained a post at a Melbourne college and studied for a Diploma of Art in gold and silversmithing. On the strength of this achievement, he was awarded scholarships to study at the Royal College of Art in London in 1958. He excelled and, as a result, was awarded a Fellowship by the Harkness Foundation of New York. He chose to spend the two-year fellowship at Columbia University in the U.S. On the completion of his overseas study in 1962, he returned to teach in Melbourne, Australia, and subsequently became an inspector of art schools. In 1964, he won a competition to design the first decimal coinage for Australia. In 1965, he moved to London and opened a small workshop. This marked the beginning of Devlin's true style. He changed his design direction away from "the austerity of the Bauhaus/Scandinavian Schools to a romantic use of precious metal." He concluded that the role for a contemporary silversmith is to enrich the way people live and work. He felt the nature of his craft and the romance of precious metals gave him an opportunity to design pieces that added delight, surprise, intrigue, and even amusement to what had become austere and even sterile within the modern idiom of design. Increasingly he turned out rich and romantic pieces that retained simple forms. Developing these pieces required technical innovation because the traditional methods of enrichment were either not available any more or were too time-consuming and therefore prohibitively expensive. He adapted and devised techniques to enable him to produce a wide variety of textures and filigree forms. In 1967, he began designing jewelry and, over the next decade, became well-known in London's West End with his exhibitions at Collingwoods. In 1972 transferred his retail gallery to the ground floor of his St. John Street workshop in Clerkenwell and continued holding his annual exhibition of his collection, often numbering 250 pieces. He employed 9 craftsmen here. Between 1979 and 1983 he had a prestigious showroom in Conduit Street. In 1982, he was granted the Royal Warrant of Appointment as Goldsmith and Jeweler to Her Majesty the Queen. In 1987 he was commissioned by Argyle Diamonds to make a diamond collection. Stuart Devlin produced a new collection each year which has forced him to continually seek new ideas for his next collection, particularly since the many collectors of his work anticipate something exciting and different each year. Among his most popular commissions, Stuart Devlin has designed coins for 36 countries throughout the world, including Singapore, Malaysia, and the Cayman Islands. He has designed hundreds of commemorative medallions. He designs furniture, interiors, jewelry, and commission pieces of all types, including trophies, clocks, centerpieces, goblets, candelabra, bowls, and insignia. He closed his London shop and workshop and moved to the South Coast.
He was Prime Warden of the Goldsmith's Company 1996-7.
A book on his work was published just before he died in 2018.
Sold - £795.00
Condition
In good condition with no damage or repair
Weight
272.00 Grams (8.75 troy ounces)