Modern Contemporary Silver Decanter Label Vine Leaves & Grapes
Michael Bolton, London 2000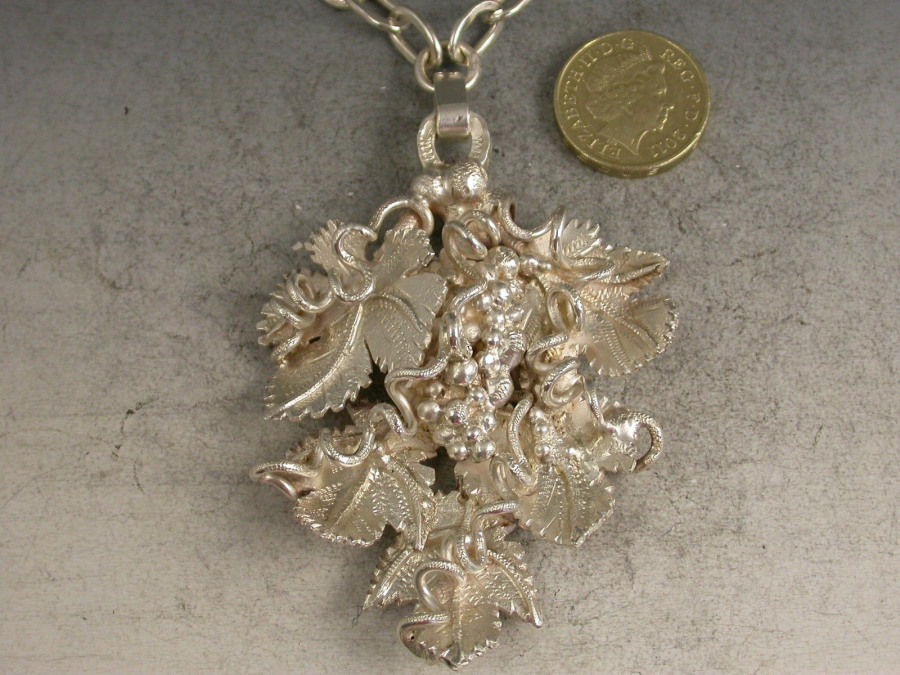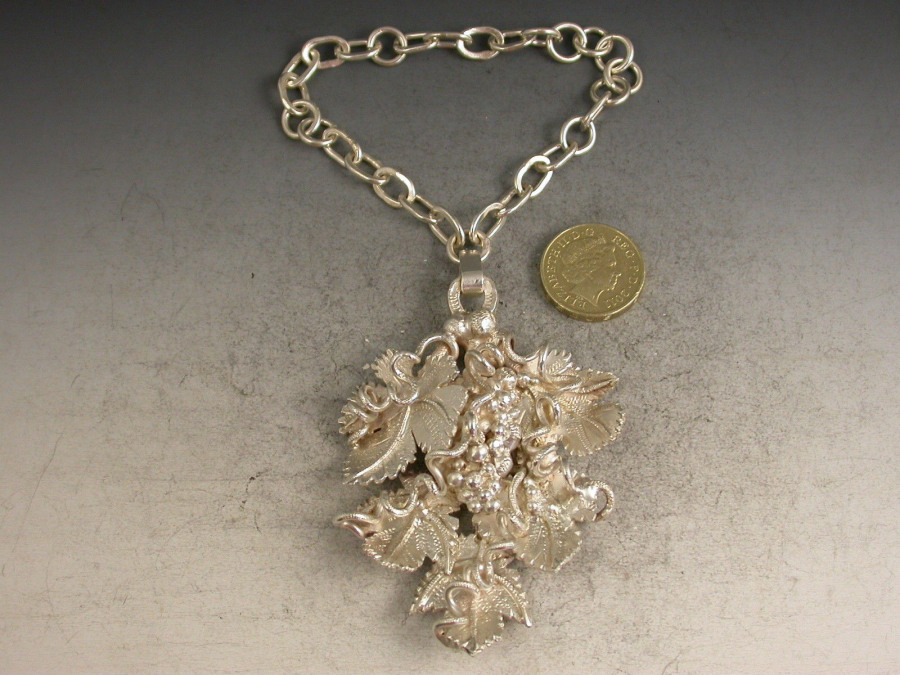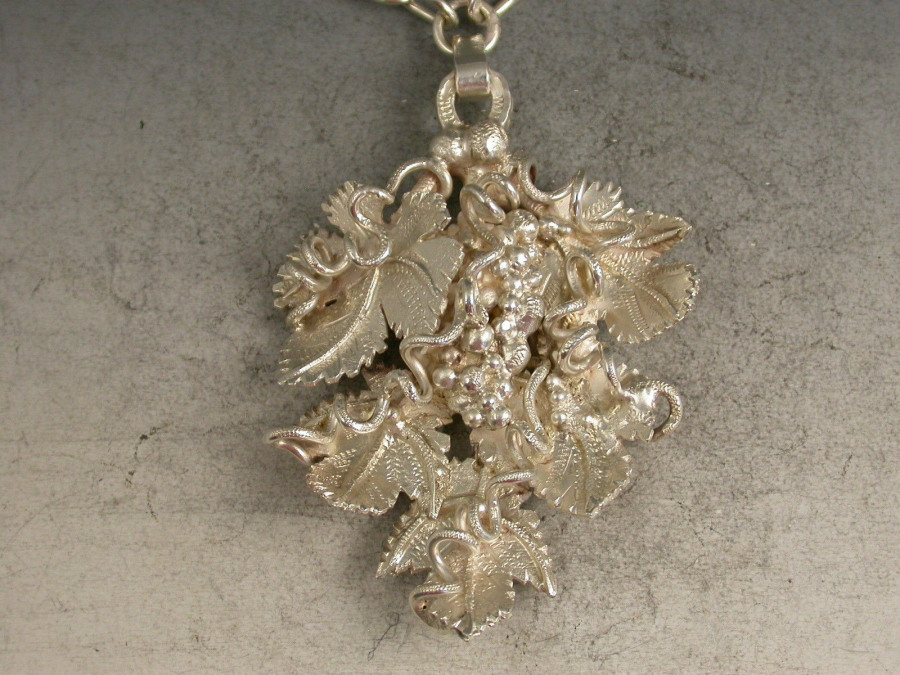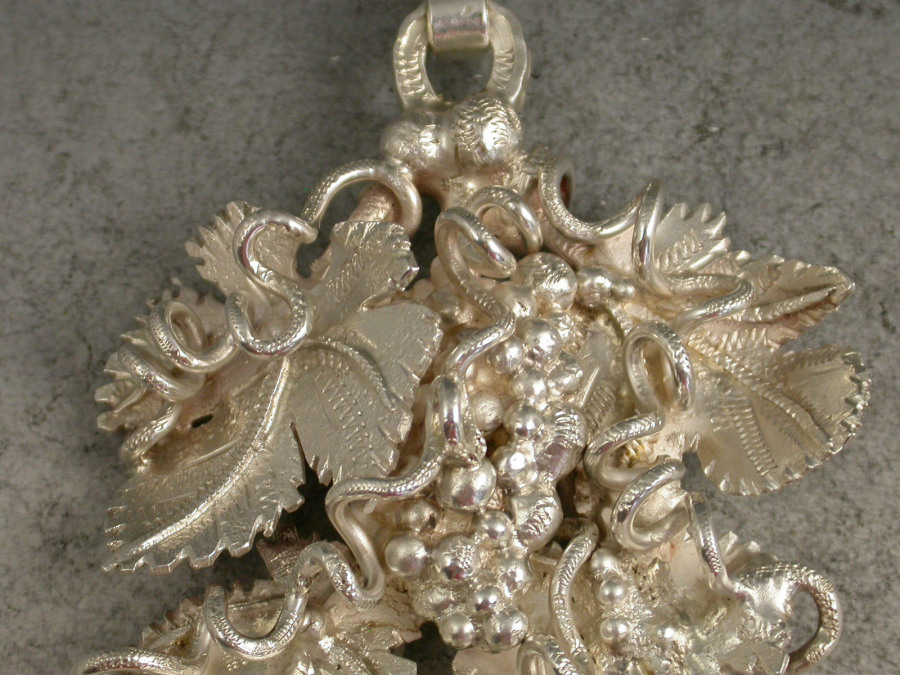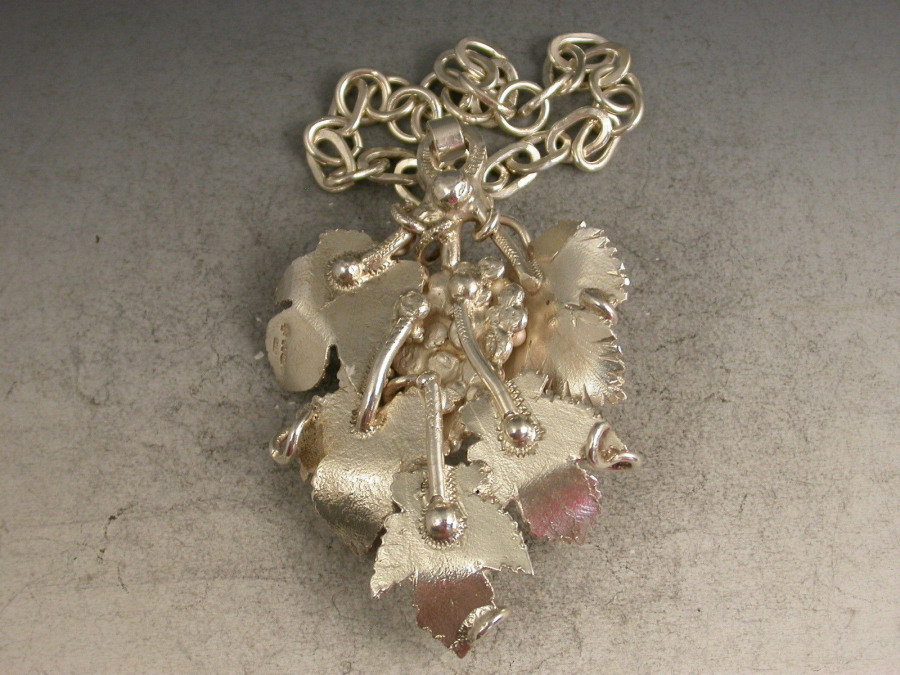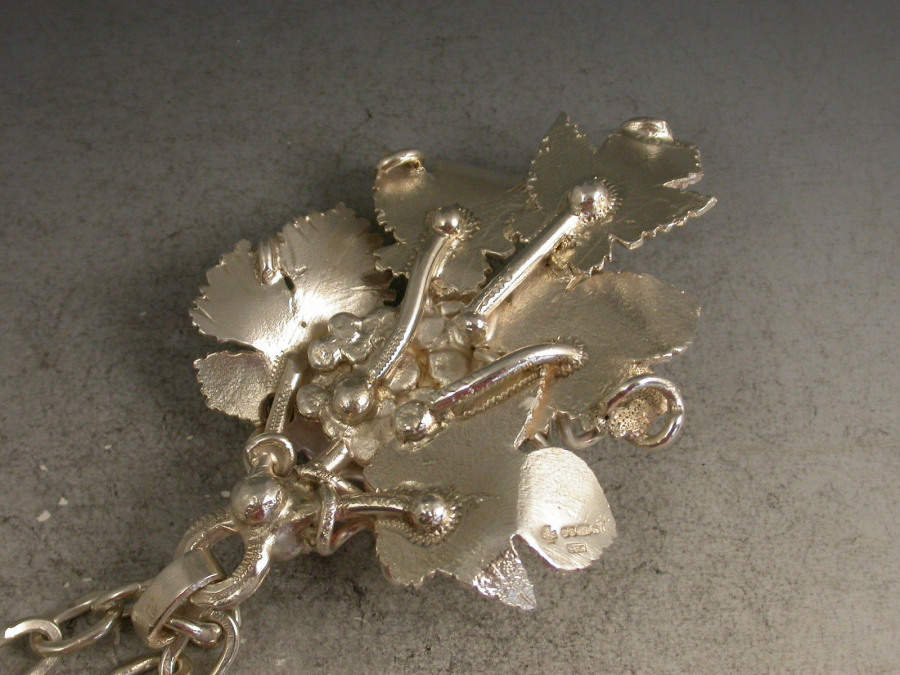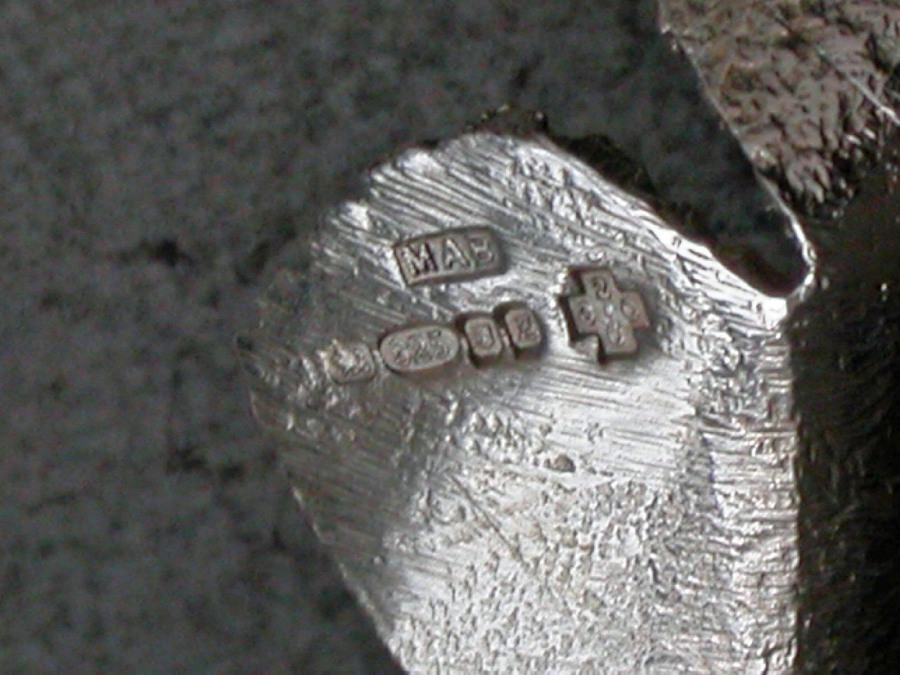 A large and substantial modern contemporary cast silver Decanter Label elaborately formed from conjoined vine leaves with twisted tendrils surrounding a central bunch of grapes. Complete with heavy linked suspension chain.

By Michael Bolton, London, 2000 (Millennium mark).

Michael Allen Bolton was born in London in 1938. He was self taught and began his career as a designer-maker of silverware and jewellery in 1970 after an initial career in commerce. He exhibited successfully at the Goldsmith's Company 'Loot' exhibitions from 1975 to 1981 and in their 'Contemporary Silver Tableware' exhibition in 1996. In that catalogue it stated ""His work in silver and gold is inspired by the magic and aura of Celtic, Roman and Anglo-Saxon metalwork, the romanticism of the King Arthur legends, and the ethics and ideology of the late 19th and 20th century British Arts and Crafts movement."" His hammered approach to the silver material accentuates the malleability of its surface, creating a finish that is unique to him. In 1977 Sir Anthony Touche commissioned a goblet for his use as Assistant at Goldsmith's Hall and in 1990 a pair of vases to commemorate his year as Prime Warden. A Freeman of both the Goldsmith's Company and the City of London - Bolton has exhibited widely and his work is in many City Livery Companies and Royal collections as well as making the silverware for the film ""The Madness of King George."" He was a member of the Association of British Designer Silversmiths ABDS and also the Cornish Craft Association. In 2003 he exhibited at 'Love Story' in the Goldsmith's Hall making a collar and jewellery for Tony Foard's model of a bride.
He worked mainly to commission with young designers and assistants near Launceston in Cornwall and his clients included: The Worshipful Companies of Goldsmiths, Cutlers and Carpenters; the Indian High Commission in Brussels; Glenda Jackson, Julie Andrews, Stanley Kubrick & Lord Palumbo. Michael Bolton died on the 7th January 2005.

Personal Statement: ""In designing and hand making I draw my inspiration from the strength, visual impact and theatricality of medieval metalwork in all its various forms, together with the ethics of the early 20th century British Arts & Crafts movement tinged with the magic and romanticism of the King Arthur Legends. I enjoy working on a one to one basis with my clients in the hope that they get as much joy from the creative process as I do. I work for most part by hand directly into sterling silver and high carat golds, using only basic hand tools, simply for the pure joy of the creative process and using such a beautiful, responsive and forgiving raw material."





Sold - £335.00
Condition
In good condition with no damage or repair
Weight
94.00 Grams (3.02 troy ounces)