Oxford Martyrs' Memorial Vinaigrette
NATHANIEL MILLS, Birmingham 1842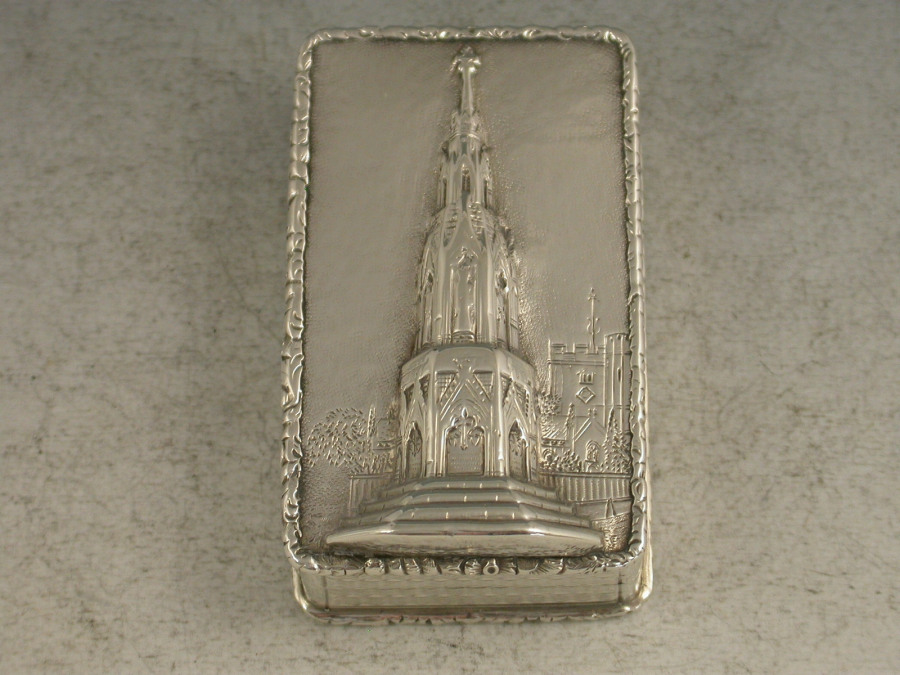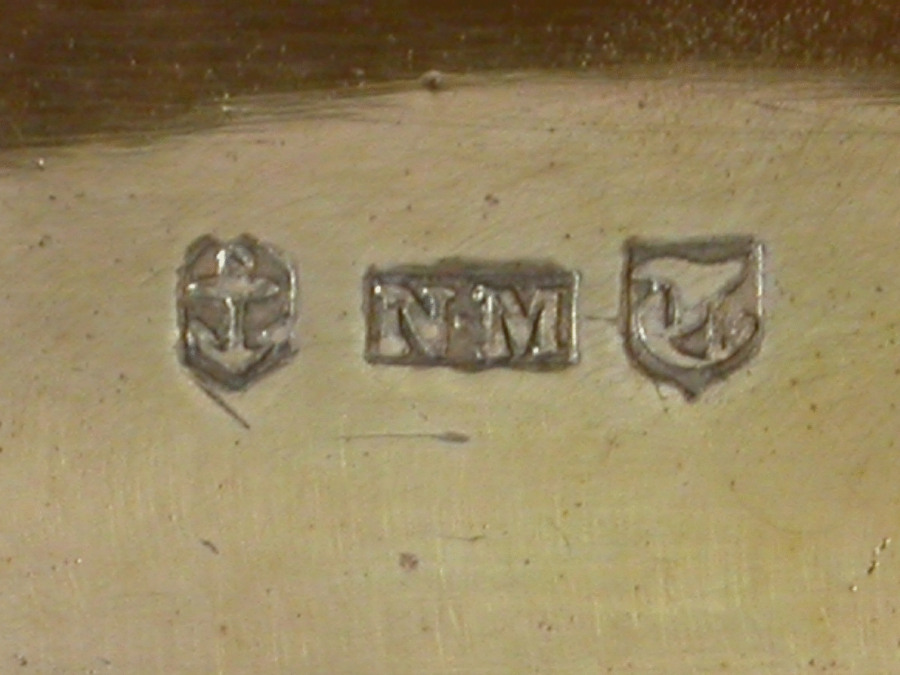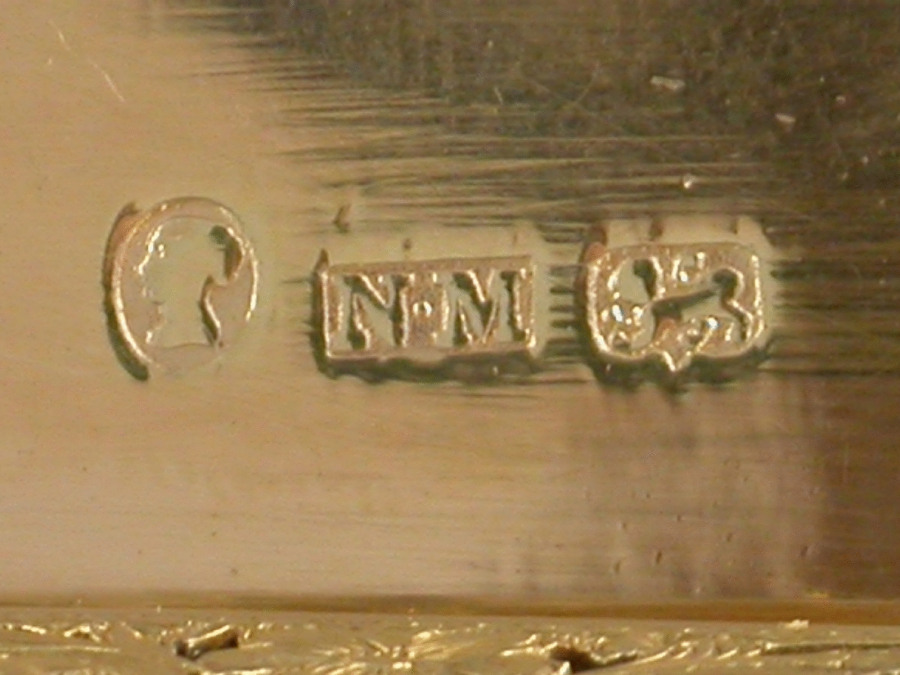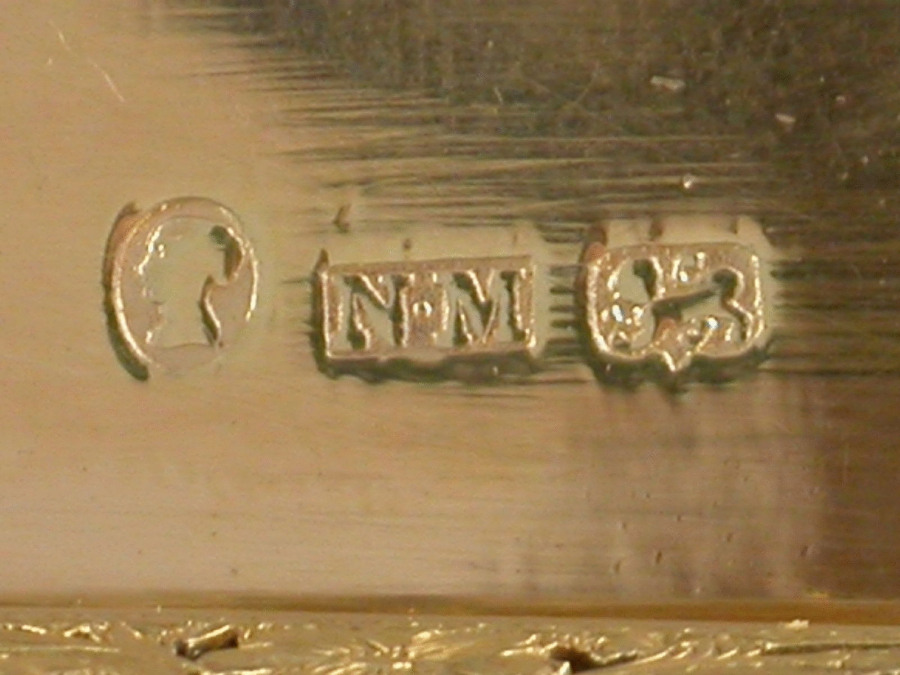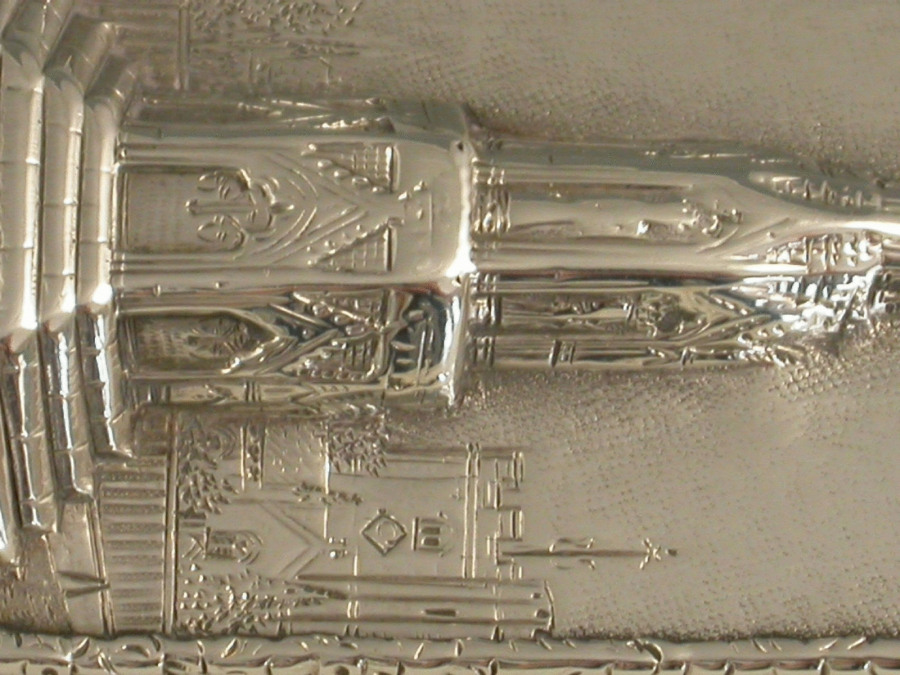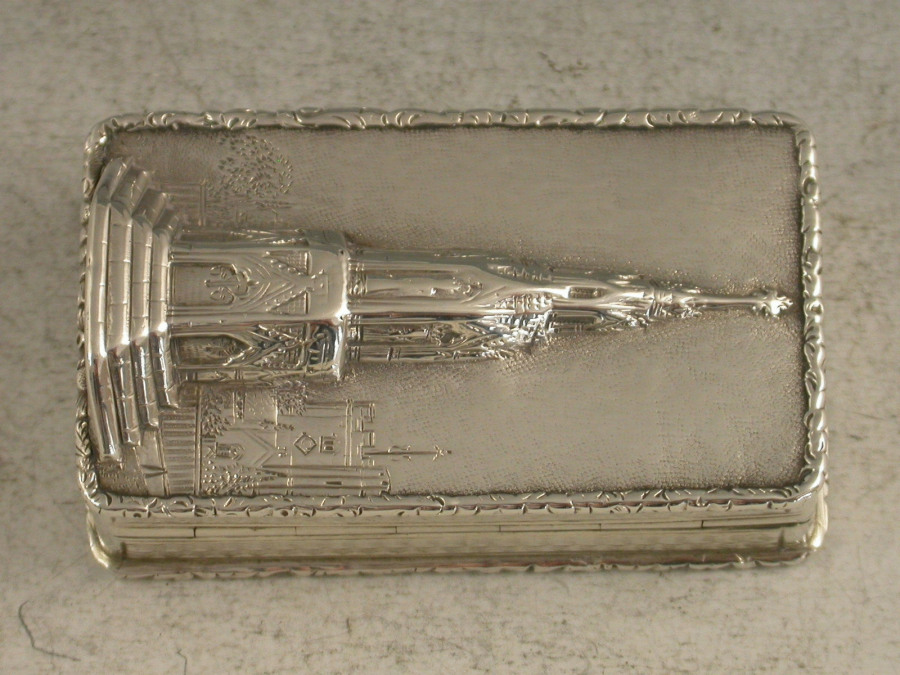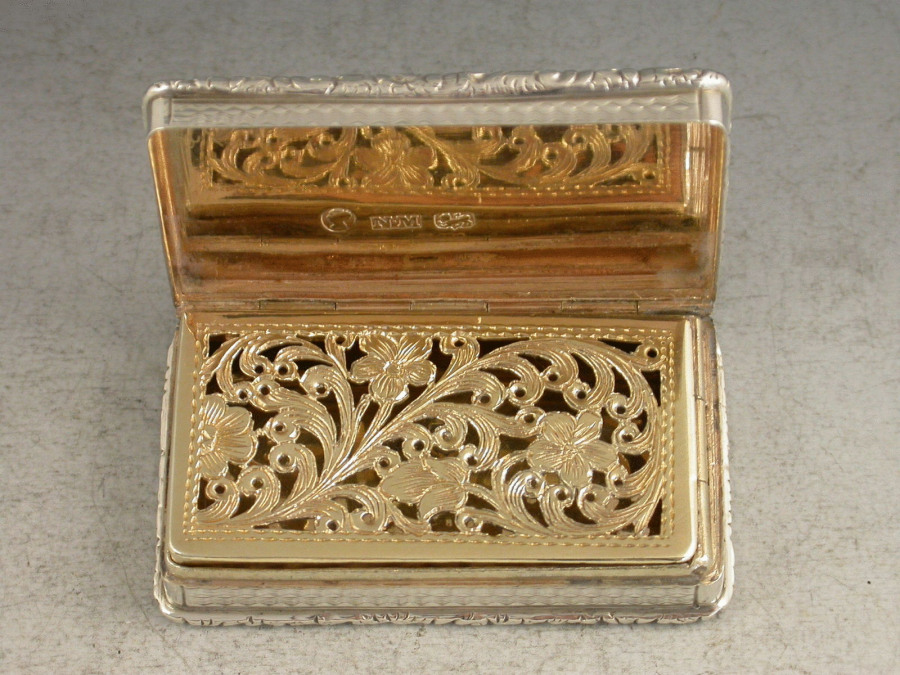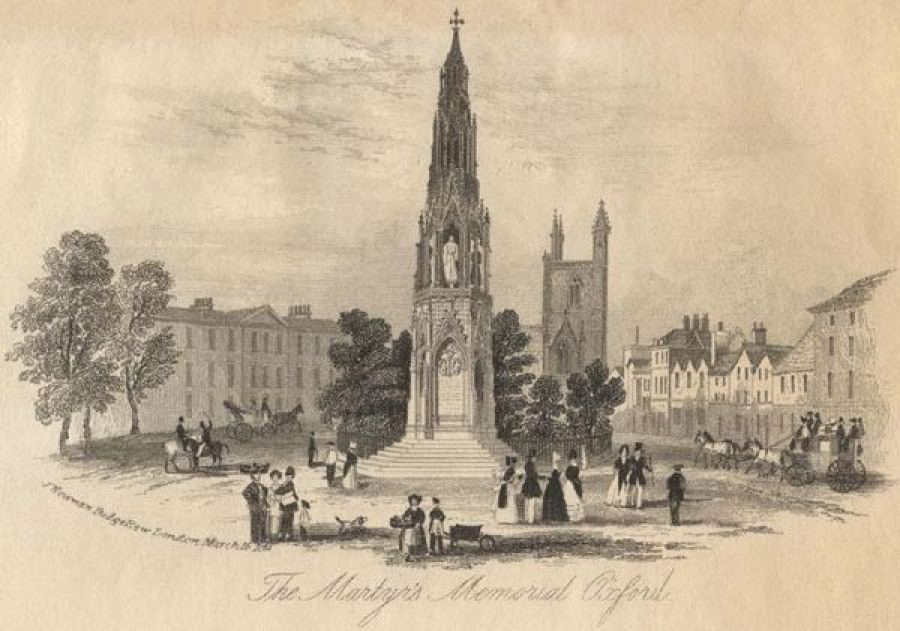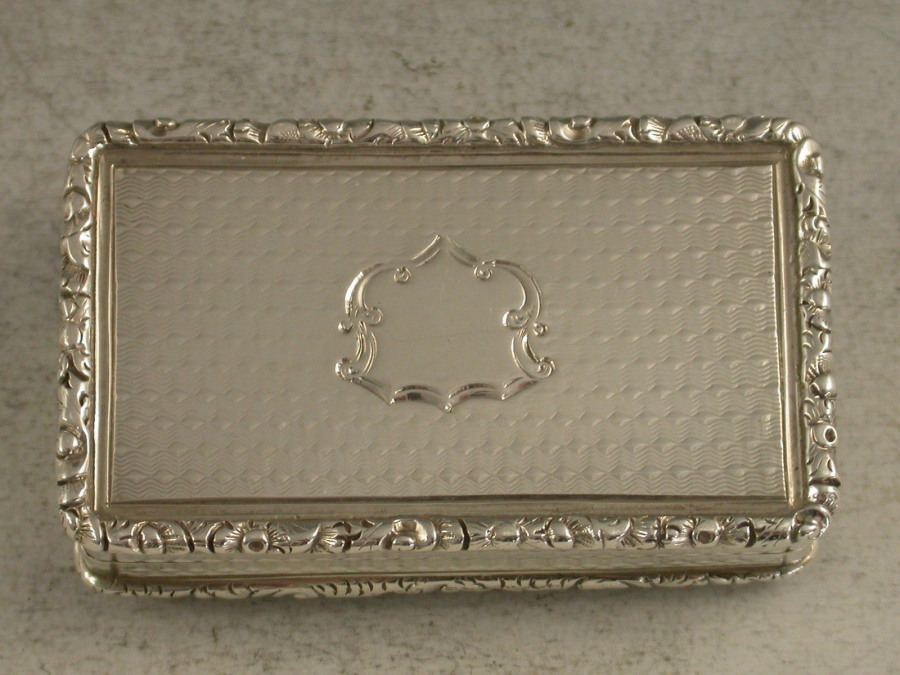 An extremely rare Victorian silver "Castle-top" Vinaigrette of rectangular form with engine turned decoration to the base and sides, the lid with raised scene depicting The Martyrs' Memorial, Oxford, in high relief, with the Church of St.Mary Magdalene in the background.

The Martyrs' Memorial is an imposing stone monument positioned at the intersection of St Giles', Magdalen Street and Beaumont Street in Oxford, England just outside Balliol College. It commemorates the 16th-century ""Oxford Martyrs"".

Designed by Sir George Gilbert Scott, the monument was completed in 1843 after two years' work, having replaced ""a picturesque but tottering old house"". The Victorian Gothic memorial, whose design dates from 1838, has been likened to the spire of some sunken cathedral. The three statues of Thomas Cranmer, Hugh Latimer and Nicholas Ridley are by Henry Weekes.[1] The monument is listed at grade II*.[2]

The inscription on the base of the Martyrs' Memorial reads as follows:
"To the Glory of God, and in grateful commemoration of His servants, Thomas Cranmer, Nicholas Ridley, Hugh Latimer, Prelates of the Church of England, who near this spot yielded their bodies to be burned, bearing witness to the sacred truths which they had affirmed and maintained against the errors of the Church of Rome, and rejoicing that to them it was given not only to believe in Christ, but also to suffer for His sake; this monument was erected by public subscription in the year of our Lord God, MDCCCXLI"".
Cuthbert Bede (in his novel The Adventures of Mr Verdant Green) wrote about the setting of the Martyrs' Memorial thus in 1853: ""He who enters the city, as Mr Green did, from the Woodstock Road, and rolls down the shady avenue of St Giles', between St John's College and the Taylor Buildings, and past the graceful Martyrs' Memorial, will receive impressions such as probably no other city in the world could convey."

The actual site of the execution is close by in Broad Street, located just outside the location of the old city walls. The site is marked by a cross sunk in the road.

By Nathaniel Mills, Birmingham, 1842.

Sold - £0.00
Condition
In good condition with no damage or repair, just slight wear to the high points.
Weight
38.00 Grams (1.22 troy ounces)