Pair George III Silver Script Cut-Out Word Wine Labels 'W.Wine & Mountain'
Unmarked c1780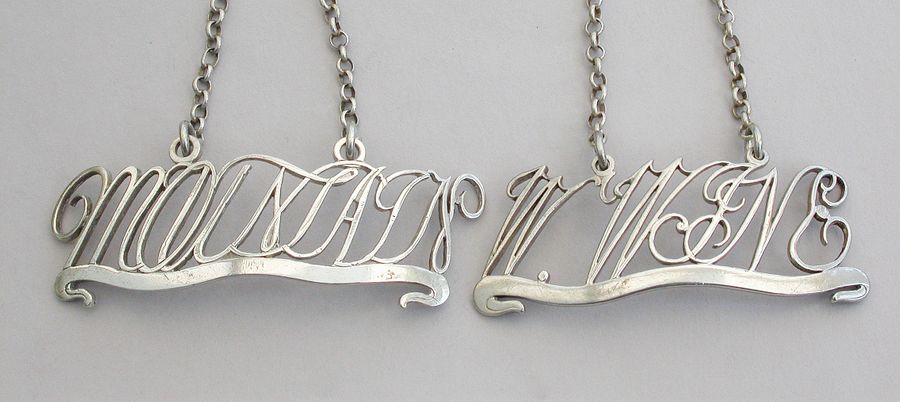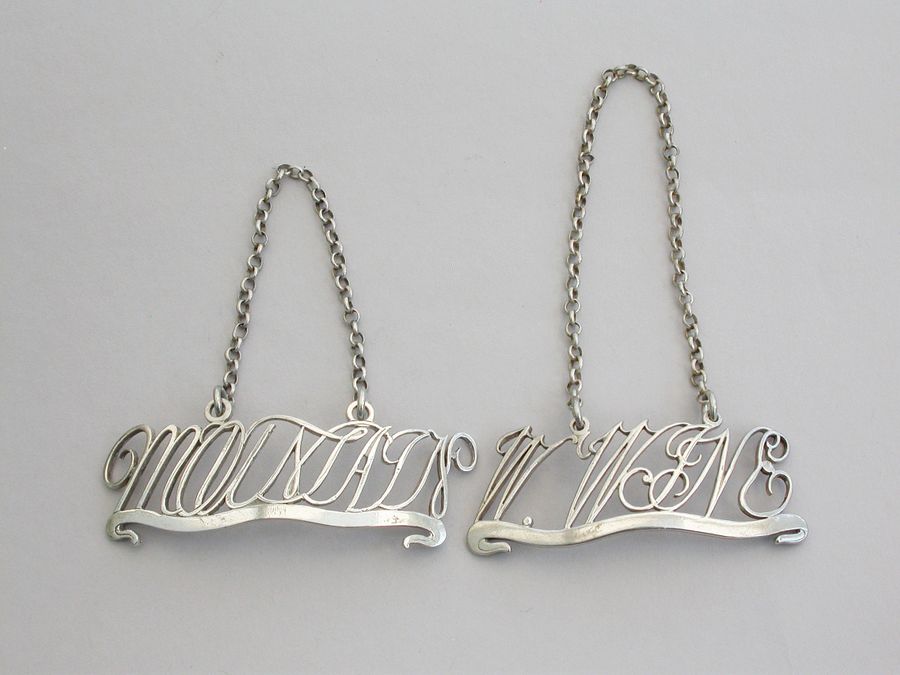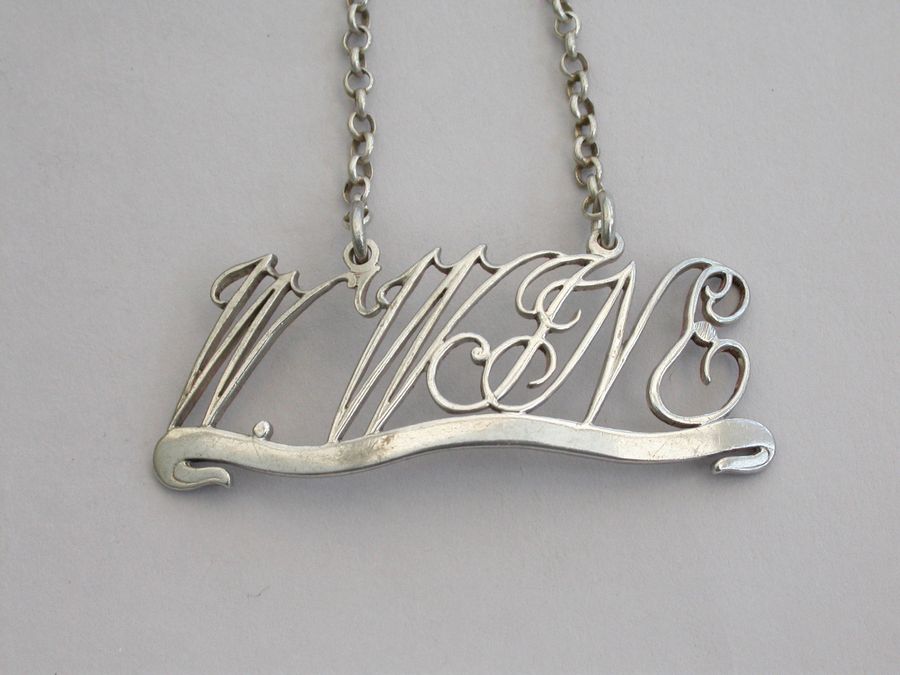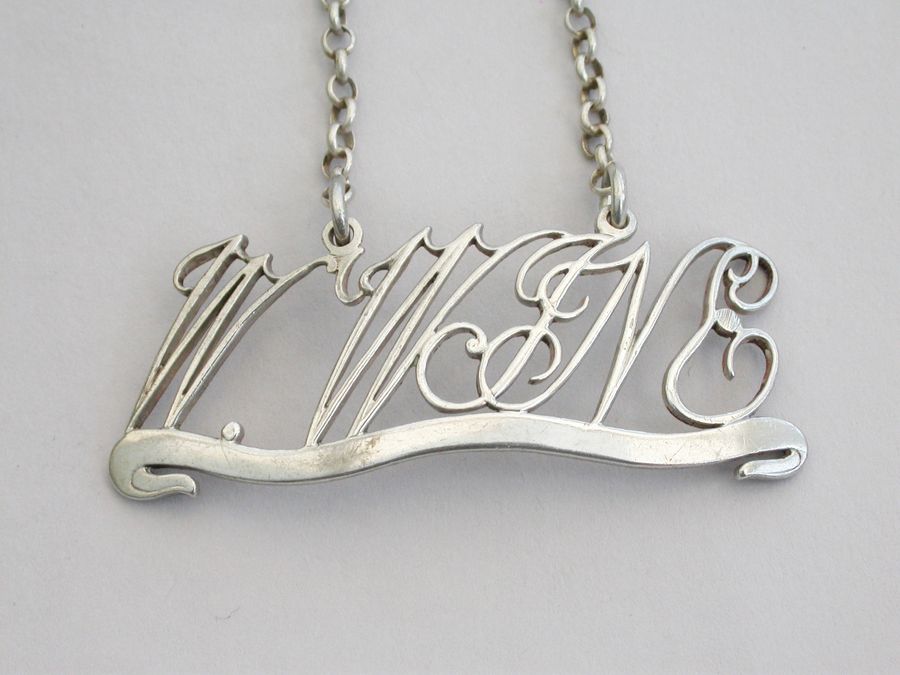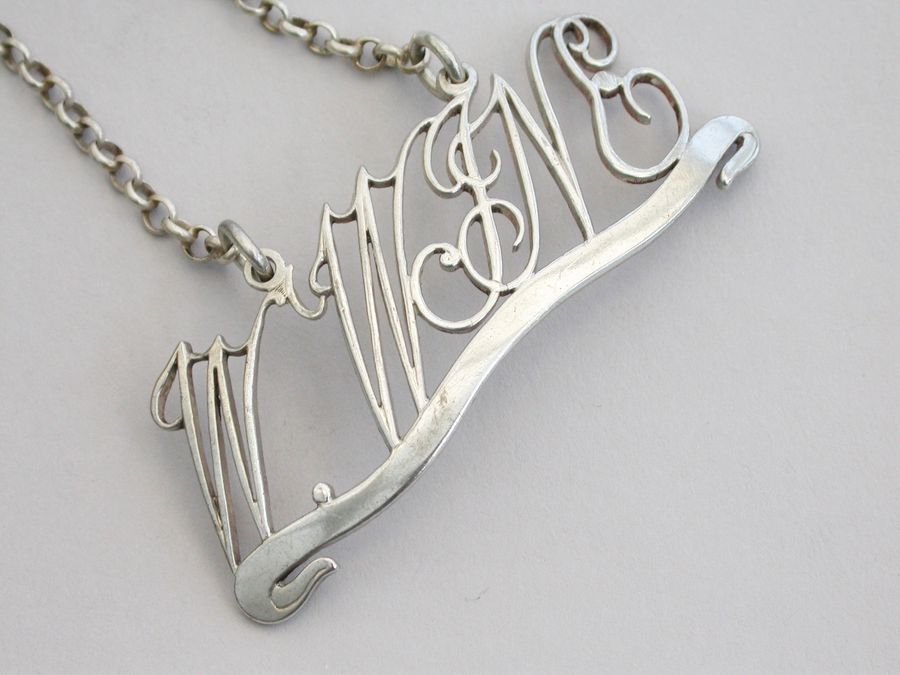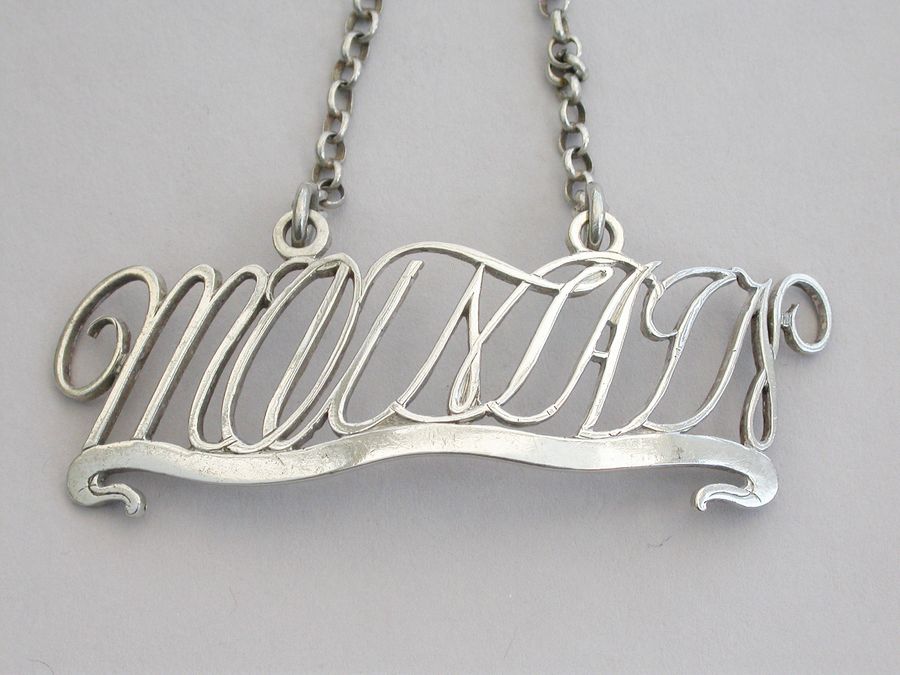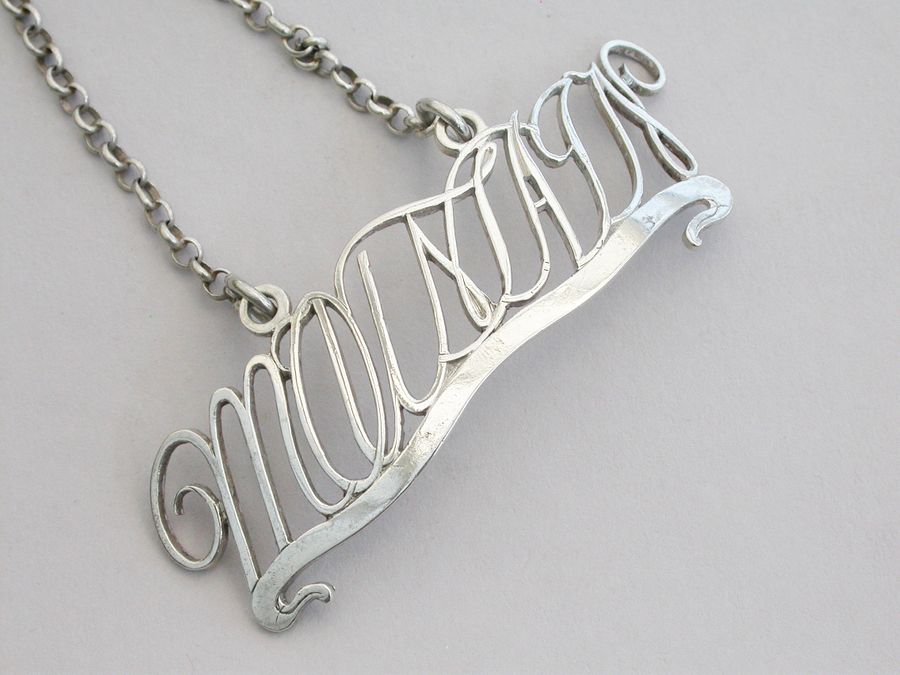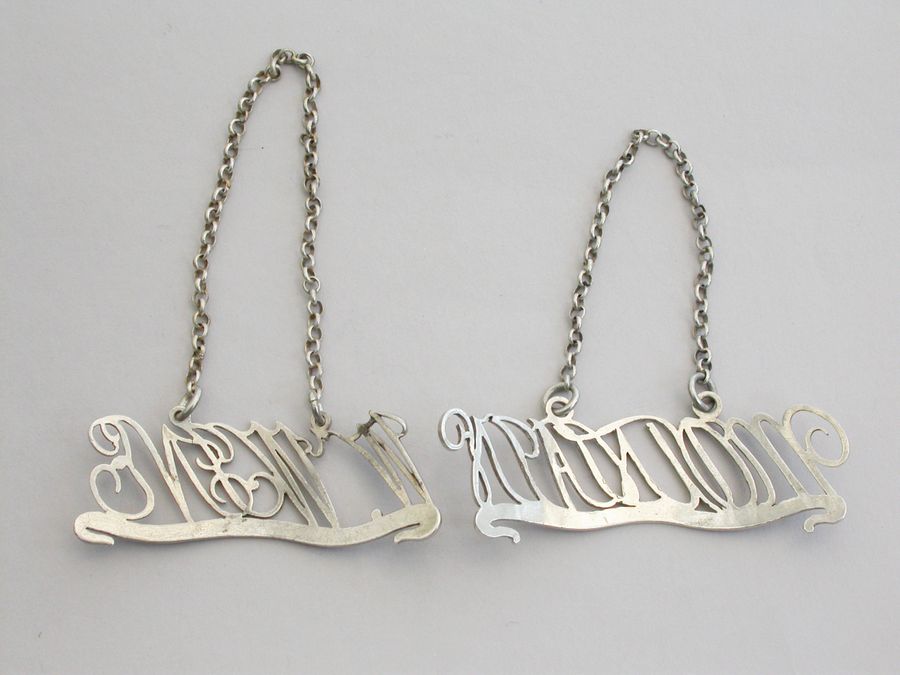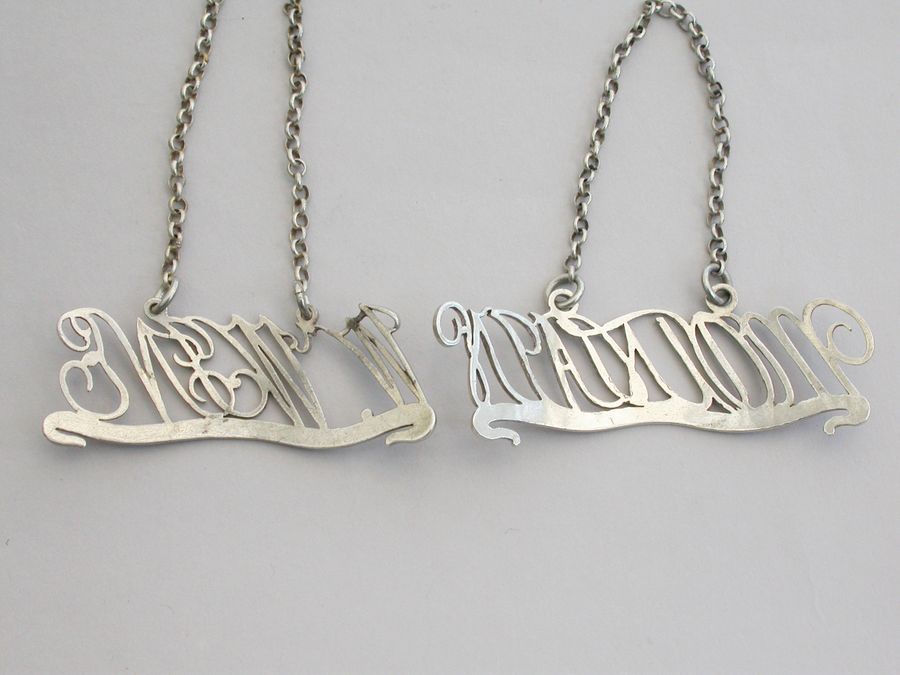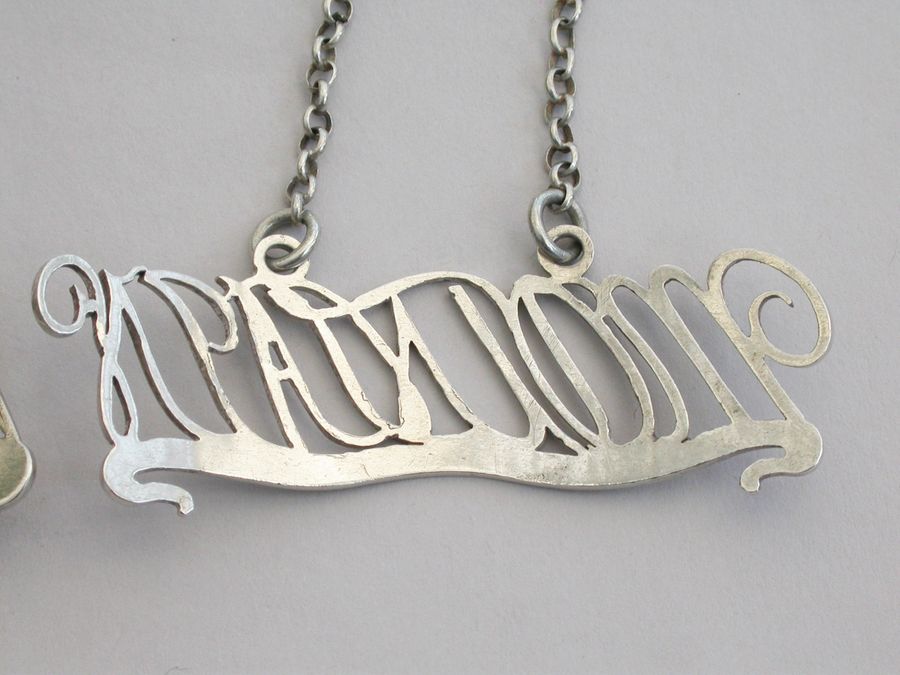 A rare and unusual pair of 18th century silver script cut-out word Wine Labels, for W.Wine and Mountain.

Unmarked c1780.

Most cut-out word wine Labels date from the mid 19th century.

23 grams total weight

From the Wine Label Circle Journal Autumn 2009: Volume 12, number 7, page 356:-
MOST UNUSUAL SCRIPT CUT-OUT WORDS
Unusual script wine labels discovered in the Westcountry.
In early July, I received a catalogue from Lawrences of Crewkerne for their silver sale
of 9 July 2009. It was with some initial skepticism that I read the catalogue entry for
"A pair of George III script title wine labels"" accompanied by photographs. The
labels were indeed cut out words in script, in two lots, the first for CALCAVELLA
and FRONTINIAC, the second for MOUNTAIN and W. WINE. Now, I had never
previously seen or heard of cut out script words earlier than mid 19th century but the
design of these lots was patently quite different to the usual cut out word as illustrated in the Book at figs 51, 52 and 260. I found the design appealing and decided it was worth the rail journey to Crewkerne, which is near our President's home. Gordon very kindly collected me at the station and we inspected the labels together.
It was immediately apparently that the two lots were by a different hand. The
MOUNTAIN and W. WINE labels were slightly longer and deeper and the writing
more slanted than CALCAVELLA and FRONTINIAC. To my eye, the first pair
looked earlier than the second and we wondered whether the latter were made later to
match the first. Both pairs were slightly curved, unlike the later cut out words which
tend to be flat. All the labels were unmarked.
We then discussed the labels with Alexis Butcher, now head of the silver department
at Lawrences. He was most helpful and enthusiastic about the labels, unsurprisingly
never having seen the like before. He indicated that the labels had come from a
private source, a Devon family who had consigned other silver to the sale, including a
set of four Ebenezer Coker candlesticks of 1764 and a salver and waiter by Hannan
and Mills, also 1764, engraved with the family arms. He said there was also flatware
from the same source by Thomas Eustace of Exeter, 1779-1783 and he hazarded a
guess that perhaps the labels too were from an Exeter silversmith. He was firmly of
the opinion, which I share, that the labels were 18th century; furthermore the names
are typically 18th century. For the record, the first lot sold for £588 and the second for £551.
Andrew Gilmour.
Sold - £350.00
Condition
In good condition with no damage or repair