Pair Mid 18th Century Silver Wine Labels - Cyder & Seiges
Richard Binley, London c1760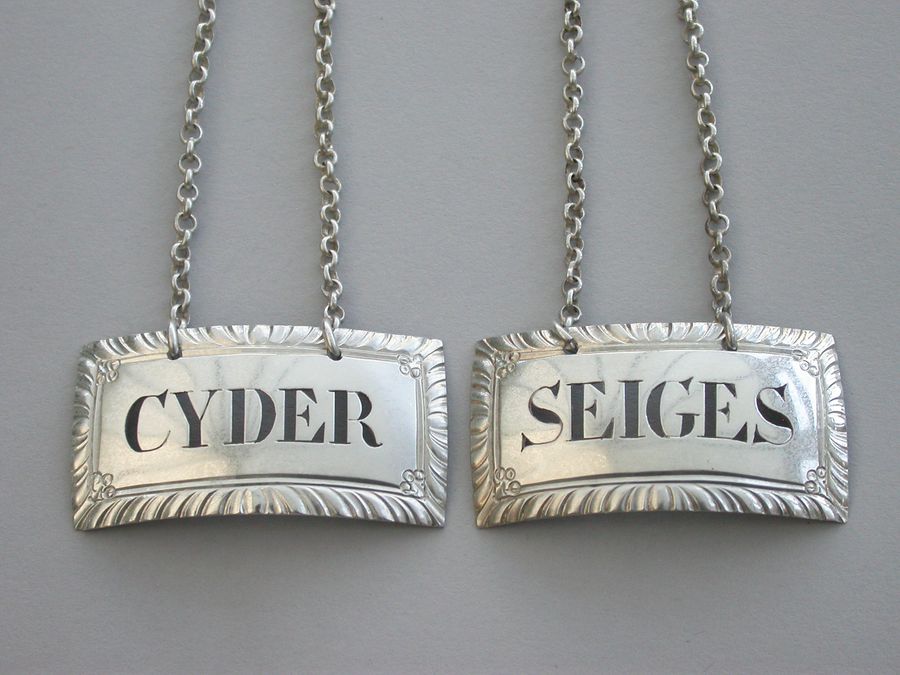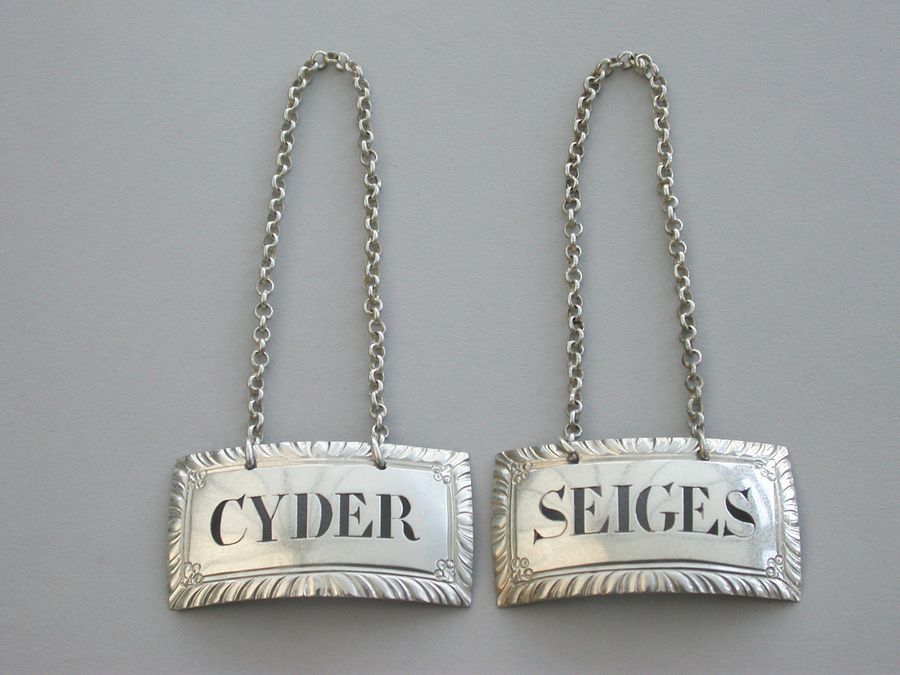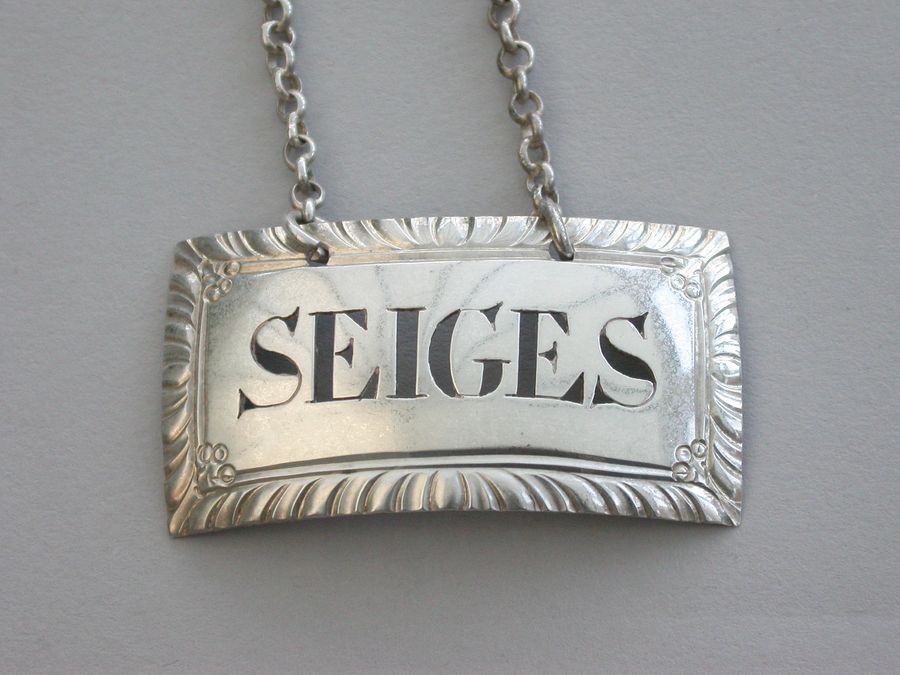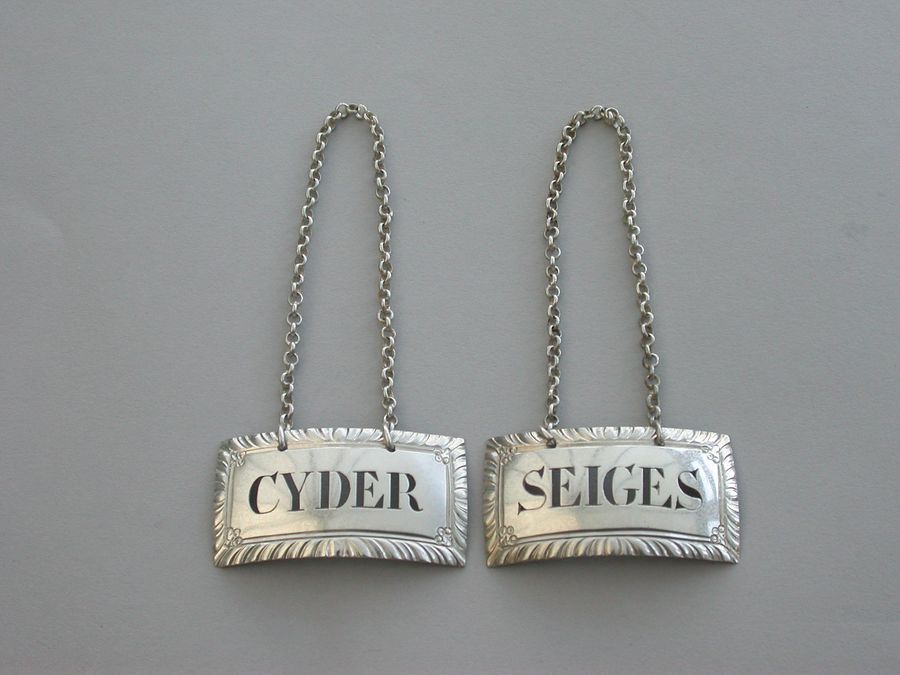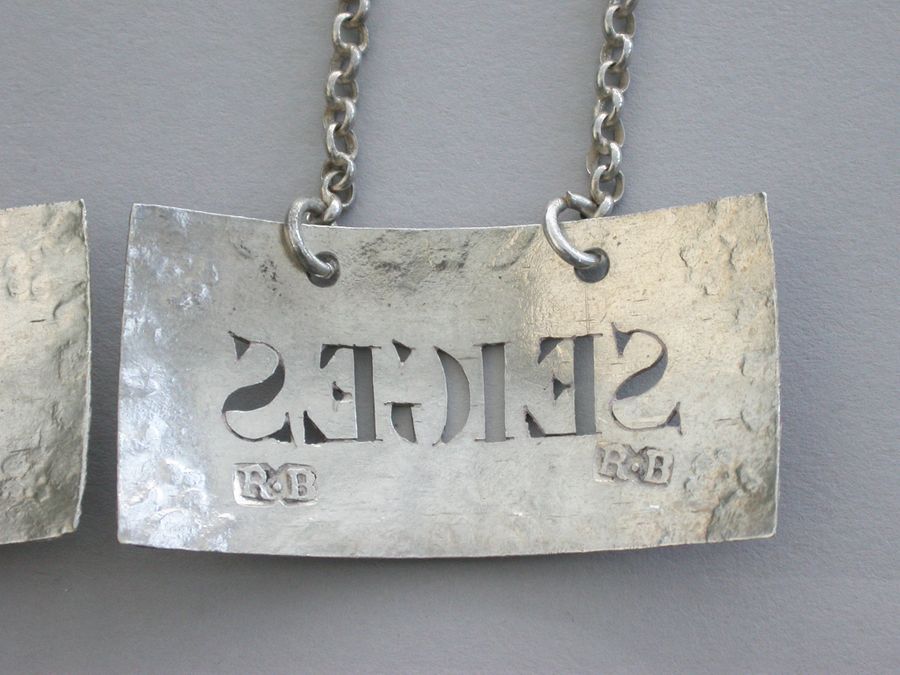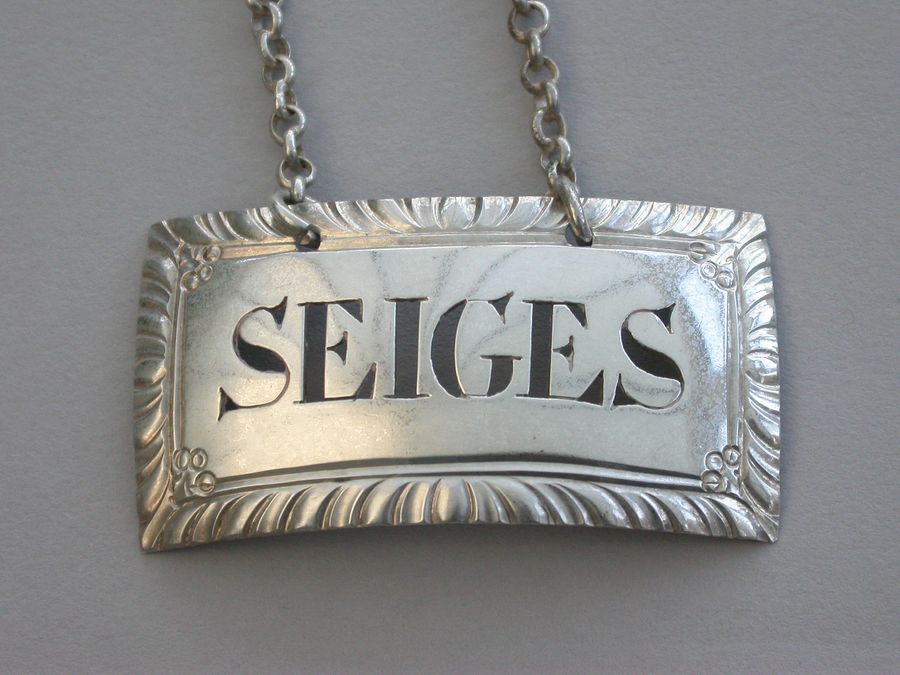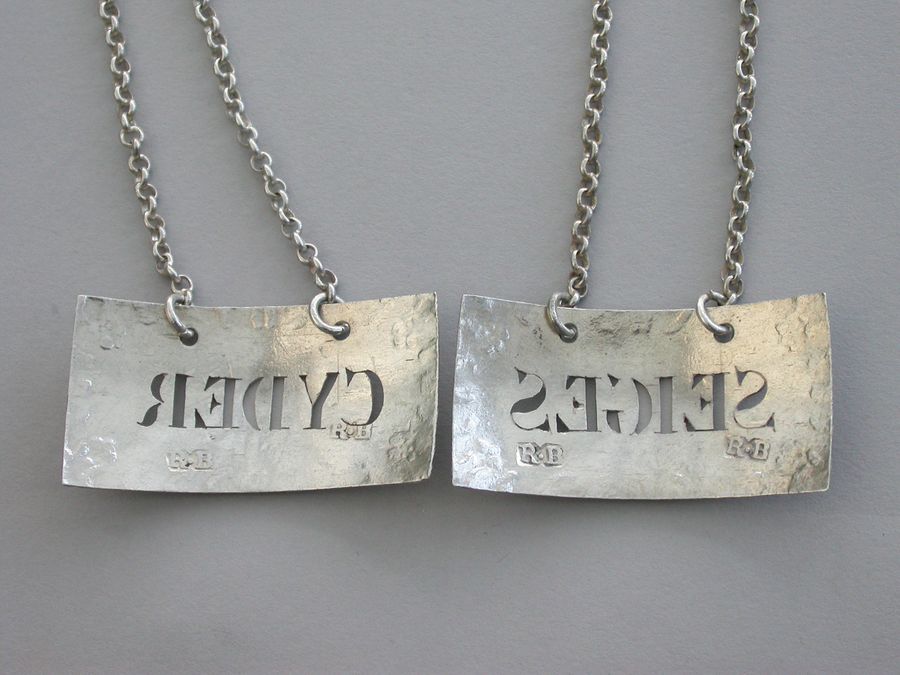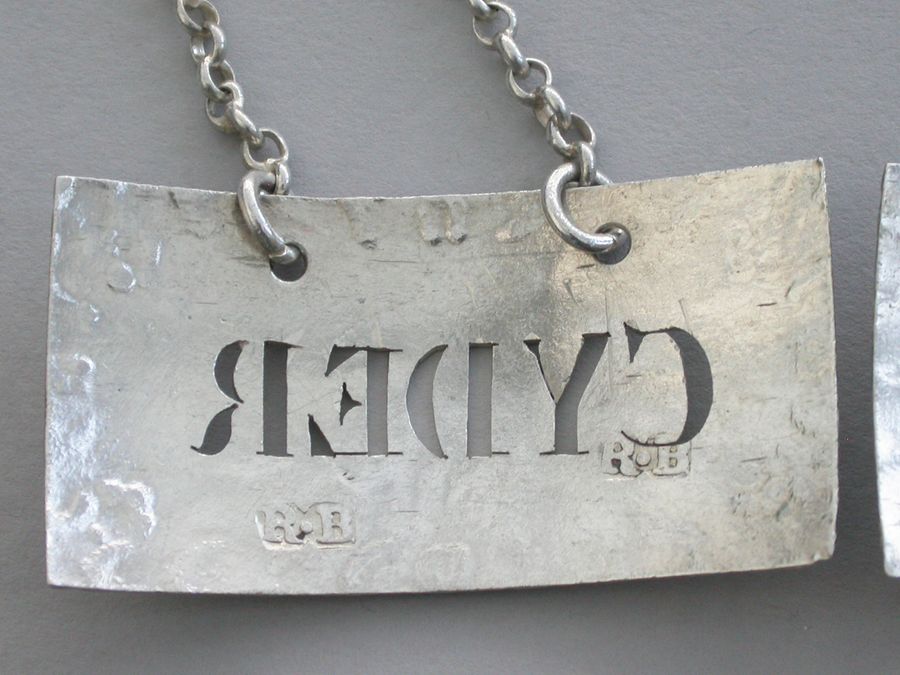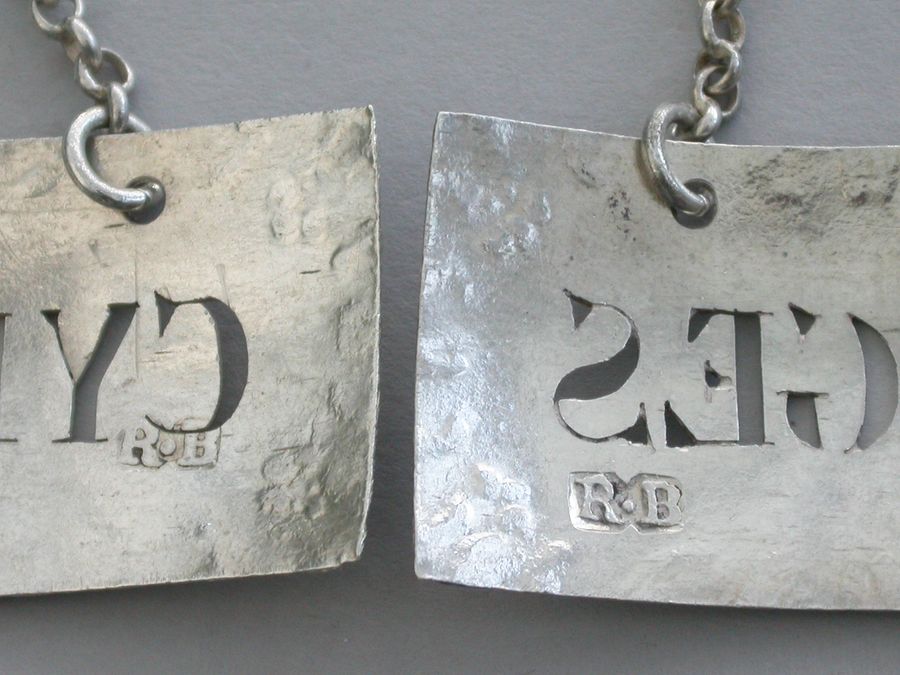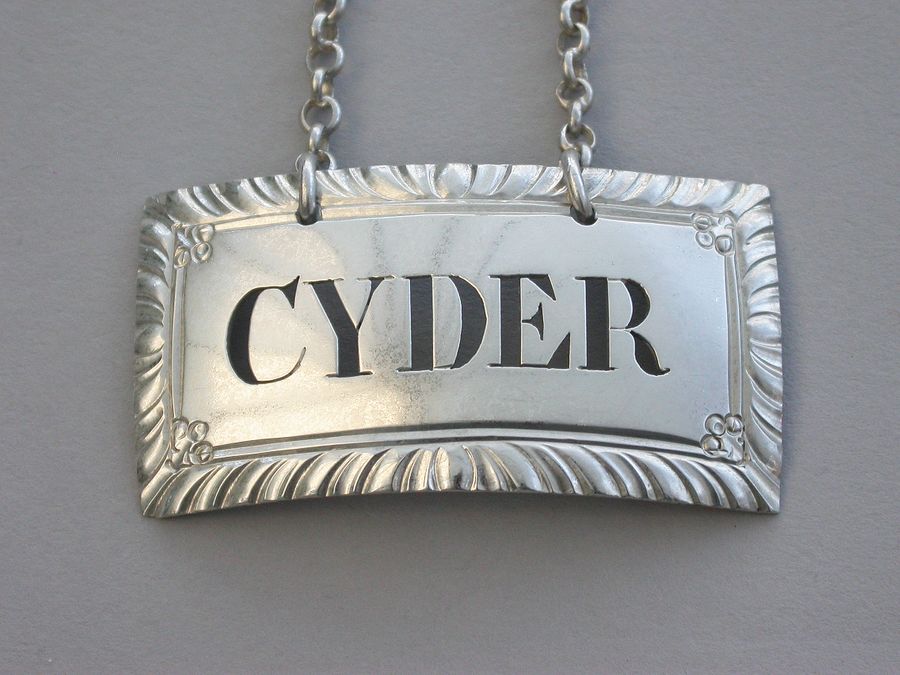 A rare pair of late George II / Early George III silver Wine Labels of curved broad rectangular form with feather edge borders and chased devices to the corners, the plain name plates pierced for Cyder and Seiges.

By Richard Binley, London, c1760

24 grams total weight

Is Cyder different to Cider? Sometimes thought to be an early spelling variation for Cider, Cyder is often encountered on 18th century silver Wine Labels, but both spellings were used at the time. They do in fact refer to different drinks. Cyder is rarely made today, at least not on a commercial scale. Cider, on the other hand, is. Cyder is made from a single pressing of vintage fruit, rather like "extra virgin" olive oil. Cider, the drink always given to agricultural labourers well into living memory, was made from the cyder pulp being re-pressed at the rate of 10 gallons of water to 1 cwt of pulp. This "long drink" was conspicuously different, not only in its alcoholic value, but also its taste. This type of cider could never mature in cask or bottle and was meant for general consumption, at a time when water was not always safe to drink. As with fine wines, Cyder does mature in cask and bottle, which the connoisseur can appreciate. "Industrial" cider and Perry can hardly be expected to be laid down to mature. Cyder is made with love and dedication, rather than resorting to the apothecaryst's bag of tricks. However, cider enjoys a wide following in the UK and many cider, and indeed wine, imbibers have discovered the "Real Thing".

Seiges is a spelling variation of Sitges, a coastal town south-west of Barcelona. Malvasía de Sitges is a sweet wine typical of this town on the Catalan coast. It is made using a grape variety with a white stock originally from Greece which is from where its name originates. The malvasia grape is small and its seeds are thick, very sweet and aromatic. In Catalonia it is used to make wines with the Penedès and Tarragona Designations of Origin. It was an extremely valuable and popular export to northern Europe in the 18th century. This variety is only grown in the countryside of Sitges and its surroundings. The grape must, once fermented, gives way to a fragrant, sweet drink with a high alcohol content which is usually drunk after celebrations and after the xatonadas.
Sold - £850.00
Condition
In good condition with no damage or repair