Steppes Hill Farm Antiques Newsletter #56 - April 2016


Please click on the photograph to see more details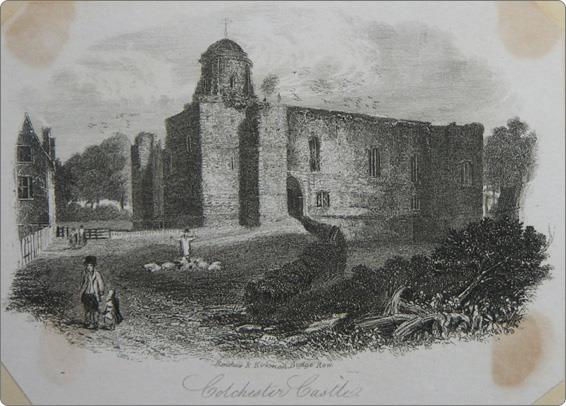 Colchester Castle, Steel Vignette, published by Renshaw & Kirkham, Budge Row c1840.
Click on the above image to zoom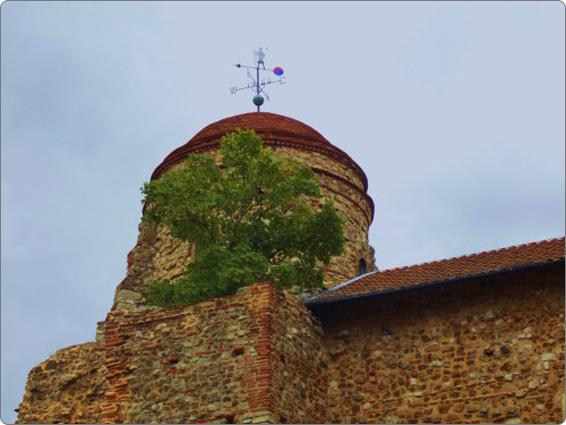 Thriving Sycamore at the top of Colchester Castle



Colchester was the first of the great keeps and the largest built by the Normans in Europe. It measures 46 by 33.5 metres. Construction of the castle began in 1076, probably under the supervision of Gundulf, Bishop of Rochester who built the White Tower at London (Tower of London). William I ordered a stone castle on the strategic route between East Anglia and London. Due to a lack of local quality stone, the Norman builders plundered Roman Colchester to build their keep. The Normans built the castle over the ruined Roman Temple of Claudius, built when Colchester was the first Roman capital of Britain. They incorporated the base of the temple into the foundations of the great tower. Colchester and the White Tower in London were built to a similar plan, both with an apsidal extension. However, Colchester's corner turrets are more pronounced and its main staircase is the largest diameter newel staircase in Britain, measuring 5 metres across. It is thought that the castle was originally single-storey, as it is still possible to see traces of crenulations in the wall. It could be that during construction it was required to be defended at short notice and was hurriedly crenelated, and then when the danger had passed, work on the other floors was restarted. Colchester saw little action at first; it was attacked by John in 1216 as it had been taken by the French, but it remained Crown property in the care of a succession of stewards or constables throughout medieval times.

By the 13th century Colchester Castle was in use as a prison and at times many hundreds of prisoners of war were confined here in appalling conditions. Much of the castle was a ruin by the 16th century although it continued in use as a county gaol until 1668 and even after that was a prison until 1835. At the end of the 17th Century, the castle was bought by a private owner who wanted to demolish it. However in 1727 it was given as a wedding present to Charles Gray, a lawyer and antiquarian. Gray was responsible for the restoration of Colchester Castle, although at the time he believed it to be a Roman construction, hence the Mediterranean style roof tiles visible from within Castle Park.

Subsequently, the Castle took on its current role as a Museum for archaeological treasures, beginning life as a museum over 150 years ago in 1860.



Next to the cupola above the castle entrance is the castle's famous Sycamore Tree (Acer pseudoplatanus). Legend has it that there's been a tree there since 1815, planted by the gaoler's daughter to commemorate victory at Waterloo.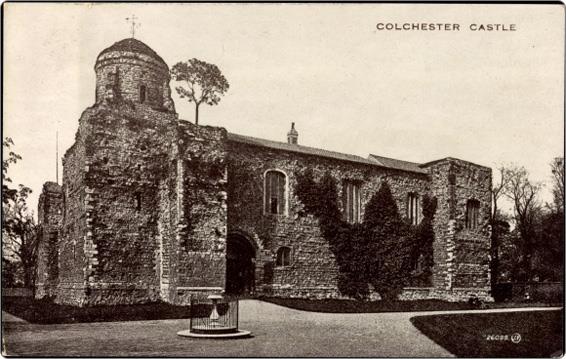 Colchester Castle, Tudor County Gaol and prison for many Essex Women (and Men)
accused of Witchcraft
The Victorian silver Vinaigrette illustrated above engraved with a scene depicting Colchester Castle is by Nathaniel Mills of Birmingham 1843, is an extremely scarce subject and is complete with a representation of the famous tree!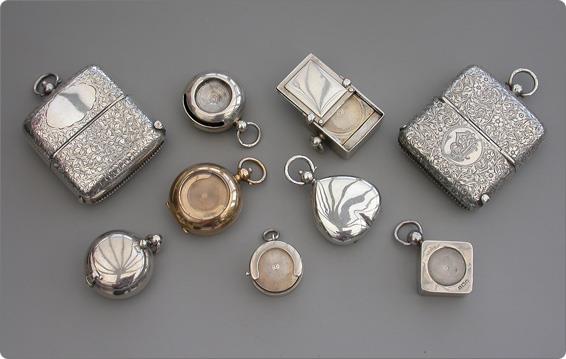 Click on the above image to zoom



Sovereign Cases, usually made in silver or plate, but occasionally in gold, were made to hold about five or six sovereigns. Carried on one end of a gentleman's Albert or watch chain, they were a status symbol and were very fashionable during the reigns of Queen Victoria and Edward VII. The term "Albert" chain was of course named after Queen Victoria's beloved consort Prince Albert, who popularised their use. The coins are retained by a spring mechanism in a short cylinder. Each cylinder held a "bank" of about five or six coins. Sovereign Cases were made in many different styles, from simple plain watch case type single bank sovereign holders and more rarely in half-sovereign sizes, to double, triple and even quadruple cases. Often they have combined full and half size holders in the same case. They are also found combined with Vesta Cases, Stamp and Card Cases. The variety of different designs and styles is endless.

Illustrated above is a small selection of Sovereign Cases including some quite rare and unusual examples. Please visit the web site to see more details.







Once again I am pleased to be able to update the site this month with over 40 new items of stock and some highlights include; a Scottish Silver & Hardstone Photograph Frame, a Swansea Sauce Tureen & Cover painted with Flowers & Fruit, a Wilcox's Patent "The King's Sovereign Purse" Silver Sovereign Dispenser, a pair of First Period Worcester Blue Scale Heart Shaped Dishes, an Edwardian Silver "Pop-Up" Playing Cards Box, a First Period Worcester "Blind Earl" Sweetmeat Dish, a Victorian Novelty Silver Bocksbeutel of Steinwein Propelling Pencil, and an early Worcester Faceted Teapot & Cover "Beckoning Chinaman" Pattern.





Please make sure and check out the latest articles in our Blog, for all the latest news in the silver world and some other interesting features





I do hope that you will find this Newsletter informative and helpful and will allow us send it to you on a regular basis. I would welcome any feedback you may have, both positive and negative.

David W.A. Buck.
Steppes Hill Farm Antiques

| | |
| --- | --- |
| | |