Steppes Hill Farm Antiques Newsletter #68 - April 2017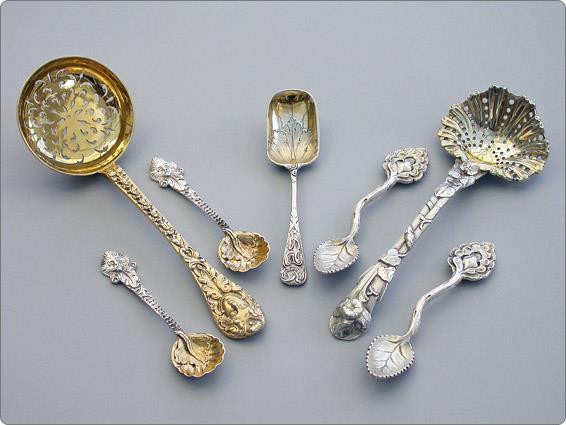 (Click on the above image to zoom)


Antique English silver "Flatware" (Spoons and Forks) has been well documented and conveniently categorised by pattern names. The excellent reference book "Silver Flatware, English, Irish and Scottish 1660-1980" written by Ian Pickford and published by The Antique Collectors' Club in 1983 is the industry standard and records over 200 different patterns and variants produced in the British Isles from the mid-17th century to the present day. Despite this almost exhaustive list there are still pieces of flatware made in patterns that do not conform to any of the recorded pattern names or categories. Ian Pickford notes this fact and devotes a section in his book to this phenomenon.

A lot of these unnamed patterns seemed to immerge in England during the Regency era when the Prince Regent (who later became King George IV) patronized makers of high-quality works of rococo silver. The Prince Regent favoured neoclassical elements of more luxurious interpretations of the late Louis XV and Louis XVI periods. The tastes of the Prince Regent helped fuel interest in the rococo revival spirit in England.

With the rococo revival came Naturalism. The nineteenth century naturalistic style, which first became popular in the 1830s, was largely inspired by the Rococo naturalism of the previous century. Unlike the earlier style, however, it often used whole plants and flowers, with little adaptation, as models for vessels or flatware.

The convolvulus was particularly popular, as a writer in the Art Journal of 1849 remarked: 'Where else have we the same graceful, clinging, affectionate tendril? The spiral bud, the drooping leaf hiding half the beauties of the stem and flower, -the same flower different in every position it assumes, but beautiful in all...what purpose is there in Decorative Art to which its beauties may not be transplanted?'



(Note the pierced silver Sifter Ladle illustrated above)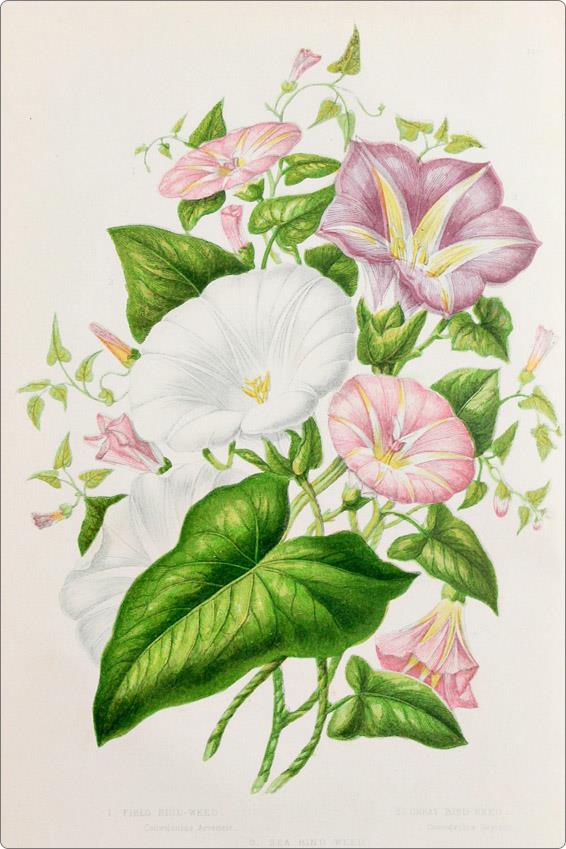 Convolvulus - Field, Sea and Greater Bindweed


In flatware this naturalistic treatment was largely limited to dessert services, ladles, and novel types such as caddy spoons. At the 1851 Great Exhibition Francis Higgins showed a cream ladle based on a buttercup plant with gilt flowers, and two caddy spoons, one shaped as a mussel shell, the other as a wild anemone 'copied with as much fidelity as its application to the form of a caddy spoon would permit'. At the Dublin Exhibition two years later he showed a teaspoon similar to those illustrated above and below but based on the rose.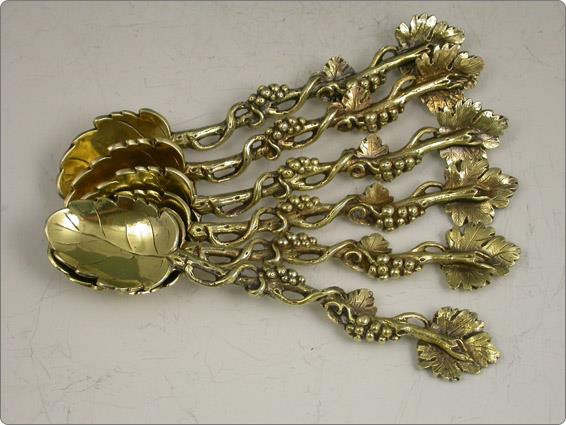 The six items of Flatware illustrated above, in patterns with no names, are all currently in stock and the details are as follows:-
A very fine quality Victorian cast silver gilt Sugar Sifter Ladle with plain circular pierced bowl, the heavy gauge handle chased with harebell flowerheads and leaves, a female mask head terminal with oval concave back. By Henry William Curry, London 1874.

A pair of early 20th century cast silver parcel gilt Salt Spoons with leaf capped fluted shell shaped bowls, the quilted stems terminating in foliate mask heads. By Charles Stuart Harris, London 1917.

A good quality Victorian silver Preserve Spoon with gilded rounded rectangular scoop shaped bowl chased with an acanthus leaf, the handle chased with rococo scrolls and shells, an asymmetrical cartouche to the reverse engraved with a crest. By George Adams, London 1866.

A good pair of early Victorian cast silver Salts Spoons, with veined leaf shaped bowls, the wavy twig handles terminating in stylised flowerheads, by Joseph Willmore, Birmingham 1839.

A very fine quality Victorian cast parcel gilt Sugar Sifter Spoon with gilded pierced fluted oyster shell shaped bowl, the rush form matted handle entwined with convolvulus stems and a flowerhead picked out in gilt. By William Robert Smily London 1849.

A fine quality set of six George III cast silver gilt Naturalistic Teaspoons, the bowls formed as vine leaves, the handles as vine tendrils with bunches of grapes and leaves. By Robert Garrard, London, 1817.

(Please click on the links to see more details)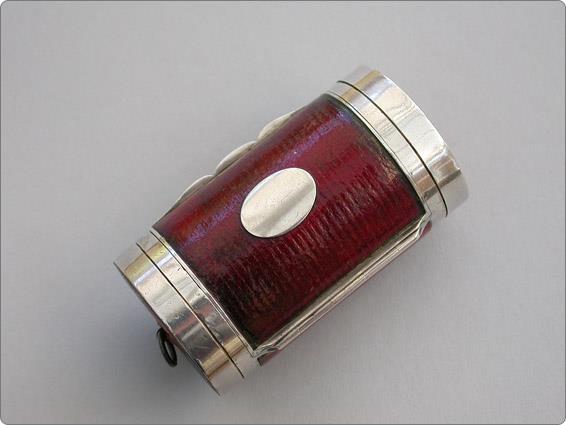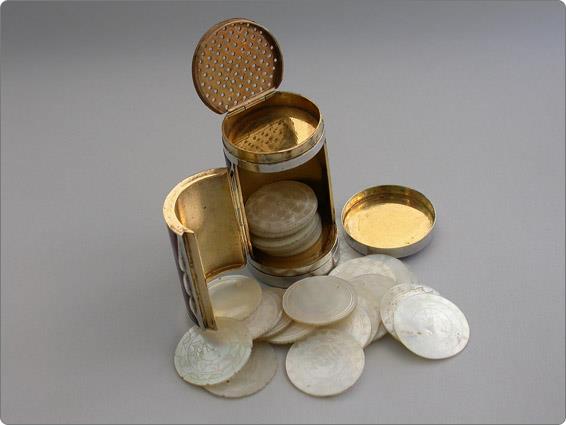 (Please click on the link to see more details)

This month's featured item is a very unusual late 18th century Georgian silver combined Counter Box / Vinaigrette & Patch Box, of tubular form bound with red morocco leather, a raised shaped thumb piece opens the main hinged compartment to reveal a silver gilt interior containing 30 engraved Chinese mother of pearl gaming counters. Pull-off lids to either end of the box conceal a Vinaigrette with hinged simply pierced grille and a leather lined Patch Box. Attached ring handles to the lids and a plain oval silver cartouche to the body. Unmarked c1795.





Once again I am pleased to be able to update the site this month with over 20 new items of stock and some highlights include; a fine quality pair of Victorian silver Old English Military Thread & Shell pattern Basting Spoons by Benjamin Smith, a rare early 20th century silver plain Weights Box Butt Marker, an extremely rare Victorian novelty silver and two-colour gold Vinaigrette made in the form of a Wine Ewer, a good George IV silver Fish Slice in Queens Oyster pattern, a fine silver gilt mounted white opaline glass combined Scent Bottle & Vinaigrette, a rare Victorian silver 'Castle-Top' Vinaigrette depicting Holyrood House, a fine Victorian Egg shaped silver Sewing Etui with raised foliate decoration and a good Arts & Crafts style silver 'Apple Tree' Caddy Spoon by Bernard Instone.





I do hope that you will find this Newsletter informative and helpful and will allow us send it to you on a regular basis. I would welcome any feedback you may have, both positive and negative.

David W.A. Buck.
Steppes Hill Farm Antiques

| | |
| --- | --- |
| | |