Steppes Hill Farm Antiques Newsletter #14 - August 2012





Click on the image above to view in more detail


My inspiration for this this month's Newsletter has been drawn from the historical comic figure that is Mr Punch. The Character of Punch is descended from the Italian clown Pulcinella who featured in the Commedia Dell' Arte in Italy in the 16th century. Players toured Europe and Samuel Pepys recalls seeing such a troupe in Covent Garden in London on 9th May 1662 during the festivities surrounding the wedding of Charles II. This date is considered Mr Punch's Birthday in England and his 350th birthday was celebrated in May this year.

This new irreverent wooden star was taken up by British puppeteers for his moral story could be used to comment on the politics of the day and so he travelled around the country for the next century. By 1800, he had become a hand puppet in the little street corner stages used by travelling puppeteers and known as Puppet Booths, new characters were added, he gained a wife, called Judy and a dog called Toby and began taking on British theatrical traditions.

In the British Punch and Judy show, Punch wears a brightly coloured jester's motley and sugarloaf hat with a tassel. He is a hunchback whose hooked nose almost meets his curved, jutting chin. He carries a stick (called a slapstick) as large as himself, which he freely uses upon most of the other characters in the show. He speaks in a distinctive squawking voice, produced by a contrivance known as a swazzle which the professor (puppeteer) holds in his mouth, transmitting his gleeful cackle.

The story changes, but some phrases remain the same for decades or even centuries: for example, Punch, after dispatching his foes each in turn, still squeaks his famous catchphrase: "That's the way to do it!"

Punch related artefacts have always been collected and silver items, mainly from the Victorian era, are highly sought after. The photograph above illustrates four pieces that I currently have in stock.

A Victorian silver capital letter 'P' for PUNCH Wine Label by Yapp & Woodward 1852.
A pair of Victorian cast silver Peppers depicting Punch & Judy by E.H.Stockwell 1883.
A rare Victorian Novelty silver Pencil depicting Mr Punch probably by Sampson Mordan.
A rare Victorian cast silver Pepper depicting Dog Toby by E.H.Stockwell 1895.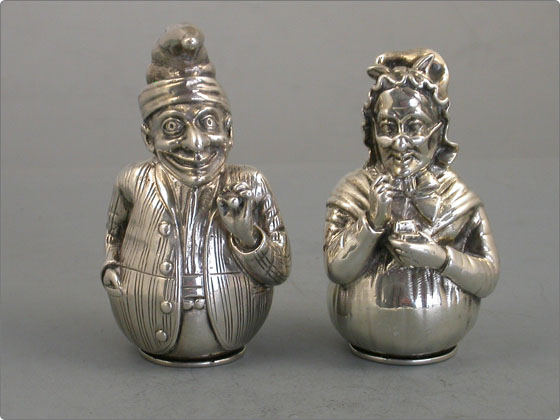 Other recent acquisitions this month include; a rare First Period Worcester "Gazebo Pattern" Coffee Cup & Saucer, a Victorian engraved silver "York Minster" Vinaigrette, a First Period Worcester Chinoiserie Vase, a Victorian silver & hardwood Novelty Cribbage Board, a First Period Worcester "Compagne des Indes" Teapot & Cover, a rare Victorian silver Combination Vesta Case & Vinagirette, a Derby Salt Pot & Cover, and some interesting new additions to the Wine & Sauce Labels Category.





I do hope that you will find this Newsletter informative and helpful and will allow us send it to you on a regular basis. I would welcome any feedback you may have, both positive and negative.

David W.A. Buck.
Steppes Hill Farm Antiques

| | |
| --- | --- |
| | |