Steppes Hill Farm Antiques Newsletter #36 - August 2014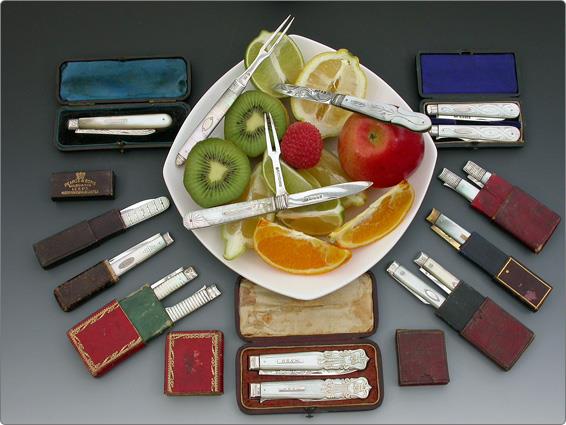 Click on the above image to zoom



"Folding Fruit Knives" are knives with a cutting blade intended specifically for fruit. Because the acid in fruit juices will rapidly discolour a carbon steel blade, cutlers offered these knives with blades made of silver, gold, or silver plate (rarely other materials), which better resist the corrosion.

French cutlers were first to produce folding knives with silver blades and since fruit was a luxury in the 18th and 19th centuries, so the knives used to cut it reflected the social standing of their owners. They were first produced in England in about 1780 with the most frequently found examples assayed in the Cities of Sheffield or Birmingham, with perhaps Sheffield being the most prolific, however examples can be found which were assayed in Chester, London and even from Dublin. They were produced from the late 18th century right through to the early 20th.

They come in many different shapes and sizes with handles made from various different materials but the most common and by far the most collectable are examples with Mother of Pearl handles, although fruit knives are also available with ivory, horn and tortoiseshell scales.

In their simplest form, most had a single hallmarked folding blade and a handle made from mother of pearl, often engraved with motifs reflecting the purpose of the knife. At the other end of the price spectrum, the very finest examples had either silver or gold blades decorated with bright-cut engraving, often with trailing vines or fruit and scrolls. Beautifully executed handles were decorated with inlays of gold and semi-precious stones, silver pique or patterns of silver or brass pins. Many can be found with shields or cartouches engraved with their owner's initials or crests.

Fruit knives with little added extras are particularly sought after. Look for those in their original leather cases. Some had additional long, thin pointed blades intended to remove pips from fruit, while others were combined with a fork or orange peeler. Examples with a Chester hallmark are more valuable because of their relative rarity. The collecting possibilities are endless.

To see details of Folding Fruit Knives and Forks currently in stock please click on the relevant category on the web site:- Folding Fruit Knives / Forks.




This month's featured item is a fine and rare fully hallmarked Victorian novelty silver Vinaigrette in the form of a Mussel Shell, with attached suspension ring, the silver gilt interior with elaborately pierced grille.

By Sampson Mordan, London 1883. Marked on lid, base and grille.





I am pleased to be able to update the site this month with over 50 new items of stock and some highlights include a rare Bow Model of a Cockerel, a rare Victorian novelty silver Cleopatra's Needle Propelling Pencil, a pair of Derby Ichthyological Dessert Dishes, a fine Victorian Silver Castle Top Card Case depicting Newstead Abbey with inset Lord Byron medallion, two First Period Worcester large Blue & white Tankards, some new editions to the Wine Labels Category, an early 20th Century cast Silver Figural Caddy Spoon depicting William Wordsworth and a contemporary Scottish silver model of a Jack Russell Terrier.





I do hope that you will find this Newsletter informative and helpful and will allow us send it to you on a regular basis. I would welcome any feedback you may have, both positive and negative.

David W.A. Buck.
Steppes Hill Farm Antiques

| | |
| --- | --- |
| | |