Steppes Hill Farm Antiques Newsletter #48 - August 2015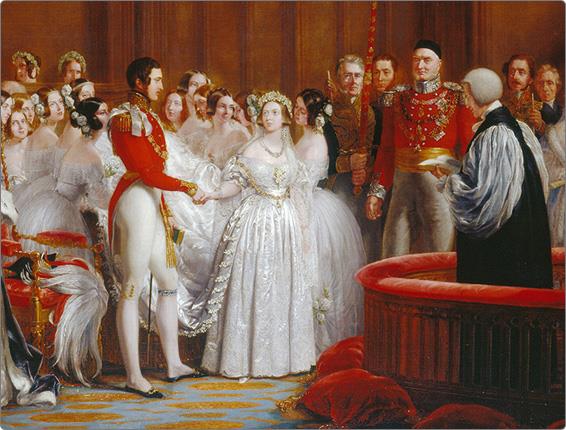 Click on the above image to zoom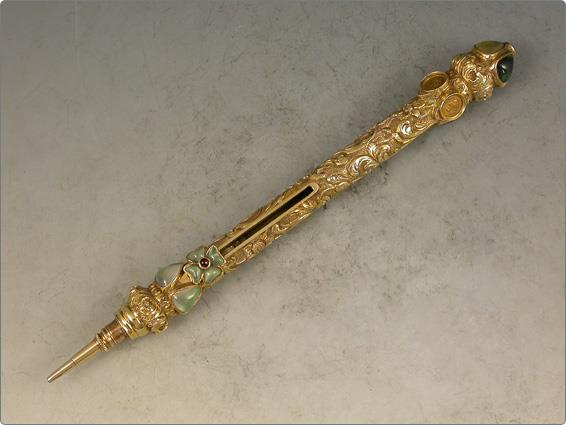 Victoria & Albert Memento Gold Gem Set Propelling Pencil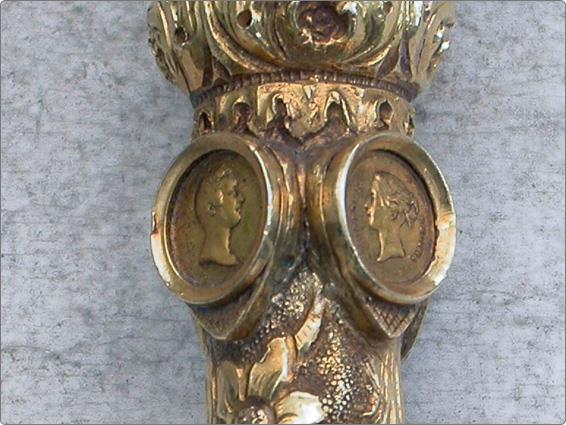 Medallions depicting Albert of Saxe-Coburg and Gotha and Victoria Regina



Queen Victoria and Prince Albert seem to have made several appearances in my monthly Newsletters but I make no apologies for re-visiting their story here as once again I have had the pleasure of handling a lovely item from that "golden age" of peace, prosperity, refined sensibilities and national self-confidence for Great Britain.

Victoria was 18 when she succeeded to the throne in 1837, amid mounting speculation about who she would marry. The key figure proved to be her German uncle, Leopold of Saxe-Coburg and Gotha, her mother's brother, who had been King of the Belgians since 1831. To further strengthen his family's European influence, he hoped to secure Victoria for one of his nephews, Ernst or Albert of Saxe-Coburg and Gotha. The youngest brother, Albert, was three months younger than Victoria and he later recalled that even as a small boy he had been told that one day he should marry Victoria and had always thought of her in that light.

At the apparently innocent suggestion of Leopold's adviser, Baron Stockmar, in April 1836 Victoria's Saxe-Coburg mother invited Ernst and Albert to London for the princess's 17th birthday celebrations in Kensington Palace, along with their father, the Duke of Saxe-Coburg. Young Victoria was smitten with Albert, whom she thought extremely handsome. They talked happily and played piano duets together and, after he left London for Brussels in June, she wrote to tell Uncle Leopold that she had cried bitterly at Albert's departure and to thank him for 'the prospect of great happiness you have contributed to give me in the person of dear Albert'.

On Victoria's accession, Albert wrote to wish her 'a long, happy and glorious' reign and later sent her presents from abroad. Victoria was enjoying her independence and she was determined not to be rushed into a bad marital decision, of which her family offered all too many examples. After consultations with Leopold and Baron Stockmar, she invited Albert and Ernst to England again in 1839. They arrived at Windsor Castle in October and the instant Victoria saw Albert she made up her mind. A few days later she summoned him to her private room and it was she who proposed to him, as protocol required. He accepted immediately and they kissed over and over again. All the talk was in German, though Albert's English would soon improve.

'Oh!', Victoria confided to her diary, 'to feel I was, and am, loved by such an Angel as Albert was too great delight to describe! He is perfection... Oh! how I love and adore him I cannot say!!' The couple spent every minute they could together, singing and dancing, while seizing every opportunity to kiss and cuddle in private, until Albert left in November to return to Germany.

I NEVER, NEVER spent such an evening!!! MY DEAREST DEAREST DEAR Albert ... his excessive love & affection gave me feelings of heavenly love & happiness I never could have hoped to have felt before! He clasped me in his arms, & we kissed each other again & again! His beauty, his sweetness & gentleness - really how can I ever be thankful enough to have such a Husband! ... to be called by names of tenderness, I have never yet heard used to me before - was bliss beyond belief! Oh! This was the happiest day of my life!

Much argument now broke out about what exactly Albert's position would be after the marriage, what rank and precedence he would hold, how his household was to be organised and how much he would be paid. There were those who did not relish the prospect of paying for a penniless foreign princeling and there were also false rumours that Albert was a Roman Catholic. Matters were sorted out, however, and Albert was invested with the Order of the Garter and escorted back to London from Gotha in January 1840.

The wedding in February, the first marriage of a reigning English queen since Bloody Mary almost 300 years before, was held at 1pm in the Chapel Royal at St James's Palace. Victoria arrived in a procession of carriages from Buckingham Palace, to which she had moved to get away from her mother. She wore a white dress of heavy silk satin, trimmed with Honiton lace. She had a white lace veil and wore a diamond necklace and earrings as well as a sapphire brooch given her by Albert and she carried a wreath of orange blossoms, a symbol of fertility. Albert was in a British field marshal's uniform and was escorted by a squadron of Life Guards. He entered the chapel to the strains of Handel's 'See, the conquering hero comes', followed by Victoria, who was given away by her uncle the Duke of Sussex. Twelve young bridesmaids carried her train.

There was not remotely room in the chapel for the huge crowds that had gathered and which cheered the young couple at every chance. The wedding breakfast was held at Buckingham Palace and the wedding cake weighed 300 pounds. The newlyweds went off to Windsor Castle for a three-day honeymoon. Victoria described her wedding day as 'the happiest day of my life!' and the wedding night that followed as 'most gratifying'.

There is no doubt about the sexual intensity involved. Victoria was pregnant within a couple of months of the wedding and, although she would always detest pregnancy and childbirth, she and Albert would have nine children. He proved himself an admirable consort and made a strong positive contribution to British life. His premature death at 42 in 1861 was a devastating blow to Victoria. It was many years before she could even begin to recover.




Gifts of Grandeur: A Souvenir of the Wedding of Queen Victoria and
Prince Albert, 1840


The fine quality high carat gold gem set Propelling Pencil illustrated above is elaborately chased with foliate scrolls and flowerheads on a matt background, the finial is formed as a crown and set with rounded triangular moss agates and tipped with a ruby, the barrel is set with two bands of similar, but not as green, moss agates and the slider button is similarly set as a flowerhead centred by a ruby. The top band is punctuated with two circular medallions, one depicting the young Queen Victoria and the other Prince Albert. The pencil is unmarked, which is not unusual for gold pencils at this date and was quite possibly made by R & S Garrard, Crown Jewellers c1840. It may well have been produced as a memento of the Royal wedding on the 10th Febuary 1840.

A similarly grand gold Pencil decorated this time with enamel and turquoise and with virtually identical medallions is exhibited in the Jewellery Gallery at the V&A Museum in London (See below).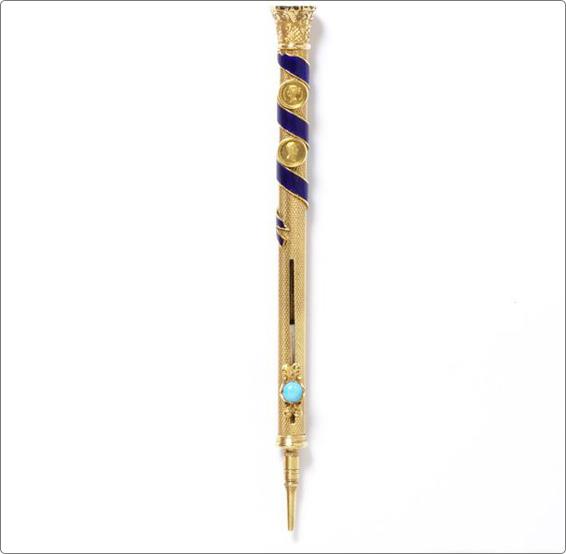 Pencil Case
England, 1840
The Victoria & Albert Museum

Made in England in 1840, this pencil case commemorates the marriage of Queen Victoria to Prince Albert of Saxe-Coburg and Gotha. The gold case for a propelling pencil is lined with a gilded copper alloy, and engine-turned, engraved and enamelled on the exterior. It has been set with turquoise, and a lapis lazuli intaglio and medallion portraits of Queen Victoria and Prince Albert.





I am pleased to able to offer a few new and I hope interesting items this month and some highlights include: - a superb Edwardian novelty silver Pin Cushion depicting a Polar Bear pulling a Sleigh, a Victorian silver model of a Bear Paperweight, a Victorian novelty silver Scent Bottle in the form of an Egg, a rare Scottish Provincial silver Caddy Spoon, an Irish silver Butter Spade with green stained turned ivory handle, a Regimental silver Menu Holder modelled as a Gurkha Soldier and some other nice additions to the Pencil and Wine Label categories.





Please make sure and check out the latest articles in our Blog, for all the latest news in the silver world and some other interesting features





I do hope that you will find this Newsletter informative and helpful and will allow us send it to you on a regular basis. I would welcome any feedback you may have, both positive and negative.

David W.A. Buck.
Steppes Hill Farm Antiques

| | |
| --- | --- |
| | |