Steppes Hill Farm Antiques Newsletter #30 - February 2014


Welcome to the second Steppes Hill Farm Antiques Newsletter of 2014. I do hope that you find these communiques of some interest and would very much welcome any feedback you might like to offer. If you would prefer not to receive them, do please let me know.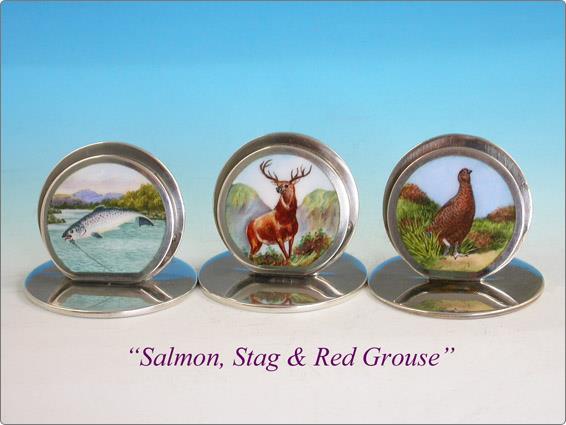 Click on the above image to zoom


Illustrated above are three fine and rare Edwardian silver and enamel Menu Holders made by Sampson Mordan & Co of Chester in 1905-6. The faces are beautifully enamelled with portraits of a Leaping Salmon, a Red Deer Stag and a Red Grouse, all in Scottish landscape scenes. These large and impressive enamelled Menu Holders were the best and most desirable form of holder produced by Mordan during the early years of the 20th century. English Game birds were popular subjects, with Pheasants, Partridges and Ducks quite often encountered, but the Stag and the Salmon are very scarce.

The composed set featured above depicts the three species required to complete a "Mcnab Challenge" What is a McNab? Namely to stalk a Red Stag, shoot a brace of Grouse and catch a Salmon, all within just one day. It is derived from the famous novel by John Buchan under the title "John MacNab". Who is John Macnab? "A tall bravo with a colonial accent" or "a gnarled Caliban of infinite cunning and gnome-like agility", speculates Janet Raden, the indomitable female interest in John Buchan's novel John Macnab. The second most popular of Buchan's novels (The Thirty-Nine Steps claims top spot) was written in 1925. Unlike the majority of his work, sixpenny thrillers with spies and codes, John Macnab is a sporting adventure and required reading for any sportsman worth his powder. It is, after all, where the most modern and invigorating of sporting challenges kicked off.





The ammunition required to complete a McNab and setting up at first light for a salmon

Click on the above images to zoom



John Buchan's adventure story was centred on three members of London's upper-class society. Bored, with little to engage them and keen for a rejuvenating challenge, they concocted, in the rarefied atmosphere of their London club, the notion of poaching deer and salmon and red grouse on three Scottish estates, having warned the owners of their intentions and the dates when the acts were to be carried out. In the event of success £50 would be paid to a charity appointed by the estate owner, but failure would be a forfeit of £100, again paid by the three "poachers", all of whom operated under the nom-de-guerre, John Macnab.

The three protagonists are old friends: Sir Edward Leithen, barrister and former Attorney General; John Palliser-Yeates, City banker; and Lord Lamancha, cabinet minister. At their club, with the help of Sir Archibald Roylance, whose Highland retreat will be their base, the ruse that will shake off their boredom takes shape.

The three champions are consummate sportsmen, essential when engaging in enemy territory. Palliser-Yeates is an excellent shot, having stalked nearly every forest in Scotland. Leithen is an artist on the river, and Lamancha no mean shot himself. Leithen's straight delicate casts and skill with the fly are vindicated as he is the only one of the allies who brings off John Macnab's dare.

The novel is derived from the real-life derring-do of Captain James Brander Dunbar. In a letter to The Field of 17 November, 1951 he clarified just what had given Buchan the idea. A dearth of shooting invitations and the assertion that he could kill a beast in any forest in Scotland was duly challenged by Lord Abinger. A .303 carbine rifle hidden inside a golf bag was his only attempt at mustering a semblance of stealth. After two blank mornings and on the verge of chucking in he took a six-pointer in the Iverlochy Forest (not quite a match for the Earl of Lamancha's 13-pointer). He evaded pursuit by crossing the River Spean and carried off the head and neck ready for mounting. Presenting himself at the castle in the afternoon he received a cheque made payable to J. B-D., POACHER. After the book was published Buchan wrote to Brander apologising for failing to get his permission to use the story, but his vim was a great hook for the tale.

Today the competitive spirit outranks boredom as the driving factor for those taking to the hills in pursuit of the accepted modern version of a Macnab. It pits skill and endurance against the clock and unpredictable quarry. Anyone can stand in the line and crumple a stately pheasant, but to take three species in one day requires another type of expertise altogether - and good fortune if a stag, salmon and brace of grouse are to be taken within 24 hours. Perhaps a little less thrilling than Buchan's original, it's still a sporting feat that can delight the most jaded sportsman. Many sporting lodges offer the chance to notch up the Highland triple in return for an appropriately serious certificate and sporting satisfaction.



To watch some instructional videos on how to succeed at the three required disciplines, please click on the following links:-

How to shoot the Grouse:-
http://www.youtube.com/watch?v=XcODYHUaHWo

How to shoot the Stag:-
http://www.macnabchallenge.co.uk/content/how-shoot-stag

How to catch the Salmon:-
http://www.macnabchallenge.co.uk/content/how-catch-salmon








I am very conscious of the fact that internet trade is stimulated by a fresh and regularly updated web site that has an ever changing inventory, and with this in mind I try to add significant numbers of new items to the site each month. Regular visitors will know that we usually upload 50 or more recent acquisitions to coincide with the monthly newsletter and this month is no exception and I am pleased to be able to offer nearly 70 new items of stock.

Some highlights include; a fine and rare Philip Christians Liverpool relief moulded Mug of small size, a rare Victorian Novelty Silver Footballers Leg, Ball & Shin Guard Vesta Case, a fine Chelsea Derby globular shaped Teapot and Cover, a fine quality Victorian Silver English Lop Eared Rabbit Pepper, a good Bow Coffee Cup, a rare and early George IV silver gilt Castle Top Vinaigrette depicting Brighton Pavilion, a lovely First Period Worcester Earl Manvers pattern Dessert Plate and a rare Victorian Novelty Gold Pencil in the form of a Rifle.





I do hope that you will find this Newsletter informative and helpful and will allow us send it to you on a regular basis. I would welcome any feedback you may have, both positive and negative.

David W.A. Buck.
Steppes Hill Farm Antiques

| | |
| --- | --- |
| | |