Steppes Hill Farm Antiques Newsletter #42 - February 2015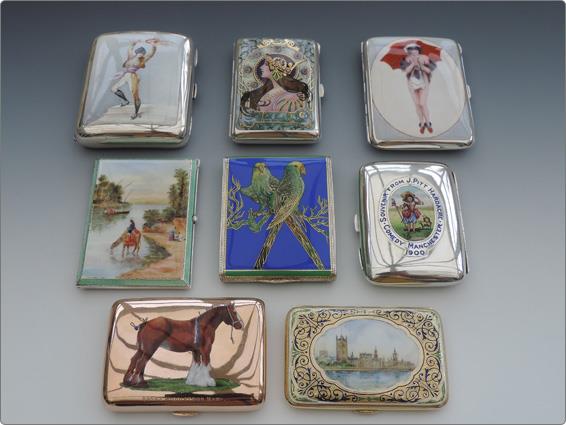 Click on the above image to zoom



The functional reason for a cigarette case is to keep the fragile tubes of tobacco within from being crushed. But smoking cigarettes has never been a purely utilitarian pursuit. It has long been associated with style and fashion, which is why cigarette cases quickly became highly decorative personal accessories.

The more common type of case and the one that probably comes to mind first when we think of cigarette cases, was the slim rectangle or square designed to fit in a jacket pocket or a small purse. In the late Victorian era, these cases were often paired with matching vesta cases which were used to hold friction matches known as vestas.

Silver was one of the most common materials used to make antique and vintage cigarette cases. Designers and jewellers would emboss and chase their cases to create everything from delicate floral or geometric patterns to bold designs, such as a coat of arms. The interiors of better cases were gilded, sometimes bearing a tender or congratulatory inscription.

After World War I, when cigarette smoking was extremely popular and chic, Paris became a centre for cigarette-case design. One Parisian designer from the 1920s, Raymond Templier, created lacquered cases as well as silver-and-enamel cases, both sporting brightly coloured geometric designs. Other Art Deco designers produced enamel cases with bold, graphic imagery-cases from this era featuring aircraft and animals are much prized by collectors today. For well-to-do smokers, French jewellers such as Cartier and Van Cleef & Arpels made cases that were encrusted with diamonds and other precious gemstones.

Germany and Austria were also prolific producers, particularly of fine enamelled cases in the Art nouveau style decorated with beautiful women or with classical landscape or pastoral scenes. Mildly erotic and risqué themes were also popular as were sporting and hunting topics.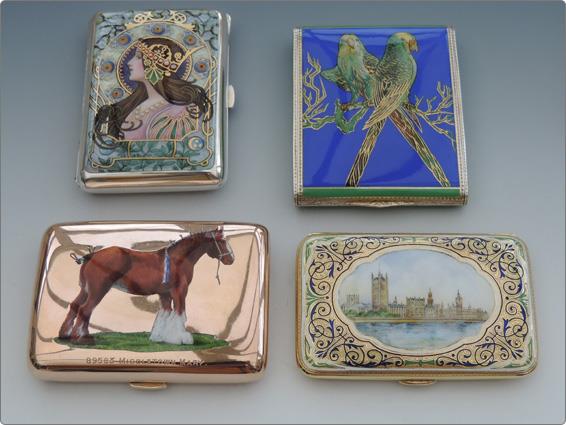 Click on the above image to zoom



The photographs above illustrate a selection from our current stock and they can all be viewed on the web site in the 'Cigarette Cases Category'.







The subject matter for this month's Newsletter has all arrived from one source and Cigarette Cases are just one of the categories represented in a fine and extensive English private collection of enamelled silver and gold objects recently acquired. The collection was formed over a long period of time and the collectors' tastes were both extravagant at times as well as being simple and classic at others. There is tremendous variety and I am delighted to able to offer an initial selection here. Apart from the Cigarette Cases illustrated above other highlights include:-

A set 4 George V Silver & Enamel Butterfly Menu Holders, an early 20th Century Continental Silver & Enamel Minaudiere depicting a Pastoral Scene, an early 20th Century Continental Silver Gilt & Enamel Compact depicting Kings College Aberdeen, a George V Masonic Presentation Silver & Enamel Jewellery Box, an Edwardian Silver & Enamel Roulette Wheel Vesta Case, a George V Silver Gilt & Enamel Minaudiere depicting a Gypsy Scene, a Victorian Silver & Enamel Cigarette Box / Vesta Case depicting Eve in the Garden of Eden and a George V Set of 12 Novelty Silver & Enamel Umbrella Cocktail Sticks.





Please make sure and check out the latest articles in our Blog, for all the latest news in the silver world and some other interesting features





I do hope that you will find this Newsletter informative and helpful and will allow us send it to you on a regular basis. I would welcome any feedback you may have, both positive and negative.

David W.A. Buck.
Steppes Hill Farm Antiques

| | |
| --- | --- |
| | |