Steppes Hill Farm Antiques Newsletter #78 - February 2018

Regency Silver & Silver Gilt Wine Labels by Paul Storr, Digby Scott, Benjamin Smith and Phillip Rundell

One of the most renowned manufacturing firms of supreme quality silver of the Regency era was Rundell, Bridge and Rundell (Royal Goldsmiths & Jewellers by appointment) whose designs were particularly influenced by late 18th century French silver which inspired the early strains of naturalism and the revival of the Rococo style. Both Paul Storr and Benjamin Smith carried out work for this firm who produced much silver plate for the Prince Regent. The motifs and embellishments of the Regency era, in particular the grape vine and tedril, wreaths, lions' masks and figures of wine mythology, were highly adaptable to wine label design. Unlike earlier times, it is of particular interest to note that the major silversmiths of Regency period were practically all responsible for the manufacture of wine labels of particular and often unique design. Paul Storr and Benjamin Smith, together with other famous silversmiths such as Digby Scott, Edward Farrell and Phillip Rundell, produced large and fine wine labels in this period.
The Regency Period, 1800-1837
The
Regency
in Great Britain was a period when
King George III
was deemed unfit to rule and his son
ruled as his proxy
as
Prince Regent
. On the death of George III in 1820, the Prince Regent became
George IV
. The term
Regency
(or
Regency era
) can refer to various stretches of time; some are longer than the decade of the formal Regency which lasted from 1811–1820. The period from 1800 to 1837, which includes the latter part of the reign of George III and the reigns of his sons George IV and
William IV
, is often regarded as the Regency era, characterised by
distinctive trends in British architecture
,
literature
,
fashions
, politics, and culture. The Regency era ended in 1837 when
Queen Victoria
succeeded William IV.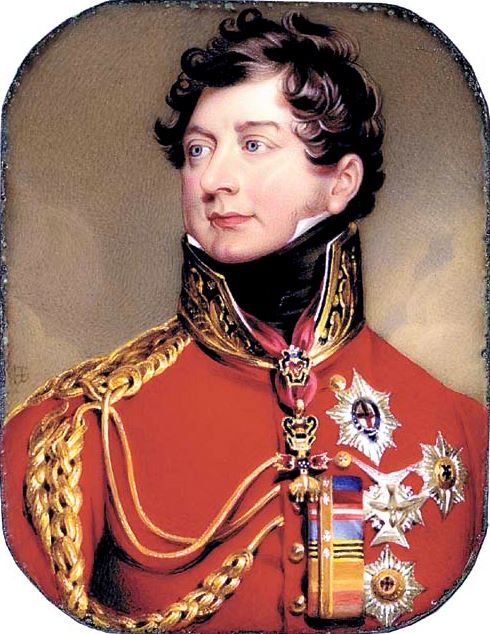 King George IV when Prince Regent, by Henry Bone 1816
George Augustus Frederick, Prince of Wales, was 48 when he was appointed Prince Regent to his father, King George III. The Regency would be a convenient label for a brilliant period in architecture and the arts, but the prince himself was not highly regarded. A heavy drinker and a compulsive gambler, he poured out quantities of money like a human Niagara Falls. He had charming manners, he sang and played the cello nicely and he was a superbly gifted patron of the arts. But he was considered deeply untrustworthy and his hatred of his father led him to ally himself with the Whig opposition in Parliament. He involved himself in a secret marriage with Maria Fitzherbert in 1785, which he knew was illegal and which he kept lying about. In 1795 he married Princess Caroline of Brunswick, though he loathed her on sight.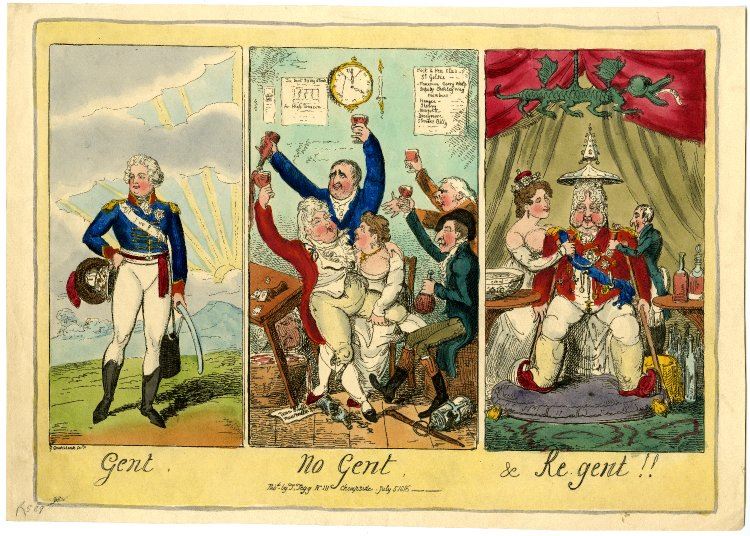 "Gent, No Gent & Re.gent!!"
Hand-coloured etching by George Cruikshank, 5th July 1816
A sequence of three designs placed side by side. [1] As a 'Gent' the Prince is a handsome and stalwart young officer in the uniform of the 10th Light Dragoons of which he was Colonel. He stands in a landscape, the cloudy sky behind him irradiated by a rising sun.
[2] In the squalid room of a low tavern the Prince revels with Mrs. Fitzherbert and his boon companions. He sits on her lap, tipsily holding up a wine-glass; Fox, standing behind them, drunkenly empties a bottle over the glass. George Hanger sits on a chair, holding bottle and glass, his bludgeon and a watchman's broken lantern beside him. Sheridan stands behind. A table beside the Prince tilts so that cards and dice fall off. Below it grovels Norfolk, vomiting into a tub, beside which is a paper: 'Dean Swift's Maw Wallop' [filthy dish of food]. A wall-clock lit by a single candle shows that it is 4 or 5 a.m. On the wall are pasted: [1] a ballad, 'Black Joke'; [2] 'The Last Dying Speech for High Treason'; [3] 'Cock & Hen Club St Gilse's—Chairman George Whelp Deputy Charley Wag members Hanger—Sherry—Norfolk— Barrymore —Slender Billy—' He is fat and disheveled, his loosened garter is inscribed 'Honi so[it]'.
[3] As Regent he sits enthroned under a canopy, grossly fat and supported on crutches, his vast gouty legs resting on a cushion. Lady Hertford seated beside him (left), proffers a glass from a bowl of punch, while McMahon, tiny as usual, and standing on a stool, hands a glass of brandy from decanters (right) on a table, below which bottles are stacked. His 'Privy Purse', hangs from his pocket. The Regent sits impassively, his eyes turned to the lady, who has huge breasts but is not otherwise caricatured. He wears uniform with the Garter ribbon and a great display of orders. On his head, resting on a pyramid of curls, is a Chinese head-dress, surmounted by a cone decorated with bells; his shoes are Chinese. A hint of whisker in [2] has developed into a furry border to his bulging cheeks. Above his head hangs one of the dragons of the Pavilion, much burlesqued and with a tongue inscribed 'Taste'.

Featured Item

| | |
| --- | --- |
| | |

I do hope that you will find this Newsletter informative and helpful and will allow us send it to you on a regular basis. I would welcome any feedback you may have, both positive and negative.
David W.A. Buck.
Steppes Hill Farm Antiques

| | |
| --- | --- |
| | |