Steppes Hill Farm Antiques Newsletter #90 - February 2019

Soldiers of the Queen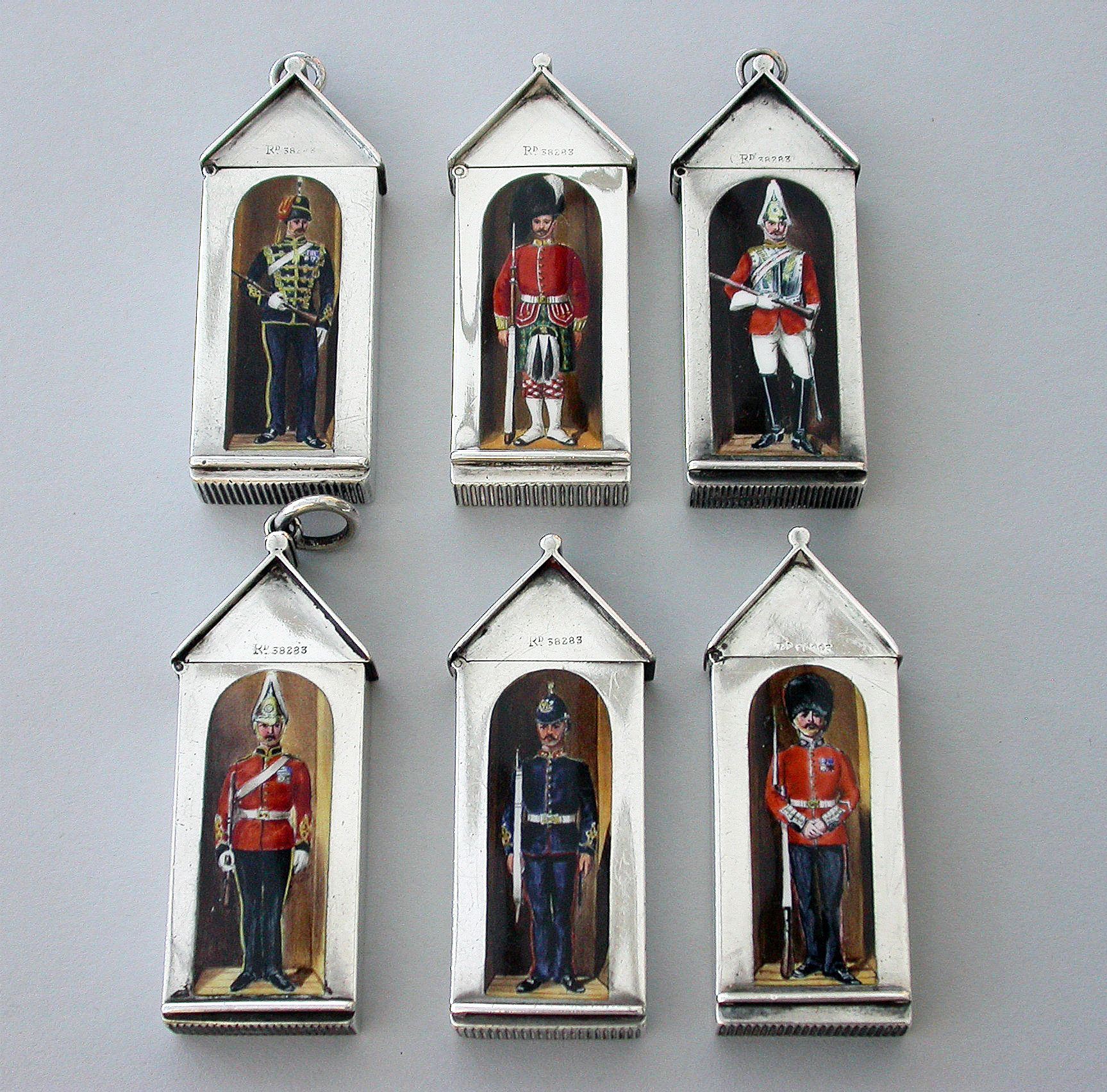 A collection of Victorian silver and enamel "Sentry Box" Vesta Cases by Sampson Mordan & Co, depicting various regiments of the British Army.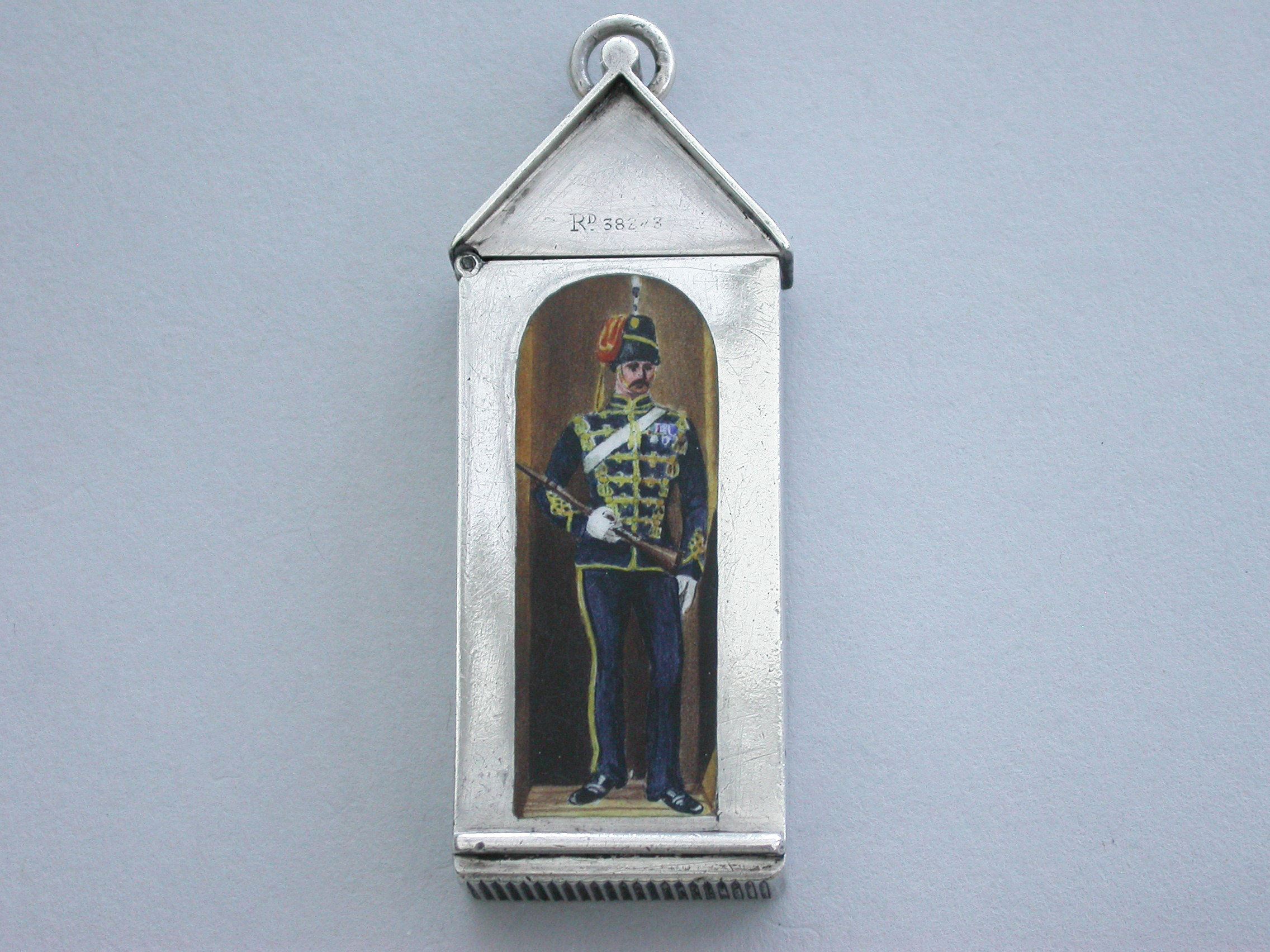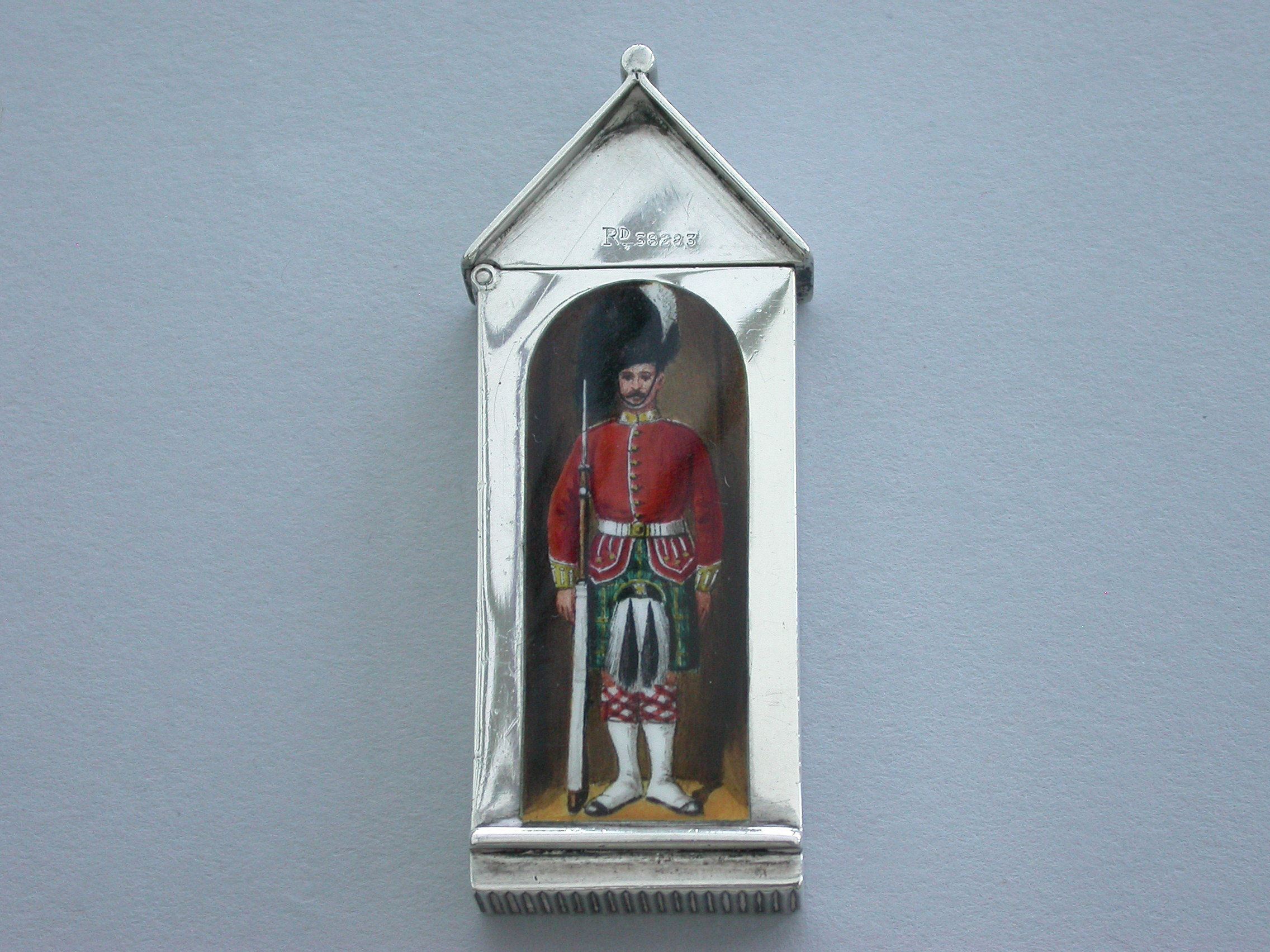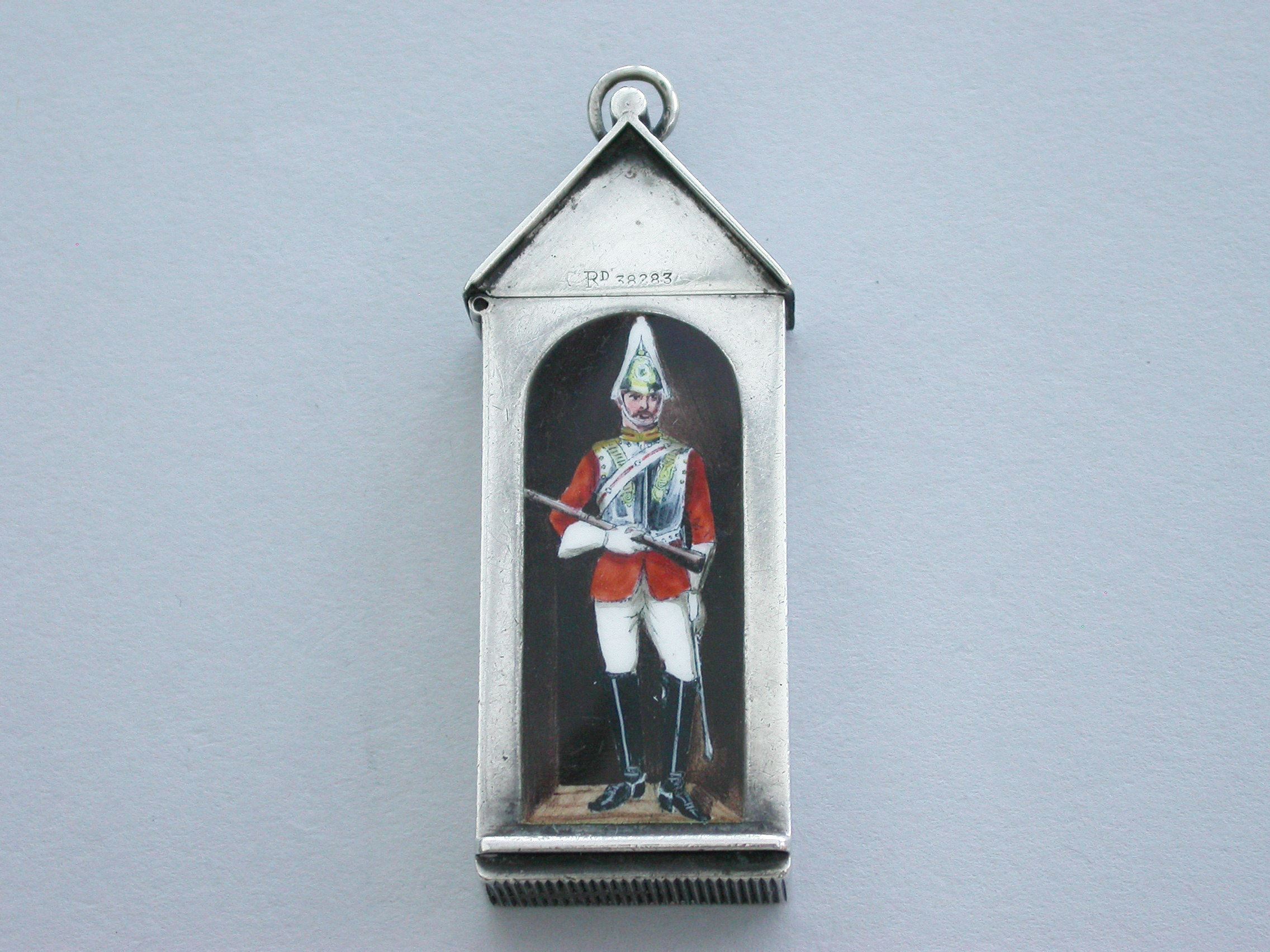 Highly sort after by collectors, a series of silver and enamel Vesta Cases depicting 'Soldiers of the Queen' were produced by Sampson Mordan & Co around the time of Queen Victoria's Golden Jubilee in 1887. It was originally thought that the Sentry Box Vesta was limited to a series of perhaps 10 or 12 different examples made specifically for the Jubilee. About 30 different Regiments have now been recorded. They were made exclusively by Mordan and are usually stamped with the Registered Design Number 38283. The design was registered at the Patent Office on the 17th November 1885, although not actually produced until 1886 giving further credence to the theory that it was an idea influenced by the florid 1887 Jubilee with its military reviews and pageantry.
Some regiments appear much more frequently than others with perhaps the Grenadier Guard the most often encountered. Very occasional Foreign regiments have been seen that would have been one-off special commissions and just as rare, if not rarer, are fully hallmarked gold examples.
There are occasional variations in size, with the larger examples being particularly scarce, but most conform to the approximate dimensions of 60mm x 24mm x 10mm and weigh about 25 Grams (0.80 troy ounces). Some have the addition of a suspension ring for attachment to a fob chain. They have an internal tongue shaped brass spring held in place by a metal frame or cup. There is a metal tension bar attached to the central hinge lug which is forced against the spring when the lid is opened and creates a satisfying "snap" when closed.
The quality of the enamel painting is is always particularly fine with vibrant colours and extreme detail faithfully picking out the subtle differences in uniforms that distinguish one regiment from another. Examples in stock depicting the
Seaforth Highlanders
, the
Gordon Highlanders
and the
Black Watch Regiment
at first glance all look quite similar, but they wear different coloured tartan kilts and have distinguishing bearskin plumes etc.
It is most probable that the enamelists took there inspiration from the contemporary works of the prolific English Military Artist;
Richard Simkin (1851-1926)
. His defining work was a series of 'Types of the British Army' which were published as monthly supplements of the Army and Navy Gazette beginning in 1888 and ending in about 1902. During this period he produced 176 plates depicting every regiment of the regular British Army plus the Yeomanry and many Indian and Colonial troops.
Made from a good gauge of silver and usually fully hallmarked on the bezel with further part marks to the interior lid, the majority are struck with the London date letter 'L' for 1886-87, although other dates up to 1903 have been recorded. They would have originally had gilded interiors although this is often worn or discoloured by the sulphur from spent matches.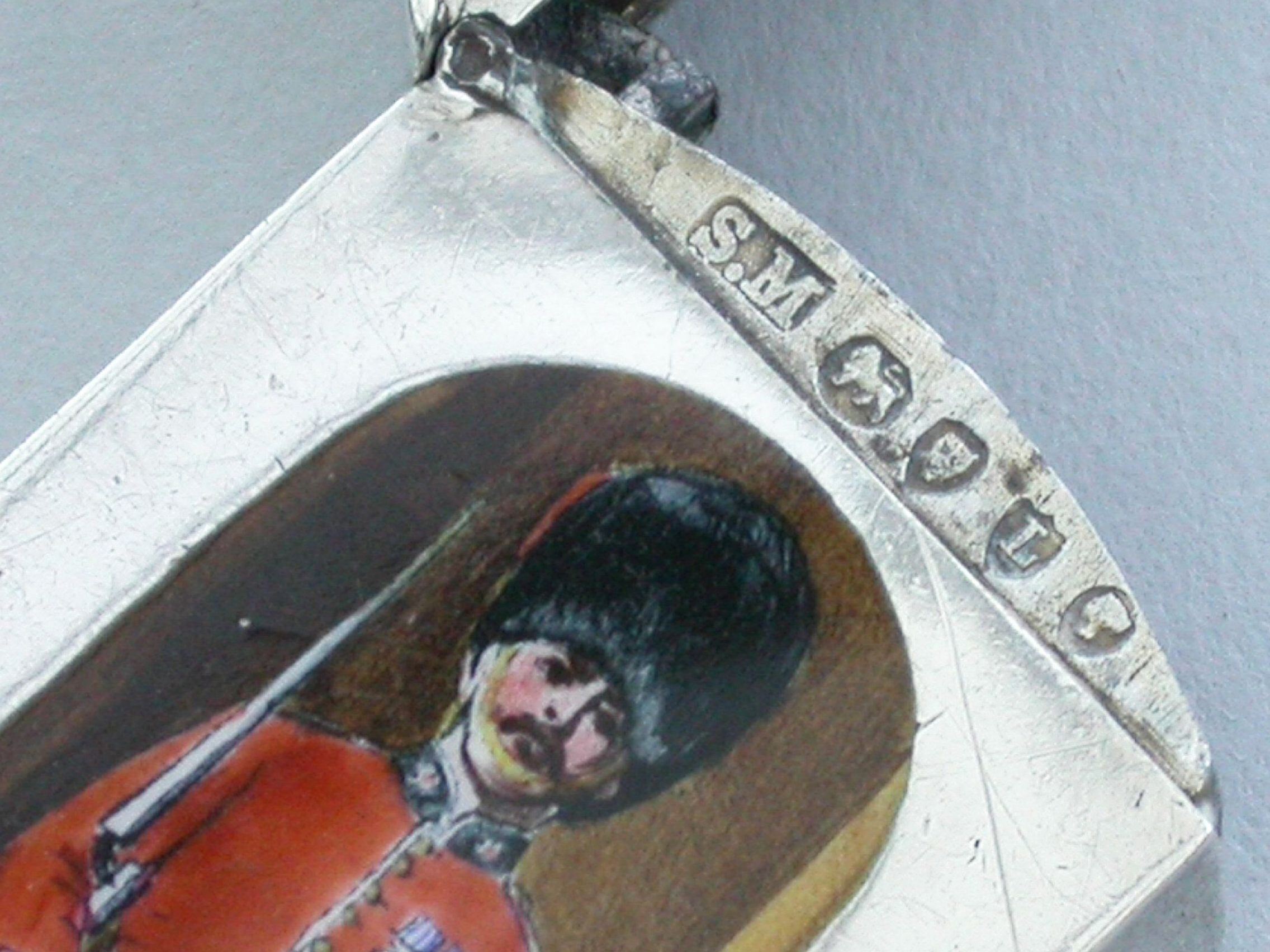 These enameled Vesta Vesta Cases would have been expensive at the time and would have been ordered privately and purchased by or on behalf of a soldier requesting his own particular regiment to be hand painted on the case. Quite often personal monograms, initials or inscriptions are engraved on the reverse of the box, and can add interest and assist with attribution, as was the case with the Royal Artillery example illustrated below. The engraved inscription tells us that it belonged to; A.D Seton of the 5th Brigade of the Scottish Division of the Royal Artillery.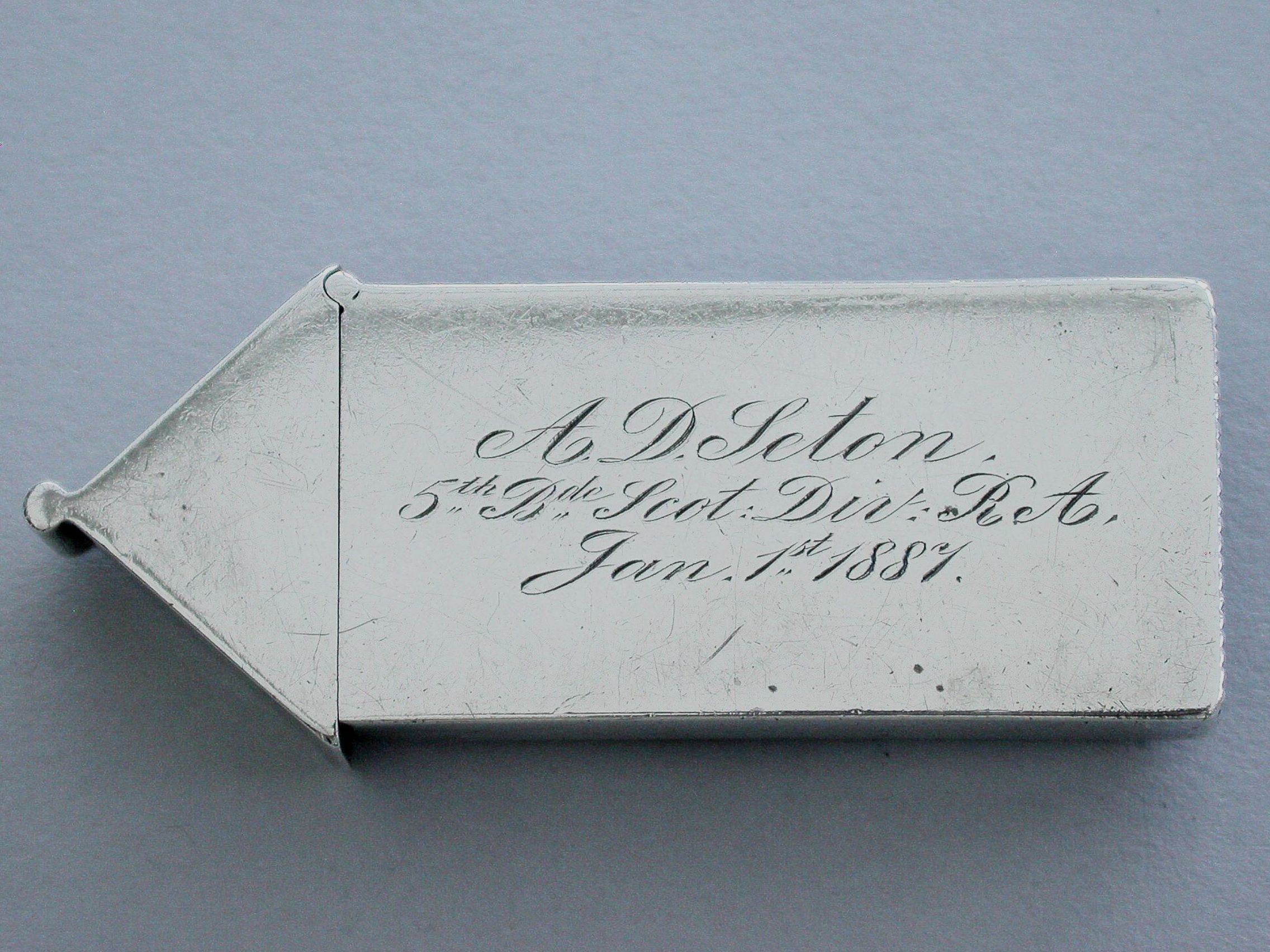 Crude modern reproductions with raised applied enamel plaques (rather than inset) and marked .925 Sterling, are appearing on the market more and more often, but are easily spotted.

An article by Karl P. Koenig and Nigel Ross for the Silver Magazine published in 2009 suggested that auction prices at the time ranged from $3,000-$11,000, but the examples that I now have for sale from an English private collection formed over many years, might suggest that prices have stabilised or even fallen back a little as more examples have come onto the market in recent times and economies have softened. It is a buyers market!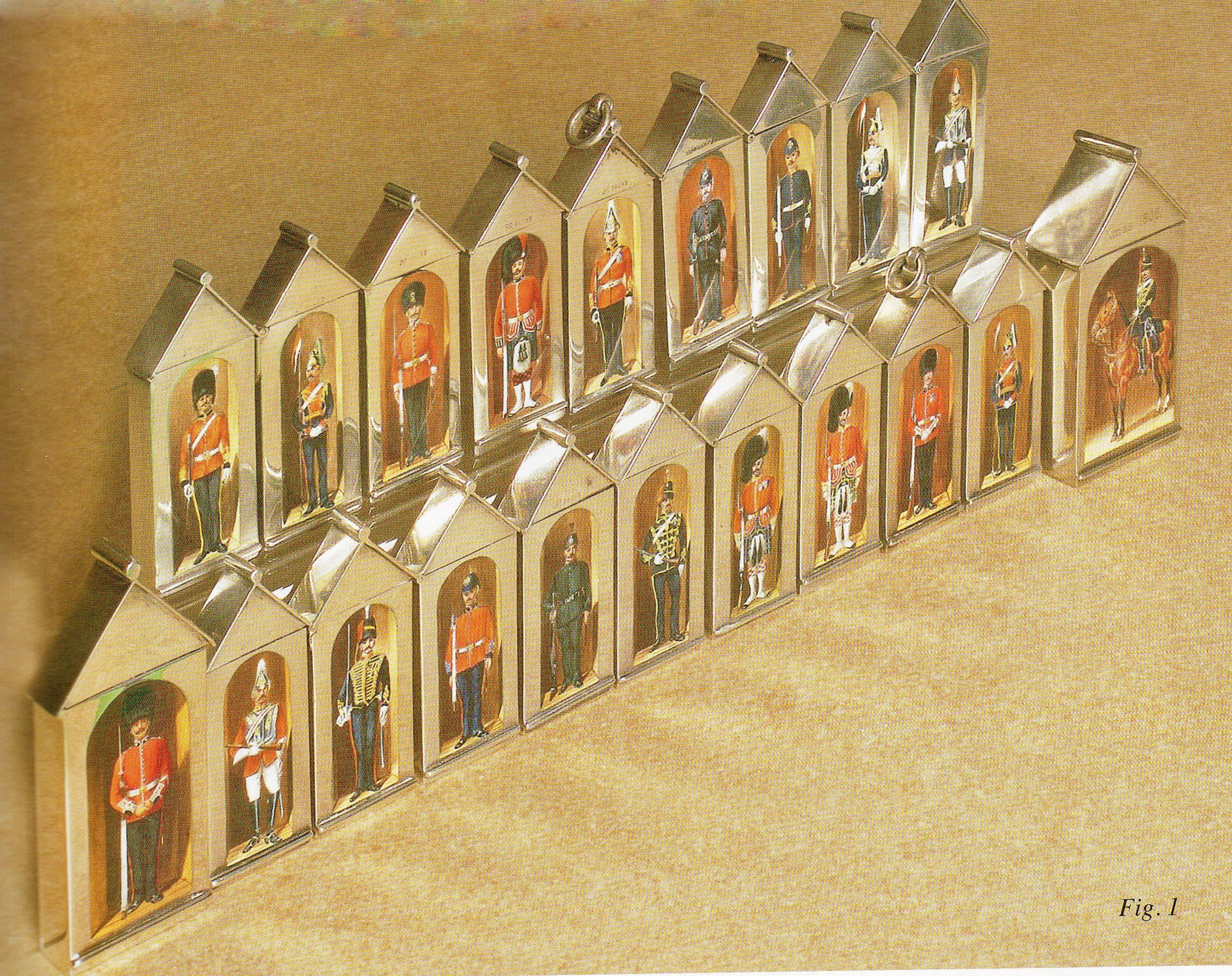 A collection of 20 different Sentry Box Vesta Cases, some of which we now have for sale.
The Silver Magazine, January/February 2009, pages 34-37.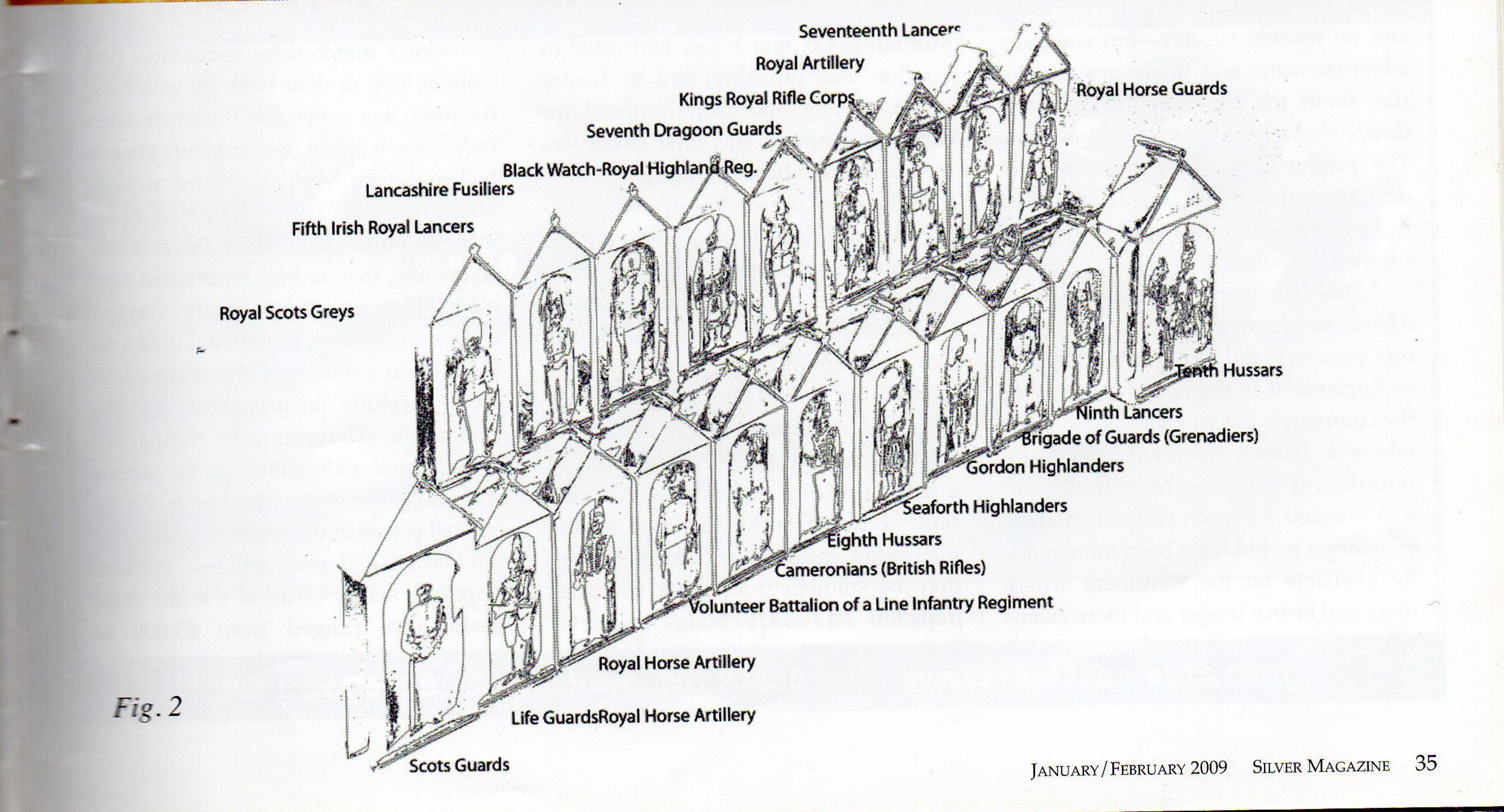 | | |
| --- | --- |
| | |

I do hope that you will find this Newsletter informative and helpful and will allow us send it to you on a regular basis. I would welcome any feedback you may have, both positive and negative.
David W.A. Buck.
Steppes Hill Farm Antiques

| | |
| --- | --- |
| | |