Steppes Hill Farm Antiques Newsletter #53 - January 2016


May I first of all take this opportunity to wish you a very happy, peaceful and prosperous New Year from all of us at Steppes Hill Farm Antiques. Thank you for your custom during 2015 and we hope to be able to be of service again in 2016.

Secondly I would like to congratulate the winners of our Christmas "Spot the Difference Competition". The three lucky recipients of a Harrods Classic Christmas Pudding were: - Stephen Brant, Kenneth Reid and Matthew Peppit.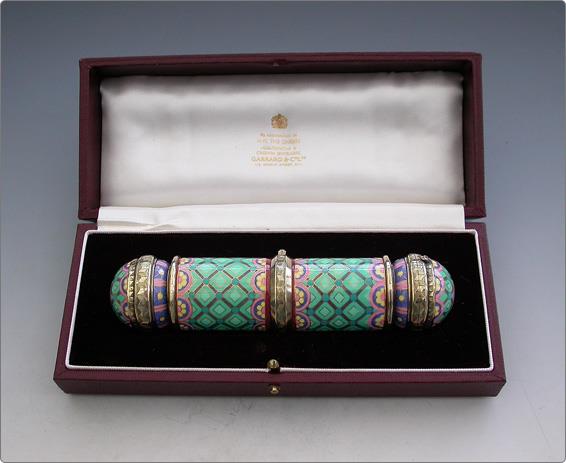 Click on the above image to zoom

A superb Victorian silver gilt and enamel double-ended scent bottle and vinaigrette, of cylindrical form with part-spherical ends, one sprung with button release revealing a glass scent bottle, the other screwing away to reveal the second scent bottle, the centre hinging open to reveal a vinaigrette decorated with latticework engraving and a pierced latticework grille, the exterior decorated with stylised flowers and a geometric pattern composed of pink, blue, turquoise and yellow enamel outlined with gold. By Henry William Dee, retailed by Asprey, London 1871. In associated silk and velvet lined fitted red leather case by Garrard & Co Ltd.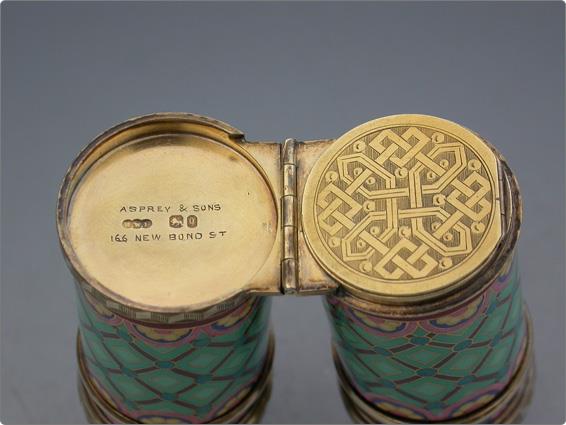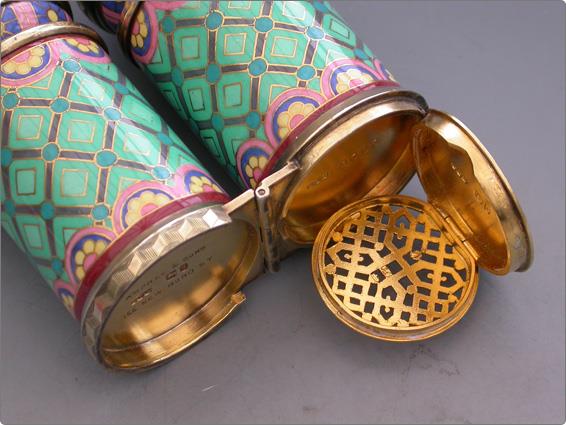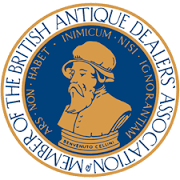 I have decided to use my first Newsletter of the new year to "bang the drum" for the trade organization that I am proud to be a member of - the British Antique Dealers' Association. The BADA is the trade association for the leading antique dealers in Britain. Since its foundation in 1918 the BADA has set the standard for trading in the antiques business.Buying antiques at auction can be a risky business with very little recourse or comeback.

One way to minimise the potential risks is to buy from a reputable dealer. The same advice applies to antique buying as it does to plumbing, life insurance or any business transaction. You can add a safety-net by going to a firm which is a member of a trade body such as The British Antique Dealers' Association which vets its membership and enforces standards through the code of practice contained in its strict bye-laws.

Such safeguards can be important, particularly if you have cause to question the authenticity of your purchase and wish to claim redress. Such a query should not, for example, present a problem if the piece came from a dealer who is a member of The British Antique Dealers' Association. Since 1918 the BADA has been looking after the buying public. Under its codes of practice, a mistake in the description of an object usually entitles the purchaser to a full refund from the member. In addition, should this be a cause for dispute between the BADA dealer and his customer, then the matter can be taken to the Association's free Arbitration Service.




BADA members are experts in their chosen fields of specialisation - indeed many members are world authorities. They are therefore able to provide reliable information and advice to all who are interested in antiques.

The staff of BADA's London headquarters are now able to provide a wide ranging consumer information and assessment service.

BADA dealers seek to build up long term relationships with their clients - they are not just interested in making a quick sale. Getting to know a BADA dealer means that objects you have been searching for will often come to light through his chain of contacts. The advice of a professional dealer will be invaluable to buyers building up or improving collections.

BADA dealers are able to provide comprehensive advice on the purchase, sale and care of antiques and works if art.

Clients wishing to buy or sell major collections and important antiques are able to do this discretely, and in complete confidence.





I am pleased to be able to start the new year off by updating the site this month with over 60 new items of stock and some highlights include; a rare Victorian Novelty Cast Silver Otter Pepper, a George III Silver Travelling Inkwell / Quill Case with Prime Ministerial plus some other new items in the Writing Equipment category. A Victorian Silver & Enamel Fred Archer Jockey Vesta Case and a topographical enamel Cigarette Case depicting Furness Abbey, a fine Victorian novelty silver Thistle Vinaigrette and a Victorian Silver Combination Vinaigrette / Compass / Photo Frame / Coin Holder, and some rare new additions to the Wine Label Category sourced from an English Private Collection.





Please make sure and check out the latest articles in our Blog, for all the latest news in the silver world and some other interesting features





I do hope that you will find this Newsletter informative and helpful and will allow us send it to you on a regular basis. I would welcome any feedback you may have, both positive and negative.

David W.A. Buck.
Steppes Hill Farm Antiques

| | |
| --- | --- |
| | |