Steppes Hill Farm Antiques Newsletter #65 - January 2017

May I first of all take this opportunity to wish you a very happy, peaceful and prosperous New Year from all of us at Steppes Hill Farm Antiques. Thank you for your custom during 2016 and we hope to be able to be of service again in 2017.

Secondly, I would like to congratulate the winners of our "Christmas Quiz Competition". The three lucky recipients of a Harrods Classic Christmas Pudding were: - Sam Miller, David Collard and Jessica Buck. The correct answers are given below.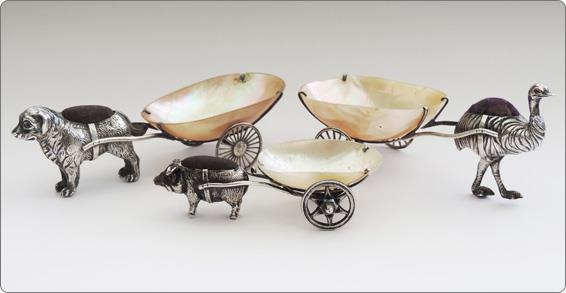 (Click on the above image to zoom)

An extremely rare Edwardian novelty silver Pin Cushion, modelled as a dog (possibly a Newfoundland) pulling a shaped Mother of Pearl cart on two wheels. The dog realistically modelled with fine detail and complete with original velvet cushion. By Adie & Lovekin, Birmingham, 1908.

An extremely rare George V novelty silver Pin Cushion, modelled as an Emu pulling a shaped Mother of Pearl cart on two wheels. The Emu realistically modelled with fine detail, ruby red glass eyes and complete with original blue velvet cushion. By Adie & Lovekin, Birmingham, 1911.

A rare Edwardian Novelty silver Pin Cushion made in the form of a Pig pulling a Mother of Pearl Cart with two wheels. Complete with original velvet cushion. By Sydney & Co, Birmingham, 1909.

(Please click on the links to see more details)



The passion for collecting early 20th century novelty silver Pin Cushions, particularly those in the form of animals or birds, seems to be gathering pace. Towards the end of the 19th century, silver pin cushions became very popular, as did table pincushions, some for hat pins rather than toilet pins, but it is the smaller figural pincushions that are most sought after today. Almost every type of animal can be found - elephants, pigs and chicks emerging from eggshells being the most common, but kangaroos, lions, foxes and other 'exotics' are rare.

An added embellishment that enhances these little models is a Mother of Pearl or Nacre Pin or Trinket Dish, made in the form of a cart with two revolving wheels and attached to the draught animal by two shafts.

Mother-of-pearl is the nacreous inner shell coating of pearl-producing molluscs. These creatures have three layers to their shell; the outermost periostracum, followed by a layer of calcite and then the innermost layer of nacre (mother-of-pearl). This smooth part of the shell is produced by the mantle of the mollusc as it grows.

Mother-of-pearl has been used for thousands of years; it was used by the ancient Egyptians and Sumerians. Inlay work has also been used in East Asian and Islamic religious art. In the West, mother-of-pearl became extremely popular during the Victorian Era. The Victorians used mother-of-pearl inlay to decorate household items such as knife handles, jewellery boxes, buttons and screens. In the 1880s, the leaders of London street traders (known as Costermongers) began to decorate their hand-me-down suits with hundreds (and sometimes thousands) of mother-of-pearl buttons. These people were known as "Pearly Kings" and "Pearly Queens". Part of the philosophy of the Pearly Kings and Queens was to give to others. This community continues charity work to this day, proudly wearing their pearly suits.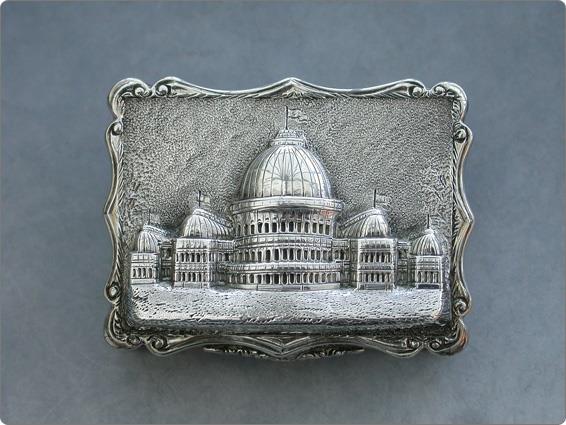 (Please click on the link to see more details)
An extremely rare Victorian silver "Castle Top" Vinaigrette of shaped rectangular form, the base and sides engraved with engine turned decoration and a cartouche engraved with a presentation inscription, the lid decorated with a scene depicting the "Industrial Exhibition Building" in Dublin, Ireland in high relief. The silver gilt interior with scroll pierced grille.

By Nathaniel Mills, Birmingham, 1852.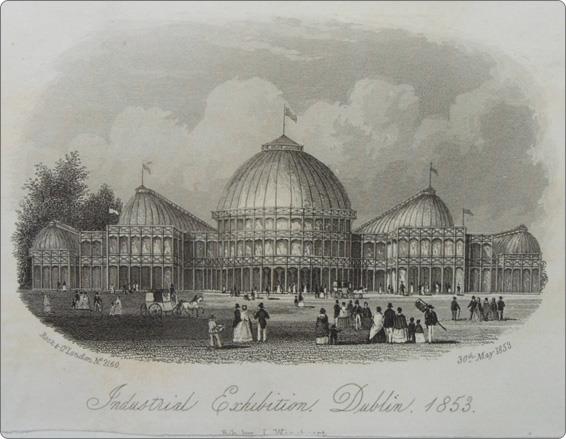 (Click on the above image to zoom)
"Industrial Exhibition Building" steel vignette, engraved by Rock & Co, 30th May 1853.


The Great Industrial Exhibition in 1853 was held in Dublin, Ireland. In its day, it was the largest international event to be held in Ireland. The Irish Industrial Exhibition Building, located on the grounds of Leinster House, housed the entire fair. It lasted from the 12 May to 31 October, Queen Victoria accompanied by the Prince Consort and the Prince of Wales, paid an official visit on 29 August.

The building is described by The Illustrated Dublin Exhibition Catalogue, which says: "Presenting a front to Merrion-square of 300 feet, the main or centre feature of elevation consists of a semi-circular projection, which forms the Eastern termination of the Central Hall. This in a noble apartment of 425 feet in length, and 100 feet in height, covered by a semi-circular roof trellis robs, in one span of 100 feet. On each side of the Centre upon trellis ribs, in one span of 100 feet. On each side of the Centre Hall, and running parallel to it for the same length, are two halls 50 feet wide, with domed roofs, similar to that which covers the main nave or hall of the building. The Height from the floor to the roof of each of these halls is 65 feet. They are approached through passages from the Centre Hall. In addition to these three halls are four compartments of 25 feet wide, running the whole length of the building; two are placed between the Centre Hall and the side halls, and two on each side of the latter; divided into sections of 25 feet square, forming convenient divisions for the purposes of classification. Over these compartments are spacious galleries, also running the length of the building, which not only afford increased space for exhibition, but form an agreeable promenade from whence the effect of the three halls may be seen to greater advantage. To the south of the Central Hall, left of the spectator, is a hall devoted to foreign contributions; adjacent to which is the Fine Arts Court, corresponding in position to the Machinery Court. The northern and southern courts have galleries running round them, from which the spectator also looks into the Central Court. The ceiling of the halls being divided into panels formed by the trellis ribs, and the other constructive parts of the building, has allowed ample opportunity for effective decoration. Light is admitted from above in one unbroken and equally distributed body. The construction of the building is strongly marked on the elevation, and forms in fact the ornamental character of the design. There are also external galleries which are attractive features. The materials of the building are iron, timber, and glass."

On May 12, 1853, when the exhibition opened, the architect, John Benson, was granted a knighthood.







Once again I am pleased to be able to update the site this month with over 30 new items of stock and some highlights include; a Victorian Novelty Silver & Enamel Watering Can Scent Bottle, a rare early Victorian Silver Snuff Box depicting Oxford Martyrs Memorial, a rare Edwardian Silver & Enamel 'Leaping Tarpon' Menu Holder, a Victorian Novelty Silver & Enamel Heart Shaped Bridge Propelling Pencil, a fine Victorian Silver & Enamel Horse Racing Vesta Case, a Victorian Silver & Enamel Combination Vesta Case/Pen Knife/Pencil/Button Hook, a Victorian Novelty cast Silver Pug Dog Propelling Pencil and an Edwardian Silver Arts & Crafts style Caddy Spoon by Liberty & Co.






The 12 images in the quiz could (possibly!?!) be linked to the following items of stock:-

Rice – Worcester Rice Spoon.
Nutmeg – Nutmeg Grater.
Tea Leaves – Tea Strainer or Mote Spoon.
Queen Cakes – Worcester Patty Pan.
Eva Longoria dodging the puddles – Victorian silver Skirt Lifter.
Moustache – Moustache Spoon or Comb.
Mint Sauce – Mint Sauce Ladle.
Marrow Bone – Marrow Scoop.
Uisge Beatha Whisky – UISGEBEATHA Wine Label.
Crushed Sugar – Silver Sugar Crusher.
Wheels of Cheese – Cheese Testing Scoop.
Grouse Butt – Silver Butt Markers.







I do hope that you will find this Newsletter informative and helpful and will allow us send it to you on a regular basis. I would welcome any feedback you may have, both positive and negative.

David W.A. Buck.
Steppes Hill Farm Antiques

| | |
| --- | --- |
| | |