Steppes Hill Farm Antiques Newsletter #47 - July 2015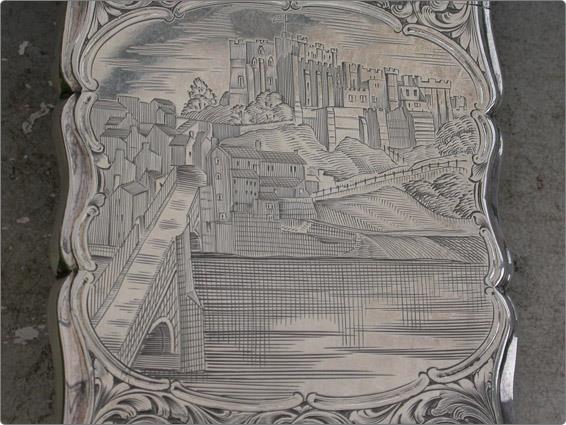 Click on the above image to zoom
Previously unrecorded Victorian Silver "Castle-Top" Card Case by Charles Washington & Shirley Deakin, Birmingham 1855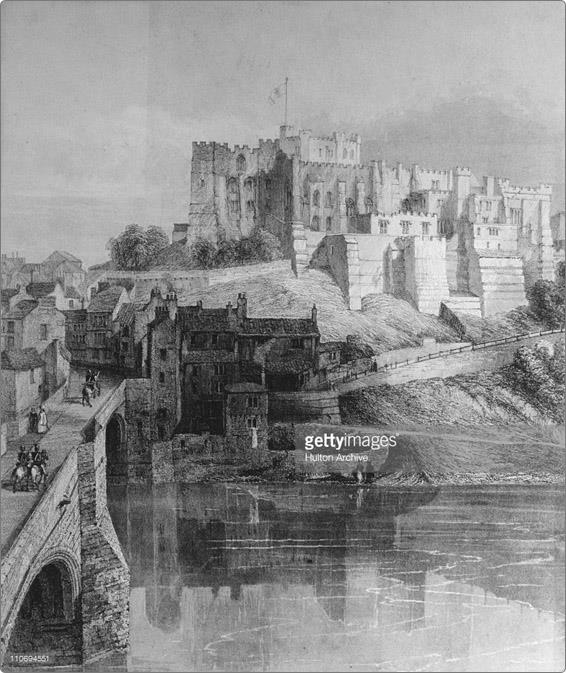 Click on the above image to zoom

Durham Castle and Framwellgate Bridge County Durham circa 1820. Engraving by J H Le Keux after R.W.Billings.



I begin this month's Steppes Hill Farm Antiques Newsletter by illustrating another previously unrecorded scene on a Victorian engraved silver "Castle-Top" Card Case. Once again the ubiquitous internet has allowed me to trace and place it, quite possibly directly from the original engraving that might have been used as the inspiration for the engraver at the time. It is a thrilling experience when one finally stumbles across the undisputed correct subject and I have been fortunate to have been able to achieve this on a few occasions now.

It was only in November last year that I reported on a Malvern Abbey Card Case that I had not seen before, and now here is another new scene! In that Newsletter of November last year I also discussed some of the high prices achieved at auction for rare "Castle-Tops", and that trend continued earlier this month when a fine embossed case by David Pettifer of Birmingham 1848 depicting Trafalgar Square, fetched a healthy £7,963 at auction in Somerset.

Please click on the link to view further images and details of the Durham Card Case.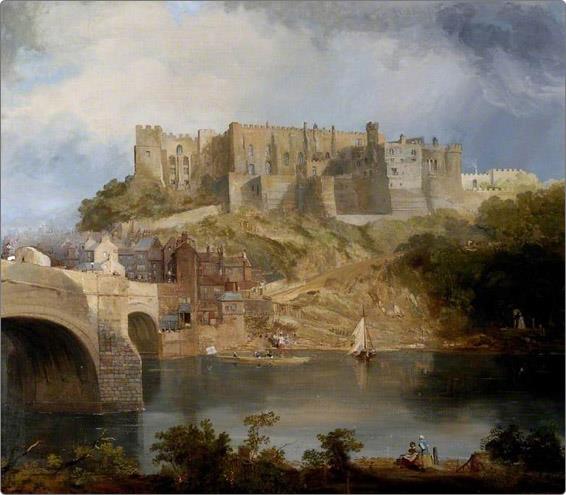 Click on the above image to zoom
Durham Castle and Framwellgate Bridge, Looking East, by Edward Hastings, painted c1840.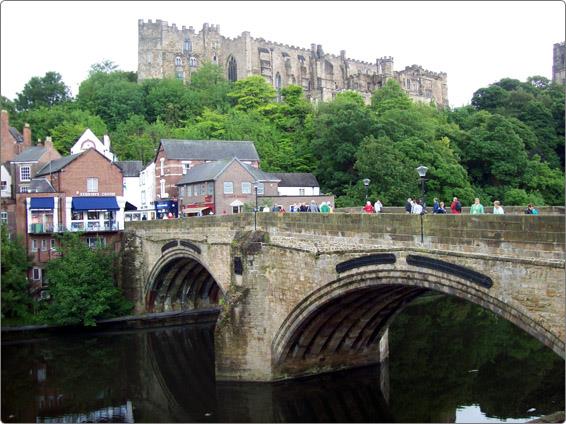 Framwellgate Bridge over River Wear



Framwellgate (or Framwelgate) Bridge was built circa 1128 on the orders of one of Durham's most colourful bishops, Ranulph (or Ralph) Flambard. It marked the first permanent crossing of the River Wear in Durham and as such was defended by a gatehouse and tower at the east end. Like many other bridges of the period, including Elvet Bridge, it also included its own chapel, in its case half way across.

Much of its structure was subsequently destroyed in a great flood of 1401 after which the present bridge (as seen from downstream) was rebuilt during the early part of Bishop Langley's tenure (1406-37). The bridge then had three spans (the eastern span is under the present day buildings and is shown from Thomas Girtin's painting of 1799 to have had a Norman arch).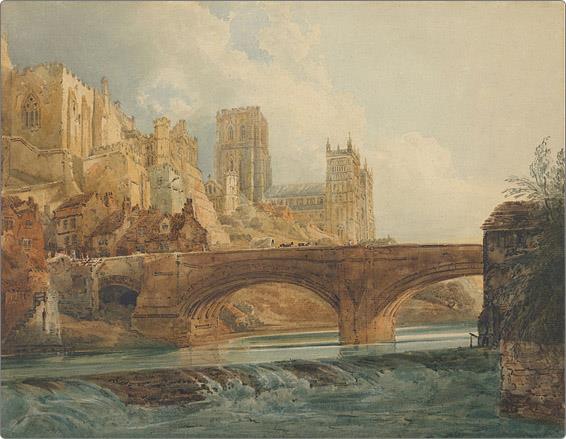 Durham Castle and Cathedral, watercolour over pencil heightened with gum Arabic, Thomas Girtin 1799



Before nearby Milburngate Bridge was built in the 1960s Framwellgate Bridge was one of the main routes into the city. To cope with Durham's growing population, the tower and gatehouse were demolished in 1760 and the 27 metre roadway was subsequently widened from 6.2 to 8.6 metres in 1856.

The Pevsner Architectural Guide to the buildings of County Durham describes the bridge we see today quite simply thus:

"Two tremendously wide elliptical arches, of three orders, closely ribbed."

In December 1318 the Bishop of Durham's steward Richard FitzMarmaduke was murdered on Framwellgate Bridge while on his way to hold the County Court by Robert Neville 'the Peacock of the North' and his brother John. Robert was later slain at Berwick by James Douglas known as 'the Black Douglas'. John was eventually pardoned for his part in the murder.







I am pleased to be able to offer over 30 new items of stock that have been added to the web site this month and some highlights include; a Victorian novelty silver Watering Can Inkwell and Dip Pen, a fine early Worcester octagonal Teabowl & Saucer, "I'm out for the night" enamel Ticket Vesta Case, a rare early Worcester "La Cascade" Plate, a novelty Duck Propelling Pencil, a fine Victorian silver model of a Bull and some good new additions to the Bookmarks and Wine Label Categories.





Please make sure and check out the latest articles in our Blog, for all the latest news in the silver world and some other interesting features





I do hope that you will find this Newsletter informative and helpful and will allow us send it to you on a regular basis. I would welcome any feedback you may have, both positive and negative.

David W.A. Buck.
Steppes Hill Farm Antiques

| | |
| --- | --- |
| | |