Steppes Hill Farm Antiques Newsletter #95 - July 2019

Antique Silver Caddy Spoons From the English Provincial Assay Offices, Scotland and Ireland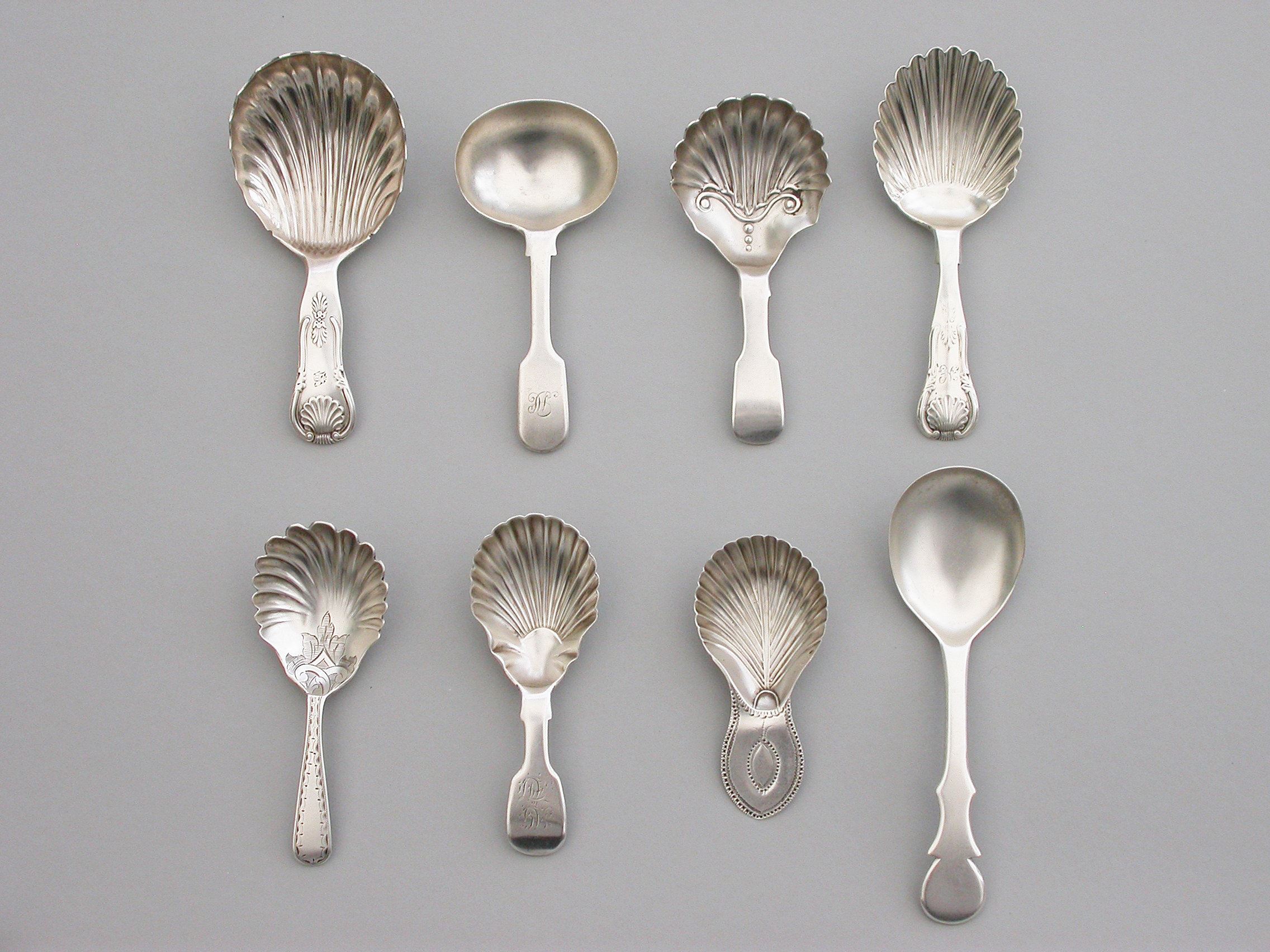 The first silver hallmarking was confined to Goldsmiths' Hall in London but in time other assay offices were opened. Today there are still offices in Edinburgh, where hallmarking has been regulated since the 15th century, and in Birmingham and Sheffield, where assay offices were established by an Act of Parliament in 1773. Dublin's assay office has been operating since the middle of the 17th century and silver is still marked there.
Since hallmarking began, the leopard's head has been used in various forms to denote the London Assay Office. The Edinburgh mark is a three-turreted castle (to which a thistle was added from 1759 until 1975 when a lion rampant replaced the thistle); the mark for Sheffield was a crown until 1974 when it was replaced by a rosette, while the symbol for silver made in Birmingham is an anchor.
Dublin silver is struck with a crowned harp, to which a seated figure of Hibernia was added in 1731.
Collectors will often place a premium on silver hallmarked in the other regional centres which have since closed. Below is a list of marks applied by the provincial silver assay offices which have now ceased operating:
Chester - closed in 1962 - Mark: three wheat sheaves and a sword
Exeter - closed in 1883 -Mark a three-turreted castle
Glasgow - closed in 1964 - Mark: combined tree, bird, bell and fish
Newcastle upon Tyne - closed in 1884 - Mark: three separated turrets
York
- closed in 1856 -Mark: five lions passant on a cross
The collection of Caddy Spoons illustrated above, with details below, represent examples from all eight assay offices.

| | |
| --- | --- |
| | |

I do hope that you will find this Newsletter informative and helpful and will allow us send it to you on a regular basis. I would welcome any feedback you may have, both positive and negative.
David W.A. Buck.
Steppes Hill Farm Antiques

| | |
| --- | --- |
| | |