Steppes Hill Farm Antiques Newsletter #23 - June 2013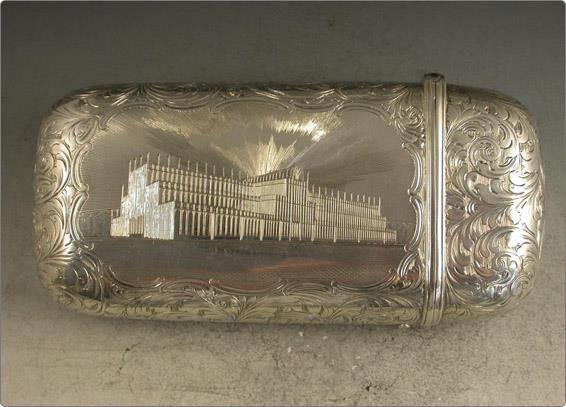 Victorian silver Crystal Palace Great Exhibition Commemorative Cigar Case
NATHANIEL MILLS, BIRMINGHAM 1850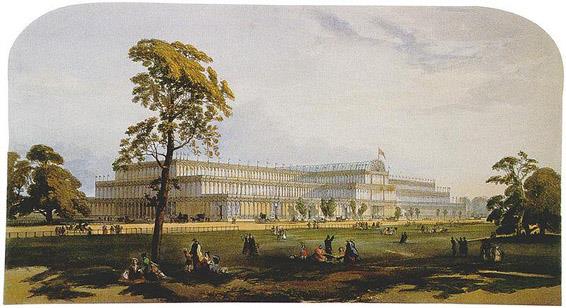 The Great Exhibition of 1851 (or "The Great Exhibition of 1851 of the works of industry of all nations" as it was properly known) was held in the Crystal Palace in Hyde Park, London and was a triumph of Victorian ingenuity that served as a showcase for the amazing inventions of the time, and is still an extremely impressive achievement over 160 years later.

Prince Albert, Queen Victoria's husband, had come up with the idea in the late 1840's of creating the biggest exhibition in history to display a range of Victorian inventions and art from across the world. There had been a French exhibition in 1844 and it was clear that Prince Albert wanted his to be much grander and much more spectacular than theirs, with the aim for "Great Britain to make clear to the world its role as industrial leader".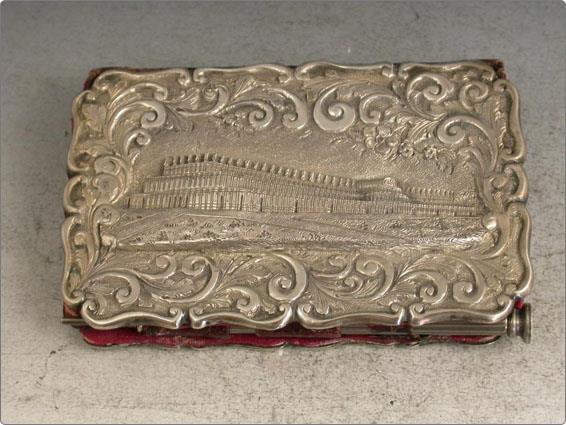 Victorian Silver Crystal Palace Great Exhibition Commemorative Aide Memoire
WHEELER & CRONIN, BIRMINGHAM 1850


Even though it was set up to show the world how wonderful British technology and inventions were at the time, and it was in London, where Queen Victoria ruled from, many other countries from around the British Empire were given their own sections with the name of their country above it to share between their own artists and inventors, providing a total of 15,000 different exhibitors. Of course, as you would expect, Britain had the largest amount of space, taking up over half of the exhibition area.

When the decision had been made to go ahead with the exhibition, The Queen formed "The Royal Commission for the Exhibition of 1851" and put Prince Albert in charge to organise it. He gathered together a group of people to come up with the final design, comprising of great architects from the time and also famous engineers such as Isambard Kingdom Brunel.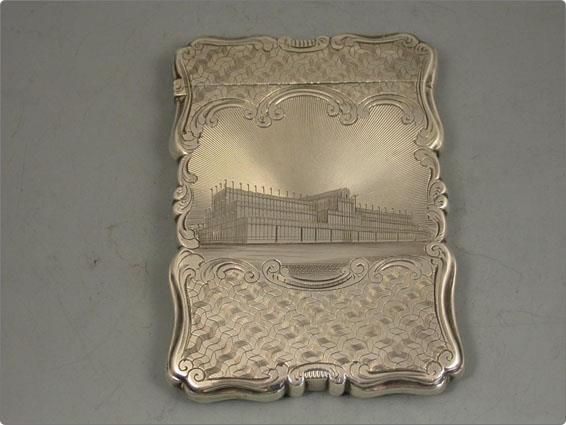 Victorian Silver Crystal Palace Great Exhibition Commemorative Card Case
NATHANIEL MILLS, BIRMINGHAM 1851


However, it soon became clear that the size of the building required would cost a lot of money if it was to be made from the traditional materials of brick and stone that the committee had suggested. It would have also taken 3 million bricks, which would have required all of the brick kilns in the country working together and ignoring every other bit of building work that needed doing at the time. Together with this, the design was supposed to have been a temporary one, meaning that it would have to have been taken down afterwards, and this design would have made that difficult.

Eventually, the committee heard about a famous garden designer called Joseph Paxton who had created great greenhouses made of glass, quite cheaply and in a short space of time. He was asked to come up with a design for a glass building to house the exhibition, and came up with sketches for the design in just two days, which were immediately approved by the committee.

The final design was one of the most amazing structures the world had ever seen, of a huge long building called 'The Crystal Palace' made almost entirely of one million square feet of glass, which had become very cheap due to a new 'Improved Cylinder Sheet' glass manufacturing process in 1834.

Paxton's new building provided nearly 800,000 square feet of exhibition space, which was a great deal more than the French exhibition of 1844, six times bigger than the floor space of St Paul's Cathedral and about the size of five modern football pitches.

It took only 9 months to build on the edge of Hyde Park in London, and as well as the glass panels it was also made of a wrought iron frame with a special wooden floor with gaps between to make it easier to sweep at the end of the day.

Many new inventions were also created to make the building, such as a trolley suspended from the ceiling for the glazers to use when they were putting the glass in the windows at the higher levels, and a special machine to help to put up the 30 miles of guttering on the outside.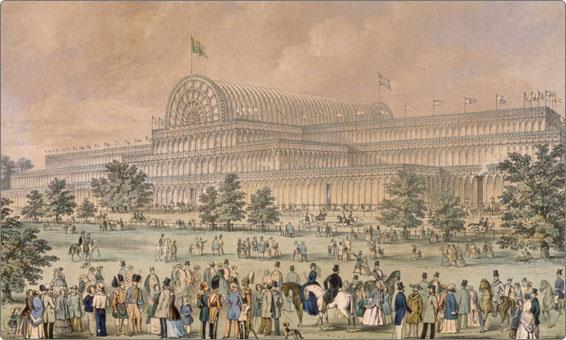 'The Crystal Palace'


Length - 1,848 feet (563 metres), Width - 408 feet (124 metres), Height - 108 feet (32 metres)

Space inside - 772,784 square feet (71,793 square metres), including a further 217,100 square feet (20,170 square metres) of galleries on a different floor around the inside.

Materials used - 550 tons of wrought iron, 3,500 tons of cast iron, 900,000 square feet of glass and 600,000 feet of wooden planking, 202 miles of sash bars and 30 miles of gutters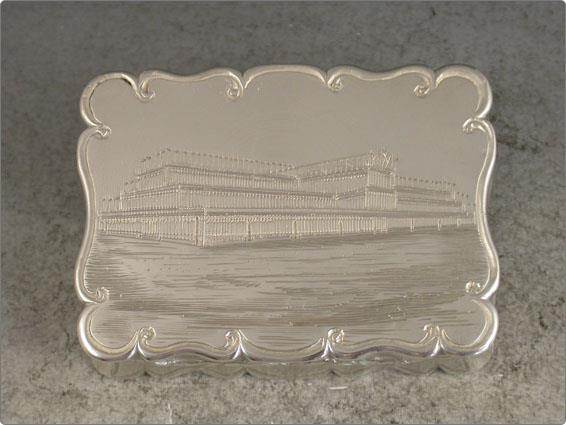 Huge Victorian Silver Crystal Palace Vinaigrette
EDWARD SMITH, BIRMINGHAM 1850


The exhibition was opened on 1st May 1951 by Queen Victoria and Prince Albert with over 100,000 items of art and inventions on display. People bought expensive tickets to see the opening ceremony in the same way that people buy tickets for the Olympic opening ceremony today and the reaction was remarkable, with many visitors and newspapers proclaiming it as one of the most amazing wonders they had ever seen.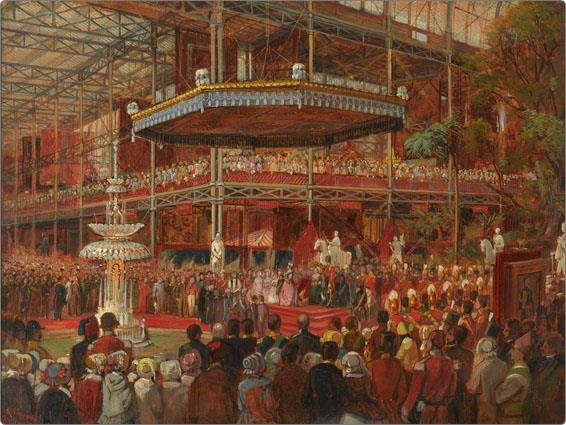 The opening ceremony of the Great Exhibition, May 1, 1851
(click to see full size)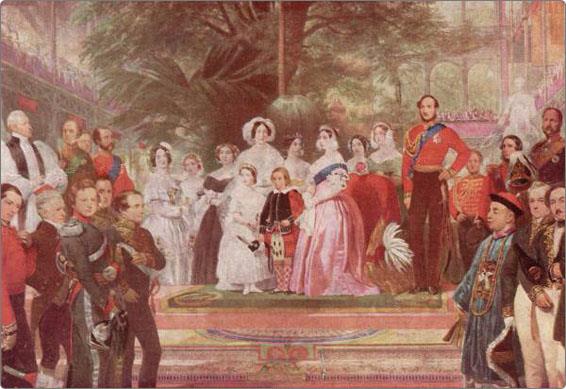 Queen Victoria (in pink), Prince Albert (in uniform),
and other dignitaries at the opening of the Great Exhibition, May 1, 1851
(click to see full size)


However, many of the poorer people in the country couldn't afford to visit, so soon the admission price was reduced to just one shilling, which at the time was worth 12 pennies (and in today's value would probably be around £3). This meant that over 6 million people were able to visit the exhibition during the time it was open. Many of these people came in special trips called 'excursions' organised by travel agents such as Thomas Cook, who charged a 'crown' coin (worth five shillings in 1851) for the whole train trip from York in the North of England.

However it wasn't just British people who visited, as the exhibition also attracted many foreign visitors, becoming one of the first ever tourist attractions built just for the purpose of attracting paying members of the public.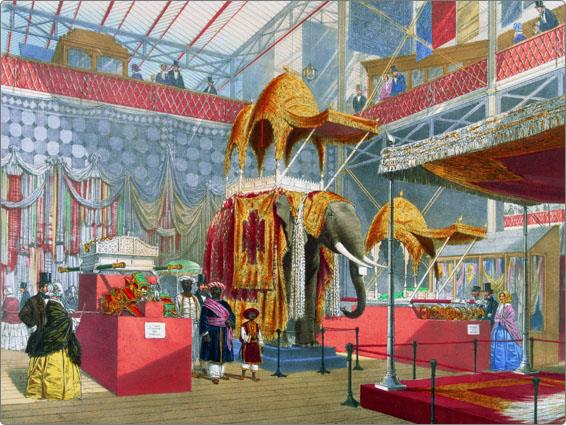 A stuffed Elephant from India
(click to see full size)


In fact, a whole mini-village grew around the site to cater for these visitors, from food stalls to souvenir booths and also rows of horse and carts similar to modern taxi cabs to transport the visitors. Silver artefacts engraved or chased with views of the Great Exhibition, such as those illustrated in this newsletter, would have been available for relatively modest sums and they are of course now highly prized and collected.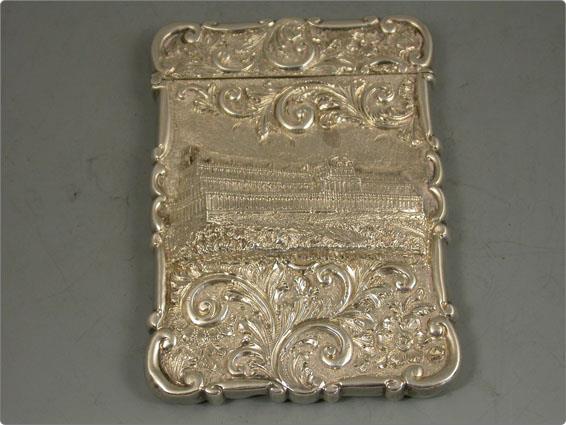 Victorian Silver Crystal Palace Great Exhibition Commemorative Card Case
EDWARD SMITH, BIRMINGHAM 1850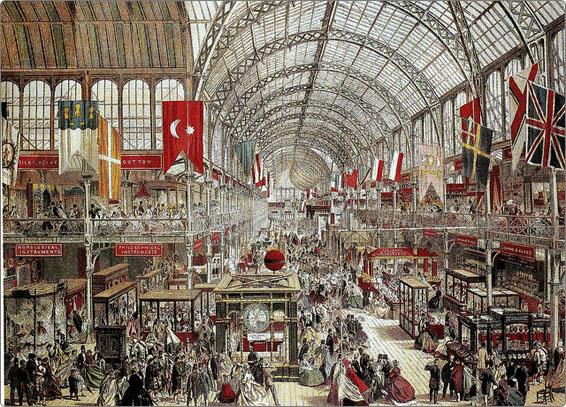 100,000 Objects displayed over 10 miles
(click to see full size)


When the Great Exhibition closed it had made a large profit of almost £200,000, which would be worth about £12,000,000 (12 million pounds) today. The money was used to purchase land beside the site of the exhibition in Kensington in London on which was built the Natural History Museum, The Imperial College, The Science Museum and The Victoria and Albert Museum.

However, perhaps the most amazing outcome is that the committee set up by Prince Albert in 1851, called 'The Royal Commission for the Exhibition of 1851' is still in existence today and now has over £60 million pounds of funds; a portion of which it hands out each year to students of science and technology from all over the world, meaning that Prince Albert's legacy lives on in all the wonderful inventions and scientific discoveries that we benefit from today.

Prince Albert carried on as the president of the exhibition committee until he died of Typhoid in 1861, at which point his loving wife Queen Victoria had a large monument built on the site of the exhibition called The Albert Memorial. It shows the Prince surrounded by beautiful objects and covered in gold. In his hand he holds a catalogue of the great exhibition.

Sir Joseph Paxton's incredible building The Cystal Palace was dismantled in 1852 and moved to a new site in Sydenham. It was made even larger and held many more exhibitions up until the 1930s. It was even used for the first ever television broadcast by John Logie Baird, but sadly it burned to the ground in 1936 after some of its flooring had caught fire.

It began when a small fire was reported by a man walking his dog together with his daughter, who he had named 'Crystal' after the palace.





Godmersham Park
Godmersham Nr Canterbury
Kent CT4 7DT
Saturday 24th August 2013, 11am, - 5pm
Sunday 25th August 2013, 11am, - 5pm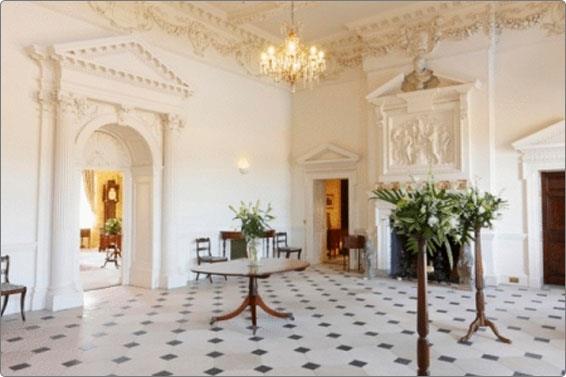 In conjunction with Christopher Buck Antiques, we are thrilled to be able to announce our third selling exhibition in the sumptuous setting of the Godmersham Park Mansion, Godmersham, Nr. Canterbury, Kent CT4 7DT.

Over the weekend of Saturday 24th and Sunday 25th August 2013, we will be occupying some of the main reception rooms of this magnificent and historically important manor house and furnishing them with beautiful antiques of a befitting style and period.

Please join us for champagne and canapés.

Why not enjoy a relaxing lunch in the Orangery?

Summer buffet style lunches will be available on both the Saturday and Sunday, but must be pre-booked. A modest charge will be made to cover the costs of our caterers and numbers are strictly limited.

To avoid disappointment, please telephone Jane as soon as possible on the number below.

Lunch bookings: 01795 890560

UPDATE: (Places are selling fast, especially on the Saturday. Please reserve your table as soon as possible!)

Godmersham Park

Godmersham, the former home of Edward Knight, brother of Jane Austen, was built in 1732 with additions in the 1780's. Jane was a frequent visitor and it is believed to have been the inspiration behind some of her novels.

In the 1920's, it was purchased by the Tritton family who set about furnishing it with the very finest collection of 18th century English furniture and antiques.

The house and collection were sold in 1983 and since then the estate has been in the careful and loving custody of the Sunley family, who have generously granted their permission for this exhibition.

Now used as a College for the Association of British Dispensing Opticians, it remains one of East Kent's most beautiful houses and is not otherwise open to the public.

We hope that you will enjoy visiting this magnificent property and seeing it furnished once again as a home.







Once again I have tried to re-populate the site this month with some interesting new additions to the stock list and I have added several new Wine Labels including some fine examples by Paul Storr and Benjamin Smith. There are some new additions to the Pens/Pencils & Writing Equipment Category along with a couple of interesting Stamp Cases. A very fine quality Victorian novelty silver Tape Measure in the form of a Policeman's Lantern, an interesting novelty silver Desk Item in the form of a Christmas Cracker as well as some good Vesta Cases and a rare 20th Century Aesops Fable 'Fox & Grapes' Caddy Spoon.

In fact there are over 40 new items of stock uploaded this month, so hopefully there will be something for everyone.





I do hope that you will find this Newsletter informative and helpful and will allow us send it to you on a regular basis. I would welcome any feedback you may have, both positive and negative.

David W.A. Buck.
Steppes Hill Farm Antiques

| | |
| --- | --- |
| | |