Steppes Hill Farm Antiques Newsletter #46 - June 2015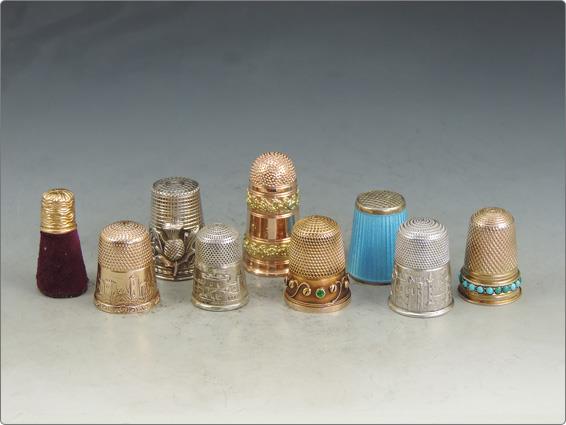 At first blush, a thimble would appear to have little prospect of being anything more than a functional object designed to make hand stitching an easier, and safer, activity. Thimbles are small, so they leave scant space for embellishment, and their working end is almost always pocked and pitted. But despite their diminutive size and rather strict limitations, thimbles have been a favourite foil of inventive designers for centuries.

Throughout history, thimbles have been made out of mother of pearl, sterling and plated silver, brass, bone, and even gold. There are porcelain thimbles, wooden thimbles, and thimbles made from carved stone. Some thimbles feature delicate filigree work around their sides, others doubled as holders for tiny perfume bottles and so-called sewing toys.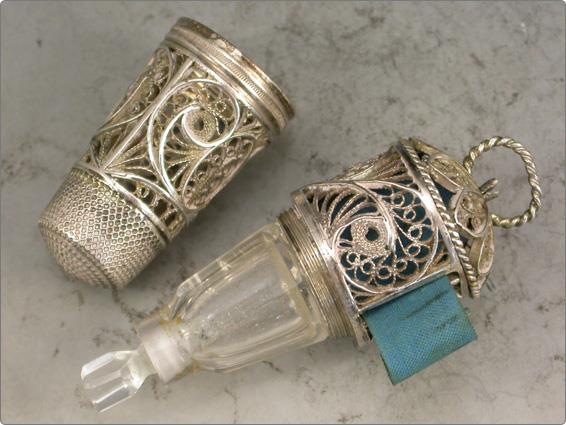 Georgian Silver Filigree Combination Thimble / Tape Measure / Scent Bottle



Among the most legendary are the Fabergé thimbles from the 19th century. Some of these had polished agates or other types of semi-precious stones set in their tops. The sides of others were decorated with colourful enamel patterns or bands.

The Victorian era was the golden age of British thimble making and some of the most collected are the English silver Commemorative and Souvenir Thimbles decorated with views of famous buildings and landmarks or commemorating various Royal occasions. Although many of these pictorial thimbles themselves were made in small numbers, at no other time in the history of British thimble making were there so many beautiful and decorative thimbles made. Collectors now have to search very diligently to find these miniature works of art. In more recent times thimbles have been made in greater numbers but the beauty and craftsmanship of the old Victorian thimbles has not been bettered.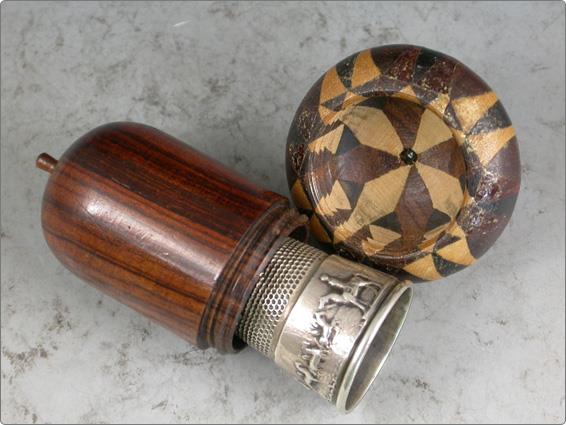 Rare Victorian Commemorative Silver Thimble - The Funeral of the Duke of Wellington



At the beginning of Victoria's reign railways had only just begun. Soon, however, trains were beginning to criss-cross the country and they became the most popular form of transportation used by the Victorians. The railway companies initially operated expensive luxury trains which were really only used by the rich, but in order to force railways to carry poorer passengers and make rail travel available to all, the 'Railway Regulation Act' was passed in 1844. The act compelled the Railway Companies to operate at least one train a day over all of their lines at no more than 1d a mile. Railway travel thus became possible for the majority of Victoria's subjects and was soon commemorated on thimbles. By 1845 the railways were carrying 30 million passengers a year and ten years later over a million passengers were being carried by rail. This age of tourism resulted in the development of popular resorts around the country with the parallel development of the souvenir industry. Thimbles made in both ceramic and precious metals were soon being made to satisfy the travellers need for simple souvenirs to take home or to friends.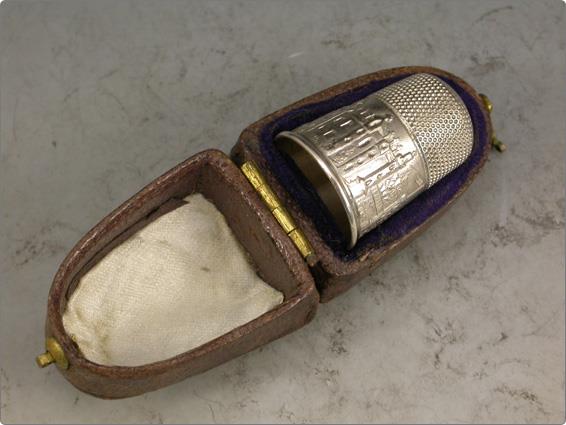 Rare Victorian Silver Souvenir Thimble - Abbotsford House



This Newsletter touching on the joys of collecting antique silver and gold Thimbles coincides with the acquisition of a fine English private collection that we have been charged with disposing of. They can be viewed in the Thimble Category on the web site.







As usual, I am pleased to be able to offer over 50 new items of stock this month and other recent finds include:- a rare Victorian Novelty Silver Footballer's Leg, Ball & Shin Guard Vesta Case, a Victorian silver "Castle-Top" Card Case depicting the Scott Memorial with a bust of Sir Walter Scott to the reverse, a gold Pencil by Sampson Mordan, an exquisite Victorian novelty silver gilt and bloodstone Vinaigrette in the form of a Scarab Beetle, a miniature silver Bodkin commemorating the death of Queen Charlotte (wife of George III), a very fine quality large early 20th century silver Snuff Box, a little group of Toothpick Cases and some good new additions to the Wine Label category.





Please make sure and check out the latest articles in our Blog, for all the latest news in the silver world and some other interesting features





I do hope that you will find this Newsletter informative and helpful and will allow us send it to you on a regular basis. I would welcome any feedback you may have, both positive and negative.

David W.A. Buck.
Steppes Hill Farm Antiques

| | |
| --- | --- |
| | |