Steppes Hill Farm Antiques Newsletter #70 - June 2017





(Click on the above images to zoom)

A Victorian gold and enamel Vinaigrette made in the form of a Sailor's Straw Hat, the ribbon in black enamel, the ships name 'DANAE' picked out in gold. The hinged base engraved with a presentation inscription and dated 1868, opening to reveal a pierced grille made in the form of a ships deck grill. Unmarked c1868.
(Please click on the link to see more details)




Sir Malcolm Murray-Macgregor, Baronet, of Edinchip, near Balquhidder, co. Perth, 1st b. and h., b. 29 Aug. 1834; suc. to the Baronetcy, 11 May 1851 ; Lieut. R.S., 1854, serving at Sebastopol and receiving the Crimean medal ; Commander, 1856; Capt., 1862, retiring 1875. He m. 26 Oct. 1864, at St. Geo. Han. sq., Helen Laura, da. and h. of Hugh Seymour (McDonnell), 4th Earl of Antrim, by Laura Cecilia, da. of Thomas (Parker) 5th Earl or Macclesfield. He d. at Edinchip, suddenly, 31 Aug. 1879, aged 45.

Lady Helen Laura MacGregor (McDonnell)
Daughter of Hugh Seymour McDonnell, 4th Earl of Antrim and Laura Cecilia MacDonnell, Countess of Antrim
Wife of Sir Malcolm Murray-MacGregor, 4th Baronet. She married Rear-Admiral Sir Malcolm MacGregor, 4th Bt., on 26 October 1864.
Mother of Sir Malcolm MacGregor, 5th Baronet; Alexander Ronald Alasdair MacGregor, JP and Margaret Helen Mary, Countess of Mansfield. Lady Helen Laura MacGregor of Edinchip, Balquidder, Perthshire, died on 17 March 1922, at the age of 84.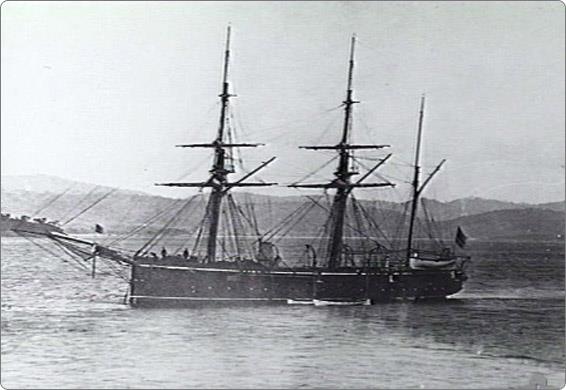 HMS Danae was an Eclipse-class sloop of the Royal Navy, built at the Portsmouth Dockyard and launched on 21 May 1867. Commanded (from commissioning at Portsmouth) by Captain Malcolm MacGregor until 22nd October 1868.

During 1867, she commissioned on the Cape and West Africa Station and served until being transferred to the North America and West Indies Station in 1869. Danae was refitted and rearmed in 1874 in England. After refit she commissioned for the East Indies Station, then later the Cape Station and finally she commenced service on the Australia Station in September 1878. She left the Australia Station in August 1880 and returned to England.

After returning home in 1881, she was declared unfit due to rotten upper planking and was paid off. She was converted into a mine hulk in 1886, before being lent to the War Department in 1891. Danae was stationed on the River Mersey until 1905.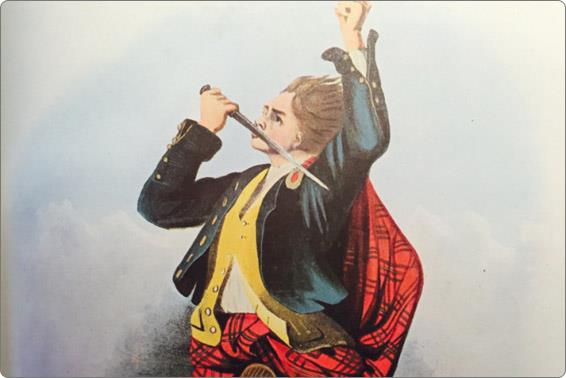 Clan Gregor or Clan MacGregor (Scottish Gaelic: Clann Ghriogair) is a Highland Scottish clan dating back to the early 800s. The clan's most famous member is the legendary Rob Roy MacGregor of the late 17th and early 18th centuries. The Clan is also known to have been among the first families of Scotland to begin playing the bagpipes in the early 17th century. The current chief of Clan Gregor is Sir Malcolm Gregor Charles MacGregor of MacGregor, 7th Bt, of Lanrick and Balquhidder, 24th Chief of Clan Gregor.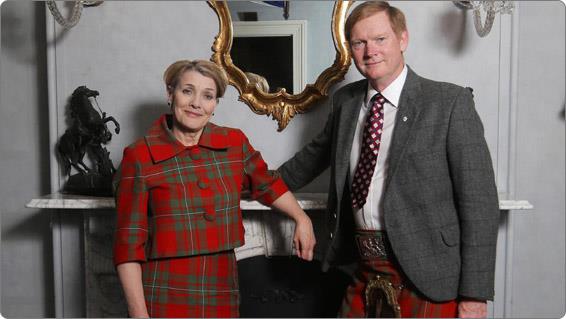 Lady Fiona MacGregor and Sir Malcolm MacGregor, 24th chief of Clan MacGregor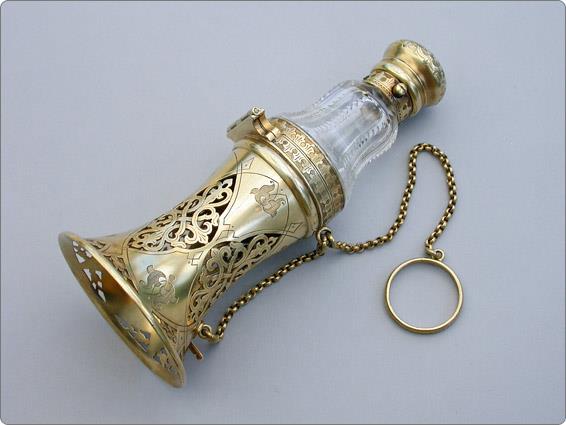 (Click on the above image to zoom)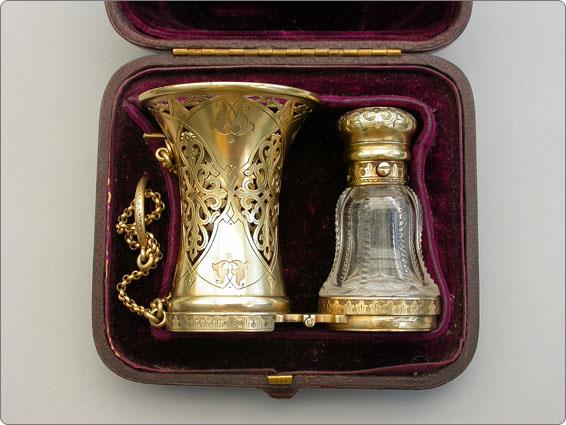 (Click on the above image to zoom)
This month's featured item is a very fine quality Victorian silver gilt mounted combined Posy Holder, Vinaigrette and Scent Bottle, the trumpet-shaped flower receptacle with pierced and engraved geometric patterns. The shaped cut glass Scent Bottle with push-button sprung hinged lid engraved with an Armorial crest. The whole hinging at the centre and revealing a further compartment and a hidden hinged Vinaigrette engraved with similar geometric patterns. Attached chain and finger ring. Complete with original velvet lined fitted red leather retailers' case.

By Henry William Dee, London, 1868.

Also engraved with a registered design lozenge for 1st August 1868.
(Please click on the link to see more details)





Once again, I am pleased to be able to update the site this month with over 20 new items of stock and some highlights include; a rare William IV Silver "Castle Top" Card Case depicting Newstead Abbey with Lord Byron Medallion to the reverse, a Victorian 12 carat Gold & Ruby "Bear & Ragged Staff" Propelling Pencil, a Victorian Novelty Silver "Brussels Lace Bobbin" Propelling Pencil, a rare Victorian silver double-sided "Castle Top" Card Case depicting Chatsworth House and Burns Monument, a George III silver gilt Snuff Box with a raised Classical scene depicting Achilles and Agamemnon, a rare Victorian Novelty Silver Vinaigrette made in the form of a Pannier, a Victorian Silver & Enamel 'Beagles' Vesta Case, and a rare Cased Set Graduated Georgian Silver Artists Pencils.





I do hope that you will find this Newsletter informative and helpful and will allow us send it to you on a regular basis. I would welcome any feedback you may have, both positive and negative.

David W.A. Buck.
Steppes Hill Farm Antiques

| | |
| --- | --- |
| | |