Steppes Hill Farm Antiques Newsletter #22 - May 2013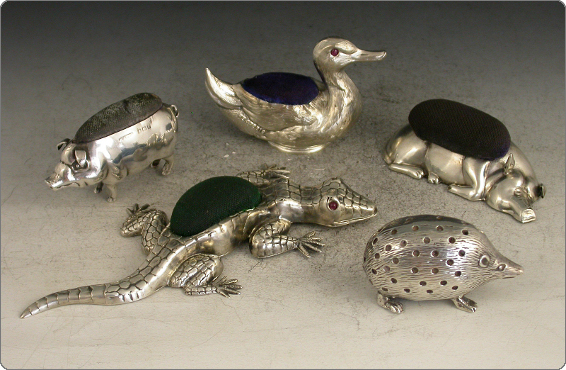 (Click on the image above to zoom)



A category of 'Collectable Silver' that appears very "strong" at the present time, silver Pin Cushions in the form of inanimate objects and in particular animals or birds, are commanding ever higher prices it seems. Although relatively cheaply made and pressed out of light weight sheet silver it seems there are plenty of collectors out there looking to form a Menagerie!

Towards the end of the 19th century, silver pin cushions became very popular, as did table pincushions, some for hat pins rather than toilet pins, but it is the smaller figural pincushions that are most sought after today. Almost every type of animal can be found - elephants, pigs and chicks emerging from eggshells being the most common, but kangaroos, lions, foxes and other 'exotics' are rare. Shoes, baskets, crowns and other objects were also produced with versions in base metals for the less well-off.

A pincushion (or pin cushion) is a small cushion typically 3-5 cm across, which is used in sewing to store pins or needles with their heads protruding so as to take hold of them easily, collect them, and keep them organized. Pincushions are typically filled tightly with stuffing, so as to hold pins rigidly once placed.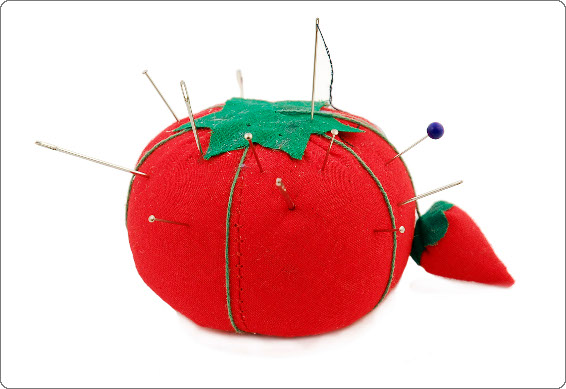 (Click on the image above to zoom)



The most popular fabric design in the Victorian era was a tomato with a strawberry attached. According to folklore, placing a tomato on the mantle of a new home guaranteed prosperity and repelled evil spirits. If tomatoes were out of season, families improvised by using a round ball of red fabric filled with sand or sawdust. The good-luck symbol also served a practical purpose-a place to store pins. Typically, the tomato is filled with wool roving to prevent rust, and the strawberry is filled with an abrasive to clean and sharpen the pins.

Pin cushions only became a true necessity once sewing implements were mass produced during the middle of the 19th century. The crudely made pins and needles used before the Industrial Revolution were costly and typically stored in small boxes and cases. While pin pillows and un-mounted cushions emerged in 15th-century England, it wasn't until pins were widely affordable during the 1800s that cushions were commonly sold as trinkets or commemorative gifts.

Like other decorative elements of the Victorian boudoir, pin cushions gradually moved out of the private realm and into the larger household. Designed in fanciful shapes adorned with embroidery glass beading, these pin cushions were crafted from every material imaginable, including precious metals, bone, celluloid, wood, ivory, porcelain, fabric, and paper.

It was however the Edwardian period when the novelty silver Pin Cushion enjoyed the height of its production with the majority being produced in Birmingham by prolific makers such as Levi & Salaman and Adie & Lovekin. The firm of Sampson Mordan & Co of London and Chester were also major manufacturers.

The little selection that I have on offer to accompany this month's Steppes Hill Farm Antiques Newsletter include:-

1. A silver Hedgehog Pin Cushion, by Levi & Salaman, Birmingham 1904.
2. A silver Duck Pin Cushion, by Marks & Cohen, Birmingham 1906.
3. A silver Pig Pin Cushion, by Adie & Lovekin, Birimingham 1905.
4. A silver Lizard Pin Cushion, by Crisford & Norris, Birmingham 1909.
5. A silver Recumbent Pig Pin Cushion, by Abrahams Bros, Birmingham 1909.






Over the past couple of months we have been fortunate to have received instructions to dispose of three different English private collections of silver Wine Labels of varying size and content. I have pleasure in exhibiting a selection of these here (Please click to visit the full category and view its contents).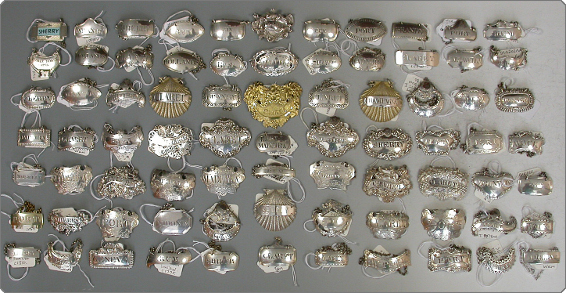 (Click on the image above to zoom)





Apart from the collections of silver Wine Labels and Pin Cushions illustrated, other recent finds include; a good silver mounted tortoiseshell Cards Box, a fine Chamberlains Worcester Trio, a Victorian novelty silver Ships Port Lantern, an early John Rose Coalport Trio, a rare articulated Dog Vesta Case, a Christians Liverpool Dolphin Cream Boat, a Victorian Silver Gilt Blue/Green Glass Combination Scent Bottle Vinaigrette and a Lowestoft 'Hughes' type Tea Bowl & Saucer.

In fact there are over 80 new items of stock uploaded this month, so hopefully there will be something for everyone.





I do hope that you will find this Newsletter informative and helpful and will allow us send it to you on a regular basis. I would welcome any feedback you may have, both positive and negative.

David W.A. Buck.
Steppes Hill Farm Antiques

| | |
| --- | --- |
| | |