Steppes Hill Farm Antiques Newsletter #33 - May 2014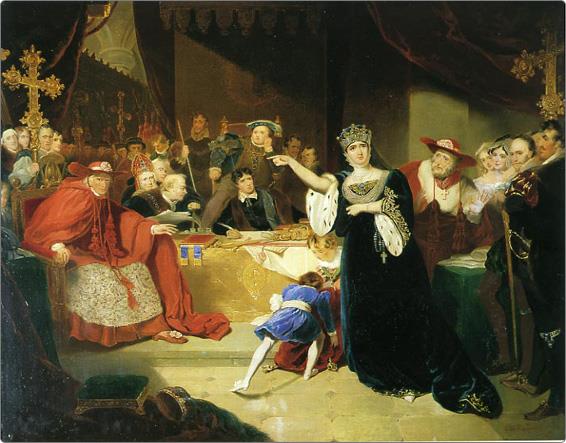 Click on the above image to zoom
George Henry Harlow's Court for the Trial of Queen Katharine 1817.
Oil on canvas, size approximately 31 x 40 inches.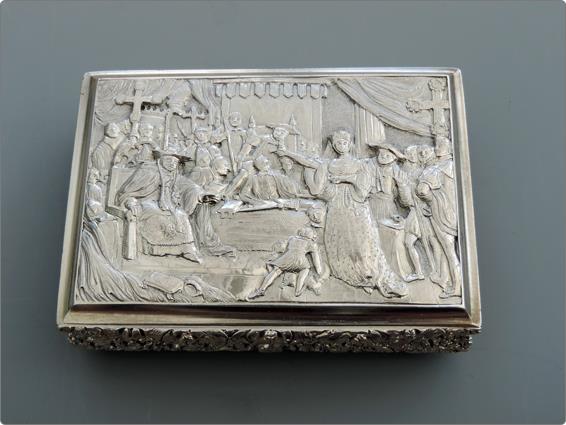 George IV Snuff Box Thomas Shaw Birmingham 1827.



This month's Newsletter illustrates a fine George IV silver High Relief Snuff Box and the Oil Painting of ten years previous that the raised scene was taken from.

The subject of the painting comes from Shakespeare's Henry VIII, Act II, Scene iv, and the refutation of Cardinal Wolsey, charged with obtaining Henry's divorce from his Queen, Katherine, who says to Wolsey, "I utterly abhor, yea, from my soul / Refuse you for my judge, whom yet once more, / I hold my most malicious foe, and think not / At all a friend to truth."

The painting is an interesting and atypical example of early "pictorial realism" on the stage, a convention that would become standard by the end of the nineteenth century. The production was mounted by John Philip Kemble who, when he took over the management of Covent Garden in 1806, set about to introduce more appropriate costuming for the various periods in which Shakespeare's plays were set and to design scenery that likewise was more realistic and suitable for Rome, medieval Italy, Greece, and the other historical eras from which the plays were derived. This scene from Henry VIII indicates precisely what it was that Kemble wanted to achieve.

Harlow was a personal friend of the Kemble family, all distinguished actors and actresses who reigned over the British stage for decades, and this picture is homage to his friends. John Philip Kemble clothed in scarlet plays Wolsey; his brother Charles Kemble (in black) has the part of Thomas Cromwell and sits behind the table. Immediately behind and above him is Stephen Kemble as Henry. The sister, Sarah Kemble Siddons, is Katherine. Not to be excluded, George Henry Harlow puts himself in the picture on the far left of the painting.

The silver Snuff Box, which happens to be in quite pristine condition, is a wonderfully faithful reproduction of the painting, right down to the engraving of King Henry VIII's Royal cypher on the tablecloth below Thomas Cromwell.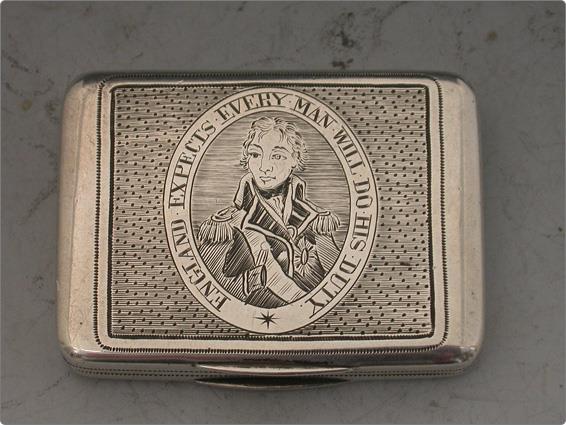 This month's Featured Item is another Birmingham made silver box from the early 19th century, and is a particularly fine and large example of its type. The Nelson Memorial Vinaigrette's produced by Matthew Linwood in the very same year that the Battle of Trafalgar took place are highly sought after and this example is quite the finest I have seen.

The cover is engraved with a portrait of Lord Horatio Nelson on a linear ground within an oval frame bearing his famous message; "ENGLAND EXPECTS EVERY MAN WILL DO HIS DUTY". Nelson's signal from his flagship HMS Victory as the British fleet closed on Spanish and French ships at the Battle of Trafalgar, was famous almost as soon as it was sent in 1805.

Nelson was shot by a naval sniper and died in the arms of his comrades, his body returning to a hero's state funeral, but the words of his battle call were set to live on. They were recorded on his tomb in St Paul's Cathedral, included in a patriotic song popular throughout the empire and became ultimately part of the very essence of Britishness.







The Nelson Vinaigrette illustrated above is one from a very nice collection of Vinaigrettes that I am pleased to be able to offer this month. Please take a look at the Vinaigrette Category on the web site for others. As well as the Vinaigrettes, other new acquisitions include a good Nantgarw Cruciform Dish, two silver Opisometer Map Measuring Tools, a First Period Worcester Valentine pattern Teabowl & Saucer, a rare Victorian Triple Compartment Stamp Box, a First Period Worcester Dessert Plate painted with fruit and moths, some interesting new additions to the Scent Bottle category, a good First Period Worcester Mug of small size and some new scarce Figural Propelling Pencils.





I do hope that you will find this Newsletter informative and helpful and will allow us send it to you on a regular basis. I would welcome any feedback you may have, both positive and negative.

David W.A. Buck.
Steppes Hill Farm Antiques

| | |
| --- | --- |
| | |