Steppes Hill Farm Antiques Newsletter #69 - May 2017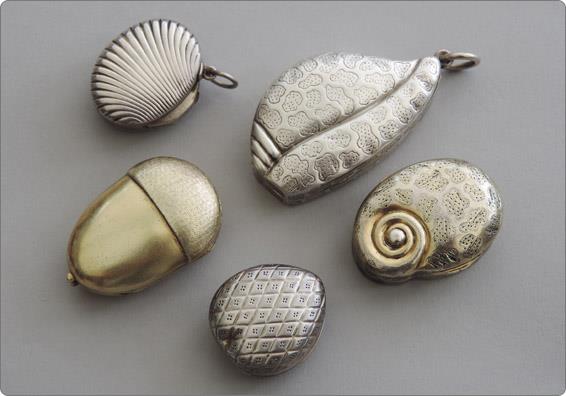 (Click on the above image to zoom)


The many and varied forms of Victorian shaped vinaigrettes produced during the second half of the nineteenth century have steadily become a greater focus of interest for collectors but, whilst these tend to distract attention from the often smaller and more understated late Georgian vinaigrette, there are still many charming, often naturalistic and beautifully decorated forms dating from as early as the first decade of the 1800s to be sought out and appreciated.

Matthew Linwood is a name from this period that shouts quality across more than two hundred years and it is a quality that can be found both in shape and decoration as well as iconic subject matters. The name is shared by six members of the same family although it is the fifth Matthew, with later help from his son, the sixth and final Matthew, who earns the title 'boxmaker'. It has been said that his workshop produced some of the finest of all the Birmingham boxes and, with an undoubted contribution from his many skilled workers, his memorial is certainly a beauty and ingenuity of craftsmanship. This epitaph is demonstrated pleasingly here by an assembly of five fine and rare early shaped vinaigrettes marked for Matthew Linwood. The details are as follows: -



(Please click on the links to see more details)

A George III silver Vinaigrette made in the form of a scallop shell, with stand-away hinge and ring attachment, the fluted shells with reeded rims, the silver gilt grille pierced with a flower spray and engraved with contemporary inscription - "Mrs Henry Hardie 1806".
By Matthew Linwood, Birmingham, 1806.

A fine and rare George III silver Vinaigrette made in the form of a Sea Snail Shell, with attached suspension ring, the top and sides with bright-cut engraved seaweed or amoeba type decoration, the base with simulated Chinese characters on a prick-dot ground. The silver gilt grille pierced with a single fern leaf.
By Matthew Linwood, Birmingham, 1805.

A rare George III silver gilt Vinaigrette made in the form of an Acorn, with matt engraved patterned cup, the silver gilt grille pierced with a single fern leaf.
By Matthew Linwood, Birmingham, 1803.

A rare George III silver gilt Vinaigrette made in the form of a snail, with bright-cut and prick-dot seaweed or amoeba type decoration, the silver gilt grille pierced with a single fern.
By Matthew Linwood, Birmingham, 1804.

A rare George III silver Vinaigrette of heart shape with reeded rims, the top and bottom engraved with diaper work with a floral motif in the centre, the silver gilt grille pierced with scrolls in an anthemion pattern.
By Matthew Linwood, Birmingham, 1803.

(Please click on the links to see more details)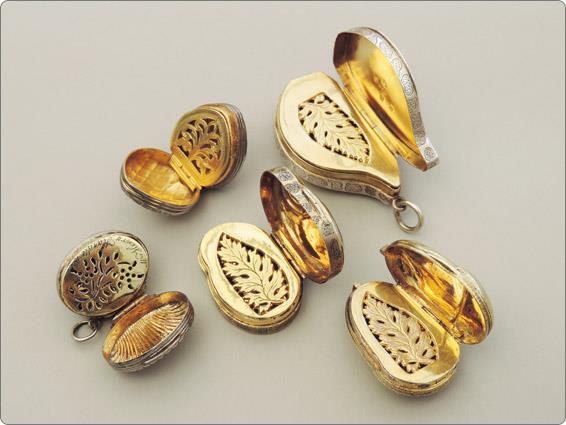 (Click on the above image to zoom)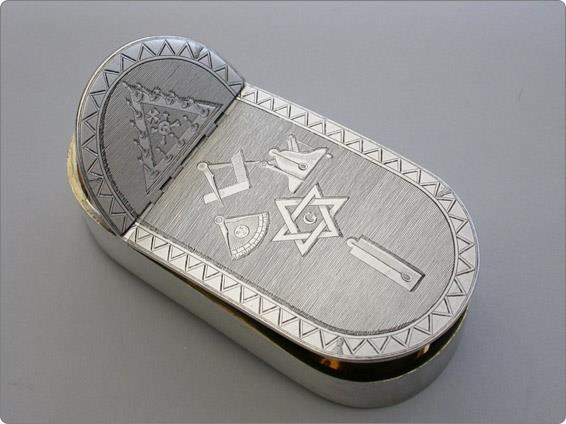 (Please click on the link to see more details)

This month's featured item is a fine quality large George III Masonic Silver Snuff Box of curved rounded rectangular form with plain base and sides, the twin-compartments with flat concealed hinges and silver gilt interiors, the lids superbly bright-cut engraved with masonic symbols on a matt line engraved ground, the 'dog-tooth' engraved border including four small tassels. By Joseph Ash of London 1809.





Once again I am pleased to be able to update the site this month with over 30 new items of stock and some highlights include; a rare Victorian Silver & Enamel Railway Ticket Vesta Case, a rare George IV Armorial Silver Wine Label for 'S', with the crest of Davey of Cornwall, a rare George III Provincial Silver Armorial Wine Label for 'Shrub' with the crest of Clarke, Co Durham, a rare Victorian Silver Castle-Top Vinaigrette engraved with an "Unidentified Building", an Edwardian Novelty Silver Water Pump Pin Cushion, a rare Victorian Silver MacNeill's Patent Stamp Applicator - The First Silver Stamp Case, an Edwardian Silver & Enamel 'Red Cross' Book Form Stamp Case and an unusual Victorian Novelty Silver Arts & Crafts Style Vessel/Tankard Pin Cushion.





I do hope that you will find this Newsletter informative and helpful and will allow us send it to you on a regular basis. I would welcome any feedback you may have, both positive and negative.

David W.A. Buck.
Steppes Hill Farm Antiques

| | |
| --- | --- |
| | |