Steppes Hill Farm Antiques Newsletter #93 - May 2019

Silver Mounted MacIntyre Ceramic British Birds Egg Scent Bottles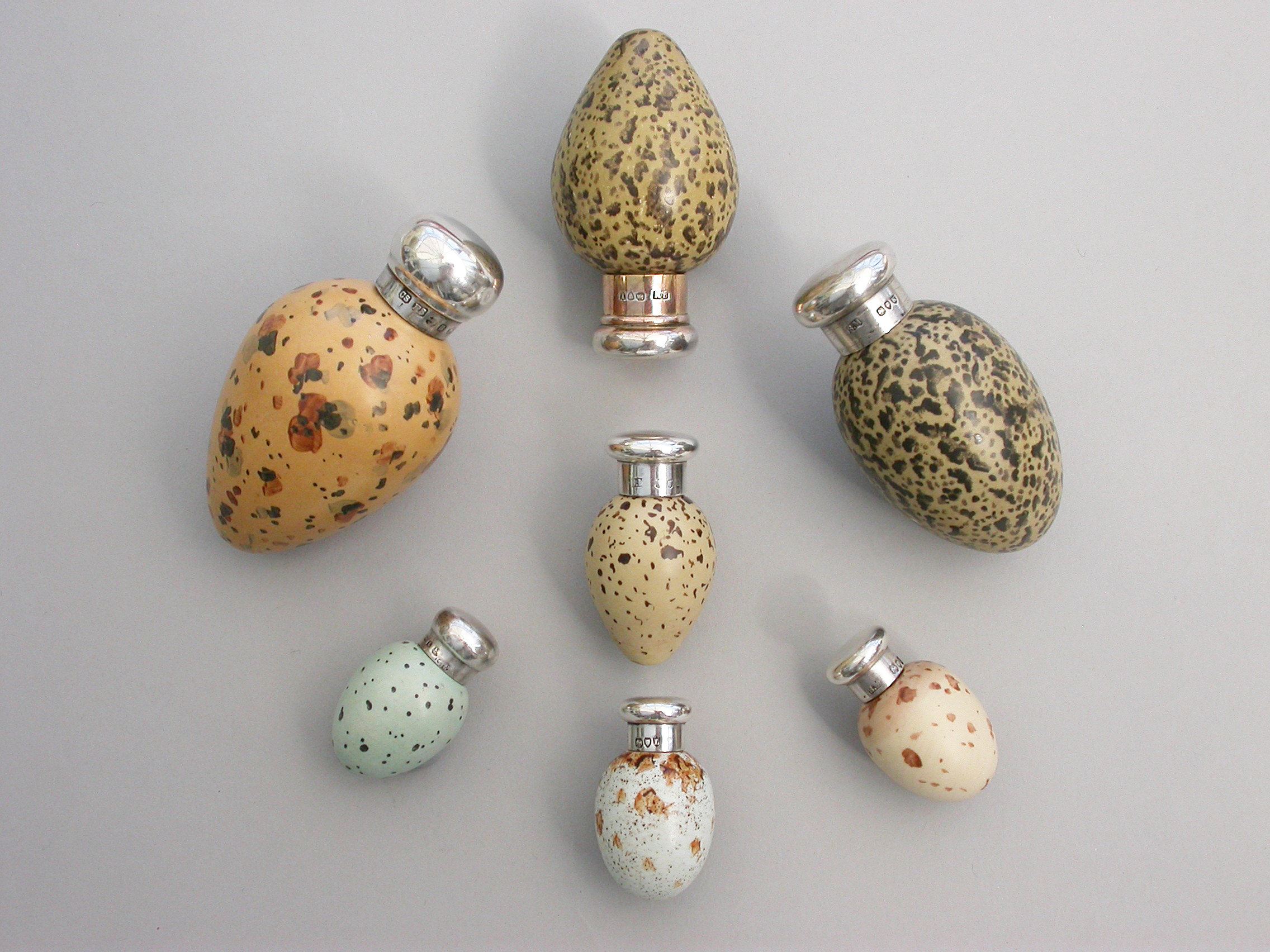 A collection of Victorian silver mounted ceramic Scent Bottles made to simulate British Birds Eggs. The silver caps by either Sampson Mordan & Co or Saunders and Shepherd. The ceramic bodies by James Macintyre & Co Ltd and of a Registered Design. The Birds Eggs represented are possibly (from left to right, largest first);
Great Black Backed Gull, Black Headed Gull, Magpie, Common Tern, Song Thrush, Marsh Warbler and Great Tit.
James Macintyre & Co Ltd
Earthenware manufacturer at the Washington Works, Burslam, Stoke-on-Trent.
James Macintyre was in business with William Sadler Kennedy at the Washington Works, in March 1854 the partnership was dissolved and Macintyre continued the works on his own.
The works continued after 1928 but only electrical ware was produced after this date.
By 1866 the Company was producing a huge variety of goods and advertising itself as:
"A manufacturer of china, porcelain, mortice lock and bell lever furniture, finger plates, shutter, draw and ball door knobs, garden labels, artistes palettes, slabs, colour tiles, porcelain letters, handles of all kinds etc etc etc. Washington China Works, Burslem."
James Macintyre & Co Ltd was a pottery company with a vast range of products. Not only retailing using the Macintyre name. The Companys wares can also be found under Argonauta porcelain and Caledonia China.
Macintyre & Moorcroft:
In 1897 Macintyre & Co. Ltd employed William Moorcroft as a designer, and within a year he was put in full charge of the company's art pottery studio as Chief Designer. Moorcroft's first innovative range of pottery, called Florian Ware, was a great success and won him a gold medal at the St. Louis International Exhibition in 1904. Unusually at that time, he adopted the practice of signing his name, or his initials, on nearly all the pottery he designed, the production of which he personally oversaw.

In due course the extent to which his success had overshadowed Macintyre's other manufacturing activities resulted in resentment on the part of his employers, culminating in their decision in 1912 to close down his studio. He then set up his own company and the following year production of his pottery was transferred to a brand new factory nearby.
A selection of Edwardian pierced silver Pot Pourri Boxes in the Art Nouveau style, all made by William Comyns & Sons of London. Comyns were large
and important manufacturing silversmiths based in the West End at 41 Beak Street, off Regent Street, London W1. They were particularly well known for their decorative die-stamped silver wares that they supplied to various different retailers in London. Whilst the sides of these attractive Pot Pourri Boxes are all decorated with a die-stamped band of trailing convolvulus flowers in the Art Nouveau style, the pierced lids are made from cast silver panels and depict birds and animals as well as flowers. They are very much "Of the period".

| | |
| --- | --- |
| | |

I do hope that you will find this Newsletter informative and helpful and will allow us send it to you on a regular basis. I would welcome any feedback you may have, both positive and negative.
David W.A. Buck.
Steppes Hill Farm Antiques

| | |
| --- | --- |
| | |