Steppes Hill Farm Antiques Newsletter #28 - November 2013

Christmas is coming and the auctioneers are getting fat! Saleroom history was made this month in New York when Francis Bacon's 'Three Studies Of Lucian Freud' set a new high for any lot ever sold at auction. The triptych from 1969 drew a prolonged bidding battle at Christie's before it was knocked down for $127m or $142m (£89m).inclusive of premium. The total for the 69 Lot Sale amounted to $691.6m (£452m). This netted Christies some £50,000,000 plus in commission!

I am afraid that I cannot offer you Francis Bacon or Edvard Munsch to fill your Christmas Stocking with, but I hope that I have managed to procure a nice little selection of English Silver and Porcelain to tempt you this festive season. Please visit Steppes Hill Farm Antiques to view.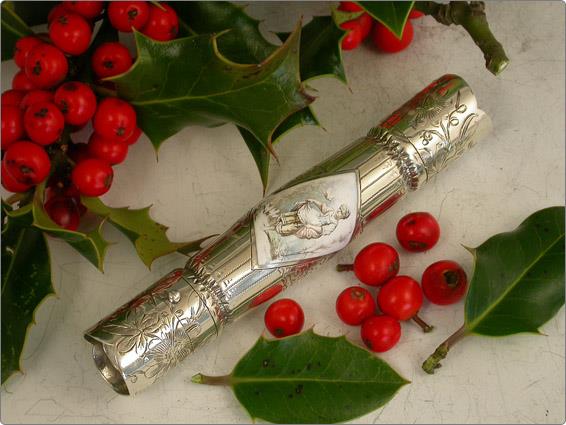 A fine Victorian Novelty Silver & Enamel Christmas Cracker Double Ended Scent Bottle





New arrivals this month include an early Worcerster Gazebo Pattern Coffee Cup, a fine Victorian novelty silver Letter Clip with two Fighting Cocks, an early Worcester Fisherman & Willow Pavillion Cream Jug, a rare Victorian silver and enamel Racing Scene Vesta Case, an early Worcester Spiral Moulded Coffee Cup, a Victorian Silver Gilt Canova Pattern Christening Set, a First Period Worcester Pierced Basket, and Victorian Silver Cribbage Board and Card Box.





I do hope that you will find this Newsletter informative and helpful and will allow us send it to you on a regular basis. I would welcome any feedback you may have, both positive and negative.

David W.A. Buck.
Steppes Hill Farm Antiques

| | |
| --- | --- |
| | |