Steppes Hill Farm Antiques Newsletter #63 - November 2016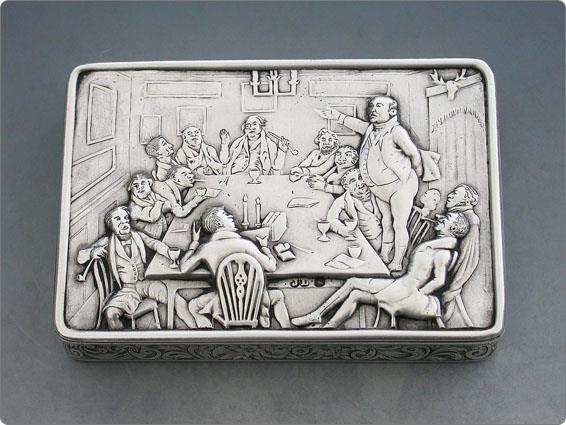 A rare Victorian silver Snuff Box of compressed rectangular form, the hinged cover chased with a scene from Charles Dickens' Pickwick Papers, depicting Mr Pickwick addressing the club (probably after the print by Seymour which formed the front-piece of the Pickwick Papers printed in 1837), the silver-gilt interior initialled 'J.B to G.M', '1852', the sides and base with engraved foliate scroll decoration.
By John Linnit, London, 1852.
(Please click on the link to see more details)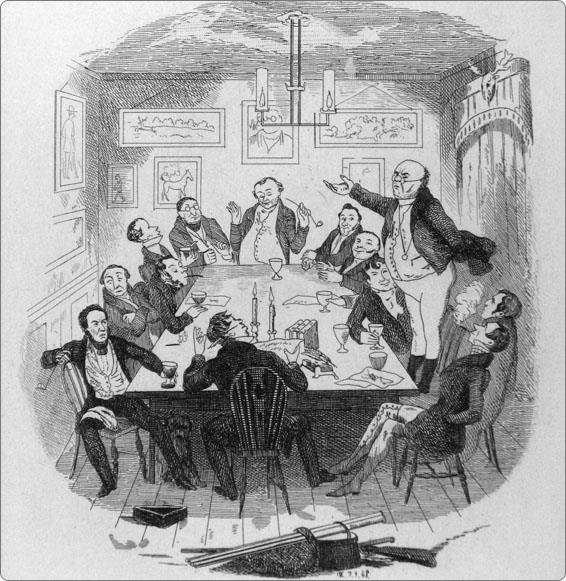 Click on the above image to zoom
"Mr Pickwick addresses the Club" Etching by Robert Seymour 1836
On May 12, 1827, the Pickwick Club of London listens to Mr. Pickwick's paper, "Speculations on the Source of the Hampstead Ponds, with some Observations on the Theory of Tittlebats." In order to extend the field of Mr. Pickwick's knowledge, the club votes for a traveling society that will consist of Samuel Pickwick, Tracy Tupman, Augustus Snodgrass, and Nathaniel Winkle. Each will have to pay his own expenses and send reports back to the club. A fat, elderly, bald man, Mr. Pickwick is facetiously presented as a profound thinker. Tupman is a fat, middle-aged ladies' man, Snodgrass is a poet, and Winkle is a sportsman.

The club chairman, Mr. Pickwick, climbs up on a chair to make a speech about his desire to benefit mankind through scientific knowledge and information about the danger of accidents in travel, to which a member called Blotton objects, telling him he is a humbug. Mr. Pickwick is angered by this insult and confusion ensues. At last things are straightened out when Pickwick and Blotton say they did not intend their remarks in the common sense but in the "Pickwickian sense."


The Posthumous Papers of the Pickwick Club (also known as The Pickwick Papers) was Charles Dickens's first and personal favourite novel. He was asked to contribute to the project as an up-and-coming writer following the success of Sketches by Boz, published in 1836 (most of Dickens' novels were issued in shilling instalments before being published as complete volumes). Dickens (still writing under the pseudonym of Boz) increasingly took over the unsuccessful monthly publication after the original illustrator Robert Seymour had committed suicide.

With the introduction of Sam Weller in chapter 10, the book became the first real publishing phenomenon, with bootleg copies, theatrical performances, Sam Weller joke books, and other merchandise.

After the publication, the widow of Robert Seymour claimed that the idea for the novel was originally her husband's; however, in his preface to the 1867 edition, Dickens strenuously denied any specific input, writing that "Mr Seymour never originated or suggested an incident, a phrase, or a word, to be found in the book".

Written for publication as a serial, The Pickwick Papers is a sequence of loosely related adventures. The action is given as occurring 1827-8, though critics have noted some seeming anachronisms. It has been stated that Dickens satirized the case of George Norton suing Lord Melbourne in The Pickwick Papers. The novel's main character, Samuel Pickwick, Esquire, is a kind and wealthy old gentleman, the founder and perpetual president of the Pickwick Club. To extend his researches into the quaint and curious phenomena of life, he suggests that he and three other "Pickwickians" (Mr Nathaniel Winkle, Mr Augustus Snodgrass, and Mr Tracy Tupman) should make journeys to places remote from London and report on their findings to the other members of the club. Their travels throughout the English countryside by coach provide the chief theme of the novel. A distinctive and valuable feature of the work is the generally accurate description of the old coaching inns of England (One of the main families running the Bristol to Bath coaches at the time was started by Eleazer Pickwick).

Its main literary value and appeal is formed by its numerous memorable characters. Each character in The Pickwick Papers, as in many other Dickens novels, is drawn comically, often with exaggerated personality traits. Alfred Jingle, who joins the cast in chapter two, provides an aura of comic villainy, with his devious tricks repeatedly landing the Pickwickians into trouble. These include a nearly successful attempted elopement with the spinster Rachael Wardle of Dingley Dell manor, misadventures with Dr Slammer, and others.

Further humour is provided when the comic cockney Sam Weller makes his advent in chapter 10 of the novel. First seen working at the White Hart Inn in The Borough, Weller is taken on by Mr Pickwick as a personal servant and companion on his travels and provides his own oblique ongoing narrative on the proceedings. The relationship between the idealistic and unworldly Pickwick and the astute cockney Weller has been likened to that between Don Quixote and Sancho Panza.

Through humour Dickens is able to capture quintessential aspects of English life in the mid-nineteenth century that a more sober approach would miss. Perhaps the popularity of this novel was due in part to the fact that the readers of the time were able to truly see themselves, and could accept themselves because of Dickens's skilful use of humour.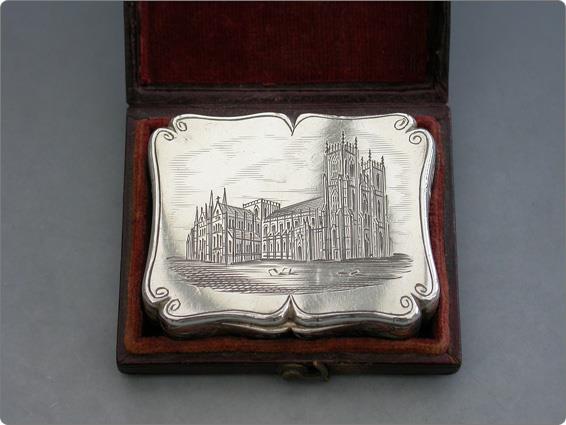 (Please click on the link to see more details)
An extremely rare large Victorian silver Vinaigrette of shaped rectangular form, the base and sides engraved with scrolled decoration and a vacant cartouche, the lid engraved with a scene depicting Beverley Minster in Yorkshire. The silver gilt interior with an intricately pierced filigree style grille opening from front to back.

Complete with original Morocco leather case.

By Edward Smith, Birmingham, 1843



Beverley Minster in Beverley, East Riding of Yorkshire, is a parish church in the Church of England. It is one of the largest parish churches in the UK, larger than one third of all English cathedrals and regarded as a gothic masterpiece by many.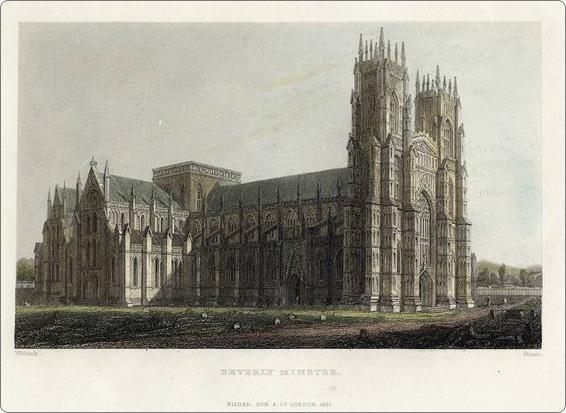 (Click on the above image to zoom)
"Beverley Minster" engraved by Fenner after a picture by Whittock, published in Fisher's Drawing Room Scrap Book, 1836.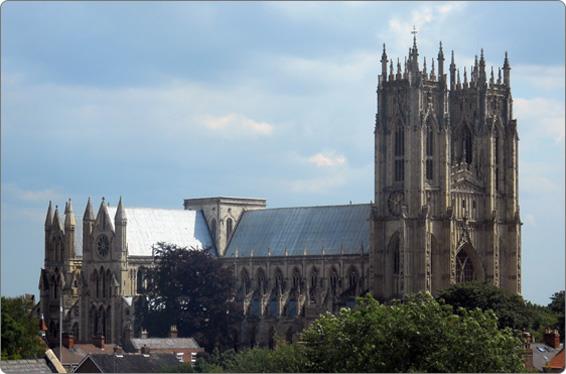 Photograph of Beverley Minster taken in 2011.





Once again I am pleased to be able to update the site this month with some new items of stock and some highlights include; a fine George III silver Five Compartment multi-hinged Snuff Box, a rare Queen Victoria on Horse Back at Calton Hill, Edinburgh Silver Card Case along with other silver Castle-Top Cases, a Victorian Novelty Silver Registered Design Shoe Bonbonniere & Seal, a fine Victorian silver and enamel Cigarette Case depicting a Bumblebee on Cornflowers, a composed set of 4 Victorian Silver & Enamel Menu Holders, an unusual Victorian Cased Silver Cheese Testing Scoop, a rare Edwardian Silver Cricket Match Vesta Case, and a fine Victorian large size silver Spirit Flask.





I do hope that you will find this Newsletter informative and helpful and will allow us send it to you on a regular basis. I would welcome any feedback you may have, both positive and negative.

David W.A. Buck.
Steppes Hill Farm Antiques

| | |
| --- | --- |
| | |