Steppes Hill Farm Antiques Newsletter #16 - October 2012


One thing I enjoy about dealing in antiques is the detective work involved in researching the history or provenance of the various items I purchase. It is fascinating to wonder at their past and the lives of the people that were associated with them, and of course an interesting provenance can make an item so much more desirable and indeed valuable. This month a couple of enamelled silver Vesta Cases have given me a deal of satisfaction whilst tracing their history and learning a little about the colourful people associated with these, at first glance, relatively insignificant little boxes:-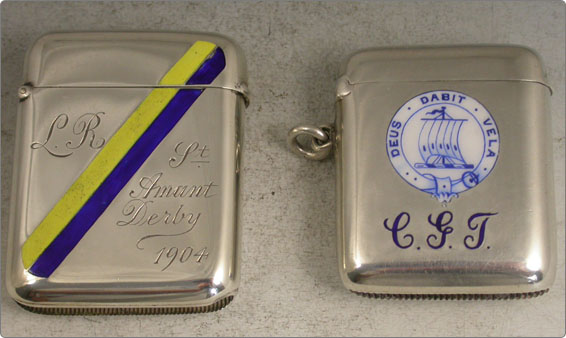 The first is an Edwardian silver Vesta Case made by Alfred Clark of 33 New Bond Street, London: high end retailers by appointment to HRH the Prince and Princess of Wales. It is enamelled with two plain diagonal stripes of yellow and dark blue. These were the racing colours of Leopold de Rothschild (1845-1917) and the case is engraved with his initials - 'L.R.' in script. Leopold de Rothschild became a keen race-goer during his college days at Cambridge, with regular trips to Newmarket. The more desperately his mother urged him to study 'something - drawing, painting, music, languages' - the more his interests turned elsewhere, principally to the turf. Leo was to win the Derby for a second time in 1904 with St Amant, and this Vesta Case is engraved; "St.Amant, Derby 1904" to commemorate the victory.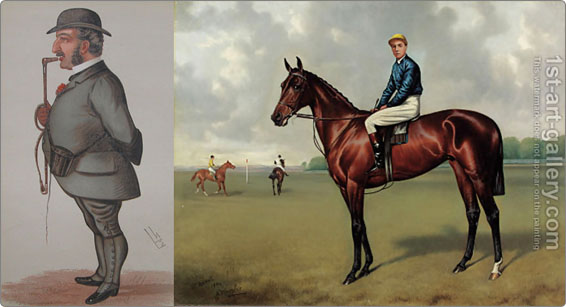 Leo de Rothschild, Vainity Fair Print 1884. St. Amant with jockey up, on a Racecourse.


The race was memorable for the terrific thunderstorm which took place during the race. Newspapers reported how Leopold rushed out to meet the winner despite the weather:
'he led him in with beaming face, unconscious of the diluvian rain which in a few seconds drenched him to the skin'. Soaking wet, horse, jockey and owner, were greeted with enthusiastic cheers and applause as they made their way into the winner's enclosure.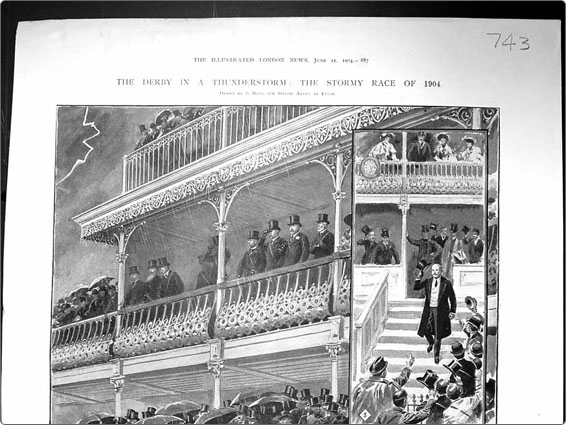 "The Derby in a Thunderstorm - the stormy race of 1904".
The illustrated London News - June 11th 1904.
Click on the above image to zoom



The second Vesta Case, made by Barnet Henry Joseph & Co of Birmingham in 1915 is enamelled to the front with a Crest depicting the mast and sail of a ship within a garter with the motto "DEUS DABIT VELA". (God will fill the sails). This is the crest and motto of the Tennant Family, and the case is also enamelled with the initials - "C.G.T." for Christopher Grey Tennant, 2nd Baron Glenconner (1899-1983). Christopher Grey Tennant, 2nd Baron Glenconner was born on 14 June 1899. He was the son of Edward Priaulx Tennant, 1st Baron Glenconner and Pamela Adelaide Genevieve Wyndham. The Vesta Case is engraved to the reverse; 'May 9th 1915', so Christopher would have received this case just before his 16th birthday.

Christopher Tennant was educated at Eton, and for a while before going into commerce served as a sub-lieutenant in the Royal Navy. He succeeded to the peerage in the year of his majority, and almost at once began to shoulder the responsibilities in finance and commerce which had fallen upon him. Not long afterwards he became chairman of Charles Tennant Sons & Co Ltd, and as time passed joined the boards of various associated and subsidiary companies. He was chairman of the Power Investment Corporation Ltd, a governing Director of Tennant's Estates (1928) Ltd, Tennant and Budd Ltd, and he sat on the boards of Imperial Chemical Industries Ltd, Hambros Bank Ltd, The Northern Assurance Co Ltd, The National Mortgage & Agency Co of New Zealand Ltd, Palestine Potash Ltd, and others. He was for some years chairman of the directors of Max Parish & Co Ltd, the London publishers.

To the considerable collection of pictures and antiques which he inherited Lord Glenconner added considerably, largely as a consequence of his travels, but he was always knowledgeable and discriminating in his purchases. Although inheriting the Liberal tradition, and generally supporting Liberalism, he took no active part in politics, and apart from his business responsibilities and the arts, he was probably more interested in and attached to country life. latterly he had made over his estates to his son and retired to Corfu.

He married first Pamela Winifred, daughter of Sir Richard Arthur Surtees Paget, Bt. The marriage was dissolved in 1935 and he married secondly in that year Elizabeth, daughter of Lieutenant-Colonel Evelyn George Harcourt Powell. By his first marriage he had two sons; by his second marriage he had a son and two daughters. His heir was the infamous Colin Christopher Paget Tennant.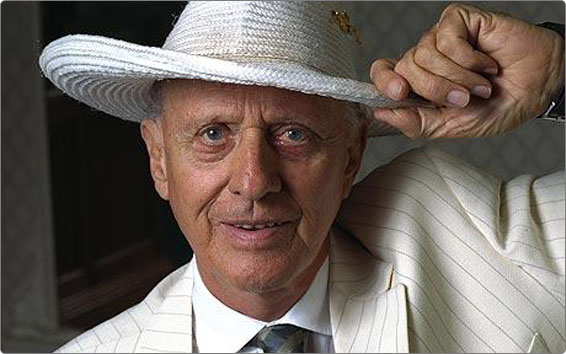 "The King Of Mustique"


Before succeeding to the peerage, Colin Christopher Paget Tennant, 3rd Baron Glenconner had been a great traveller, most notably in India and the West Indies. He was a close friend of Princess Margaret, to whom his wife was a lady-in-waiting, and an avid socialite. In 1958, he bought the Island of Mustique in the Grenadines for $45,000. Having run through several fortunes - an estimated total sum of £100 million of inherited money - he lived simply in one of the local shacks. Despite the fun and partying, he was forced to look back on terrible sorrows in his private life. Two sons died - one of a heroin overdose, one of Aids - and his third was left brain-damaged after a motor-cycle accident. He died on 27th August 2010 having led and extraordinary and ultimately tragic life - Read more...

"It is amazing where two little silver match boxes can take you!"






We are pleased to announce a repeat of last years "Christmas Drinks Party"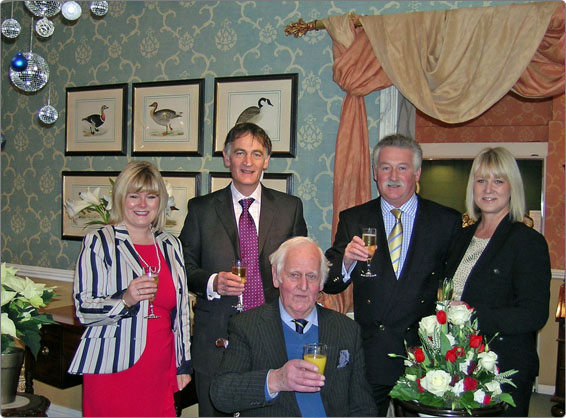 at Christopher Buck Antiques
50-60 Sandgate High Street,
Sandgate,
Folkestone,
Kent CT20 3AP.

On Saturday 8th December, 11am to 5pm.

Please email for an invitation to join us for Champagne and Canapés and to view our latest collections.







I am pleased to be able to update the site this month with 66 new items and some highlights include a Victorian Novelty Silver Lifeboat Box, a St Paul's Cathedral "Castle Top" Card Case, an Edwardian Silver & Enamel Racing Jockey Vesta Case, a rare Scottish Provincial Dundee Silver Caddy Spoon, Lord Lonsdale's Cigar Cutter, some early American Stamp Cases, and some important new additions to the Wine & Sauce Label Category plus some interesting new additions to the Pens / Pencils & Writing Equipment Category.





I do hope that you will find this Newsletter informative and helpful and will allow us send it to you on a regular basis. I would welcome any feedback you may have, both positive and negative.

David W.A. Buck.
Steppes Hill Farm Antiques

| | |
| --- | --- |
| | |