Steppes Hill Farm Antiques Newsletter #38 - October 2014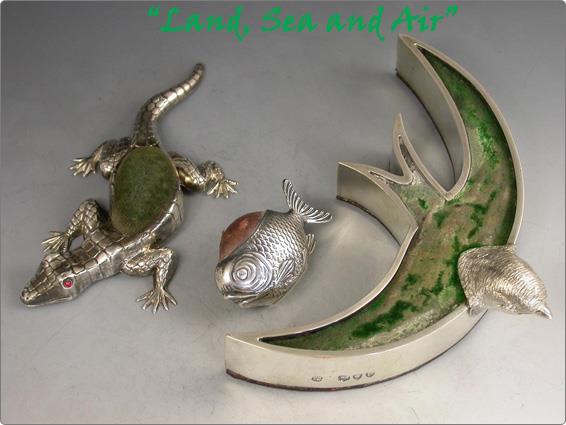 Click on the above image to zoom



"Land, Sea and Air" or perhaps "Fin, Fur and Feather" depicted here as Victorian and Edwardian novelty Silver Pin Cushions. These cheaply made (at the time) silver novelties have become extremely collectable little items with the rarer mammalian examples being particularly sought after.

Towards the end of the 19th century, silver pin cushions became very popular, as did table pincushions, some for hat pins rather than toilet pins, but it is the smaller figural pincushions that are most sought after today. Almost every type of animal can be found - elephants, pigs and chicks emerging from eggshells being the most common, but kangaroos, lions, foxes and other 'exotics' are rare. Shoes, baskets, crowns and other objects were also produced with versions in base metals for the less well-off.

The little selection of Pin Cushions illustrated above includes a very scarce Swallow or Swift in flight, a subject that I have never seen before.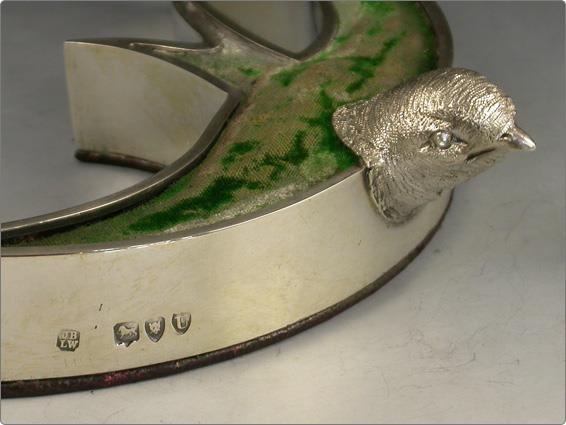 Click image above for more details
An exceptionally rare Victorian Novelty Silver Pin Cushion modelled as a Swallow or Swift in flight, with cast naturalistic head and stylised body filled with a cushion covered in green velvet, red Morocco leather base.

By James Samuel Bell & Louis Willmott, London 1895. Manufacturing silversmiths, Berners Mews, Oxford Street, London W.

Also stamped with Registered design number and retailer's mark of Rowlands & Frazer 146 Regent St, London W.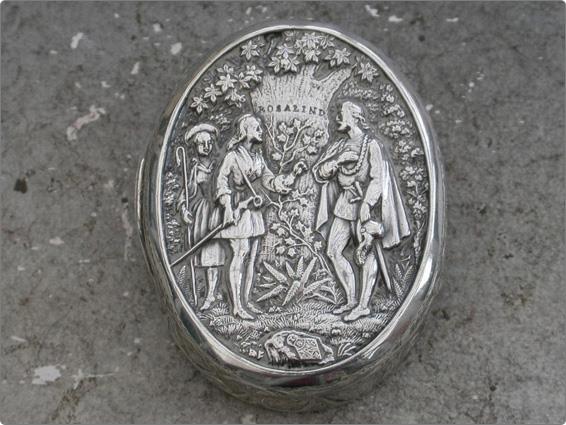 This month's featured item is a Victorian oval silver Vinaigrette with Theatrical interest:-

A rare Victorian silver Vinaigrette, of compressed oval form with foliate scroll engraved decoration to the base and sides, the lid inset with a panel depicting a scene from Shakespeare's "As you like it" in high relief. The silver gilt interior with foliate scroll pierced grille. The base with an oval cartouche engraved with presentation inscription to Mrs Alfred Illingworth.

By Cohen Hewer, Cheshire, Birmingham, 1878. The lid also stamped with a diamond registration mark for 8th April 1878.

The panel depicts Rosalind, Celia and Orlando from Act 3, Scene 2 in Shakespeare's Play "As You Like It".





As usual, I am pleased to be able to update the site this month with nearly 50 new items of stock and some highlights include; a good Victorian silver Castle Top Card Case depicting the Houses of Parliament, a rare sphere form combination Vinaigrette / Compass / Photo Frame / Coin Holder by Henry William Dee, a rare Edwardian Silver Vesta Case depicting Hockey Players, a nice Victorian triple compartment Stamp Case, a fine quality Edwardian 9 carat gold Bookmark/Pencil set with rubies and diamonds, and interesting novelty silver figural Bookmark depicting Charles Dickens Mr Micawber, a good cased Victorian silver Scent Bottle by Sampson Mordan and some interesting new additions to the Wine / Sauce Label Category.





I do hope that you will find this Newsletter informative and helpful and will allow us send it to you on a regular basis. I would welcome any feedback you may have, both positive and negative.

David W.A. Buck.
Steppes Hill Farm Antiques

| | |
| --- | --- |
| | |