Steppes Hill Farm Antiques Newsletter #62 - October 2016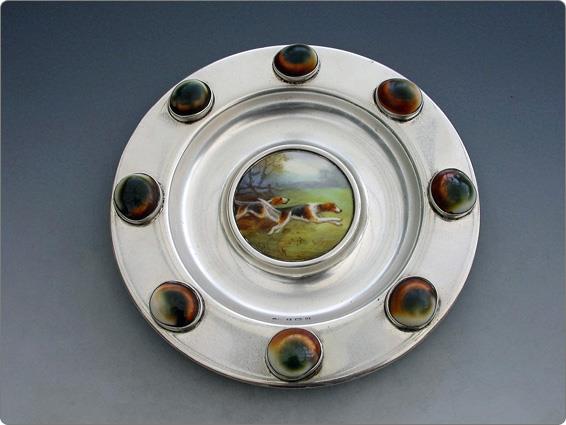 A fine quality early 20th century small silver Plate embellished with mounted cowrie shells to the rim, a central hand painted enamel plaque depicting Foxhounds in full cry, signed by Albert Shuck, Royal Worcester porcelain painter.
By Sanders & MacKenzie, Birmingham, 1932.
(Please click on the link to see more details)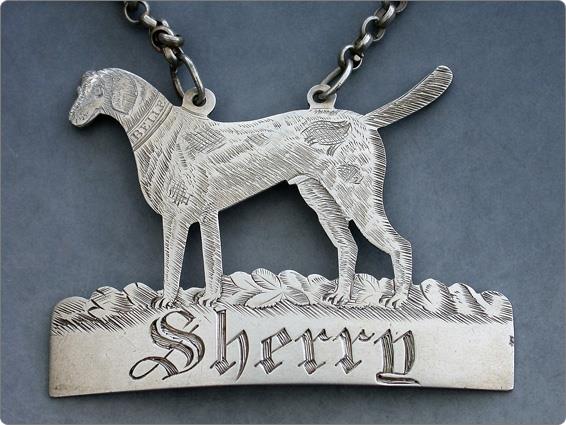 A rare early Victorian silver Wine Label made in the form of Foxhound standing on a narrow rectangular base with engraved foliage surmount. The hound's kennel name - "BELLE", engraved on its collar. Incised for Sherry.
By Joseph Willmore, Birmingham 1839.
(Please click on the link to see more details)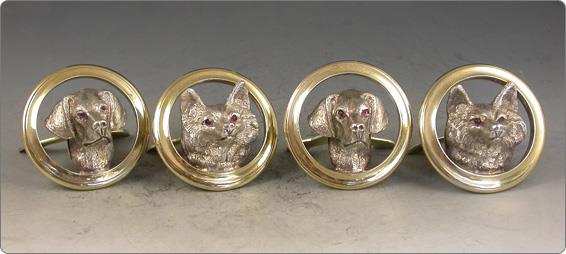 A superb quality cased set of four George V novelty silver and silver gilt Menu Holders, two cast as foxes heads and two cast as foxhound's heads, within circular gilded frames with hinged stands. Complete with ruby glass eyes and original fitted green leather case.
By The Goldsmiths & Silversmiths, London, 1911.
(Please click on the link to see more details)



The English Foxhound was created in the late 16th century, as a result of the perception of the depletion of deer in England. Nobles and Royalty had hunted deer for both food and sport, using the Deerhound or Staghound for this purpose. During the reign of Henry VIII, it was perceived that a new prey was needed, and the fox was selected. The English Foxhound was then created by a careful mixing of the Greyhound, for speed, the Fox Terrier, for hunting instinct, and the Bulldog, for tenacity in the hunt.

During the British Raj, English Foxhounds were exported to India for the purpose of jackal coursing, though due to the comparatively hotter weather, they were rarely long lived. Foxhounds were preferred for this purpose over greyhounds, as the former was not as fast, and could thus provide a longer, more sporting chase.

Studbooks for the English foxhound have been kept since the 18th century. Breeding lines and the work of people involved in breeding hounds is extremely important in the continual development of this working breed. Puppy shows are important events in the hunting calendar and allow the local hunt followers and visiting hound breeders to examine the latest generation from the hound pack. The International Foxhound Association was created in 2012 for the promotion of the English Foxhound as a breed.

The English Foxhound is a pack animal, therefore, it gets along well with other dogs and enjoys human companionship. It gets along with horses, children, and other pets, as it is a gentle, social, and tolerant breed. It is an active breed that enjoys hunting foxes and has the stamina to run all day with few breaks.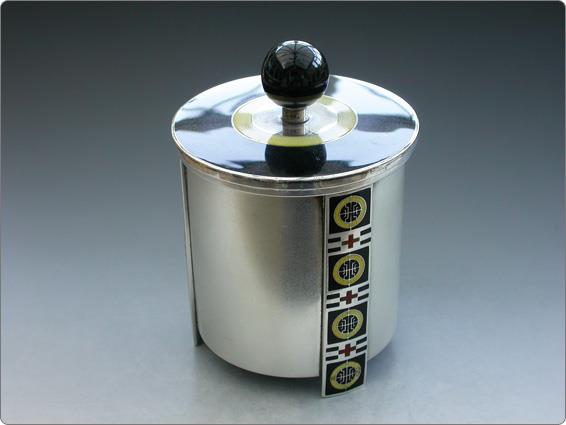 (Please click on the link to see more details)
An unusual Norwegian Art Deco silver and enamel Tea Caddy of drum shape with three vertical supports enamelled with geometric designs in black, red and yellow. The detachable cover in black enamel with a yellow band and ball finial.

By David Andersen, Oslow, Norway, c1930

Maker's mark: DAVID ANDERSEN
Stamped marks: 925,S. 'N'.
Pattern No: 3920 over 3.





The majority of over 40 new items of stock that I am adding to the site this month seem to have some enamel content. This is not by design, but happens to coincide with the acquisition of a nice English private collection of silver and enamel pieces that we have been charged with disposing of on behalf of a client. Some highlights include:- a scarce contemporary silver and enamel Tumbler Cup by Jane Short, a very fine George V 9 carat gold & enamel Cigarette Case depicting champion shire horse - 'Middletown Mary', a modern boat shaped silver Box by Garrard & Co enamelled by Maureen Edgar, a superb large modern silver and enamel Cigar Box by Asprey & Co, a George V Silver & Enamel H.M.Bateman Cartoon Snuff Box, a fine early 20th century German silver and enamel Box depicting a pastoral scene, a very fine Victorian Silver & Enamel Golfing Vesta Case and a fine early 20th century silver and enamel Cigarette Case depicting a young lady wearing a mink stole and holding a red umbrella.





I do hope that you will find this Newsletter informative and helpful and will allow us send it to you on a regular basis. I would welcome any feedback you may have, both positive and negative.

David W.A. Buck.
Steppes Hill Farm Antiques

| | |
| --- | --- |
| | |