Steppes Hill Farm Antiques Newsletter #74 - October 2017

"Collecting Charles Dickens Memorabilia"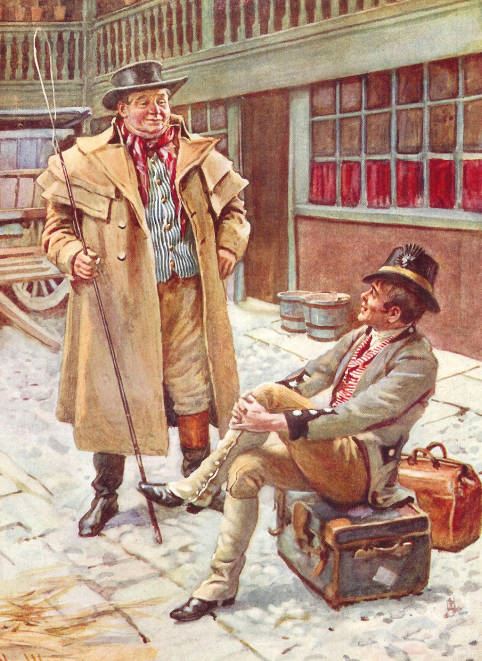 "Sam Weller and His Father" – colour lithograph by Harold Copping 1924

Charles Dicken
s was the most popular English novelist of the Victorian era. His famous works include A Christmas Carol, A Tale of Two Cities, Oliver Twist, Great Expectations, The Pickwick Papers and other hit novels of 19th-century England.
Today, Dickens' legacy as one of the giants of English literature endures – making first editions and other manuscripts from his lifetime valued on the collectors' markets. Notable sales of First Edition Books include a first edition of A Christmas Carol that sold for £181,250 at a Sotheby's auction in London in October 2010.
First-edition copies of 'The Posthumous Papers of the Pickwick Club' and 'The Life and Adventures of Nicholas Nickleby', both signed by Dickens and inscribed to his friend Walter Savage Landor, sold for £67,250 (including buyer's premium) at Sotheby's in London on December 16th, 2010.
It is not however just his written work that has become desirable, more unusual Charles Dickens collectibles which have appeared on the market include:
the collar worn by his dog which auctioned for $11,500 in March 2010. It sold at Bonhams in New York.
an ivory and gold toothpick once owned by Charles Dickens today sold at a U.S. auction for nearly £7,000.
Even before his death on 9
th
June 1870, silver memento's of his characters were being produced and although, judging by the outlets from where they were retailed, one assumes they would have been intended for a well healed and comfortably well off clientele, they must have been popular. I can illustrate three such examples here:-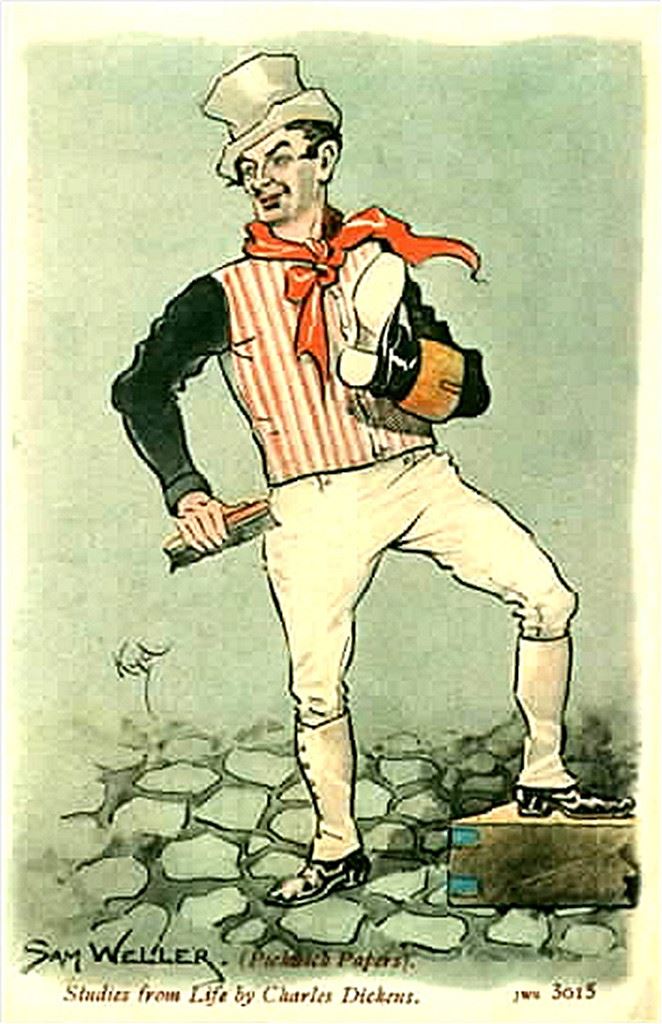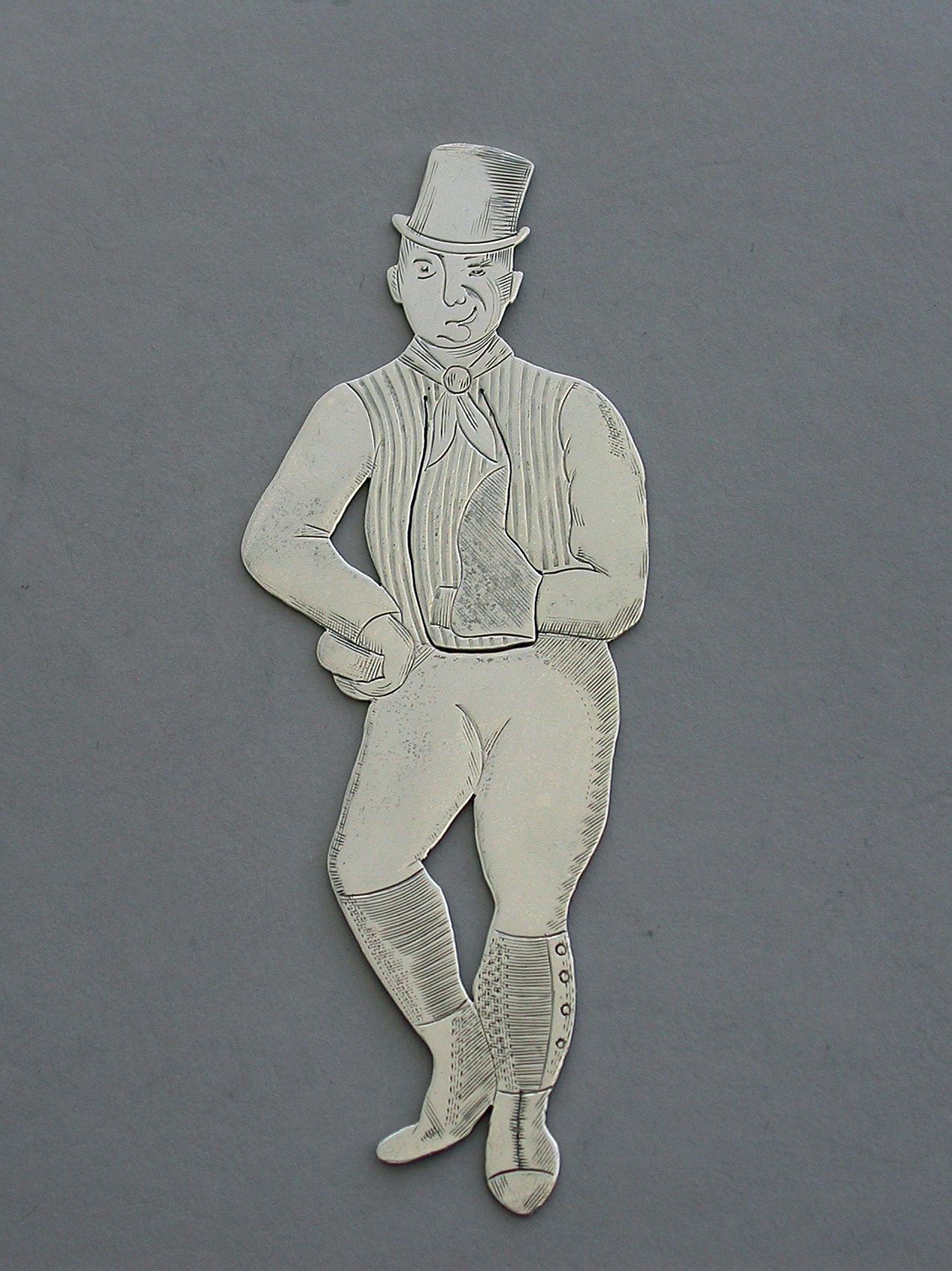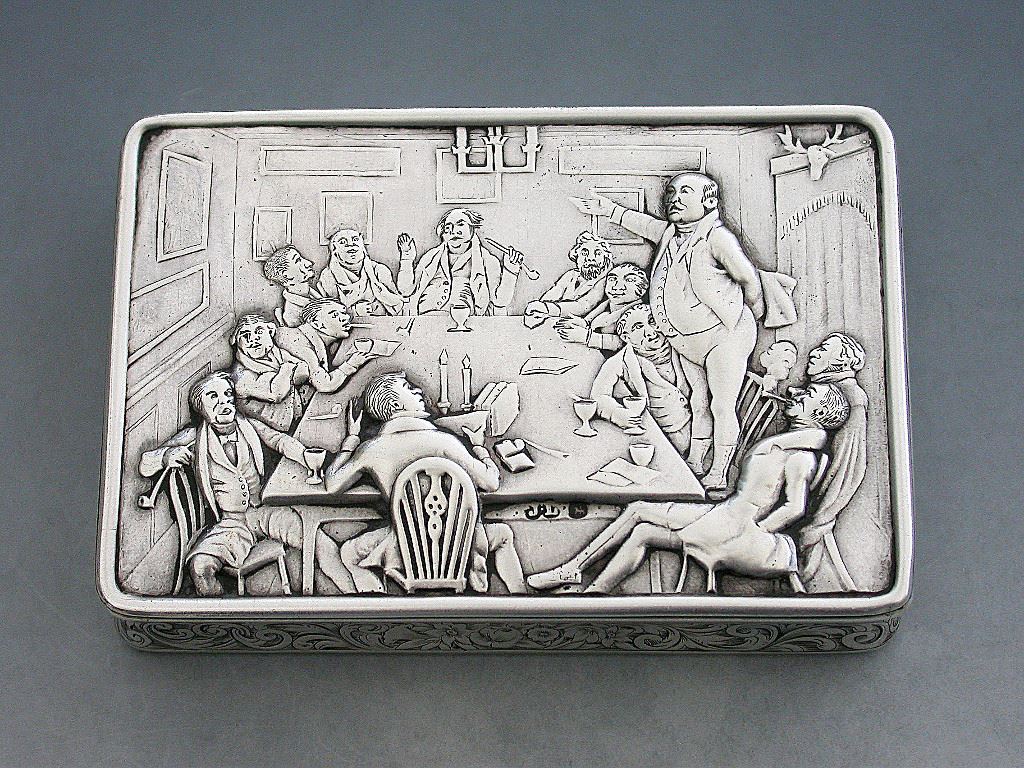 (Click on the above image to zoom)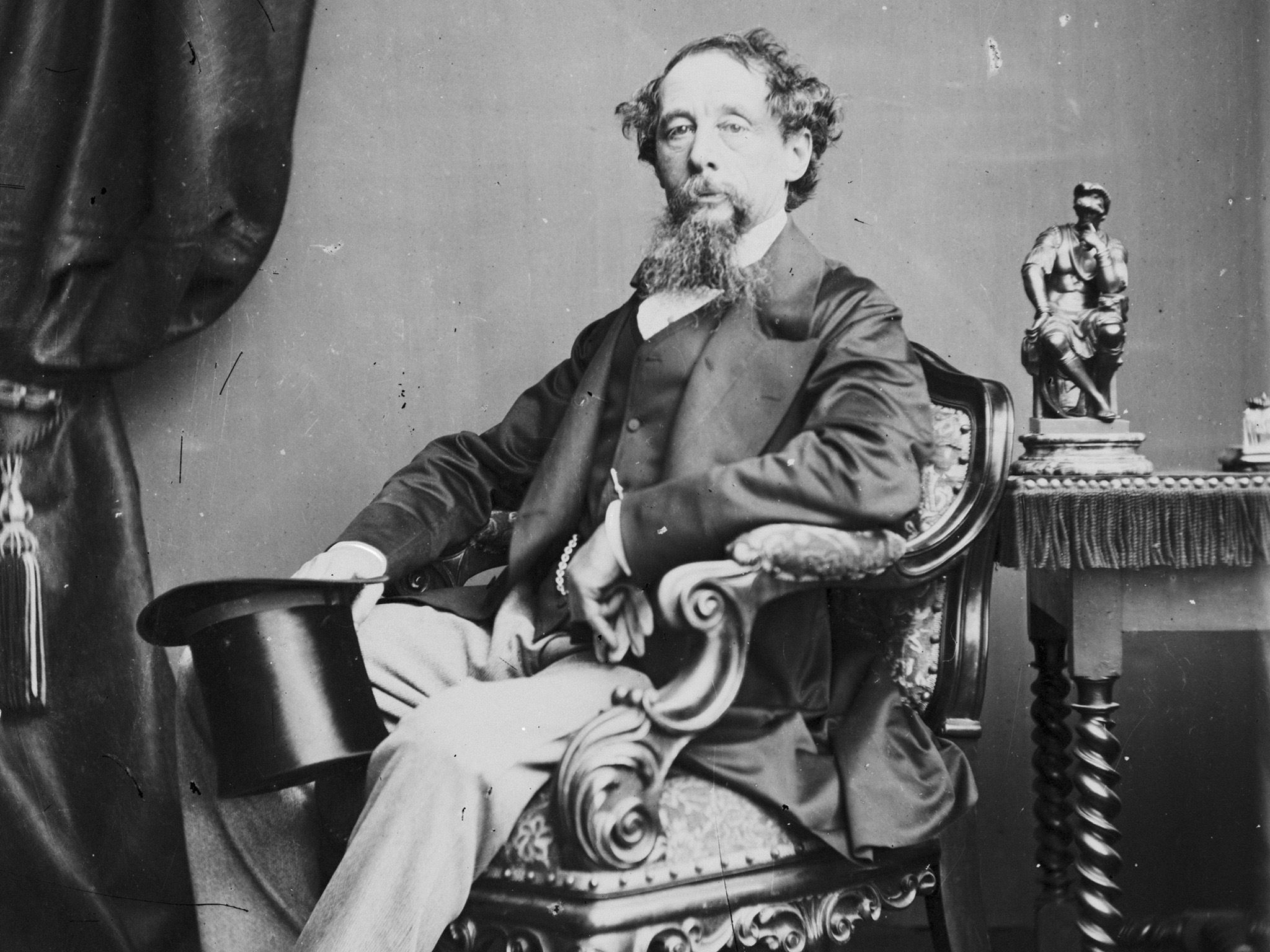 Biography
Charles Dickens was born in Portsmouth on 7 February 1812, to John and Elizabeth Dickens. The good fortune of being sent to school at the age of nine was short-lived because his father, inspiration for the character of Mr Micawber in 'David Copperfield', was imprisoned for bad debt. The entire family, apart from Charles, were sent to Marshalsea along with their patriarch. Charles was sent to work in Warren's blacking factory and endured appalling conditions as well as loneliness and despair. After three years he was returned to school, but the experience was never forgotten and became fictionalised in two of his better-known novels 'David Copperfield' and 'Great Expectations'.

Like many others, he began his literary career as a journalist. His own father became a reporter and Charles began with the journals 'The Mirror of Parliament' and 'The True Sun'. Then in 1833 he became parliamentary journalist for The Morning Chronicle. With new contacts in the press he was able to publish a series of sketches under the pseudonym 'Boz'. In April 1836, he married Catherine Hogarth, daughter of George Hogarth who edited 'Sketches by Boz'. Within the same month came the publication of the highly successful 'Pickwick Papers', and from that point on there was no looking back for Dickens.

As well as a huge list of novels he published autobiography, edited weekly periodicals including 'Household Words' and 'All Year Round', wrote travel books and administered charitable organisations. He was also a theatre enthusiast, wrote plays and performed before Queen Victoria in 1851. His energy was inexhaustible and he spent much time abroad - for example lecturing against slavery in the United States and touring Italy with companions Augustus Egg and Wilkie Collins, a contemporary writer who inspired Dickens' final unfinished novel 'The Mystery of Edwin Drood'.
He was estranged from his wife in 1858 after the birth of their ten children, but maintained relations with his mistress, the actress Ellen Ternan. He died of a stroke in 1870. He is buried at Westminster Abbey.

This months featured items are a selection of Georgian and Victorian silver Vinaigrettes in the form of Ladies Handbags, Reticules, Purses or Wallets. Call them what you will, but they are all quite charming...!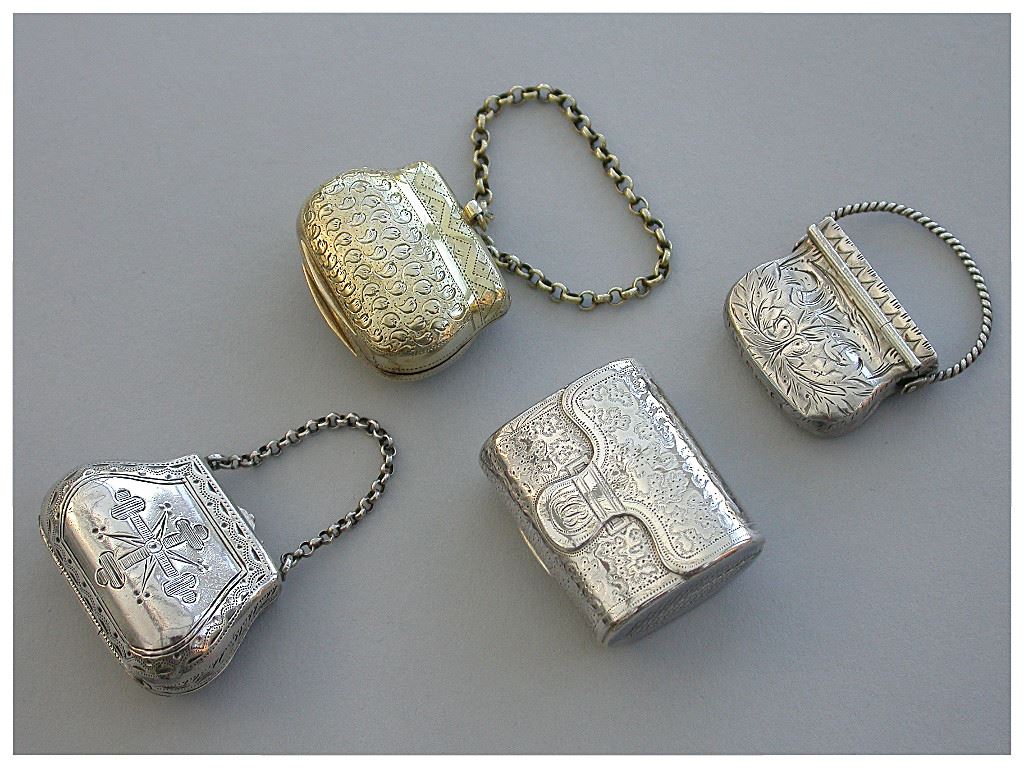 The silver Vinaigrette was usually rectangular or oblong in shape, decorated with bright-cut engraving or engine turning, they had tight-fitting hinged lids and gilded interiors to protect the silver from the acidic vinegar. Each contained a pierced grille concealing a sponge which was soaked with aromatic liquid. Carried by both men and women, the vinaigrette was seen as an essential fashion accessory. If one felt faint, a common sensation in the days of filthy and oppressive streets and over-tight corsets for both sexes, then a quick sniff at the pungent vinegar would clear the head, restoring the sickly back to vigorous health!
The little group of four novelty Bag form Vinaigrettes illustrated above are all fine crisp examples and details can be found on the web site in the
Vinaigrettes category
.

| | |
| --- | --- |
| | |
Edwardian Novelty Cased Silver Artists Palette Paint Box

Victorian Silver Castle-Top Vinaigrette 'Clifton Suspension Bridge'
Victorian Silver & Enamel 'Scottish Pipers' Vesta Case
Victorian Silver & Enamel Golfing Vesta Case
Once again I am pleased to be able to update the site this month with over 30 new items of stock and some highlights include; an Edwardian Novelty Cased Silver Artists Palette Paint Box, a Victorian Silver Castle-Top Vinaigrette depicting 'Clifton Suspension Bridge', a Victorian Silver & Enamel 'Scottish Pipers' Vesta Case, a Victorian Silver & Enamel Golfing Vesta Case, a Victorian silver and enamel Royal Standard Victoria Jubilee Vesta Case, a Victorian novelty silver Thornhill's Soda Water Bottle Propelling Pencil, a George V novelty Silver Owl Whistle and a rare George IV Provincial Silver Wine Label for Madeira.

I do hope that you will find this Newsletter informative and helpful and will allow us send it to you on a regular basis. I would welcome any feedback you may have, both positive and negative.
David W.A. Buck.
Steppes Hill Farm Antiques

| | |
| --- | --- |
| | |