Steppes Hill Farm Antiques Newsletter #26 - September 2013


This months Steppes Hill Farm Antiques Newsletter is inspired by the recent acquistion of a nice collection of silver "Mr Punch" related items. I have written about Punch in a previous Newsletter, but on this occasion I want to focus on the art work of Richard "Dickie" Doyle who drew the famous masthead for Punch magazine. This amazingly inctricate and fascinating piece of work was to grace the cover of the magazine for over a century and it obviously inspired some contemporary silversmiths to reproduce it in enamel:-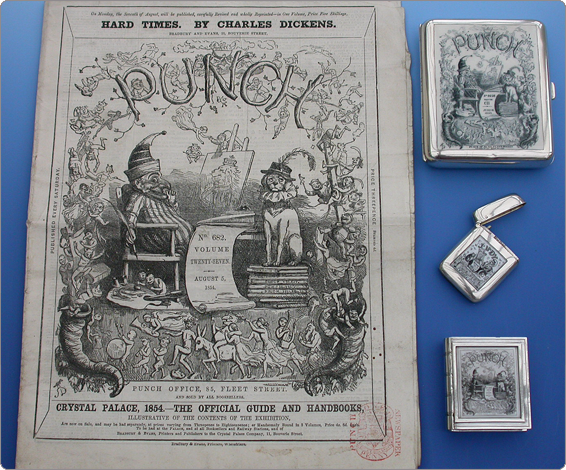 (Click on the image above to zoom)

Richard "Dickie" Doyle (September 1824 - 11 December 1883) was a notable illustrator of the Victorian era. His work frequently appeared, amongst other places, in Punch magazine; he drew the cover of the first issue, and designed the magazine's masthead, a design that was used for over a century.

Born at 17 Cambridge Terrace, London, one of seven children of Irish cartoonist John Doyle (known as 'H.B'), a noted political caricaturist, two of his brothers, James and Charles, were also artists. The young Doyle had no formal art training other than in his father's studio, but from an early age displayed a gifted ability to depict scenes of the fantastic and grotesque. Throughout his life he was fascinated by fairy tales. He produced his first complete illustrated book, Home for the Holidays, when he was 12; it was published posthumously in 1887.
He joined the staff of Punch in 1843 aged 19, remaining there for seven years. He was the uncle of Sir Arthur Conan Doyle, author of the Sherlock Holmes stories.

Doyle signed many of his drawings with the depiction of a small bird standing on the initials 'RD', a reference to his nickname "Dickie" (as in "dickie bird").
The three enamelled silver items illustrated with the Punch Magazine above are as follows:-

1. A Rare Victorian Enamelled Silver Punch Magazine Cover Cigarette Case, by George Heath, London 1890.

2. A Superb and Large Sized Victorian Enamelled Silver Punch Magazine Cover Book Form Vesta Case, by Henry William Dee, London 1878.

3. A Rare Victorian Silver Vesta Case Enamelled With A Version Of The Punch Magazine Cover Depicting JUDY, byWilliam Neale, Chester 1887.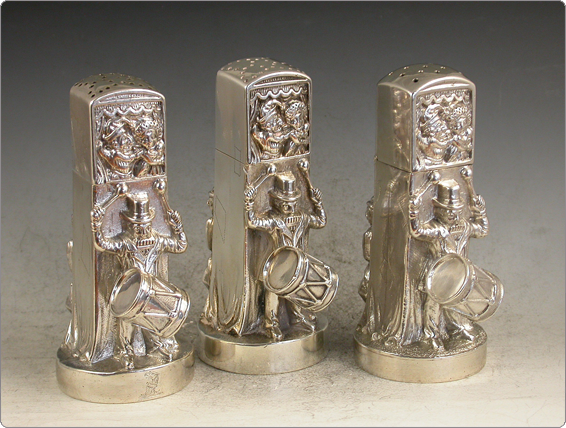 (Click on the image above to zoom)



Apart from the enamelled items described above, pride of place in the collection of Punch items has to go to this months 'Featured Item', namely a magnificent garniture of three Victorian novelty silver Pepper Pots in the form of Punch & Judy Tents.

These very fine and unusual matched set of three heavy Victorian cast silver Pepper Pots are made in the form of Puppet Booths with Punch and Judy holding the baby to the front along with a "Bottler" playing drums and a mouth organ, Toby the dog appears from the back of the booth biting the leg of a fleeing boy.

Two are by Henry William Dee, London, 1879 and one is by Louis Dee, London, 1882.

While not much in practice today, earlier Punch & Judy shows often featured a "Bottler." The bottler acted as an assistant to the "Professor" by corralling people toward the stage. He would attract interest by playing an instrument - a drum or a violin - and acted basically as a warm-up act. Sometimes, the bottler would interact with the puppets.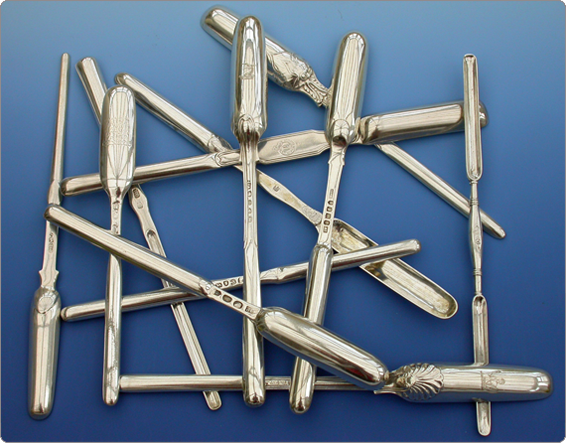 (Click on the image above to zoom)





"Marrow Scoop Sale!"



I have been selling a good collection of silver Marrow Scoops on behalf of a client and there remains some fine and rare examples on offer (please see the Marrow Scoop Category on the web site). In order to complete the sale of the collection my client has generously offered to reduce his prices by as much as 20% on some of these Scoops - there are now some bargains to be had!








Apart from the Punch Items illustrated above I have re-populated the site this month with some other nice pieces including: two early Derby Porcelain Baskets, a fine William IV silver gilt "Pedlar Snuff Box", a little collection of English porcelain figures of Cats & Kittens, a charming Victorian novelty silver mounted horn Parakeet Pepper Pot, a good Dr Wall Worcester Dessert Plate painted with exotic birds, a rare novelty silver figural Horses Head Vesta Case, a Dr Wall Worcester Lilac Holly Berry Trio and an extremely rare Georgian Scottish Provincial Silver Mounted Adie Memoire.

In fact there are over 30 new items of stock uploaded this month, so hopefully there will be something for everyone.





I do hope that you will find this Newsletter informative and helpful and will allow us send it to you on a regular basis. I would welcome any feedback you may have, both positive and negative.

David W.A. Buck.
Steppes Hill Farm Antiques

| | |
| --- | --- |
| | |