Steppes Hill Farm Antiques Newsletter #37 - September 2014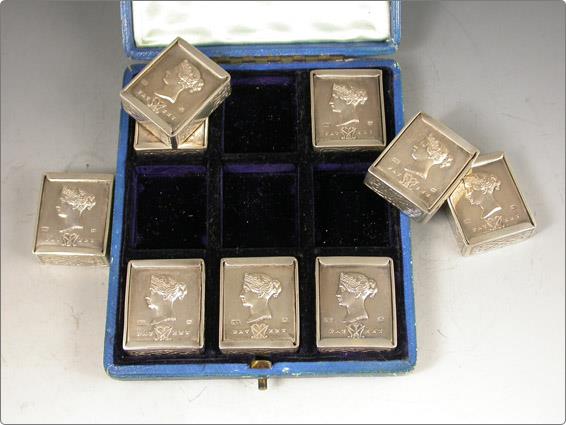 Click on the above image to zoom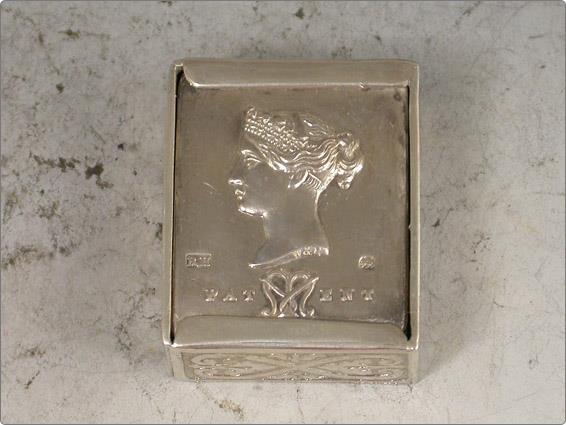 I have discussed the introduction of the Postage Stamp in Great Britain in a previous Newsletter and the fact that the first Stamp Boxes were generally made of wood or brass. The silver Stamp Box only really became popular in in the 1880's, and it is generally accepted that the first English silver Stamp Box was one patented by Sir John Macneill in 1868.

The MacNeill's Patent Silver Stamp Applicator was made by Robert Hennell IV in London in 1869-70. It appears to pre-date the commercial production of other silver Stamp Cases in England by some 10 years.

The small rectangular box was embossed with a profile bust of Queen Victoria, the word 'Patent' and a monogram 'M' for MacNeill. The sides were decorated with chased scrollwork on a textured background. The mechanism consisted of two sprung plates which held a stack of stamps against restraining flanges to the base. The original patent described its operation thus:-

"The letter is damped slightly by the tongue or otherwise; the case is then laid on the letter, and at the same time pressure of the finger is applied to the top, so as to press the follower down, and consequently the stamp, on to the part of the letter or document which has been previously damped; when this is done the pressure of the finger is removed and the case lifted up, the adhesive matter on the stamp causing it to be withdrawn from the small retaining flanges of the case, and be thus left adhering to the surface of the letter. The postage or other stamps are thus presented ready for being applied in quick succession and with great facility to any number of letters".

Prior to the discovery of the cased set of nine silver Applicators illustrated above I am only aware of three other single examples of the MacNeill's Patent Stamp Applicator that have come onto the market in the last twenty years. These three achieved high prices at auction.

I think this is an extraordinary find, and one might assume that it was the original commission given to Hennell by Sir John Macneill in 1868.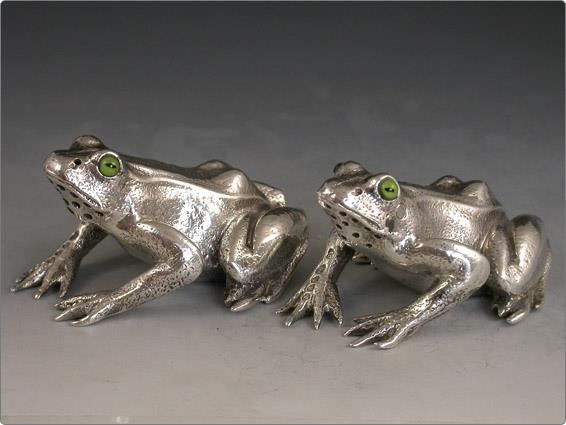 This month's featured item is a fine quality pair of Victorian novelty cast silver Peppers realistically modelled as crouching Frogs with green glass eyes and detachable screw on bases.

By Alexander Crichton, London, 1881.





I am pleased to be able to update the site this month with nearly 50 new items of stock and some highlights include; a enamelled silver Hunting Scene Vesta Case by Sampson Mordan, a fine First Period Worcester large Blue & White Cylindrical Mug, a rare Victorian novelty silver Pin Cushion in the form of a Fox, a fine First Period Worcester Lord Henry Thyme pattern Trio, a superb gold Opisometer, a First Period Worcester Dolphin Creamboat, a Victorian Pictorial Silver Presentation Snuff Box, and a Georgian cased silver Folding Fruit Knife & Fork with accompanying silver Spoon.





I do hope that you will find this Newsletter informative and helpful and will allow us send it to you on a regular basis. I would welcome any feedback you may have, both positive and negative.

David W.A. Buck.
Steppes Hill Farm Antiques

| | |
| --- | --- |
| | |