Steppes Hill Farm Antiques Newsletter #54 - February 2016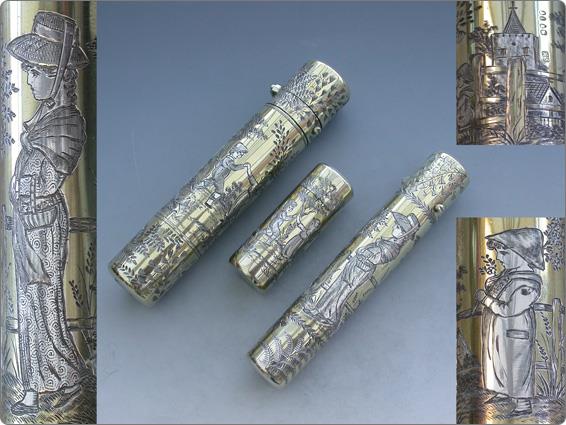 Scent Bottles by Sampson Mordan
Please click on the photograph to see more details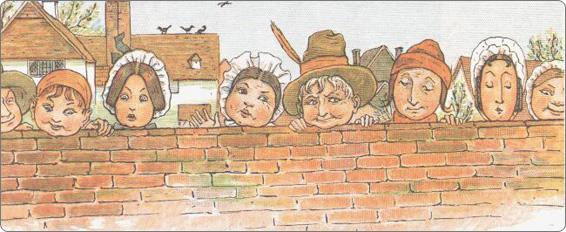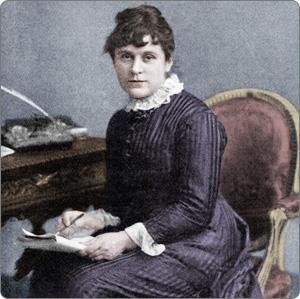 Kate Greenaway, the uncrowned queen of the golden age of children's book illustration was fifty-four when she died on the 6th November 1901 at her house in Hampstead. Designed for her by Richard Norman Shaw, the house was tangible proof of success, for she had started life in modest circumstances in Hoxton in 1846. Her father, John Greenaway, was a wood engraver who worked on the Illustrated London News and in the 1850s her mother kept a ladies' outfitters in Islington, where the family lived above the shop in Upper Street. Kate spent her childhood summers with relatives in the country in Nottinghamshire and it was to an idyllic countryside that she turned for inspiration. She loved her childhood and recalled: 'I hated to be grown-up and cried when I had my first long dress.'

After studying at the Slade School, she got work from Christmas and Valentine card manufacturers as well as publishers of children's books and magazines. Early titles in the 1870s included Fairy Gifts or a Wallet of Wonders by Kathleen Knox and Starlight Stories Told to Bright Eyes and Listening Ears by Fanny Lablache. Kate made her name with Under the Window, Pictures and Rhymes for Children, which appeared in time for Christmas 1878 and sold out in a flash with the bookshops clamouring for copies. Illustrated editions of two books by Charlotte M. Yonge followed. In 1880 came Kate Greenaway's Birthday Book for Children and in 1881 Mother Goose or the Old Nursery Rhymes. Typical later titles included Jingles and Joys for Wee Girls and Boys, Language of Flowers, Baby's Birthday Book, Kate Greenaway's Album and Kate Greenaway's Alphabet. She did an illustrated edition of The Pied Piper of Hamelin and in 1885 especially for John Ruskin her version of Dame Wiggins of Lee and Her Seven Wonderful Cats. By this time her books were being ruthlessly imitated and pirated, while Greenaway dolls, children's fashions, pottery and wallpapers were selling in quantities in Britain and abroad. In France there was a whole children's dress style called 'Greenwayisme'. Kate issued her own annual Almanack from 1883 to 1897 and her last production, in 1900, was The April Baby's Book of Tunes by Countess von Arnim (the author of Elizabeth and Her German Garden).

Frightful as some of these titles may sound, Kate Greenaway's illustrations had extraordinary charm. They showed saucy or demure curly-haired children in old-fashioned clothes - pretty girls in frocks, smocks and bonnets, boys in hats and short jackets - living in an innocent world where no serious harm would ever come to them. Her own life, however, was very different. Dumpy, plain and shy, she never married and had no children herself. Instead she was taken over by Ruskin, who when they met in 1882 was sixty-three to her thirty-six. He greatly admired her and from then on supervised her work and dominated her life. He always admired childish innocence in women, and the type of 'girlie' Kate portrayed, and Kate was mesmerised by him. They spoke baby-talk to each other, he was her 'darling Dinie' and they signed their letters with varying numbers of kisses according to mood. He wanted her to do drawings of her child models in the nude and send them to him, but she declined. The relationship was almost certainly never consummated, but her devotion to him survived his ill temper, his fits of madness and his eventual senility and lasted until his death in 1900.

She herself then had little time left. In 1899 she had been diagnosed with breast cancer, which she kept secret from everyone. The pain was abominable, the cancer spread to her lungs and breathing became almost impossible. Hampstead was silently blanketed in November fog when the end came at nine o'clock on the evening of the 6th. Privately and with the minimum of fuss, she was cremated at Woking and on the 13th her ashes were buried in Hampstead Cemetery next to her father and mother. On her headstone was inscribed a verse she had written for the occasion:



"Heaven's blue skies may shine above my head,
While you stand there - and say that I am dead!"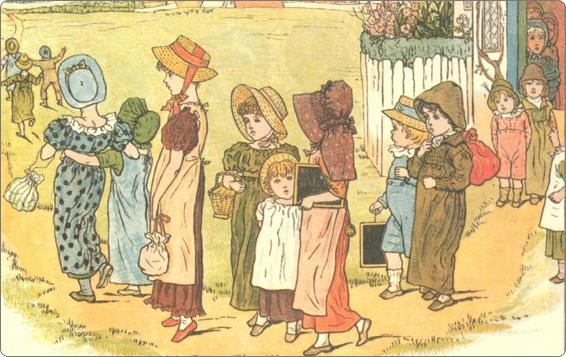 Her designs are often seen on silver Scent Bottles, Vesta Cases, Card Cases, Purses, Napkin Rings and Jewellery and less frequently on silver Hollow-Ware. The Scent Bottles in particular are now highly collected and they are almost always by the highly respected firm of Sampson Mordan & Co, although also occasionally by Thomas Johnson of London (probably made by Mordan to be retailed by Johnson). Later copies were also made in Birmingham.

The Mordan Bottles seem to have been made almost exclusively between 1881 and 1887 with 1882 (when she first met John Ruskin) being by far the most productive year. They come in a variety of shapes but the standard 'cylinder' bottle seems ideal for this 3 dimensional engraving, the square bottle is rarer but does not accommodate the engraving as easily, the figures look more 'flat', and the icicle shaped bottle is also good and gives a larger surface to take the design.

Regarding the subject matter, the majority seem to have a boy and girl or two girls engaging in various activities almost always with a church with spire in the background. Only a very few examples I have seen have a boy playing a horn sitting on stile with a yacht in the background.

In my opinion the interest of the scene increases with the amount of detail that it shows. Some show snails crawling along a wall or 'Trespassers Beware' signs and milestones stating - 'X miles to London'. These small details only add to the charm of the images.

I am pleased to be able to offer a few different examples of Kate Greenaway decorated Scent Bottles made by Sampson Mordan and these can be viewed in the Scent Bottles Category on the web site.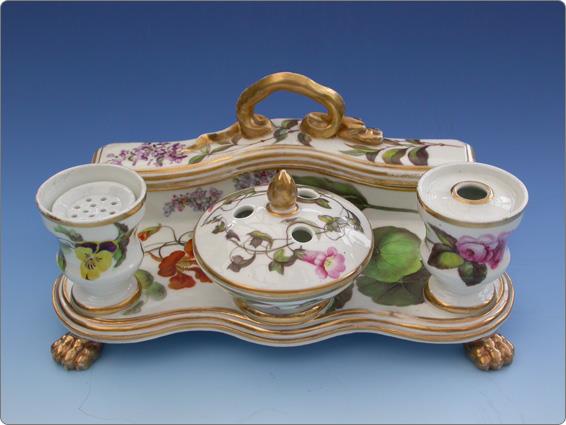 Please click on the photograph to see more details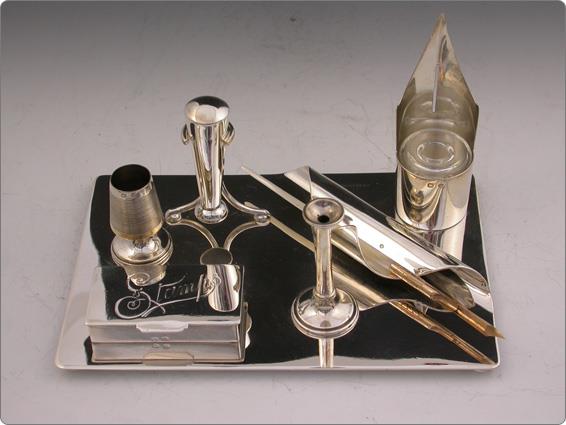 Please click on the photograph to see more details



This month's featured items are both 19th century Inkstands although one is from the beginning of the century and one is from the end. One is made from porcelain and the other is in silver. The details are as follows:-







Once again I am pleased to be able to update the site this month with over 60 new items of stock and some highlights include; a superbly modelled Victorian cast silver novelty Pepper in the form of a Bull, an extremely rare Edwardian novelty silver Pin cushion made in the form of a Galah or Crested Cockatoo, a rare Victorian Enamelled Silver 'One Penny Lilac' Stamp Case, a fine silver gilt mounted green glass Tea Kettle Syphon Inkwell by Gabriel Riddle, a fine Victorian silver gilt mounted glass 4 purpose Scent Bottle / Vinaigrette by Thomas Johnson, a novelty silver Whistle made in the form of an Owl by Sampson Mordan, several interesting new Vesta Cases and some more new additions to the Wine Label Category sourced from an English Private Collection.





Please make sure and check out the latest articles in our Blog, for all the latest news in the silver world and some other interesting features





I do hope that you will find this Newsletter informative and helpful and will allow us send it to you on a regular basis. I would welcome any feedback you may have, both positive and negative.

David W.A. Buck.
Steppes Hill Farm Antiques

| | |
| --- | --- |
| | |