Steppes Hill Farm Antiques Newsletter #29 - January 2014


May I first of all take this opportunity to wish you a very happy, peaceful and prosperous New Year from all of us at Steppes Hill Farm Antiques. Thank you for your custom during 2013 and we hope to be able to be of service again in 2014.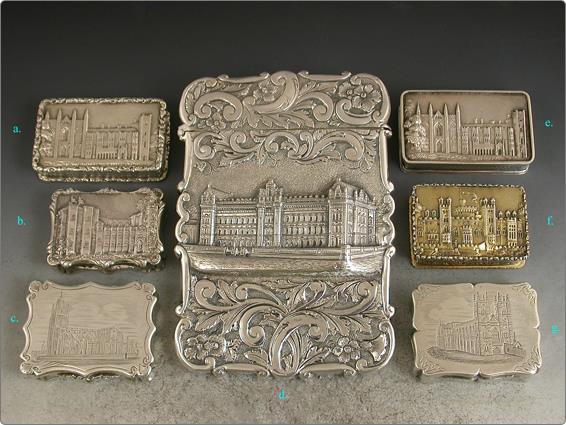 Click on the above image to zoom


I am basing my first Newsletter of the New Year on a collectible silver subject very close to my heart; namely the so called "Castle Top" topographical souvenir boxes produced by the "Toymen" of Birmingham during the 19th century. These boxes were made in the form of Card Cases, Snuff Boxes and Vinaigrettes and they depicted well known, and not so well known, and indeed sometimes quite obscure, topographical scenes and landmarks around the British Isles and occasionally abroad. At the time they would have been relatively inexpensive souvenirs of a visit to the location by the well healed traveller or sightseer, but they have become an eminently collectible and sought after genre and they remain among the strongest areas within the lively small silver market.

Rarity is everything with Castle Tops and whilst quality and condition count, generally speaking, the scarcer the view the higher the price. Some destinations such as Windsor Castle, Warwick Castle, Newstead Abbey and Abbotsford were clearly very popular at the time and consequently they appear more often than some of the rarer subjects.

Scenes can be engraved on the flat surface of the lid or chased and embossed in high relief. Notable makers include Joseph Willmore, Taylor & Perry, Edward Smith, and perhaps most notably Nathaniel Mills.

The variety of views and subjects depicted on Castle Top boxes one would have thought would have been quantifiable in this computer age, but it appears to be an inexhaustible subject and it seems that every year a "new" or previously unrecorded subject appears at auction. Part of the thrill is trying to identify these unrecorded scenes that were most likely taken from contemporary prints or engravings of the period. There remain several unidentified views that are tantalizingly low priced simply because they have yet to be positively identified.

The photograph above illustrates a selection of "Castle Top" Boxes that we currently have in stock and they include:-




a). A William IV silver Castle Top Vinaigrette depicting Newstead Abbey in high relief, by Taylor & Perry, Birmingham 1836.

b). A Victorian silver Castle Top Vinaigrette depicting Kenilworth Castle in high relief, by Nathaniel Mills, Birmingham 1847.

c). A rare Victorian silver Castle Top Vinaigrette with engraved scene depicting St Mary's Redcliffe, Bristol, by Nathaniel Mills, Birmingham 1843.

d). A rare Victorian Castle Top Card Case depicting Buckingham Palace in high relief, by Alfred Taylor, Birmingham 1854.

e). A William IV Castle Top Vinaigrette depicting Newstead Abbey in high relief, by Taylor & Perry, Birmingham 1836.

f). A fine Victorian silver gilt Castle Top Vinaigrette depicting Windsor Castle in high relief, by Nathaniel Mills, Birmingham 1838.

g). A rare Victorian Castle Top Vinaigrette engraved with a view of Westminster Abbey, by Joseph Willmore, Birmingham 1842.



Please visit the Vinaigrette and Card Case Categories at Steppes Hill Farm Antiques to view these boxes in more detail.







I am very conscious of the fact that internet trade is stimulated by a fresh and regularly updated web site that has an ever changing inventory, and with this in mind I try to add significant numbers of new items to the site each month. Regular visitors will know that we usually upload 50 or more recent acquisitions to coincide with the monthly newsletter and this first month of 2014 is no exception and I am pleased to be able to offer nearly 70 new items of stock.

Apart from the Castle Top Boxes listed above, I have a nice new selection of silver Wine Labels, a Duesbury Derby model of a Pug Dog, some very rare novelty silver Propelling Pencils, a fine Chelsea silver shaped Dessert Dessert Dish, some interesting Sewing related pieces, a couple of First Period Worcester Coffee Cups, an extremely rare Chelsea gold anchor Tea Bowl & Saucer, and an unusual double ended silver gilt mounted ruby glass Scent Bottle.





I do hope that you will find this Newsletter informative and helpful and will allow us send it to you on a regular basis. I would welcome any feedback you may have, both positive and negative.

David W.A. Buck.
Steppes Hill Farm Antiques

| | |
| --- | --- |
| | |