Steppes Hill Farm Antiques Newsletter #31 - March 2014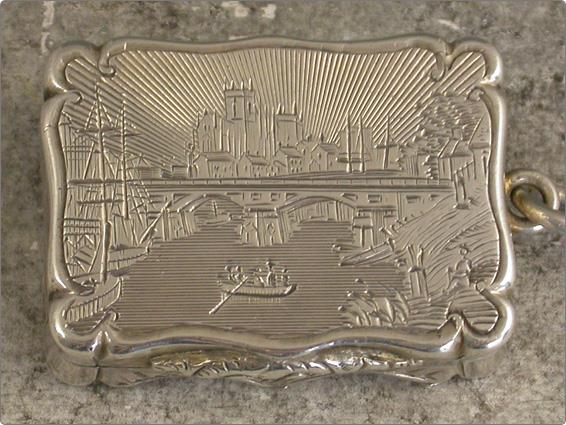 Click image above for more details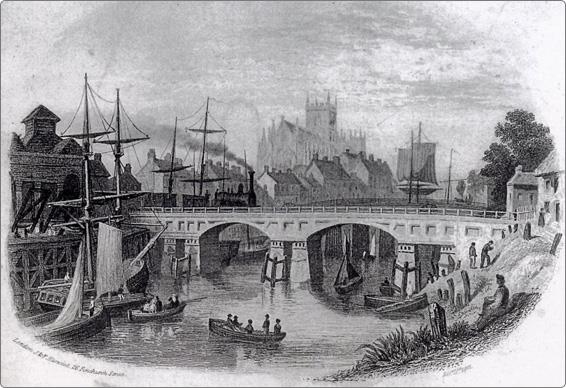 Click on the above image to zoom



I have discussed so-called "Castle Top" silver boxes in previous Newsletters and the fact that scarcity is everything with these tourist souvenirs from the early to mid-Victorian era, but it is not often that one comes across a previously unrecorded subject on a silver Vinaigrette and then manages to pin down the location depicted with some certainty. I am fortunate this month to be able to report on exactly that exciting occurrence.

The piece in question comes from a recently acquired small, but select, English private collection of Vinaigrettes that we have been charged with disposing of. It is a relatively small and fairly late example with an engraved rather than raised high-relief view of a river scene with an Abbey in the background, by David Pettifer of Birmingham 1850. There is however quite a lot going on in the image and when one looks into the detail illustrated in the contemporary print produced by J & F Harwood of Fenchurch Street in London in 1842, that it would seem likely that the engraver of the silver Vinaigrette took his inspiration from, it becomes apparent that this little souvenir box portrays some interesting social history as well as the topographical subject matter.

The scene depicted is Selby Bridge in Yorkshire. It shows a train crossing the newly opened [in 1840] bridge across the river Ouse, linking Selby by rail to Hull. There are boats in the foreground and a steam train crossing the bridge, Selby Abbey rises in the background.

The Vinaigrette is interesting because of the scarcity of the subject, but it also raises the issue of the importance of the railways to mid 19th century England. The Hull & Selby Railway was no exception:-

The Hull and Selby Railway was a railway company in the United Kingdom which opened in 1840, connecting Hull with the Leeds and Selby Railway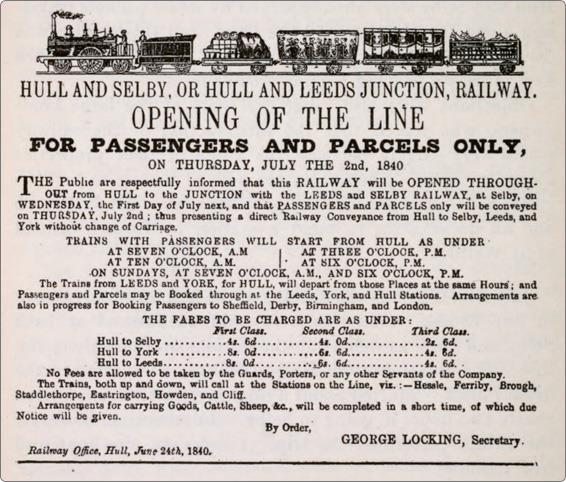 Click on the above image to zoom



In the early nineteenth century, the town of Hull was growing in importance as a North Sea port, in competition with nearby Goole and enthusiastically supported improved transport links with Leeds. From the beginning of the century, plans had been floated for a railway between them. In 1834, the Leeds and Selby opened with a connection to Hull by boat along the Humber. The Hull merchants were keen for a railway link and promoted the Hull and Selby Railway, receiving Parliamentary approval in 1836.

The terrain to be covered was sufficiently level and open for the line to be built with gentle curves and few embankments, the steepest gradient being 1 in 240. The main problem was the crossing of the Rivers Ouse and Derwent to be made at a sufficient height. That over the Ouse was in the form of a balanced swing bridge, one of the first railway bridges of the type. The other two main bridges, over the Derwent and the Market Weighton Canal were of cast iron.

The track was 4 foot 8.5 inches, as for the Leeds and Selby, but the construction was somewhat different, being carried partly on kyanised timber cross sleepers and partly on longitudinal timbers tied together with cross sleepers. The rails were also somewhat heavier and flat bottomed, with those for the longitudinal sleepers of a lower height. The former were 63 lb per yard, the latter 55 lb per yard.

Rolling stock consisted of twelve six-wheeled engines from Fenton, Murray and Jackson of Leeds with first, second and third class carriages. There were also fifty goods wagons. A fatal accident occurred on August 7, 1840, and the Howden rail crash was one of the first to be investigated by the new Railway Inspectorate. Five passengers were killed when a large casting fell from a wagon just behind the tender, and derailed the followng carriages.

In 1848 a branch line from the Hull and Selby Railway was built from Barlby just to the east of Selby to Market Weighton in the East Riding of Yorkshire. It became part of the new North Eastern Railway in 1854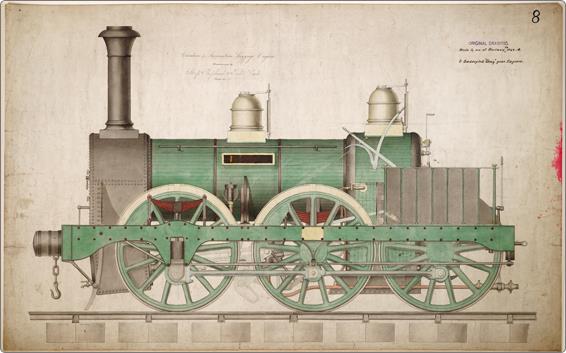 Click on the above image to zoom

Elevation of a Locomotive Luggage Engine Manufactured by Messer's Shepherd & Todd of Leeds. Hercules, locomotive luggage engine, side elevation. Inscribed 'Made by me at Railway Fy. 1843-4. 2 six-coupled Gray gear engines'.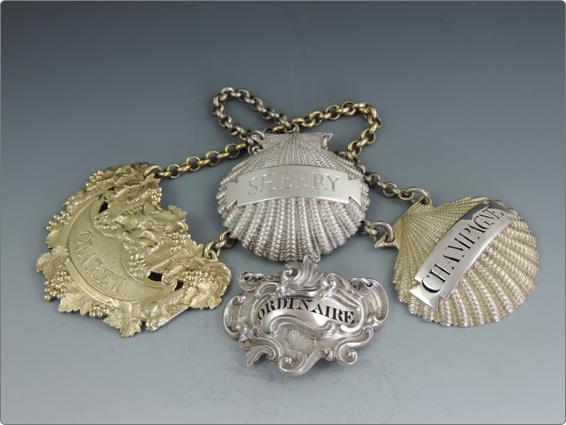 Click on the above image to zoom


Wine labels from the Regency period by the celebrated Royal Goldsmiths Storr & Smith are some of the grandest and most desirable made, usually large and forged from heavy cast plate they took their design influences from Greek and Roman artefacts as well as Egyptian antiquity and classical mythology. Shells, scrolls, acanthus leavers, masks, vine leaves and grapes were popular themes and all of these can be seen in the four fine labels illustrated above.

I am pleased to now be able to offer these labels at prices somewhat reduced than those previously advertised on the site. Please click on the links for details:-




George III Cast Silver Gilt Leopards Pelt Wine Label 'Claret'
by PAUL STORR, London 1815.

William IV Rococo Scroll Cartouche Wine Label 'Ordinaire'
by PAUL STORR, London 1837

George III Cast Silver Scallop Shell Wine Label 'Sherry'
by BENJAMIN SMITH, London 1807

George III Parcel Gilt Scallop Shell Wine Label 'Champagne'
by BENJAMIN SMITH, London 1807









I am very conscious of the fact that internet trade is stimulated by a fresh and regularly updated web site that has an ever changing inventory, and with this in mind I try to add significant numbers of new items to the site each month. Regular visitors will know that we usually upload 50 or more recent acquisitions to coincide with the monthly newsletter and this month is no exception and I am pleased to be able to offer some 60 odd new items of stock.

We have been fortunate over the last few weeks to acquire some nice private collections from various categories and as well as the selection of Vinaigrettes already mentioned above, there are significant new entries in the Masonic category and the Pens & Pencils category. I have a couple of new Vesta Cases, some Wine Labels, Scent Bottles and a lovely gold Thimble. A good quality pair of silver gilt Beakers by John Samuel Hunt and another by Thomas Diller enhance the Hollowware section.





I do hope that you will find this Newsletter informative and helpful and will allow us send it to you on a regular basis. I would welcome any feedback you may have, both positive and negative.

David W.A. Buck.
Steppes Hill Farm Antiques

| | |
| --- | --- |
| | |