Steppes Hill Farm Antiques Newsletter #27 - October 2013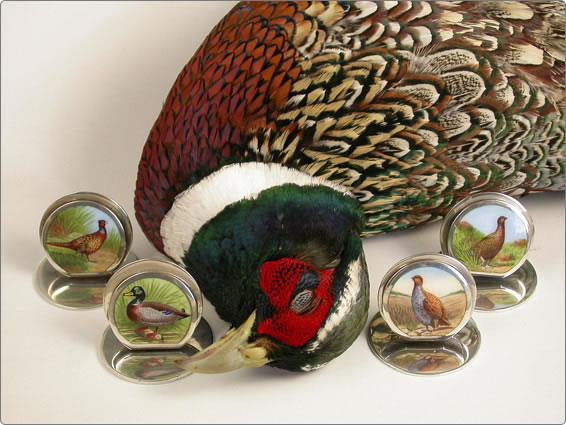 A fine set of four Edwardian Silver & Enamel Game Bird Menu Holders along with a Cock Pheasant ready for the table.


Horse Racing is often referred to as "The Sport of Kings" but in the second half of the nineteenth century Society discovered a new diversion; the Shooting Party. The new breech loading shot gun made it possible to kill great numbers of game birds quickly and the railways made it possible to get to Country Houses more conveniently. In addition there was the presence of Edward, Prince of Wales to provide the social impetus. Shooting was a sport he loved and his friends obliged by providing as much of it as he wanted. It was a lifestyle that was peculiarly Edwardian in its seriousness of purpose and extravagance. Its exponents were men with too much time and too much money, and after a while it became a way of life with its own exclusive standards and rules. Its pleasures were admirably exclusive and wonderfully extravagant. The ladies, in the main hated every minute.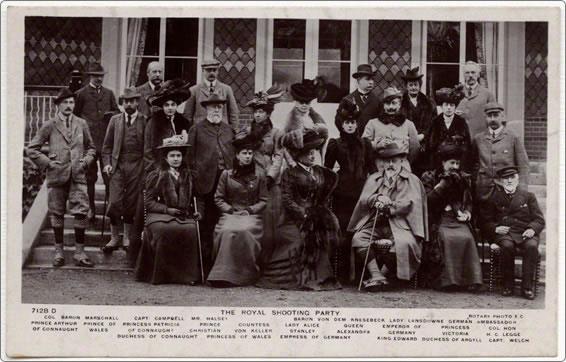 (Click on the image above to zoom)
ROYAL SHOOTING PARTY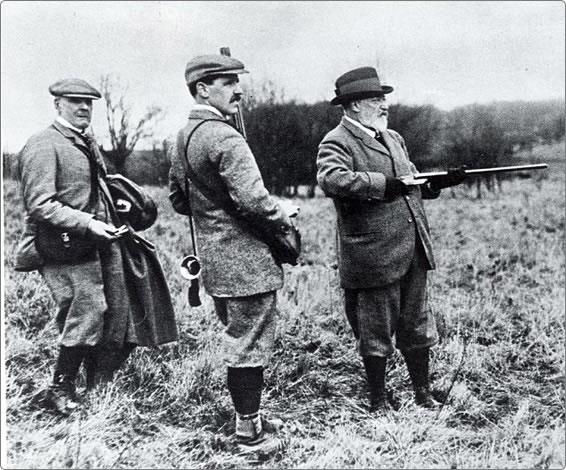 (Click on the image above to zoom)
Queen Victoria's son, Edward (far right), later King Edward VII


No expense was spared. The scale of the major shoots was staggering. It even caused some bankruptcies, Lord Walshingham and the Maharajah Duleep Singh among them. By 1900 the Sandringham estate alone was rearing 12,000 pheasants a year to be released in the name of sport.

On the 18th December 1913 at Lord Burnham's estate; Hall Barn in Buckinghamshire, 3,937 Pheasants were shot in a single day by a team of 7 guns. On the 30th August 1899 Lord Walshingham shot an extraordinary 1,070 Grouse to his own gun!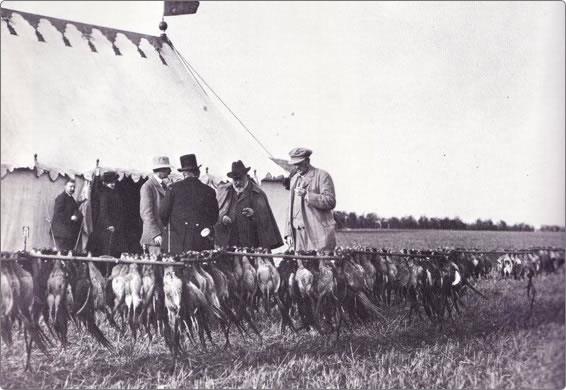 King Edward VII counting the bag at Sandringham on his 68th and last birthday 1909


The extravagance continued at the luncheon and dinner tables. On the days when King Edward VII was shooting, the menu for lunch was always chosen with him in mind, for it was known that "Tum-tum" enjoyed his food. Although lunch would only last an hour (because of the short winter days) it would consist of a meal of five courses. It would generally include an oyster course which was a particular favourite of the King. The wine was always of the best. The King drank only Chateau Lafite whenever he drank claret, but for much of his life Champagne was the only alcohol he took.

Dinner was a formal affair. The meal might consist of eight courses, perhaps two soups, one hot and one cold served simultaneously, followed by two fish courses. After that, an entrée that was succeeded by a meat dish. Usually the meat consisted of game in season; otherwise Quails were imported from Egypt and Ortolans from France. An elaborate pudding followed, then a hot savory which accompanied the port. Dinner ended with peaches, plums, apricots, nectarines, strawberries, raspberries, pears and grapes, all grouped in generous pyramids among the flowers that adorned the table.

One can imagine how spectacular or even daunting these Menus would have looked when displayed on hand written cards held in exquisite silver Menu Holders and displayed at intervals along a vast dining table. How appropriate for the Shooting Party Dinner were the fine enamelled Holders produced by Sampson Mordan & Co and depicting the various English Game Birds and Beasts:-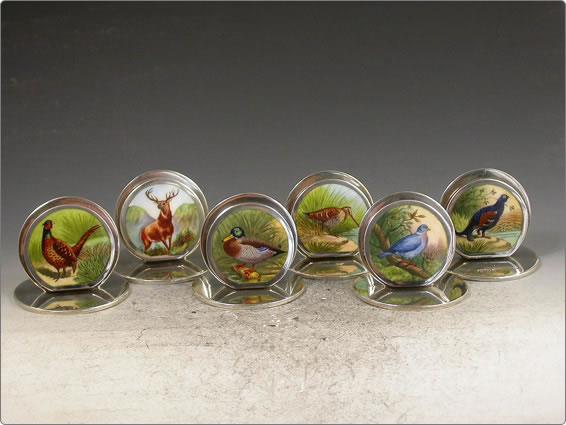 (Click on the image above to zoom)
Exceptional Set 6 Edwardian Silver & Enamel 'Game Bird/Animal' Menu Holders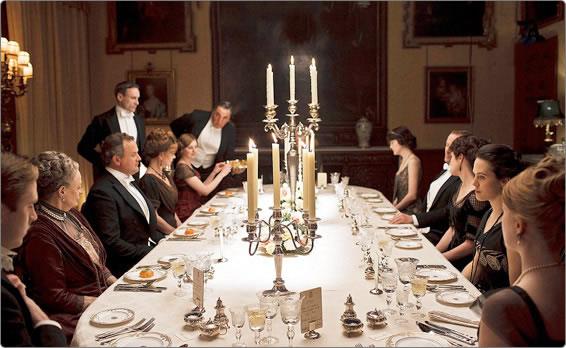 (Click on the image above to zoom)
Dinner at Downton Abbey. Silver Menu Holders clearly visible in the foreground




I would like to take this opportunity to report on the success of our last Selling Exhibition at Godmersham Park here in Kent, held in conjunction with my brother Christopher, which took place back in August on Saturday 24th and Sunday 25th. It was a very pleasant and successful weekend and for those that didn't attend, or even for those that did (you might be able to spot yourself!) you can view some images of the event by clicking on the dropbox link below :-

https://www.dropbox.com/sh/7cwa4l8e37ph0wn/tqpUl6zWvj/low%20res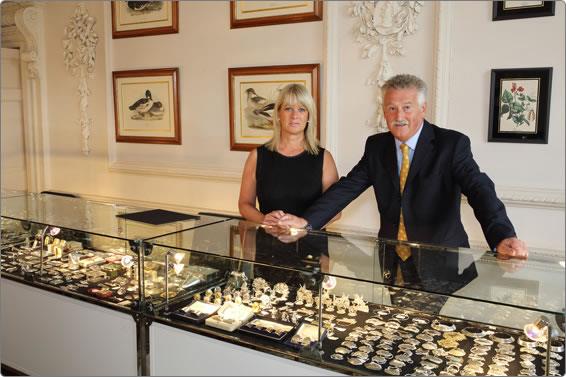 Carol & David at Godmersham Park



Continuing with the Sporting theme that has driven this Newsletter I would like to alert and recommend readers to a forthcoming Exhibition entitled "A Sporting Miscellany" being held at Reindeer Antiques in Kensington Church Street in London from Wednesday 13th November to Friday 22nd November. In conjunction with Isaac and Ede and Jason Sandeberg, it will showcase "A fascinating selection of Furniture, Silverware, Prints and Objet d' Art with a mischievous and amusing sporting theme". Well worth a visit I would suggest...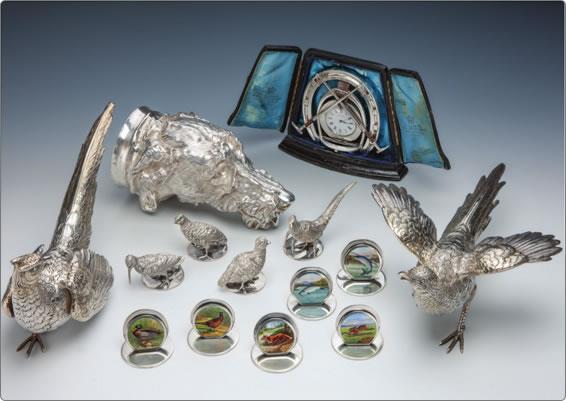 (Click on the image above to zoom)
"A Sporting Miscellany"





Once again I have tried to re-populate the site this month with some interesting new additions to the stock list and I have added some exceptional new items to the Menu Holders Category including some fabulous sets of Sampson Mordan Enamelled Game Birds and Beasts. There is a large private collection of silver Wine Labels including some real rarities like the George III Beaded Scroll for Madeira by James Phipps and the rare George III Scottish Silver Armorial Wine Label for Claret engraved with the crest of the Horseburgh family. There is a very unusual silver mounted organic Orange Vinaigrette , a presentation silver Napkin Ring with Yacht Club interest, a fine Nathaniel Mills Castle Top Vinaigrette depicting Abbotsford House and an extremely rare Victorian Novelty Silver and Enamel Punch & Judy Tent Vesta Case also by Sampson Mordan.

In fact there are over 60 new items of stock uploaded this month, so hopefully there will be something for everyone.





I do hope that you will find this Newsletter informative and helpful and will allow us send it to you on a regular basis. I would welcome any feedback you may have, both positive and negative.

David W.A. Buck.
Steppes Hill Farm Antiques

| | |
| --- | --- |
| | |