Steppes Hill Farm Antiques Newsletter #61 - September 2016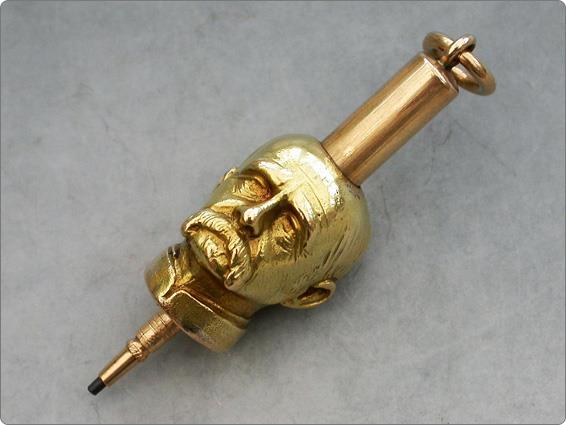 An extremely rare Victorian 18 carat gold novelty telescopic propelling Pencil, formed as a bust of Field Marshal Frederick Sleigh Roberts, 1st Earl Roberts. The base stamped with the maker's initials: 'HWH', for Henry W Houle of Ortner & Houle, St James's Street, London.
Also stamped with the design registration number: 359510 registered by Houle in July 1900.
(Please click on the link to see more details)





Field Marshal Frederick Sleigh Roberts, 1st Earl Roberts, Bt, VC, KG, KP, GCB, OM, GCSI, GCIE, KStJ, PC (30 September 1832 - 14 November 1914) was a distinguished Indian born British soldier who regarded himself as Anglo-Irish and was one of the most successful British commanders of the 19th century. He served in the Indian rebellion, the Expedition to Abyssinia and the Second Anglo-Afghan War before leading British Forces to success in the Second Boer War. He also became the last Commander-in-Chief of the Forces before the post was abolished in 1904. He was awarded the Victoria Cross and died on November 14th 1914 at Saint-Omer, France.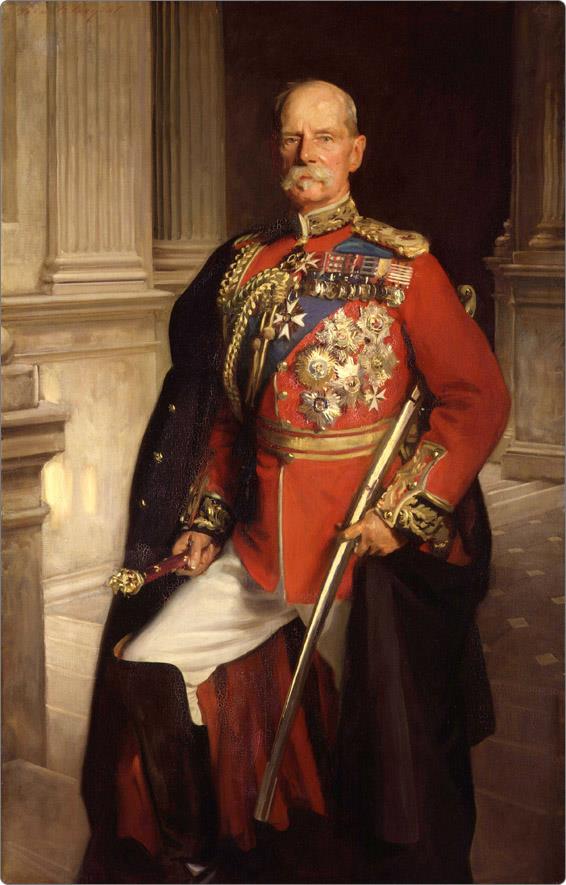 Lord Roberts of Kandahar was a soldier-hero of the type to be found in the pages of a Henty adventure story for public school boys, a readership brought up on a traditional diet of bravery, simplistic imperialism and a sense of the eternal greatness of England and the English. 'Bobs' to his admirers but never to his face, he was arguably the last of a line of professional soldiers whose careers spanned a century of minor imperial wars and skirmishes, and whose personal feats on the battlefields of the British Empire earned them an almost god-like status among the civilian population. Roberts was often called 'the pocket Wellington', although he displayed none of that general's disdain for the common soldier.



Poem written by Rudyard Kipling in 1893 inspired by his relationship with Victorian military legend, Frederick Sleigh Roberts.






(Field-Marshal Lord Roberts
of Kandahar: died in France 1914)

THERE's a little red-faced man,
Which is Bobs,
Rides the tallest 'orse 'e can-
Our Bobs.
If it bucks or kicks or rears,
'E can sit for twenty years
With a smile round both 'is ears-
Can't yer, Bobs?

Then 'ere's to Bobs Bahadur -
little Bobs, Bobs, Bobs!
E's our pukka Kandahader-
Fightin' Bobs, Bobs, Bobs!
E's the Dook of Aggy Chel;
E's the man that done us well,
An' we'll follow 'im to 'ell
Won't we, Bobs?

If a limber's slipped a trace,
'Ook on Bobs.
If a marker's lost 'is place,
Dress by Bobs.
For 'e's eyes all up 'is coat,
An' a bugle in 'is throat,
An' you will not play the goat
Under Bobs.

E's a little down on drink,
Chaplain Bobs;
But it keeps us outer Clink
Don't it, Bobs?
So we will not complain
Tho' 'e's water on the brain,
If 'e leads us straight again--
Blue-light Bobs.

If you stood 'im on 'is head,
Father Bobs,
You could spill a quart of lead
Outer Bobs.
'E's been at it thirty years
An-amassin' souveneers
In the way o' slugs an' spears-
Ain't yer, Bobs?

What 'e does not know o' war,
Gen'ral Bobs,
You can arst the shop next door-
Can't they, Bobs?
Oh, 'e's little but he's wise,
'E's terror for 'is size,
An--'e-does-not-advertise-
Do yer, Bobs?

Now they've made a bloomin' Lord
Outer Bobs,
Which was but 'is fair reward-
Weren't it, Bobs?
So 'e'll wear a coronet
Where 'is 'elmet used to set;
But we know you won't forget-
Will yer, Bobs?

Then 'ere's to Bobs Bahadur-
little Bobs, Bobs, Bobs,
Pocket-Wellin'ton 'an arder
Fightin' Bobs, Bobs, Bobs!
This ain't no bloomin' ode,
But you've 'elped the soldier's load,
An' for benefits bestowed,
Bless yer, Bobs!

| | |
| --- | --- |
| | |


Once again I am pleased to be able to update the site this month with some new items of stock and some highlights include; a Victorian Novelty Silver Shotgun Cartridge Propelling Pencil, a Victorian silver 'Castle-Top' Card Case depicting the Houses of Parliament, a Victorian silver and enamel Vesta Case depicting Triple Crown Winner - 'Common', a rare Victorian silver Sauce Label for 'Pratts Sauce', a Georgian cased silver and mother of pearl folding Fruit Knife, Fork and Spoon, a rare George III silver gilt Wine Label by Paul Storr, a George III silver Acorn engraved Caddy Spoon and a fine quality Victorian Gold Bangle set with pearls and with attached guilloche enamel Propelling Pencil by Sampson Mordan.





I do hope that you will find this Newsletter informative and helpful and will allow us send it to you on a regular basis. I would welcome any feedback you may have, both positive and negative.

David W.A. Buck.
Steppes Hill Farm Antiques

| | |
| --- | --- |
| | |