Steppes Hill Farm Antiques Newsletter #87 - November 2018

A Constellation of "Castle-Tops" for Christmas - a comprehensive English Private Collection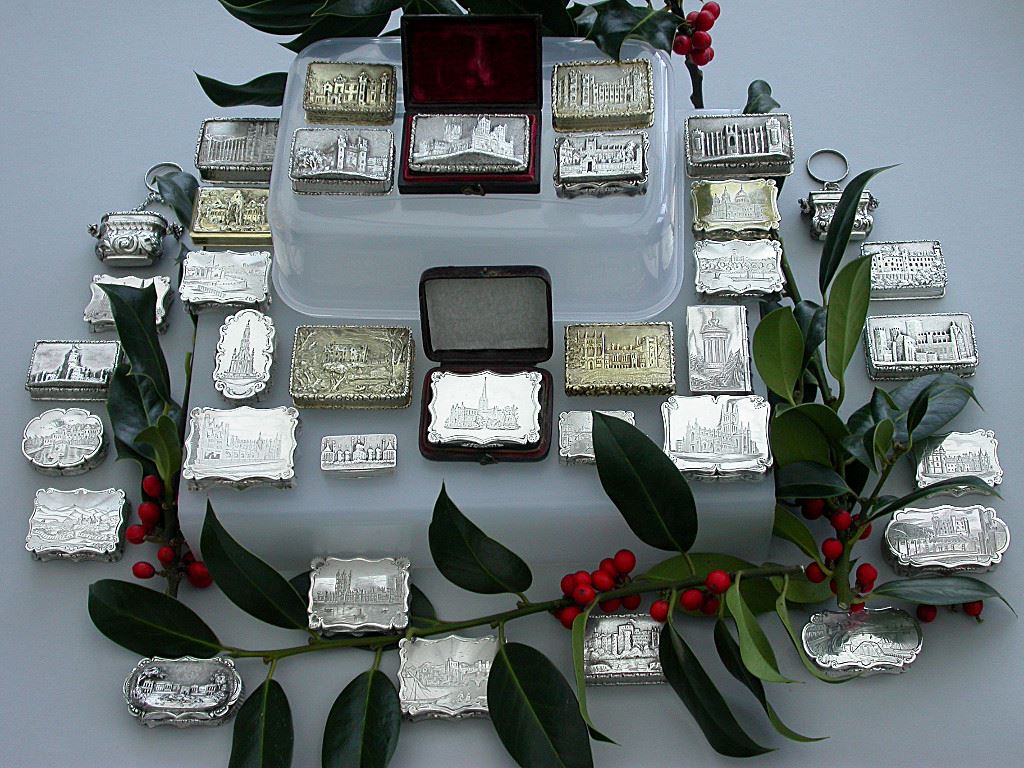 In a previous edition, the
August 2018 newsletter
noted that Steppes Hill Farm Antiques is now over 50 years old having started trading in 1968, so as a final celebration of that milestone we are delighted to be able to offer for sale a private collection of
'Castle-Top' Vinaigrettes
that also began its life in that year!
The collection was formed over the same half century by three generations of a family using an eye for history, quality and condition and with some notable help from Billy Buck (and later David) as well as two other well known dealers no longer with us, Maureen McAlear and Gerald Sattin.
Everything began with a chance encounter and a trip up the curb in Oxford! A mother and daughter were collectors of Georgian and Victorian jewellery at the time and were crossing the road to look in a jeweller's shop when the mishap occurred. It somehow concentrated the mind so that, having been attracted inside by something that turned out to be a miniature vinaigrette worked into a ring, the seed of passion for what became known as their 'little silver boxes' was planted.
Over the years they learnt about marks and makers, scenes and subjects, methods of work and types of decoration, grilles, hinges and assay offices and the varied language of description while taking much pleasure in working together to develop and curate a wide and varied collection.
They were later delighted to include the next generation (in the best tradition of silversmithing families such as the Linwoods and Pembertons), a granddaughter who soon became responsible for cleaning and storage and then a useful administrative assistant when her mother took over writing and maintaining a computerised record of all purchases.
'Castle-tops' became an area of particular interest because, although originally designed as high class souvenirs for Victorians who could take advantage of the increasing possibilities for travel and tourism, they have a continuing appeal to those interested in our built history and readily connect with a natural compulsion in collectors to fulfil categories; all here, for example, were written up under four sub-headings: castles and palaces: cathedrals, minsters, churches and abbeys: tourist attractions and landmarks: Oxford and Cambridge!
Rarity could be another aspiration and is, together with some scenes of special personal significance, found here alongside the very best examples of the scenes most sought after by their original owners such as Windsor Castle, Warwick Castle, Newstead Abbey and Abbotsford so that, whatever motivates the individual collector, any of the thirty-five vinaigrettes illustrated is worthy of a place within a fine representation of this class of silver vertu.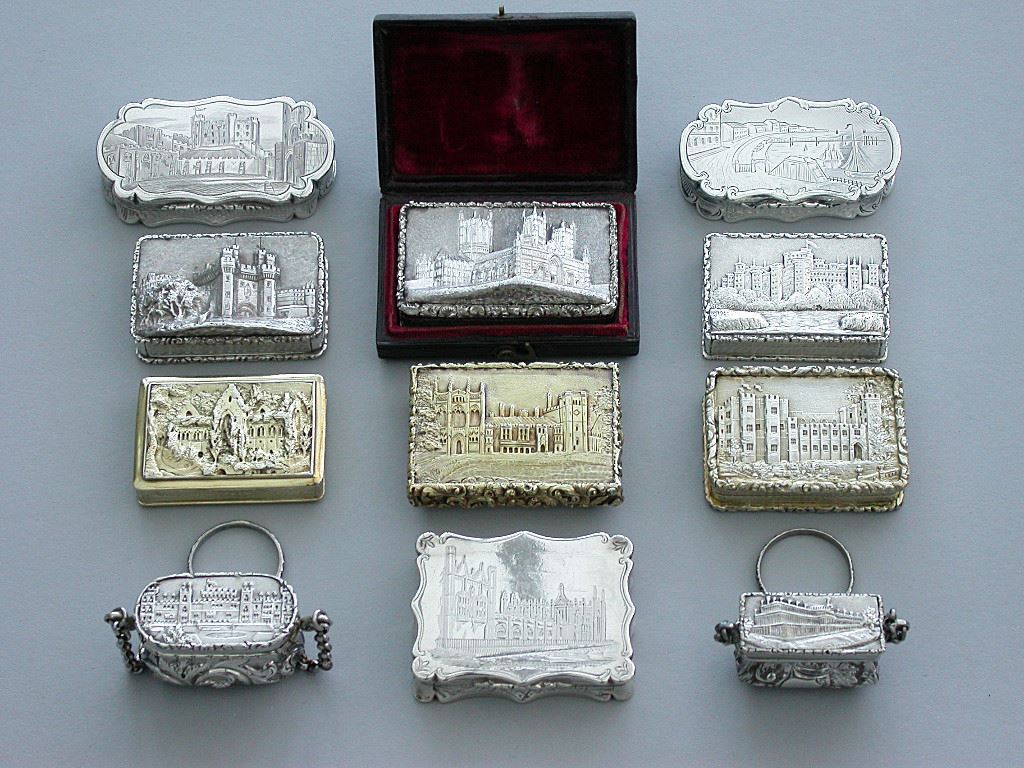 Durham Castle Keep
, Lincoln Cathedral, Brighthelmstone (Brighton), Lancaster Castle, Windsor Castle, Tintern Abbey, Newstead Abbey, Kenilworth Castle, Windsor Castle, Kings Parade Cambridge, Crystal Palace.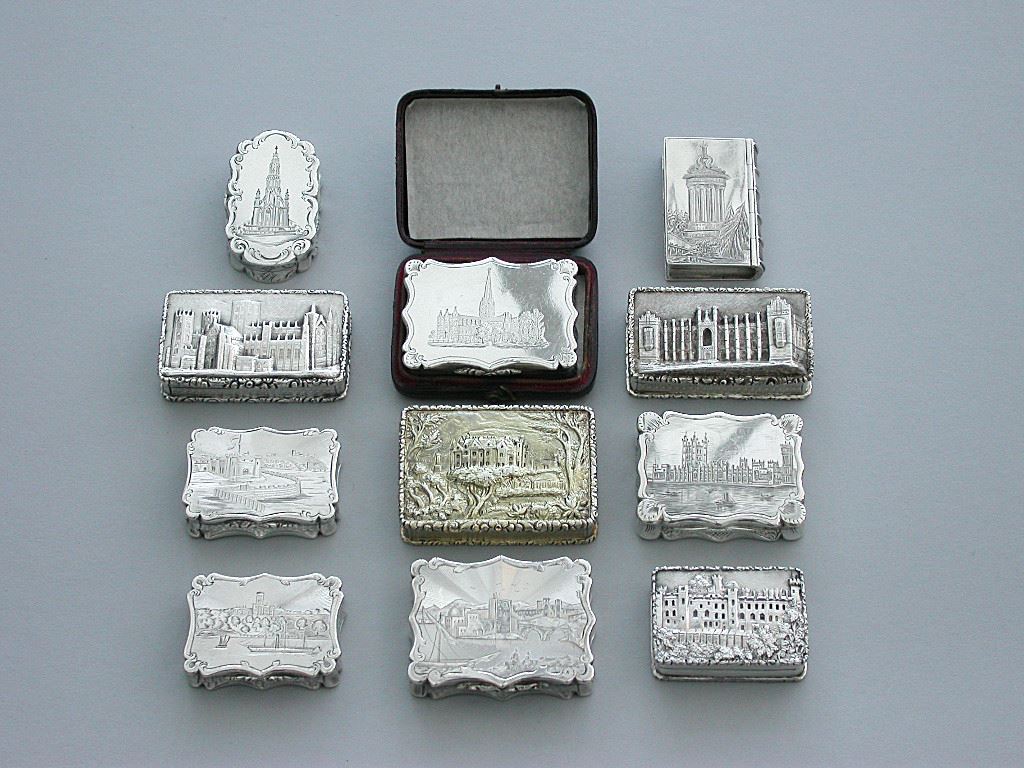 Scott Memorial, Salisbury Cathedral, Burns Monument, York Minster, Liverpool Collegiate College, Scarborough Spa, Abbotsford House, Houses of Parliament, Osborne House & Royal Yacht, Harbour Scene, Warwick Castle.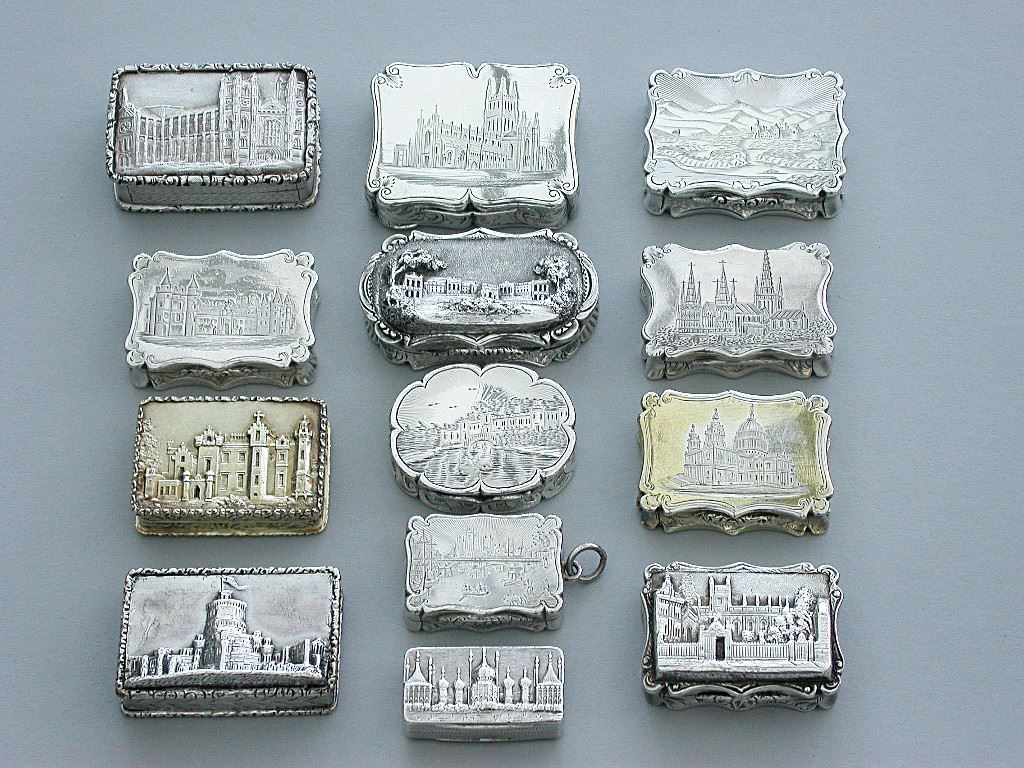 Westminster Abbey, Canterbury Cathedral, Balmoral Castle, Holyrood House, Buckingham Palace, Lichfield Cathedral, Abbotsford House, Warwick Castle, St Paul's Cathedral, Windsor Castle, Selby Bridge & Abbey, Trinity College Chapel, Brighton Pavilion.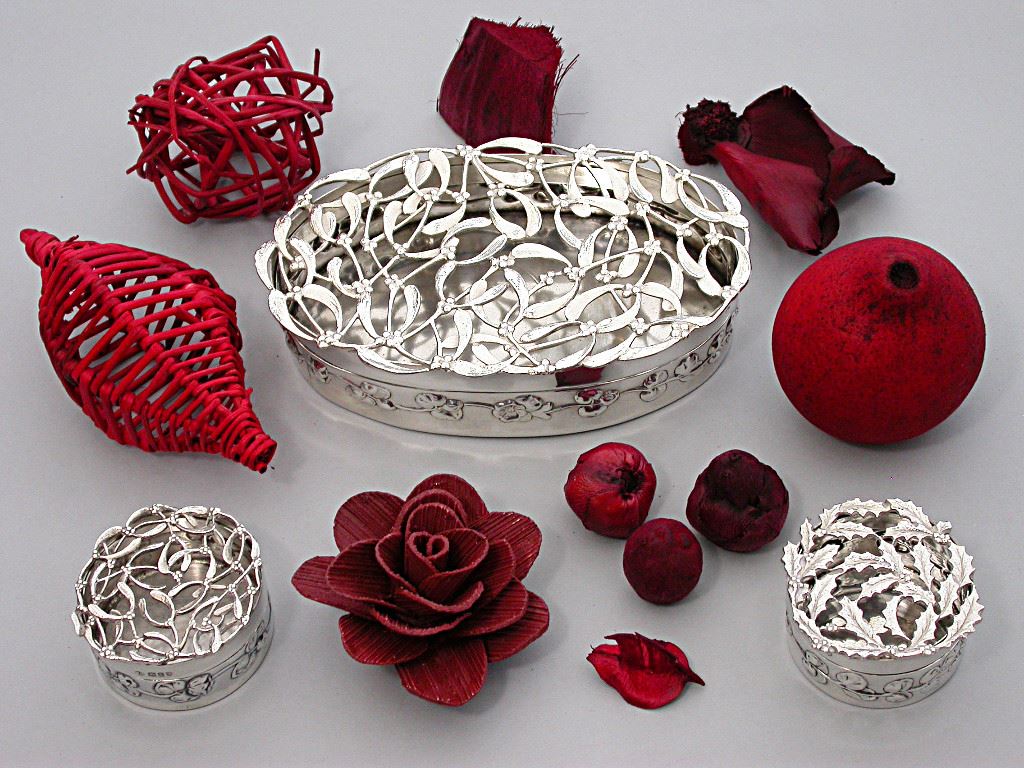 | | |
| --- | --- |
| | |

I do hope that you will find this Newsletter informative and helpful and will allow us send it to you on a regular basis. I would welcome any feedback you may have, both positive and negative.
Happy Chritmas!
David W.A. Buck.
Steppes Hill Farm Antiques

| | |
| --- | --- |
| | |